Hello Fintech Friends,
We're putting out a call for our most creative community members!
After many requests we're finally rolling out One Fintech Swag Store To Rule Them All. Our team has already designed some 🔥 swag - but we want to hear from *you*.
We're holding a design contest for the most creative fintech swag ideas - hats, sweatshirts, yoga mats, furbys, doilies, mink slippers… It's all fair game.
All winning entries (those that make it to the store), will get 2x free Fintech Formal tickets, a year of TWIF Premium membership, design credit on the website, and a free copy of the item you design!
Show us your creative side by sharing your best fintech swag ideas here.
👍👎 Have feedback for us? Let us know!
Please enjoy another week of fintech and banking news below.
---
Fintech Meetup: Register for Q1's BIG new event by Feb 24th! Join 3,000+ Attendees from 750+ Companies from across the fintech and payments ecosystem for 30,000+ double opt-in Meetings. Learn from 250+ speakers, and have fun at receptions and at the Industry Night event. Get Ticket Now!
Want to sponsor a newsletter? See our sponsorship information here.
---
💬 Quote of the Week
📖 Read of the Week
CB Insights published their year-end overview of fintech in 2022, which tells us much of what we've experienced personally: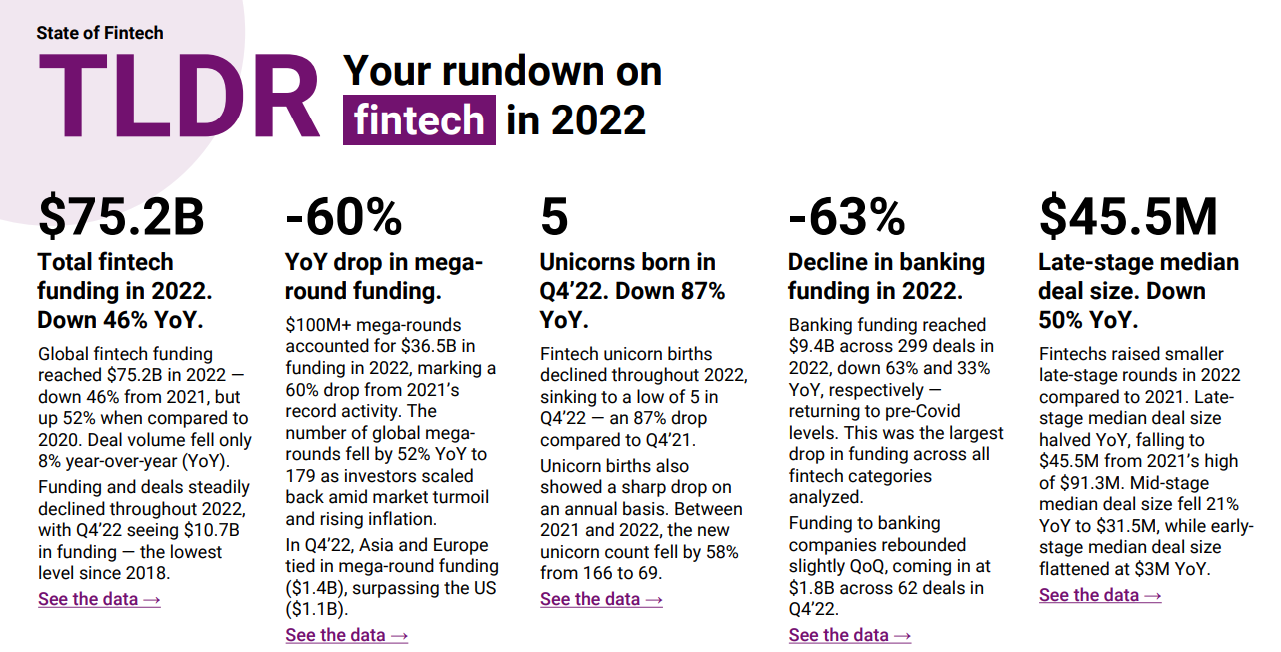 I normally treat venture data as a bit of a lagging indicator, in that the herd movement to trendy areas (eg. AI), usually follows the most interesting periods of early innovation in those areas. So while the air (funding) has been squeezed out of the balloon (an overheated fintech market), the more interesting story to me is what is happening at the fintechs that have raised funding. What products are fintech companies focused on? Where are products being launched or wound down? We cover this to some extent in our Q4 Signals: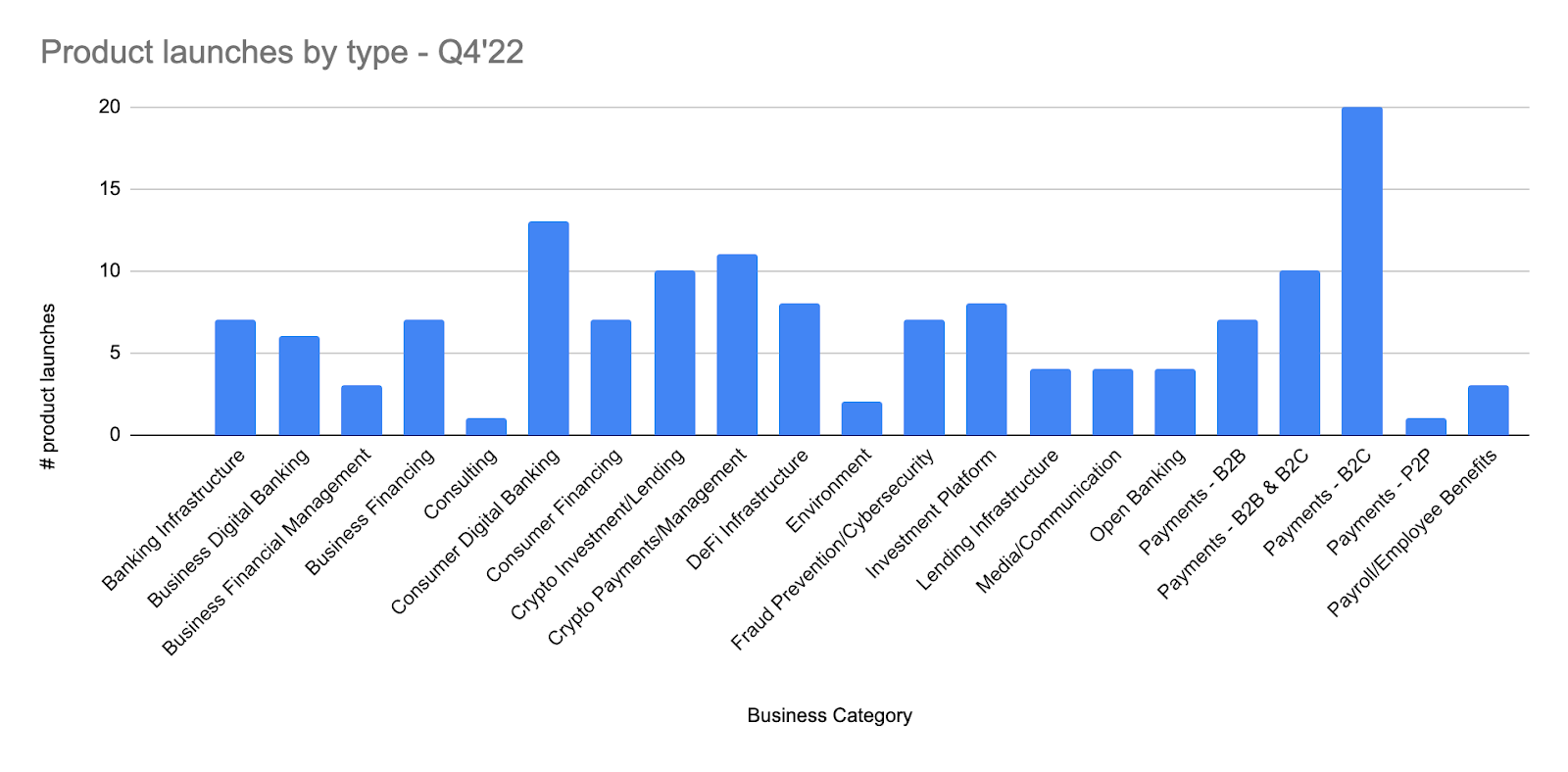 Elsewhere, I really enjoyed Matt Brown's illustrated Interchange in 1,000 words.
---
As layoffs roll through the industry, we are trying to do everything we can to help people moving between jobs find their next role. If you're looking for your next company to join, come check out our job board.
If your company is hiring for new roles, come post them with us! Every post gets automatically shared with our Slack community of 5,000+ fintech friends.
And if you want employers to find your (anonymized) resume, join our Talent Collective.
---
🏦 Financial Services & Banking
🚀 Product Launches
The World Economic Forum at Davos launched a universal digital payment network for stablecoins and central bank digital currencies and I am… a bit skeptical. These types of top-down initiatives normally encounter massive coordination issues in implementation.
Meanwhile, National Australia Bank launched an Aussie dollar-denominated stablecoin on ethereum.
Metro Bank launched used car loans.
📰 Other News
The big news in banking this week is banks striking back at fintechs - Wells Fargo, Bank of America, JP Morgan Chase, and four other banks are collaborating to build a digital wallet - like Venmo, Apple Pay, or Google Pay - that will wrap credit cards and other payment methods for one-click checkout with merchants. This looks…. Familiar? We talked a bit about the digital wallet wars in the Read of the Week last week, but it will be interesting to see if the 'Nascarization' of checkouts continues or consolidates. Meanwhile, the European Central Bank is considering a new digital euro app with payment functionality.
Wealth management clients and rich customers are increasingly moving money away from their primary bank accounts, where interest rates paid on deposits have not moved to approximate the 4.3% Fed Rate currently in-place, instead opting for high-yield savings, Treasurys, and money market accounts.
Bank of America invoked customer ire with Zelle transactions that weren't going through.
Class action participants won $52 million from Charles Schwab due to disclosure failures. The Federal Reserve is investigating whether Goldman Sachs had appropriate guardrails in-place for its consumer lending program. HSBC got a warning in the UK for not making data available for open banking applications.
Capital One cut 1,100 tech jobs.
Danske Bank published a climate action plan for 2030 and 2050.
---
From Interchange in 1,000 words
💻 Fintech
🚀 Product Launches
Marqeta launched web push provisioning for cards to mobile wallets.
Capital (formerly Party Round) launched a high APY business checking account that pays 4% on holdings.
B2B payments platform Melio launched a way to automatically sync payments data with accounting platform Xero.
Remote payroll and HR platform Deel packaged and relaunched its global platform to provide one integrated experience for managing any type of employee in any location. (The company also reached $295 million in ARR.)
Upstart added new online features to its auto lending products.
Wafi launched a payment processing platform for ecommerce businesses.
Zoe, a financial advisor matching platform, launched a wealth management product.
📰 Other News
Crypto exchanges and crypto-adjacent companies including Circle and eToro have made bids to go public in the last year, but failed to get the SEC's approval and had to scrap their plans.
Alibaba is looking to boost its sales in Europe with a new buy-now-pay-later offering.
Art stock exchange Artex was granted a license to operate a Multilateral Trading Facility in Europe.
Cross-border money transfer provider MoneyGram partnered with VoIP provider BOTIM in 200 countries.
Saudi neobank Wahed opened a physical branch location in London.
Klarna ran a Spotify-style "your year in money."
Revolut opened the waitlist for a "new super-premium membership plan targeting ambitious, affluent individuals interested in a luxury lifestyle."
Stripe won a major contract with Amazon, becoming its strategic payments partner in the US, Europe, and Canada.
Australian buy-now-pay-later provider Zip forecasts breakeven by year-end.
Coinbase shuttered its operations in Japan.
Bolt: second verse, same as the first (layoffs). Revenue-based financier Clearco also cut 30% of staff.
Crypto exchange Nexo was fined $45 million by the SEC for offering unregistered securities.
PayPal is being investigated by the German antitrust watchdog, while it emerged that 34,942 PayPal accounts were hacked in December.
---
Come meet us in-person at www.fintechhappyhour.com, and join our angel investing syndicate.