Hola amig@s fintech,
Happy Semana Santa (aka Holy or Easter Week). 🐰 Enjoy the long weekend and this week's front page of Latam fintech news below.
Also, Southern Cone here we come!
🇦🇷 RSVP here for our inaugural Buenos Aires Fintech Happy Hour on Wednesday, 27 April, sponsored by AWS, Prometeo, and Pomelo.
🇨🇱 Sign up here for Santiago on 3 May.
If you'd like to join as a sponsor for the Santiago happy hour or in other cities, please let us know here.
💛 Y'all be good out there.  ¡Saludos!  Até a próxima!
---
Editor's Note: If you're an early-stage startup founder raising equity or debt, I may be able to help - email me at christine@thisweekinfintech.com or sign up for open office hours here to go through your pitch, chat about the ecosystem, talent, whatever is on your mind, dear reader!
---
Sponsored Content
Want to sponsor a newsletter? See our sponsorship information here.
---

If you're looking to hire from a group of 10,000+ smart, motivated fintech professionals, come pick up a Collective Pass and post a job here.
If you're looking for your next adventure at one of the best fintech companies, check out the open roles here!
---
📖  Read of the Week
CB Insights State of Venture Report Q1 2022
📊 Notable Stats
47% of people who plan to buy digital tokens for the first time this year are women, according to a recent study by Gemini, the crypto exchange led by the Winklevoss twins.  In Argentina, where the peso has devalued 99% versus the dollar, crypto penetration is at 12% while credit card penetration is at 29%.  (Source)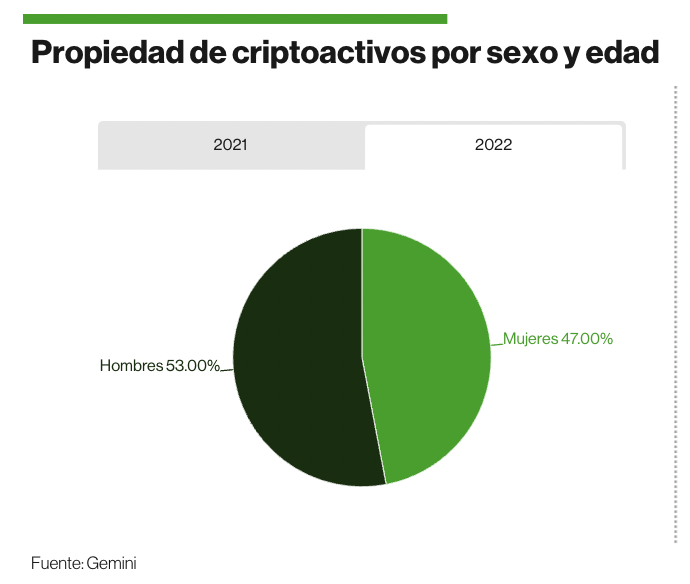 According to Crunchbase, VC funding into Latam fell by 30% from Q4 2021 to Q1 2022.  Overall investment totaled *just* $3.4 billion, which is still 28% higher than Q1 of the year prior.  This comes off a record year, in which Latin America was ranked as the fastest-growing region in the world, with VC funding totaling $19.5 billion in 2021.  Later-stage financing rounds had the most significant change in Q1 2022, with just 15 rounds reported vs 35 the prior quarter.  Seed and angel rounds in Q1 2022 stayed on par with prior quarters at $300 million in funding.  (Source)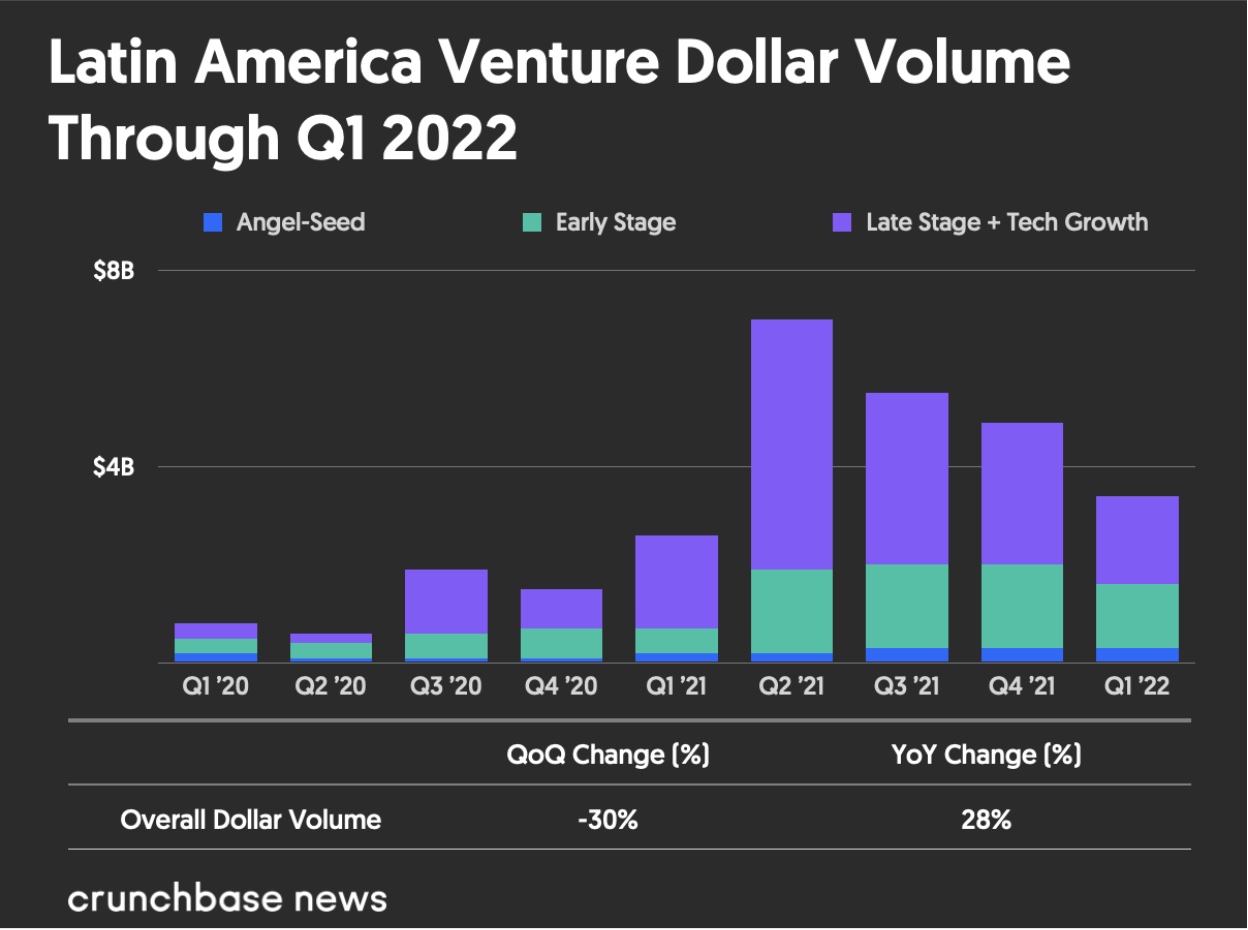 ---
💸 Venture Financing
SenseiNode, the blockchain infrastructure firm, raised a $3.6 million seed round led by Borderless Capital. In the past six months, the Latam-focused company has deployed 50 nodes with 11 blockchains.  It plans to deploy more than 500 nodes total in the region, focusing primarily on Brazil and Mexico, followed by Argentina and Colombia.
Stark Bank, the Brazilian challenger bank focused on startups and small to medium-sized enterprises (SMEs), raised a $45 million a Series B led by Ribbit Capital, entrepreneur Lachy Groom, and Amazon founder's Bezos Expeditions with participation from notable angel investors from Airbnb, Kavak, DST, Visa, and Coinbase.  This funding round comes four months after a $13 million Series A raise and will be used to build out its product portfolio for clients like Quinto Andar, Loft, Buser, and Bitso.
💵 Debt Financing
Nubank, the Brazilian neobank, raised a $650 million, three-year credit line from Morgan Stanley, Citigroup, Goldman Sachs and HSBC. This funding in Mexican and Colombian pesos will be invested in three key areas: technology development and product innovation, growing the customer base, and talent.  In Mexico, the company had 1.4 million customers by the end of 2021.  In Colombia, after less than a year of operations, Nu had 114,000 customers.
RITMO, the Spanish e-commerce financing platform, raised a $200 million debt round led by i80 Group and Avellinia Capital. The company offers working capital financing and an automated buy now, pay later (BNPL) payment system for e-commerce companies, The funds will be used to support growth and boost the financing of more than 2,000 e-commerce clients during the next 18 months in key European and Latam countries.
---
💰 Venture funds
Upload Ventures, announced it will be spinning out of the SoftBank Latin America Fund.  The newly autonomous fund led by Rodrigo Bauer and Marco Camhaji, was to be SoftBank's early-stage fund, reporting to Marcelo Claure, who has since resigned.  SoftBank Latam Fund will be Upload's largest LP as it goes out to raise additional funds.  Its current team and portfolio companies, such as Abstra, Digibee, and Neivor will migrate to Upload Ventures.
Digevo Ventures, the company builder arm of Grupo Digevo, a Chilean IT firm, announced it will be raising a second fund of $3 to $5 million to invest in startups that incorporate AI with tickets between $200,000-300,000.
Alaya Capital, the Argentine VC fund, announced the addition of Lorena Suarez as Managing Partner.  Lorena has deep experience in the sector, having supported more than 60 startups in the region via Wayra Argentina, Supervielle CVC, and as President of the Argentine Association of Private Capital (ARCAP).
---
☯️ Exits
🤝 M&A - Fintech
Maxxa, the Chilean software and lending solution for SMEs, announced the acquisition of ERPyme for $4 million.  The transaction will allow Maxxa to expand its product offering with electronic invoicing and management.  Maxxas goal is to become a neobank, offering credit lines, business banking accounts, cards, and other products to its 37,000 clients in Chile and Mexico.
---
🚀 Product Launches & Partnerships
💻 Fintechs
Nubank, the Brazilian neobank, announced a partnership with Chubb, the insurance company, to expand their joint offerings to over 53.9 million Nu customers in Mexico and Colombia.  The two companies already work together to offer Nubank Vida and Nubank Celular to clients in Brazil.
Lemon Cash, the Argentina-based crypto exchange, announced plans to launch in Chile and Perú, after recently entering Brazil where it offers buying and selling of cryptocurrencies with reales, interest-bearing accounts, and instantaneous international transfers.
Nowports, the Mexico-based logistics and freight-forwarding startup, announced it will launch credit lines for its Peruvian clients by the end of the third quarter this year.
Konfio, the Mexican SME-financing and payments platform, announced a partnership with Napse, the Argentinian e-commerce automation provider, to integrate card payment solutions into Delivery App,  a food delivery platform.
Rappi, the Colombian superapp, announced a pilot for Mexico City users that would allow payment of credits within the platform via cryptocurrency.
Tpaga, the Colombian mobile wallet, announced a partnership with Chilean remittances platform Arcadi, to enable international transfers to nine countries including Venezuela, Ecuador, Peru, Spain, Brazil, and the United States.
Ebanx, the payments company, and VTEX, the digital commerce platform, announced a partnership that will enable cross-border payments for Brazilian e-commerce companies.
The Ministry of Productive Development of Argentina announced a partnership with Ualá to distribute loans to micro entrepreneurs and small businesses totaling 1 billion Argentine pesos through the startup's app and card.
Global66, the remittances startup, announced its launch in Ecuador.  This is in addition to its presence in Chile, Colombia, Perú Argentina, Brazil, Mexico, Spain, and the US.
Zulu, the Colombia-based digital wallet, announced its launch in Venezuela.  The app allows saving in dollars via stablecoin USDC.  The company plans to expand to Mexico, Argentina, Peru, and Chile by the end of this year.
---
📰 Other News
Blockchain Summit Latam announced that its annual event will take place in Panamá from 6-8 July.
Google announced the launch of Startup Academy Argentina.  Applications are open until 27 April.
Start-Up Chile announced the opening of applications for its three programs: Build, Ignite, and Growth.  Startups can apply until 3 May.
Nicolas Szekasy, the co-founder and managing partner of Kaszek, jumped 38 positions higher to #25 on Forbes' Midas List 2022, thanks to the IPO of Nubank.  Nicolas' other notable investments include Bitso, Creditas, NuvemShop (Tiendanube), and QuintoAndar.
The Mexican government launched a debit card called Remesas Paisano, through which migrant workers can send money to Mexico with no fees and in a matter of minutes.
Loop, the US-based web3 payments startup, raised a $4 million seed round led by Andresseen Horowitz (a16z).  The company is looking to solve payment frictions faced by DAOs trying to pay employees.
The National Payments Corporation of India (NPCI) announced its approval to WhatsApp to rollout WhatsApp pay to 100 million users in the world's second-largest internet market and WhatsApp's largest market by users.
---
📜 Policy
The Mexican banking commission (CNBV), announced changes to the governing authorities for violations of the Fintech Law.  To date, the entity has issued 30 sanctions for violations of the law regulating IFPEs (depository institutions) and IFCs (crowdfunding platforms) for a total of approximately $3 million, principally for misleading information.
---
📚 Deeper Reads
The future of international transfers: Stablecoins for cross-border payments
Making sense of venture capital
The Midas List 2022: Return of The Top Female Investors
Most active fintech investors Q1 2022
Latin America's decline in VC investment isn't necessarily bad news: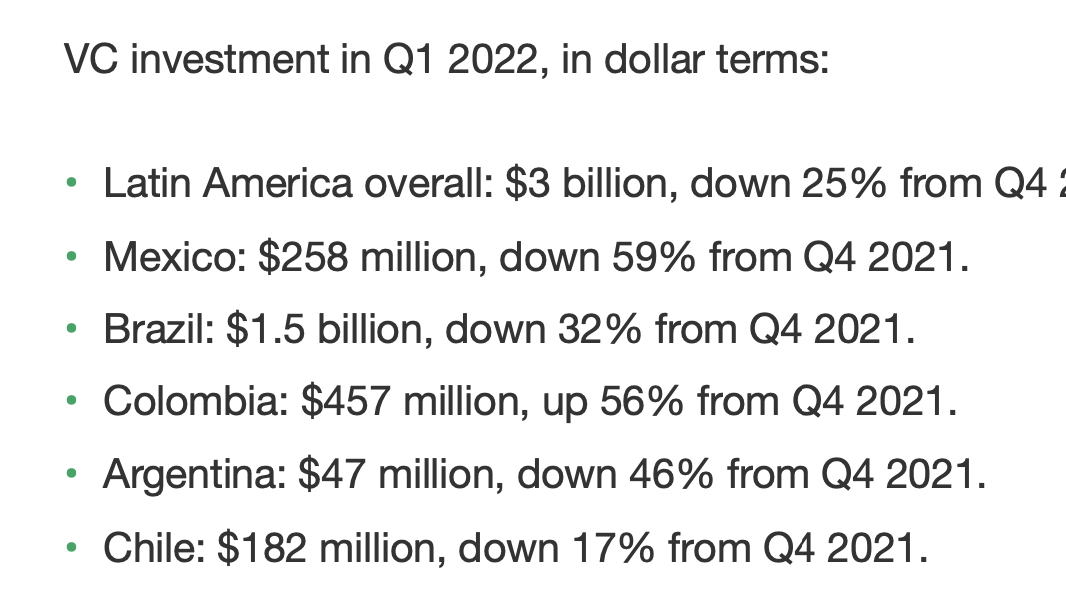 ---
🦉 Tweets of the Week
---
Made in Latam with 💛
👍👎 Did you like this edition of TWIF Latam?  Take a 1-minute anonymous survey here or message me with news items and suggestions.  I'd genuinely appreciate any and all input. If you liked what you read, please consider sharing or subscribing.
Come meet us in person at www.fintechhappyhour.com.  You can also join our global community on Twitter, LinkedIn, and Instagram.