This Week in Fintech (9/9)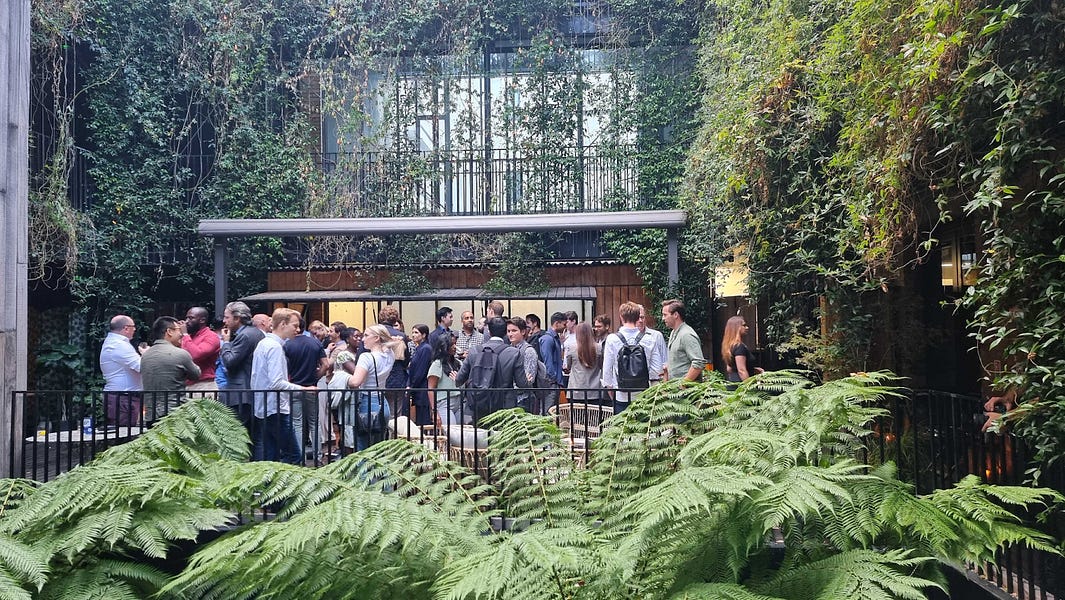 Hello Fintech Friends,
🇨🇳 Fintech in China can be an opaque topic for a westerner like myself, which is why I'm so excited about our new This Month in China edition, written by Ning Ye earlier this week.
📄We'd also love to know how we can improve This Week in Fintech. Our team put together a quick survey to understand (1) what you like about our content, (2) what's still missing, (3) what, if anything, you would change. Let us know what we can improve!
Check out this shot of Wednesday's London Fintech Meetup from Michael: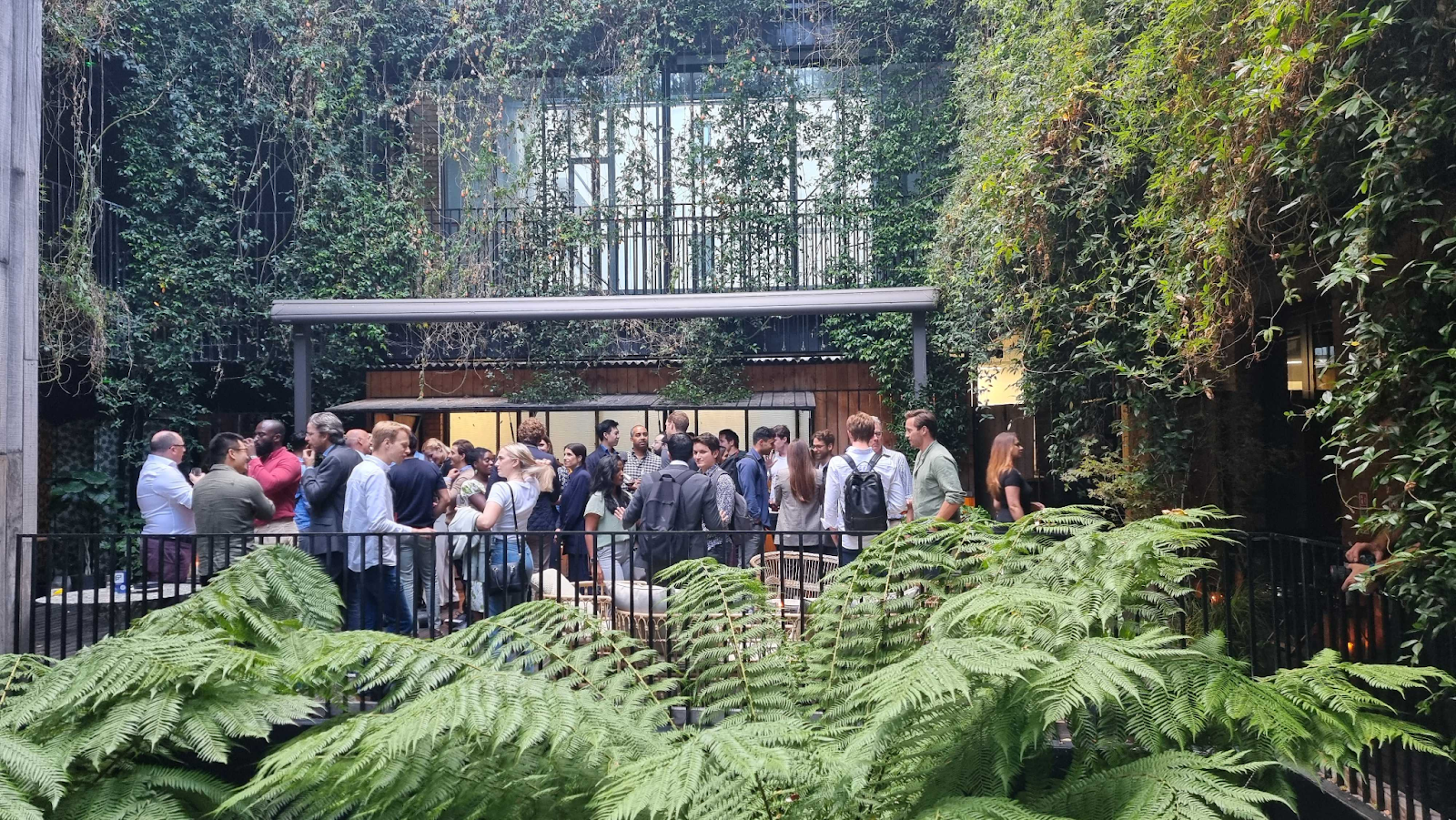 Please enjoy another week of fintech and banking news below.
---
💬 Quote of the Week
📖 Read of the Week
Fintech infrastructure, fintech infrastructure… how much ink has been spilled discussing the critical components of the provision of financial services, how to parse them out, what should be insourced vs. provided by a vendor, and the tradeoffs of customizability vs. scalability?
There were two good related reads on fintech infra this week. First, Marc Andrusko and Angela Strange at a16z broke down how fintechs should think through vendor selection in three areas: (1) onboarding and account opening/funding, (2) underwriting, issuing, and loan origination and (3) payment acceptance and collection servicing. Read it here.
Second, Matt Brown at Matrix talked about undifferentiated heavy lifting in fintech. This piece spoke to me, as someone who dealt with over-building our stack at Petal (there just were not enough reliable service providers around at the time to manage servicing, ledger reconciliation, internal tools and alerting, etc…) There are core competencies and activities that fintechs should build in-house, and then there is everything else. In that latter category, rading off the scalability of a specialist vendor for the customizability of building something in-house almost never makes sense in the long-run.
📊 Stat of the Week
Nearly 9 out of 10 in-person debit card purchases are now contactless. (Source)
---
Sponsored Content
Fintech Meetup (March 19-22, 2023 – Aria, Las Vegas) is the only industry event that delivers measurable ROI.  We have it all - amazing speakers, exhibit hall, receptions, and more… plus we'll facilitate 30,000+ onsite meetings with proprietary tech.
Learn more at Fintech Meetup or Download brochure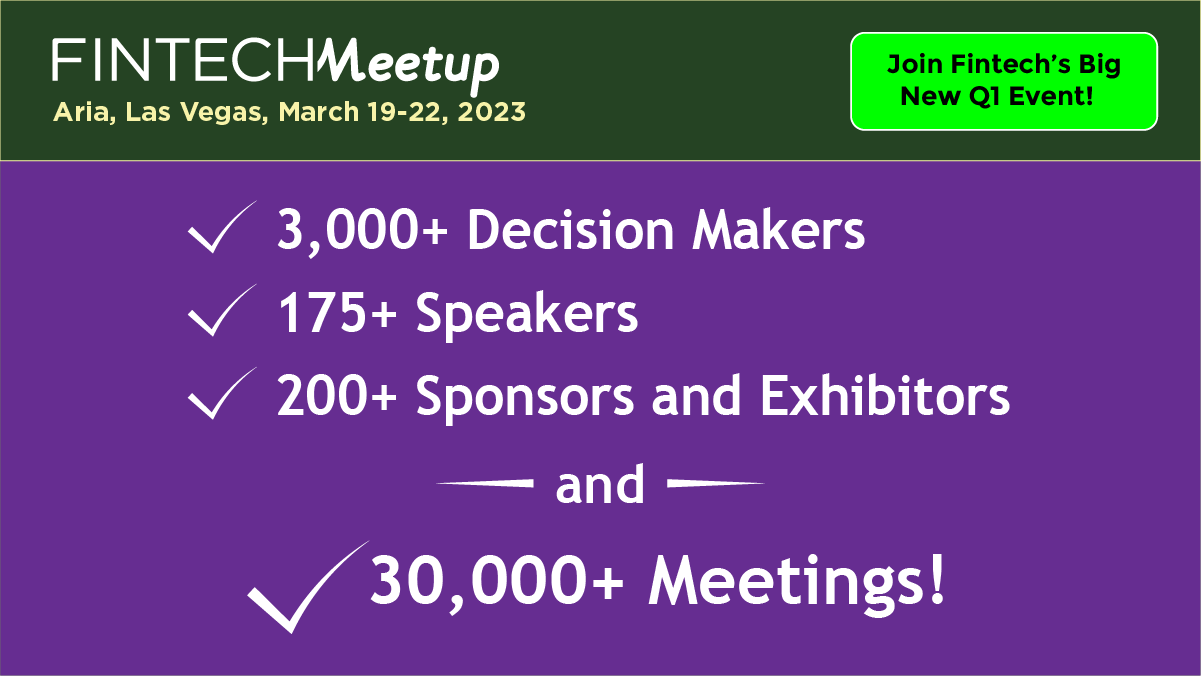 Want to sponsor a newsletter? See our sponsorship information here.
---
🏦 Financial Services & Banking
🚀 Product Launches
Standard Chartered Bank joined forces with e-commerce firm Bukalapak in Indonesia to launch a digital bank, BukaTabungan.
Standard Chartered also joined forces with local retailer FairPrice to launch the neobank Trust Bank in Singapore.
US local bank Rocky Mountain Credit Union launched its own neobank, built with fintech Mahalo Banking.
📰 Other News
Citigroup is participating in the OCC's Project Reach to lend to borrowers without credit scores. Similarly, Bank of America is testing mortgages with no down payments for minority borrowers.
Ajman Bank in the UAE partnered with Mastercard to issue a card for the visually impaired.
Finnish banks have joined an industry consortium initiative to build a digital identity network.
The OCC is worried about fintech sparking a crisis…
---
💻 Fintech
🚀 Product Launches
Griffin * launched a customer onboarding and KYC tool, Verify.
Binance is launching free crypto trading.
UK mobile POS provider SumUp launched an e-wallet app.
Paytm Labs in India launched an ML-powered fraud risk management platform, Pi.
Chinese fintech giant Ant launched a blockchain-based operations platform for insurers.
Banking as a service provider Bond launched a white-label commercial card solution.
Singaporean superapp Grab partnered with telco Singtel to launch GXS, a digital bank for consumers and businesses.
Non-custodial bitcoin exchange Hodl Hodl is launching a decentralized platform for stablecoin loans aimed at getting banks to lend.
Wealth management fintech FinaMaze launched its US rates product.
---
Sponsored Content
At Bill Gosling Outsourcing, we provide contact center solutions (support, collections, sales and more)  with many of the leading FinTech companies in North America. We've noticed many changes in how and why they engage with contact centers – click here to access our White Paper and leverage our shared knowledge on the Top 10 Contact Center Trends for 2022. Or contact Sharon Mason (VP, Sales) directly for the report and/or to find out more about us.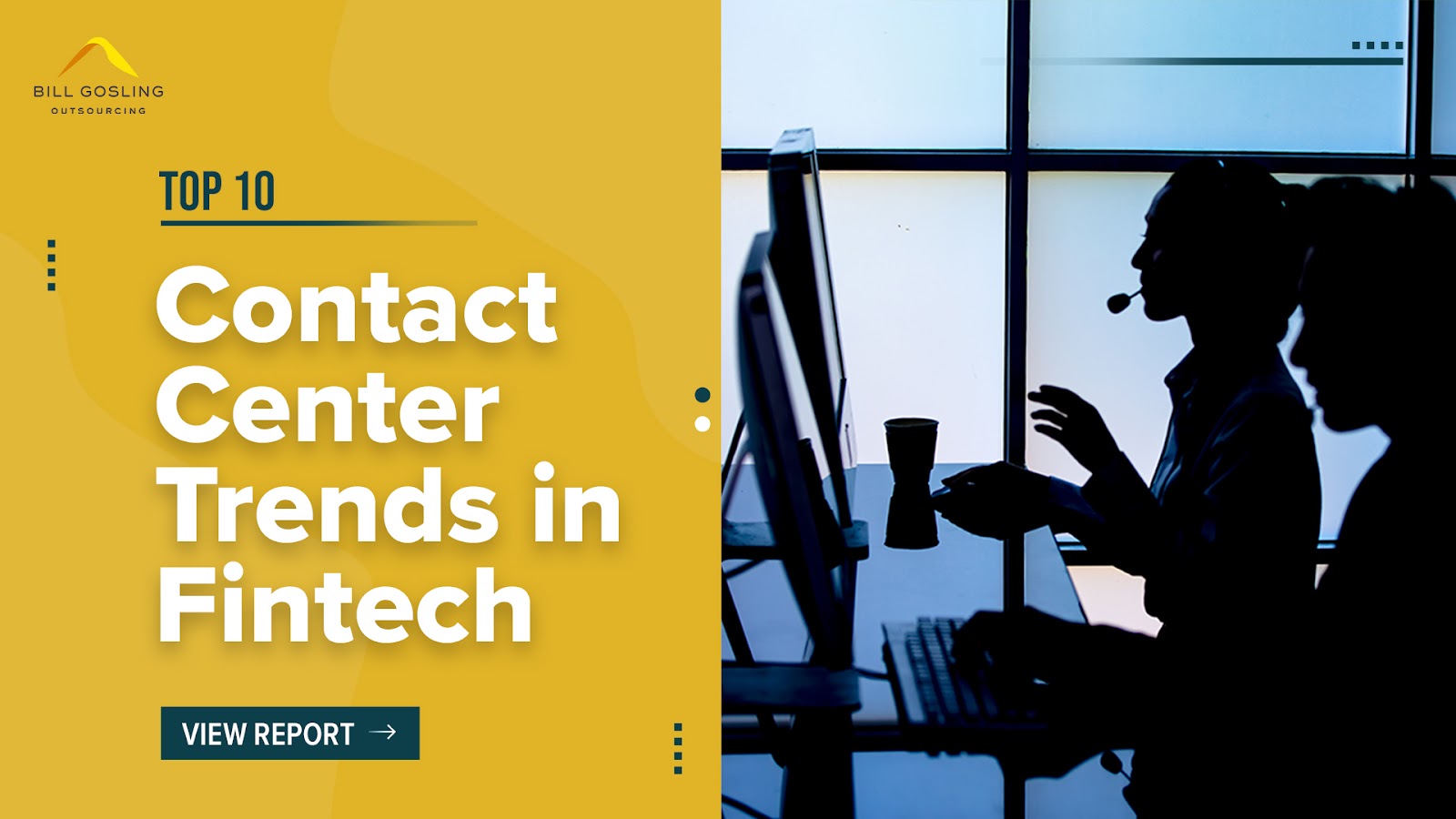 ---
📰 Other News
The House Committee on Oversight and Reform is starting to crack down on US crypto exchanges and push for more regulation.
WhatsApp and JioMart partnered to create an end-to-end shopping and payment experience in India.
Peer to peer lender SoLo Funds grew to $100 million in loans and 700,000 users, but faces a cease-and-desist order from Connecticut's banking commissioner. Niiio, a German roboadvisor, also passed €100 million in assets under management.
Distressed crypto lender Celsius, which the Vermont Department of Financial Regulation says materially misled investors, filed to return the custody of its clients funds.
Varo Bank wants to reform the Community Reinvestment Act. The FTC fined Credit Karma $3 million for sending Americans false pre-approved credit offers.
Geo Moves: Hong Kong will introduce subsidies for fintech companies, following fintech survey data that suggested that fintechs view the city as uncompetitive. Fidel API is coming to San Francisco. UAE airtime credit provider Optasia plans to expand to Latin America and Africa in the next few years.
Nigerian neobank Kuda is laying off 5% of its workforce.
XPO, a UK fintech for creators and influencers, filed for bankruptcy. Revolut is under fire in the UK for misstating its level of compliance risk.
---
Come meet us in-person at www.fintechhappyhour.com, and join our angel investing syndicate.