This Week in Fintech (8/7)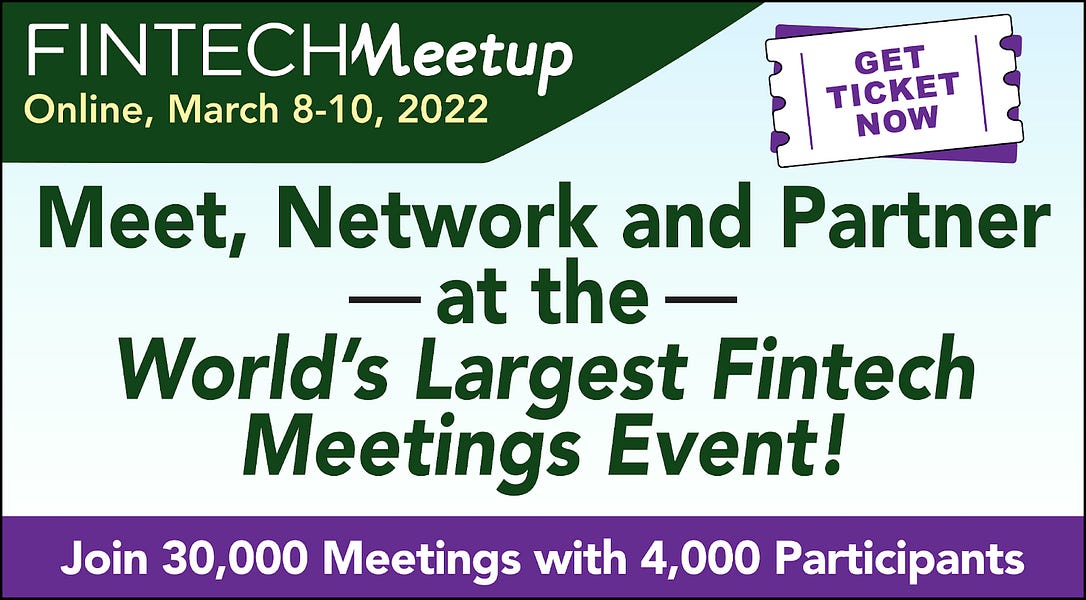 Hello Fintech Friends,
No boring weeks around here, huh?
Sorry for the wall of words below; we'll find a way to spice the Saturday issue up a bit in the future.
Please find another week of fintech financings and exits below.
---
Editor's Note: If you're an early-stage startup founder raising equity or debt, I may be able to help - reach out to nik@thisweekinfintech.com.
---
Sponsored Content
No presentations. Just high-quality, in-person meetings with a curated audience of bank and credit union executives, investors, and fintech executives. Meet decision makers like Jon Barlow (Finitive), Kathryn Petralia (Kabbage), Mike Cagney (Figure), Lauren Morton (QED Investors) and John Piazza (Fifth Third Bank). This is your best opportunity this year to network and close deals. Buy your ticket here.

---
💸 Venture Financing
💵 Debt Financing
Capital on Tap, a UK small business credit card provider, raised a $100 million credit facility as it expands to the US.
💰 Venture Funds
Element Ventures, a venture capital firm focused on B2B fintech and founded by ex-bankers, raised a $130 million fund.
HSBC launched a venture capital arm to invest into B2B fintech.
☯️ Exits
💻 IPOs
Orange County Bancorp (a bank based in New York?) raised $34 million in its IPO at a $150 million valuation.
Alabama bank Southern States Bank set terms for its IPO, and will seek to raise $40 million at a $174 million valuation.
📈 SPACs
FinAccel, the parent company of Indonesian buy-now-pay-later lender Kredivo, agreed to go public through a merger with Victory Park's VPC Impact Acquisition Holdings II SPAC at a $2.5 billion valuation.
Pico, a financial markets data provider, is planning to go public through a merger with FTAC Athena Acquisition Corp at a $1.4 billion valuation.
🤝 M&A - Fintech
🏦 M&A - Bank
Italian payments provider Nexi signed an MoU to acquire a 51% stake in Greek bank holding company Alpha Bank's merchant acquiring business for €157 million.
Newtek Business Services, a business development company, will acquire National Bank of New York City for $20 million in cash.
💲 M&A - Investment Management
Cresset Asset Management acquired boutique Asset Management Advisors.
---
Sponsored Content
Get your Fintech Meetup ticket now! Join 4,000 participants from 2,000 organizations including Startups & Established Fintechs, Processors, Networks, Large Banks, Community Banks & Credit Unions, Investors and more for 30,000 double-opt in meetings! Online, March 8-10, 2022. Discounted early bird tickets are available for a limited time only. Get Ticket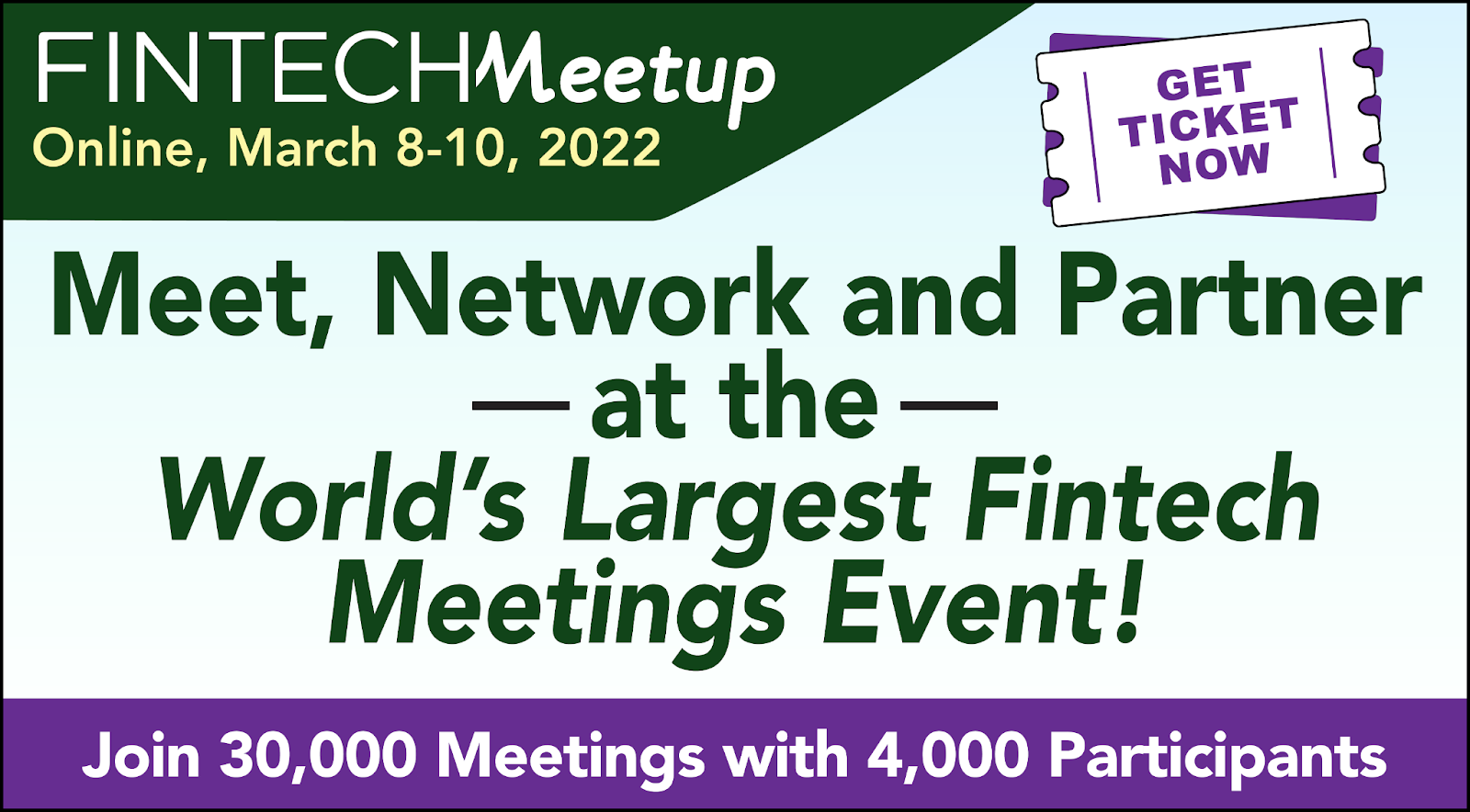 ---
🌎 Fintech Around the World
Challenger fintechs take aim at Australia's big four banks' 'crypto hesitancy'
The first Zambian startup to get into YC is developing Africa's first card-issuing API
North Africa VC Funding Market Map
Is regulatory license repurposing the engine of the fintech revolution in Nigeria?
Why Ghana's tech scene was booming even before Twitter and Dorsey moved in
Finnovating for Africa 2021 & Full Startup List
Burnout, mental fatigue and talent drain are a threat to Nigerian startups
The inside story of how an ambitious African cryptocurrency startup failed
Latin America: Examining the region's Buy-Now, Pay-Later landscape
Insights on the fintech VC industry in Mexico
The Mexico-based fintech that decided to buy a bank
The great ASEAN e-wallet battle: traditional banks vs fintech companies
India's new digital payment e-RUPI is not what you think it is
Mumbai-based GetVantage is helping startups raise funds without giving away equity
How Roundups converts Indian Starbucks purchases into investment opportunities
📚 Deeper Reads
DeFi is Getting Into Everything
The Fintech Revolution (paper)
How Walgreens and Walmart's new banking ventures will shake up finance
The New Age of Ownership; When Fintech Meets Marketplaces; Creator Tools for Active Investing
FinTech Platform ChangeFi is Crafting a New Banking Blueprint for Black and Brown America
Square's Acquisition of Afterpay Accelerates the Race for Alternative Credit
'Buy Now, Pay Later' Installment Plans Are Having a Moment Again
What are Stablecoins and What Risks and Opportunities Do They Bring?
Baby panda falls into a bucket; here's how mommy panda helps
---
Want to be a This Week in Fintech Sponsor? Reach out to us at sponsor@thisweekinfintech.com.

Come meet us in-person at www.fintechhappyhour.com.