This Week in Fintech (8/19)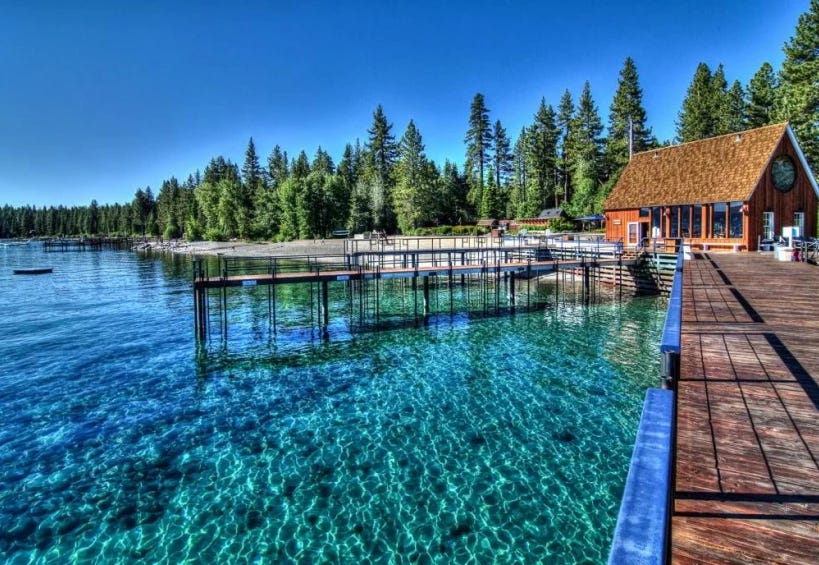 Hello Fintech Friends,
It's been a busy week over here!
🇨🇳 This week, we launched the first issue of our new China Monthly Fintech Wrap-Up, written by Ning Ye. Sign up for it here.
👨‍⚕️ We are excited to share that Paytient will be joining us as a Gold Sponsor for the Fintech Formal! If you haven't made plans to attend yet, it's time to dust off those tuxedos and gowns - https://www.fintechformal.com/rsvp
⛰️ Will you be in Denver for the Moov team's great annual Fintech dev_con? Join us at our meetup on August 24th with Stytch! https://lu.ma/dev22
📰 Content Announcement: We're splitting up this newsletter, which comes out on Fridays, Saturdays, and Sundays, into three separate sections:
You can now choose which of the three you're subscribed to (as well as unsubscribe from any, if you're getting too many emails!) on your Account Page.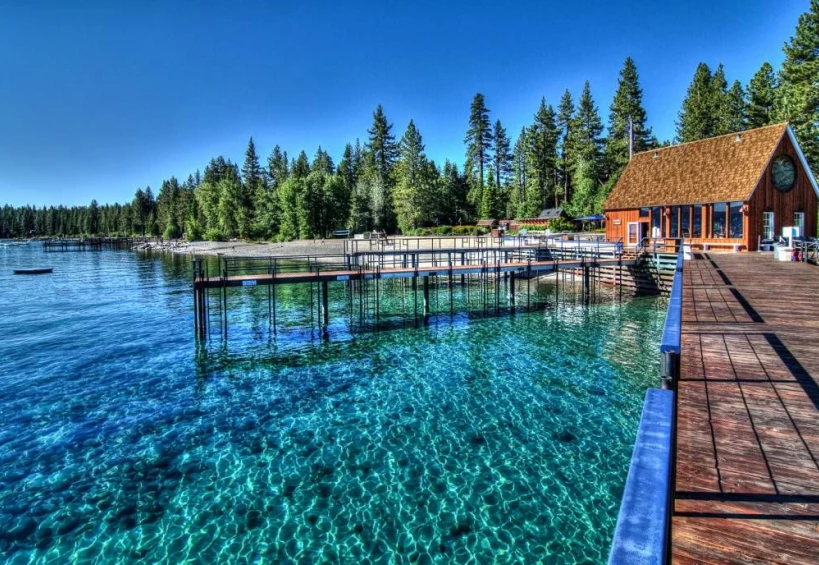 Please enjoy another week of fintech and banking news below.
---
💬 Quote of the Week
📖 Read of the Week
This week, on her blog Make Cents, Redpoint's Medha Agarwal put together a market map showing a cross-section of different fintech companies grouped by category. While not meant to be collectively exhaustive, the map does a good job creating a taxonomy of business models and subtypes. Read on here.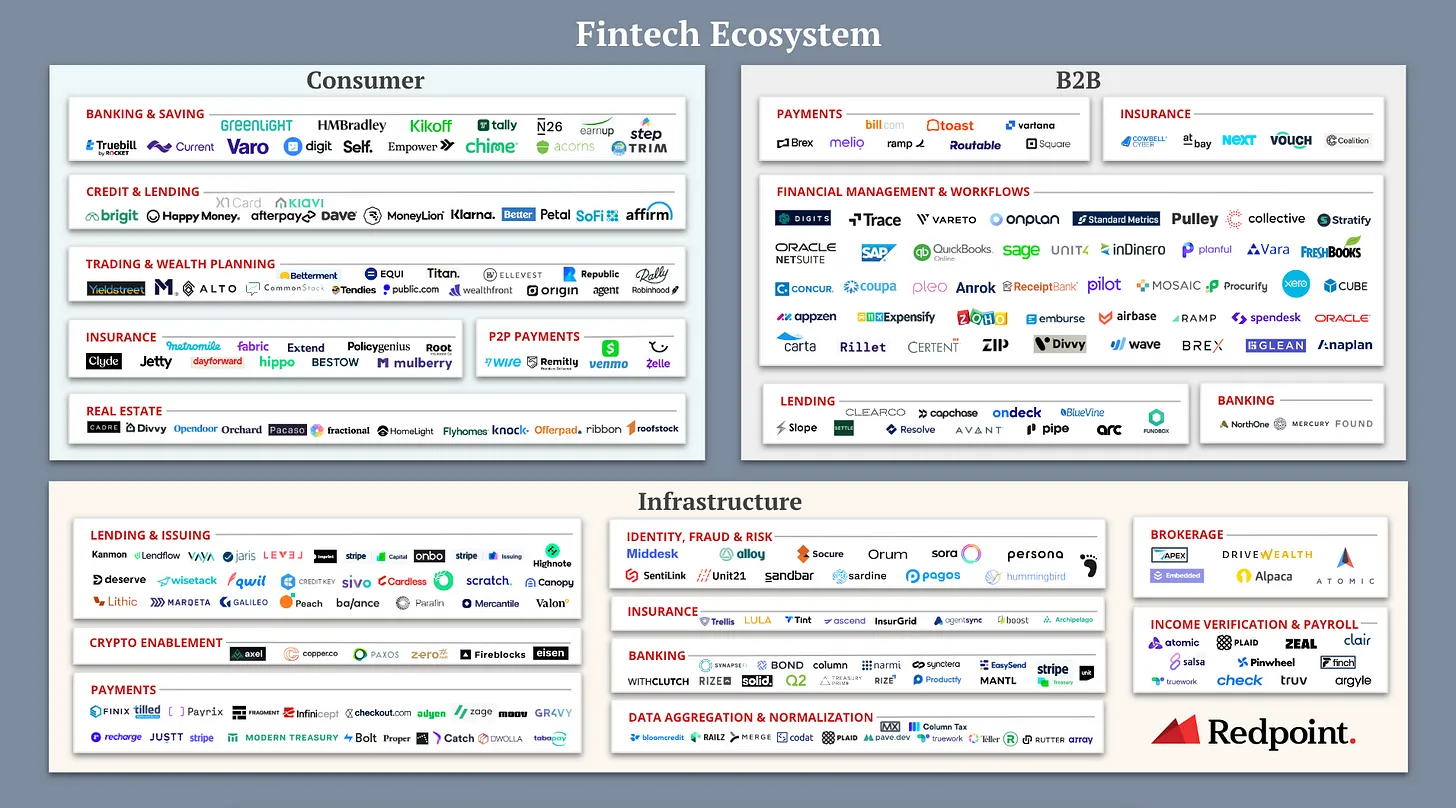 📊 Stat of the Week
Redpoint's Emily Man also dove into Fed credit card growth data:
---
Sponsored Content
Codat is the Universal API for small business data. We make it easy for fintechs and financial institutions to connect into all the systems their small business customers use with a single integration, from Quickbooks, Xero, Netsuite & Sage, to Stripe, Shopify & Plaid.
Join us for a panel discussion with Jeeves and Calqulate on how fintech providers should support SMB customers through an economic downturn on Wednesday 31st August at 10am ET.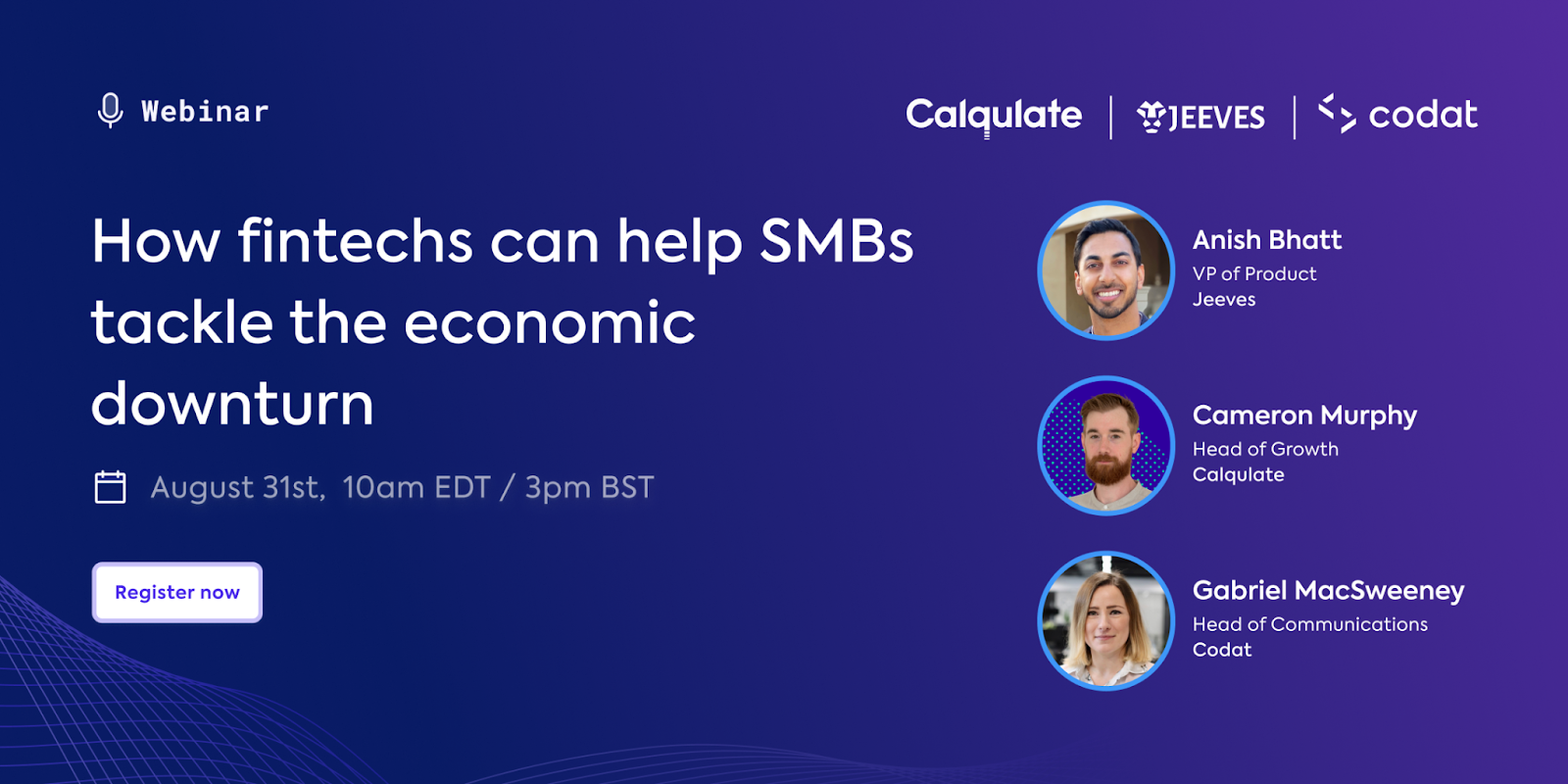 Want to sponsor a newsletter? See our sponsorship information here.
---

🚂 UK payment orchestration Paytrix is looking for a Marketing Lead.
---
🏦 Financial Services & Banking
🚀 Product Launches
Canada's Scotiabank launched a new digital payments platform with cash management APIs.
First Internet Bank launched its Do More Business checking account.
Dutch bank ABN Amro's payment app Tikkie launched functionality for settling group spending.
📰 Other News
Turnover and tensions are both running high at Marcus, Goldman's consumer banking unit.
Buy-now-pay-later isn't for everyone: Mastercard is facing backlash for its installment payment product, with food and gas merchants opting out, after announcing it would charge retailers 3% of purchase price for using installments.
The Stock Exchange of Thailand partnered with Bloomberg to create a financial lab.
NatWest's open banking tool Payit hit the £1 billion processed mark.
The US Federal Reserve Board established a tiered system for evaluating whether to grant access to its accounts and payment services to fintechs.
Israeli authorities are cutting down on cash in order to spur adoption of digital payments. The United Nation's Conference on Trade and Development, meanwhile, cautioned developing countries against adopting crypto too quickly.
German regulator Bafin has urged bank Allianz to improve internal controls following a scandal in the US division.
Barclays closed 18 more branches, bringing its total for the year to 178.
---
💻 Fintech
🚀 Product Launches
FTX partnered with social media site Reddit to create tokenized community points.
Banking-as-a-sevice provider Bond launched their Credit Builder Card product to let anyone create their own secured cards.
SmilePay rolled out face-based-payments with two food retailers in Azerbaijan.
SoFi came out with an ETF focused on NFTs, the blockchain, and metaverse.
---
📰 Other News
This week in 'fintech meets crypto' news,
Ready Life is helping people become homeowners without a credit score.
BaaS provider Synapse partnered with Lineage Bank to offer customers more banking services and WebBank partnered with AmEx to enable its own card issuing suite.
Business financial management platform Neat Company is offering clients free ACH transfers (which I though were… already a thing?)
Nigerian payments provider Interswitch integrated all its APIs into one platform. Bridge Card, a credit card issuer for Africa, came out of stealth.
Online marketplace Flippa added a digital asset purchase intelligence tool.
Germany's Paysafe entered Spain with the launch of its cash deposit and withdrawal network in partnership with Pecunpay. Ranqx, a small business loan platform, entered North America. Digital brokerage Syfe entered Australia.
Digital wealth manager Scalable Capital doubled client assets to €10 billion. And Coinbase shared dropped on a billion dollar loss in Q2.
Banking-as-a-service provider Green Dot, locked in a dispute with Uber, has been steadily losing other clients.