Hey Fintech Friends
Hey Fintech Friends #5 ft Ray Besiga & Michael Schwartz
Helen Femi Williams looks at the latest fintech news, discusses serious and non-serious fintech matters, and shares some of our most recent "Signals" article. This week's friend is Ray & Michael!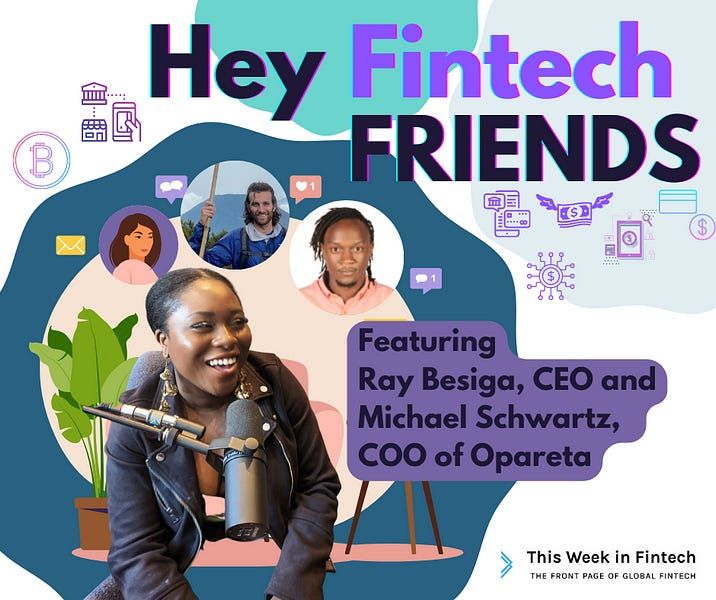 Available on Spotify, Apple, and anywhere else you listen to podcasts!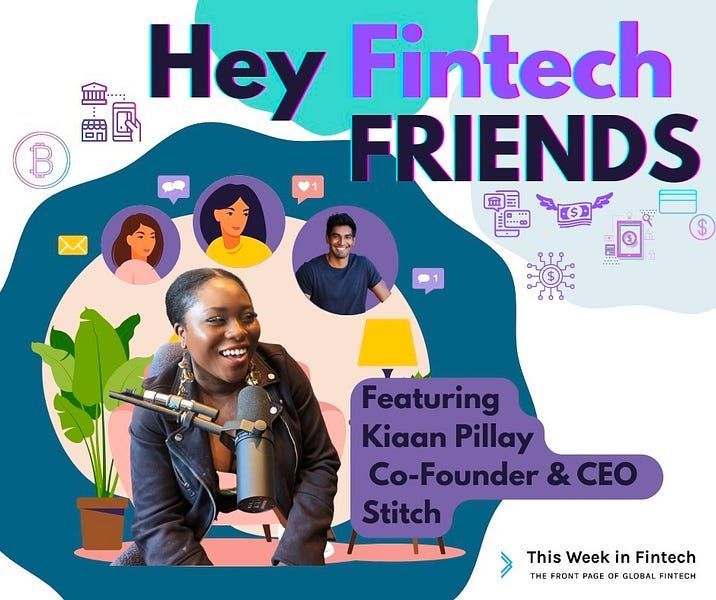 Hey Fintech Friends #5 ft Ray Besiga & Michael Schwartz
Timestamps:
Intro
'Fin-techionary' of the Week: Moblie Money Pay (1.31)
News (2.27)
Interview with Ray & Michael about their experience and current work at Opareta (5.01)
Ray & Michael Interview each other (26.34)
Quick Fire Questions with Ray & Michael (32.09)
Signals Fintech Founders: Qanlex's Yago Zavalia on Building Fintech in Inefficient Markets (42.11)
Transcript:
Hey FinTech friends. Hey FinTech friends. My name is Helen Femi Williams, and I'm your host of this new podcast. Hey FinTech friends!
This podcast is brought to you by This Week in FinTech, which is on the front page of global FinTech news, fostering the largest FinTech community through newsletters, thought leadership, and events. Oh, and now podcasting.
So let's talk about the structure of this podcast.
First, we're going to go through the news. And if you're a subscriber to the this week in FinTech newsletter, you're in luck, because this is the audio version.
Then we're going to have a chat with this week's friends. And yeah, it's plural friends, Michael Schwartz and Ray Besiga from Opareta. And this episode besties is a little bit different from previous episodes, that is due to some internet issues, but it makes a really good interesting chat because there are times when Michael and Ray are actually interviewing each other, and there are other times where we're having like a really interesting three-way conversation.
And lastly, I'll tell you a little bit about the latest Signals article Dez Fleming interviews Yago to understand how his company is turning lawsuits into investable financial assets
Fin-techionary
This weeks, 'fintechtionary', which is our dictionary definition of a fintechy word is:
Mobile Money Pay
According to the World Bank, at the most basic level, mobile money is the provision of financial services through a mobile device. This broad definition encompasses a range of services, including payments (such as peer-to-peer transfers), finance (such as insurance products), and banking (such as account balance inquiries). In practice, a variety of means can be used, such as sending text messages to transfer value or accessing bank account details via the mobile internet. Special "contactless" technologies are available that allow phones to transfer money to contactless cash registers
Although mobile phones are central to all these uses, mobile money is more than just technology—it needs a cash-in, cash-out infrastructure, usually accomplished through a network of "cash merchants" (or "agents"), who receive a small commission for turning cash into electronic value (and vice versa).
But first this week in Fintech
🏦 Financial Services & Banking
🚀 Product Launches
Canada's Scotiabank launched a new digital payments platform with cash management APIs.
First Internet Bank launched its Do More Business checking account.
Dutch bank ABN Amro's payment app Tikkie launched functionality for settling group spending.
📰 Other News
Turnover and tensions are both running high at Marcus, Goldman's consumer banking unit.
Buy-now-pay-later isn't for everyone: Mastercard is facing backlash for its installment payment product, with food and gas merchants opting out, after announcing it would charge retailers 3% of purchase price for using installments.
The Stock Exchange of Thailand partnered with Bloomberg to create a financial lab.
NatWest's open banking tool Payit hit the £1 billion processed mark.
The US Federal Reserve Board established a tiered system for evaluating whether to grant access to its accounts and payment services to fintechs.
Israeli authorities are cutting down on cash in order to spur adoption of digital payments. The United Nation's Conference on Trade and Development, meanwhile, cautioned developing countries against adopting crypto too quickly.
German regulator Bafin has urged bank Allianz to improve internal controls following a scandal in the US division.
Barclays closed 18 more branches, bringing its total for the year to 178.
---
💻 Fintech
🚀 Product Launches
FTX partnered with social media site Reddit to create tokenized community points.
Banking-as-a-sevice provider Bond launched their Credit Builder Card product to let anyone create their own secured cards.
SmilePay rolled out face-based-payments with two food retailers in Azerbaijan.
SoFi came out with an ETF focused on NFTs, the blockchain, and metaverse.
---
📰 Other News
This week in 'fintech meets crypto' news,
Ready Life is helping people become homeowners without a credit score.
BaaS provider Synapse partnered with Lineage Bank to offer customers more banking services and WebBank partnered with AmEx to enable its own card issuing suite.
Business financial management platform Neat Company is offering clients free ACH transfers (which I though were… already a thing?)
Nigerian payments provider Interswitch integrated all its APIs into one platform. Bridge Card, a credit card issuer for Africa, came out of stealth.
Online marketplace Flippa added a digital asset purchase intelligence tool.
Germany's Paysafe entered Spain with the launch of its cash deposit and withdrawal network in partnership with Pecunpay. Ranqx, a small business loan platform, entered North America. Digital brokerage Syfe entered Australia.
Digital wealth manager Scalable Capital doubled client assets to €10 billion. And Coinbase shared dropped on a billion dollar loss in Q2.
Banking-as-a-service provider Green Dot, locked in a dispute with Uber, has been steadily losing other clients.
And now for our friendly chat with this week's friends, Ray & Michael
Ray Besiga (Co-Founder and CEO). Ray brings a wealth of software engineering, product management, and entrepreneurial experience to Opareta. As one of Uganda's leading software engineers, Ray founded his own software consulting platform called Sparkplug, delivering digital projects for clients such as World Bank CGAP, MTN Group, UNICEF, Clinton Health Access Initiative, RTI International, and Maxwell Stamp, among others. Ray has likewise worked for Nigerian Fintech startup Flutterwave as their Technical Product Manager for Fintech as a Service.
Michael Schwartz (Co-Founder and COO).  Michael began his career in the investment industry before moving to the other side of the table to lead the Corporate Finance departments at Fenix International and PEG Africa, two of the continent's leading Solar Home Systems businesses. He has likewise supported a number of East African startups with fundraising and financial modeling efforts, including leading Mr. Green Africa (a Nairobi-based social enterprise focused on plastics recycling and processing) through its Series A fundraise.
And like I said, this chat is a little bit different from our previous ones, because we do go through serious questions. We do go through quickfire questions. But there are points in which Ray and Michael are just having a conversation between each other. And you'll see that it's quite good. It's a good friendly chat.
---
Thanks for coming on the podcast. We're excited to have you both. I think where we should probably start is to basically just talk about like, Ray Michael, like, Who are you and where are you based?
Great question. So yeah, Mike, you want to go first?
You start us off. Thank you.
Yeah, I'm Raymond. I'm based in Kampala, Uganda. I'm a co founder of Opareta and happy to be here.
Then I'm Mike. I'm raised co-founder  at Opareta and I am currently based in Dakar, Senegal. So I am relocating to Nairobi in a couple of months.
awesome. I didn't realise that both for you. We're, we're located in Africa. Have you always lived on the continent? Or did you move around?
No, I have not. I was born in a small town in Colorado. And did my studies in San Francisco before eventually moving to Kampala, where I met. So I lived there for three years, relocated to that car, and now heading to Nairobi. So I guess, for the past five or so years, bouncing around the continent a bit
out of these three countries. Which one have you liked the most? Oh,
man, I knew that's where you were going. I can't I can't answer that. It wouldn't be fair. Well, I haven't lived in Nairobi. What I like to say to people, I mean, they're extremely different places. Uganda, I loved I grew up in the mountains. So nothing. I've never been anywhere that's compared in terms of natural beauty. And just kayaking down the Nile River or hiking up a volcano or going on a safari on the weekends is I can't imagine there is anywhere else in the world that offers so much kind of biological diversity in such a small space. And then Senegal is obviously very flat, the fat, flattest place I've ever lived. But the cultural scene here is amazing. Just last month was The  this massive art exhibition on the African continent, people, artists from all over coming to show their work, and it's the most impressive gathering of artists I've ever witnessed. And the music scene. I love West African food. So yeah, it's there's no right answer. They just they both have their kind of pros and cons, I guess. Yeah,
that does sound pretty amazing. Especially like, all the things you're able to do in one country,
What about you Ray? what's your, how long have you? What's your story? How long have you lived? And what's the best thing to do that?
Yeah, so I was born and raised in Kampala, Uganda. As with any other middle-class kid, you go to boarding school for high school, six years, and then I joined marker University in Uganda. But halfway through, I got onto this research project with the MIT AI labs. And so that's That was my first foray into the US. And over a three-year period, I just kept going back and forth. doing my research there. And then, yeah, that's what got me into the international scene. I've worked in Africa. I've worked and lived in Southeast Asia. And then I came back to Africa. There are tonnes of beautiful countries out there. But I would say, outside of Africa, my favorite country might be Indonesia, I think because it's just so large. There are three or four different time zones. There are different kinds of ecosystems. And the people were really quite sure. And I really, I really liked that. Yeah, I'd say culturally, though, I really enjoyed living in Timor Leste because I was there for a year. Yeah. So Southeast Asia has a special place in my heart.
That's actually funny Southeast Asia has a special place in my heart, but Malaysia because I used to live there. But Indonesia and Malaysia actually have quite a similar culture. And I love the food of Indonesia. And yeah, the vibe is quite good. And quite funny. Actually, I got into too many situations. But yeah, let's circle back to  FinTech and everything
For your non FinTech how do you explaoin what you do  What exactly what exactly would you say you do? And how would you explain? Opareta?
That's a great question.
I can direct that. Oh, yeah.
We're gonna direct it to Mike, like, do you want to answer it?
Yeah, sure. I guess, I guess for me, because I'm often well, like when I explained it to my parents, for example, who are American and don't know what mobile money is,, their starting point is probably a bit further behind. And then most of the people you'd be explaining it to? Yeah, so I mean, first things first, I just have to start with the mobile money ecosystem. And the way I described the people is, it's effectively having a wallet attached to your telecommunication SIM card. And so, in the absence of having a bank account, you can, in some ways, have a, let's say, transactions-oriented bank account through your telecom provider. And that's the way many people across the continent and actually, across the global south now really, are accessing financial services. And when it comes to that, like our business, we're targeting one, let's say, a special role that underpins that entire ecosystem: the mobile money agent. And so, the agent is effectively a human ATM. And they act as a bridge between the mobile money network and the customer, right? So they're the person I would go to in the same way I would go to, let's say, like a bank teller or an ATM to withdraw or deposit cash. And so that's, that's our customer. Now, in terms of what we're building for them. We're trying to digitize them. And so we, that individual is still very, let's say, kind of analog and their operations, they use pen and paper to record their transactions, they use Excel spreadsheets to understand their earnings. They typically are using feature phones to actually run their business. And so, we're trying to bring them into the digital economy. So bring them onto their smartphone, help them use activity on that smartphone to create a digital identity in the same way that I have a digital identity as an American with a formal credit score, which follows me around everywhere I go. And then, based on that digital identity, connect them to the financial services they need to grow their business, their core mobile money business. So that is, that's the summary. Hope that hope that makes sense.
Yeah, it definitely makes sense. So is it mainly like businesses you're working with? Or is it also like individuals themselves?
So technically, they are businesses, but they're there; they tend to be individuals. So they're operating a small shop or a kiosk, and they tend to be a single person. And in some cases, there'll be a small network of agents working under a bigger operator, but tends to be individual.
Yeah, I Yeah, that makes that all makes a lot of sense. And it must be it's funny because like, something like mobile money pay was is actually something which, in the, in the regions that you work in, is something that's been there for a really long time, in some ways more, in some ways, even before kind of like FinTech came to like the West and stuff. Mobile money pay was something that, like, East Africa and stuff, was always not always, but the emergence of it is quite like a stronghold.
Have you like faced a lot of like challenges like building that app? Or is it or has the kind of going from analog to digital been quite easy?
Well, well, anything worth doing is it's not easy. That's the first thing. But I would say, I think, as with anything, you know, agents fall on a spectrum; there is an agent with a simple stand and an umbrella and as agents with our large storefront that also sells a bunch of other goods and services and products. And so what we've encountered is that as we design for agents and try to get them into the digital economy, we've had to really consider that first-time user experience because, for many of them, it's the first time they're using smartphones. And so, in the words of the idea, we're designing for digital competence. We want people to maintain their dignity, even as they use some of these tools, digital tools for the first time. So it's been, it's not been as easy as designing, you know, an Uber-like app or something like that. It's been about spending a lot of time with agents to try and make sure that the language is universal, trying to make sure that the workflows are intuitive, and that they don't have to go to a school or be coached to be able to use the app. So it's been quite exciting. Quite fun, but definitely challenging.
Yeah, I can imagine. So, I think that piece is really interesting, like with anything that anyone wants to make, you want it to be so seamless that people are like, Oh, I already know how to use it before I even use it. So I can imagine that's like a challenge to get through but like quite an interesting proposition. So if then we look like if we were to circle like 10 or 15 years, like what would operate look like? What would you guys be doing?
Yeah. So I think for us, it begins and ends with the agent. So we view the agent, really as our core customer. And the aim is to build a digital platform to revolutionise their business. And so, you know, I think there's a lot of stuff that we're doing today that's reflected there. So you know, bringing them on to their smartphone, bringing them into the digital economy, and helping them create the digital identity in the way that I explained. But I think what gets interesting when you think about the long-term vision is how we sort of layer additional services on top of that. And so, you know, I think we're thinking today about how we support the agent in running their core mobile money business? And so you know, in terms of like giving them the information, the tools, and the capital, they need to do that. But over time, how do we turn the agent into more than just a mobile money kiosk and into a more, let's say, holistic financial services provider for their community, or even just a digital services provider for their community? And so I think what we're thinking a lot about is, what is the kind of core infrastructure layer that enables that, and for us, that's really this digital identity layer? How do we layer services on top of that, that not only open up new opportunities for the agent but also reinforce that layer. So if you think about sort of our first product being a loan to the agent, we're using the digital identity to offer that loan in a smart way. But also, the credit history that they build through that loan programme reinforces the right identity that that information feeds back into the initial layer. And as we think about layers to add on top of that, how do we prioritise those best positioned to build ourselves versus those we can offer through third-party integrations? And so that's kind of how we see it evolving.
Yeah. And just to add to that, so one thing that most don't realise is that mobile money which everyone talks about is this leap-frogging technology is underpinned by analog agent networks. A lot of the agent networks that run mobile money all over the world are purely analog. There's a lot of cash, cash, cash logistics, there's a lot of physical ledger books, there's a lot of money being carried around, and there's hardly any technology. And so by us choosing to focus on the agent, and then building on that atomic unit, because the agent is representative of this entire vertical industry, that is sort of analogue, mostly analogue, if we can build the right infrastructure tools to embed ourselves in their core day to day workflows, and then build highly tailored software solutions for them. I think we will unlock a whole new market because first we aim to deliver value for the agents before extracting any value. First we bring them value and then either through you directly or through third parties. And then by doing that, we're then able to use this agent network to sort of deliver more value for their communities to become the conduit for last mile fulfillment of digital services for their communities, because it's easy to overstate the digitization that's happened in Africa, I think, there is so much more to do. Like when you're actually on the ground, you realise that a lot of the digital tools and apps that we see are for the one 2%, they don't really service, the rest of the population. And so our goal and our vision is that we can deliver value to these agent networks, and also use them to deliver additional value to their communities.
Thanks for that answer. I think that's really interesting because I think that I think what Ray picked up on is really interesting, like where there is so much to be serviced. And a lot of the time when people think about like, these, these, these products, it is for that, like one and 2%. And there are so many different and like, unique products that could be serviced. And it sounds like in the route that you guys are going on. That's where you're going. So I think it's really interesting to see what that looks like in 10 years or so.
But I'm gonna move on and just basically ask you guys, what is their kind of like a fact or stat that you've seen recently that you think it's been quite interesting regarding mobile money? Or just like in general? In the world of fintech?
Yeah, I mean, I can also have any, I mean, so. So mobile money? just passed the trillion dollar mark, in total transaction value, which I mean, it's one of those sorts of buzzword kind of numbers. But I think it speaks to a point that you made earlier, Helen, about the actual sophistication in mobile, mobile transaction activity. Yeah, I think like people, people in the US, you know, are using Venmo, and Cash App and things like this. And it's becoming more and more prevalent. But it still doesn't come anywhere close to the volume and just the percentage of an overall activity that exists across the developing world, in particular, on the African continent.
Yeah, I think the one other really interesting thing about that stat as well is that all of this is driven by the physical ubiquity of human beings who are sort of human ATMs; they are the ones that drive the digitization of this cash into digital money to be able to make it move around. And so it's kind of like, also telling of the sort of like culture, the difference in culture. Yeah. Because it's, I think it's very unlikely that you'll, you'll go to a guy at a corner somewhere in New York and ask to take money out or get electronic money, right. So, that's an interesting thing about that stuff.
Okay, so, we've had, we've had four previous guests on the podcast, and every single time we have an episode, I ask people, like, what questions should we ask the next guest? Given those two of you?
So our first guest, Rohit, he asked, What was your 'Ohshit' moment in your career? So I direct that at  Michael. So that's basically a moment where like, you did stuff and then it basically went wrong, the whole thing went wrong. Do you have a time in your career when you can remember that happening?
Oh, interesting. I kind of understood that question very differently. Like you're sort of like oh shit, epiphany moment. Let me think a time when
Well, I mean, as someone, I think anyone who works in, in financial models can attest to this, but I there was a like, four-month stretch where I thought my backup I my backup cloud function was downloading and refreshing all the models I was working in. And I mean, this sounds this is like a very nuanced example. But oh man, when I lost that computer, or that computer broke down, I had to switch to a new computer and realize that I hadn't saved any of that work. It was just about a breaking point for me when I was back, and this is back in sort of my investment fund days when you know as like an analyst or associate you're like sleeping in your car and I Um, so I would say it was an ohshit moment, both in terms of, oh shit, I'm totally screwed. And you know, I'm gonna have to like work like crazy and whatever. But it was also an ohshit epiphany moment, in terms of I need to really get out of this industry. So I guess that's sort of a bit of a double entendre. It worked both ways. And it's probably a big part of the reason why I'm here today.
Yeah. I love that. I love how your ohshit also was kind of your eureka moment. And actually, yeah, that is also a question I've started to add into the podcast, like, When was your eureka moment? So like, I felt like that yours was both. And I feel like that's definitely something that we can all relate to whether it's like personal or work. I don't think anyone in the modern world has not had a time where they've not saved stuff. That's important. And then it will go wrong. I can definitely remember I did that with a phone once, and I just cried.
it's the absolute worst.
It is the absolute worst, but you learn your lesson after that. Like once that happens to you. I'm sorry. Like, you never do it again. Because it was so painful. I lost like two years. Because my phone just died. And I I was living recklessly. I never backed anything up. Yeah, I
I had my phone stolen a while ago. And I wasn't using Apple cloud. And as soon as I got a new phone I subscribed, I was like, whatever. I'd rather pay $3 A month than never get to see my old photos again.
Ray & Michael Interview each other (26.34)
We've started interviewing each other. So I asked Ray, if he wasn't doing this, what he would be doing. And he he said he probably either he'd be either farming or working in the hospitality industry. Because just to get you up to speed. Yeah, yeah, you
When Opareta is a big success, and we can we can settle down. I am very in on on opening up a lodge.
my god. You guys still haven't been to Lake Mutanda. Disappointing. I should go.
We need to do that. Next time. Next time. I'm in town.
Yeah, yeah, let's do it.
Well, do you want to ask me a question?
Okay. Let me look at the Rolodex of questions. And, okay, this one is deep. So prepare yourself. What's a philosophical question that you often dwell on?
Oh, man, you've opened up the can of worms, right? I mean, if you were to ask this of like, any of my closest friends would, they would have the answer immediately. But let's just say I'm not a believer necessarily in free will. So that's kind of a nihilist way of thinking. But it is the way that I think and I just use this example of Opareta. I mean, imagine if there's like, there's so many little things, right. But like, imagine if the pandemic hadn't happened. Imagine if, you know, someone had moved out from the compound during the pandemic, you know, like, both of those things, coincidentally, brought you right next door, and brought us together. I know. And neither of those things were in our control, right. But yet, the most impactful thing to happen to me in this year, obviously, was starting this company with you. And so it's these types of random coincidences that completely dictate the kind of direction that our lives take that. Yeah, sort of made me feel like we have no control, which I think some people view as a sort of, like sobering or defeatist perspective. But but in my case, I think it's actually quite the opposite. It's a way of just like living a bit more in the moment, and not worrying too much about the impact that all these decisions will have. Because ultimately, they're Yeah, they're not your decisions anyway.
Yeah. So you, you, you kind of believe in sort of like the butterfly effect, you know, it's just like a series of dominoes, and it's out of our control. Yeah, that that is all right, that complexity
is deep, dives deep. I don't know, right. Now, I'm thinking, you know, now I know I'm chewing on it, and I have, I have more questions, but then at the same time, you know, like, I don't know I, in many ways, I do not feel like that. I agree with you, but I also feel that I don't think life is that deterministic in a way. I think we don't have fates defined You can recreate them. Or we can like choose, okay, I don't like this. I'm going to change it to something else. But I don't know. I should I should show on that. You know, I think there's, as you said, infinite complexity. I think it could go either way. It could be deterministic. Or it could be non deterministic. I don't know. Something to think about.
Yeah, well, maybe you chew on that. What movie or TV show changed your life?
Whoo, whoo. That's a really good one. There's been quite a few. I thought, Well, I would say, you know, I can't really set up for one but Mr. Nobody was a quite a movie, you know, got me thinking about all of these things. And then Deus Ex Machina, as well. You know, like, got me thinking about what is sentience? You know, like, what does it mean to be human? Is intelligence, you know, a defining factor of humanity, or is it something else? And then another movie that really got me thinking about like the, you know, the power of perspective was alarmed. Was this Ethiopian movies, an indie movie about this boy in rural Ethiopia, who has a land then there's all these other social, economic, political factors happening all around him, his family, you know, the land and all this stuff. It's called land. It's very, very good. You should watch it. It got me thinking about, you know, the power of perspective.
Yeah, yeah. Mark,
in that regard.
Mark, and it looks like it's set in the semi.
Yeah, it's such a beautiful movie. It's so stunning. I was like, wow.
Quick Fire Round (32.09)
What mundane activity do you secretly take pride in?
Oh, I like pottery, and I like sailing.
Michael texting or talking.
Talking.
Ray from one to 10 How hot do you like your shower?
8
Michael arrived early or arrive late.
Definitely. late.
Ray, what's the best age?
I think the best age is 27
Michael. Would you rather drink ketchup through a straw or eat mayo with a spoon?
Oh my god catch up. I guess I don't know. Yuck.
Oh my god, that is terrible.
I hate both. Can I substitute like chili?
I was just substituting in chilli instead of ketchup or mayonnaise, both of which I despise. But sorry. Go ahead,
I'm not kidding you. Mike would drink a bottle of chili no joke, and
there's no right answer
Would you rather live in a country with a low cost of living but horrible weather? or live in a country with a high cost of living and amazing weather?
The latter high cost of living and amazing weather.
Yeah. Michael, would you rather be a chicken for one day or a cow for one day?
Chicken for one day
Ray, would you rather control the world's dreams for a night or control one's person's dreams forever? One person's dreams forever.
I think the latter one person's dreams forever.
Michael, would you ever lose the ability to lie or believe everything you're told?
lose the ability to lie
Ray, would you rather fight a mermaid or polar bear?
Ah, I think I'd rather fight the polar bear because the mermaids and Harry Potter were really scary. So yeah, a polar bear.
Michael dark chocolate on chocolate.
Dark chocolate.
Ray for a journal, paper or computer. Paper.
Michael, how many cups of coffee do you drink a day?
Oh, come on. I keep getting the bad questions. I don't know four. Maybe five a lot.
That's a lot.
Yeah, a lot of coffee. The coffee in East Africa is amazing. I blame Uganda.
Yeah, there's really good coffee here.
Ray, would you rather perform surgery without qualifications or fly a commercial plane without qualifications?
Oh my god. I think I would rather do the surgery. Because then I only kill one person instead of like 300 people, right? Oh,
Michael, at what age did you stop believing in Santa?
I don't know. Eight, maybe me seven, something like that.
Ray, would you rather have a portrait drawing or a portrait photograph?
I would rather have a portrait drawing.
Michael, would you rather work more hours a day but have longer weekends or work fewer hours a day with more workdays,
more hours longer weekends? Definitely.
And last but not least re spelling bee or maths bee?
Spelling Bee?
---
So as this is the fintech friends podcast, were keen to highlight other friends that maybe people dont know about - who is a friend of yours that we should highlight or stay on the look out for?
Olivia Johnson - Head of Analytics and Business Intelligence at Lendable
There's a really interesting platform called lendable. They do crowdsource lending for fintechs across emerging markets. And so I think as such, they have really good kind of, well, first of all, is a very interesting FinTech platform in and of itself, but secondly, they just have a great, they have great insight into the FinTech landscape across Africa, Asia, Latin America. And they just made this amazing. She also happens to be my partner. So I think obviously, the world of her name is Olivia. She's super knowledgeable on fintech. And, yeah, I think she'll do a great job for them and would be very interesting person to have on this podcast.
Yeah, I know of her as well. She is exceptional at what she does. I think she should definitely be on the podcast.
She sounds great. And I love that you highlighted your partner.
I was gonna say one last question. Just before we go question, which I forgot to answer is, how did you to me and like, you know, just give us you know, the love story of this bromance.
Like, tell us tell us
I mean, in terms of how we met is probably less interesting. Because, you know, we've somewhere along the way and Kampala you know, I don't know, right, you're probably like playing a DJ set or something. But in terms of how we like, maybe the romance or the, let's say the working relationship really started. It was we like to describe Opareta as a as a COVID baby. So I guess sort of coincidentally, during the pandemic, one of the people living in my compound moved out. And it just so happened that Ray was looking for a place and so I told them, hey, this place opened up it's perfect for you and your partner or you guys should check it out. And so they moved in. And at that time, right, it was like starting to kind of put walk around with Opareta. And so they moved in this very intense lockdown. Uganda had one of the most intense lockdowns, I think they were the last country in the world to open the schools back up. So like 7 pm curfew, no cars on the road, lots of things like that for quite some time. So we literally had no choice but to poke around on our credit together. So I was working another job at a time, but Ray was just sort of constantly popping over to my place and announcing everything I said, I think, in the most endearing way. And, yeah, we just had lots of time to just map this whole thing out. So I guess in some ways can be very thankful to the pandemic for bringing us together.
Yeah, Mike did not really have a choice in this matter. You know, he was my neighbor. And every evening, I'll just show up and be like, Yo, so I was thinking about this. And then I was thinking about that. And I was thinking about this. And I was just taking up so much of his time and so much headspace. And so he kind of got curious, and then he got involved. And then he was just like, okay, this sounds really interesting. I was like, wow, you know, I know you're now moving to Senegal, but you know, there's still operator, it's a thing. It's really interesting. And you might want to check it out. And yeah, eventually, I was able to win him over. And now we have the company, thanks to my insistence. And unannounced visits? Yeah.
Oh, that sounds so cute. I love how it started like that; see the bringing on together creating COVID babies and bromances like, I guess that was the upside of the pandemic. I think it's probably a good place to end there.
But thank you both so much for coming on the podcast,
Signals
If you like This Week in Fintech's newsletter and Hey Fintech Friends Podcast, you'll love the deep dive content we publish in our premium newsletter edition, Signals. In this latest Signals piece, Dez Fleming puts Yago Zavalia on the stand to testify to how Yago's company, Qanlex, is turning lawsuits into investable financial assets. Yago and Dez discuss litigation finance, how to think about cannibalizing your own business, the role that luck played in bringing Qanlex's founders together, and why it's actually better for most of the investors you'll pitch to think that your startup idea is crazy. I don't want to give away too many spoilers, so I'll rest my case here!
Subscribe to the This week in FinTech newsletter, and I'll see you next week. Besties!