Hey Fintech Friends
Hey Fintech Friends #3 ft Wiza Jalakasi
Helen Femi Williams looks at the latest fintech news, discusses serious and non-serious fintech matters, and shares some of our most recent "Signals" article. This week's friend is Wiza Jalakasi!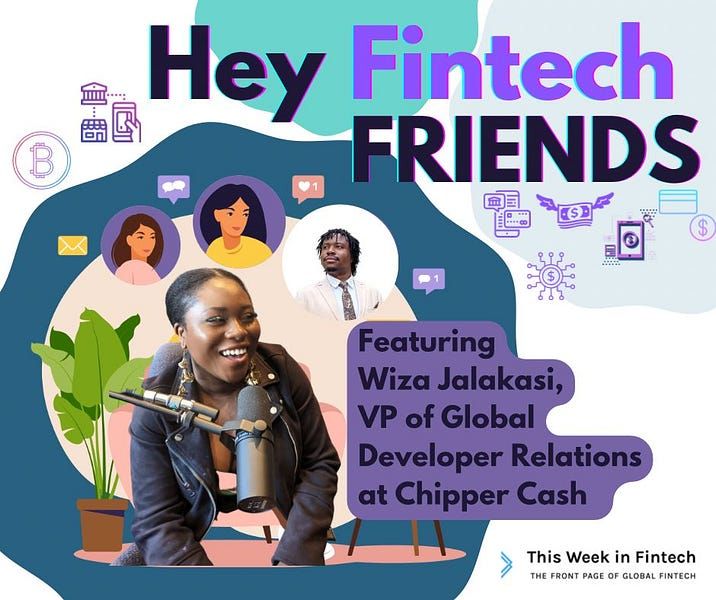 Available on Spotify, Apple, and anywhere else you listen to podcasts!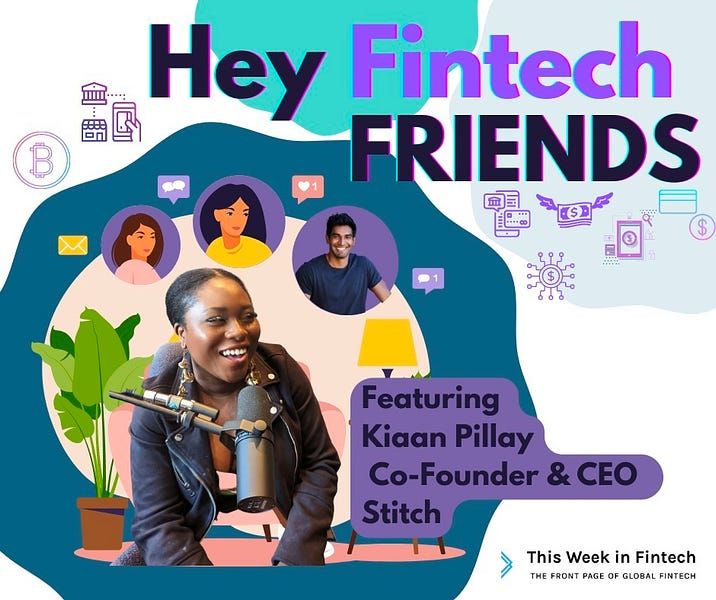 Hey Fintech Friends #3 ft Wiza Jalakasi
Timestamps:
Intro
'Fin-techionary' of the Week: Cross Border Payments (1:36)
Interview with Wiza about his experience and current work at Chipper Cash(4:54)
Quick Fire Questions with Wiza and friendly questions (27:46)
Transcript:
Intro
Hey FinTech friends. Hey FinTech friends. My name is Helen Femi Williams, and I'm your host of this new podcast. Hey FinTech friends!
This podcast is brought to you by This Week in FinTech, which is on the front page of global FinTech news, fostering the largest FinTech community through newsletters, thought leadership, and events. Oh, and now podcasting. And what's quite cool about this community is the creativity, the intelligence, and also understanding that those who work in the field are just regular people who've decided to devote themselves to solving a particular problem. And with that comes a unique mix of finance, technology, and fun, which is exactly what this podcast wants to explore. So expect this content to be informative? Yes. But we're also keen to get to know our founders and ask them questions you didn't know you needed answering.
So let's talk about the structure of this podcast.
First, we're gonna go through the news. And if you're a subscriber to this week in FinTech newsletter, you're in luck because this is the audio version.
Then we're going to chat with this week's friend, which is Wiza Jalakasi, VP of Global Developer Relations at Chipper Cash.
And lastly, I'll tell you a bit about the latest signal article. 'Fintech Founders: Decimal's Matt Tait on Fundraising During a Downturn' written by Dez Flemming.
Oh, and one last thing before we start this interview, I should tell you that every episode, we're going to be dropping a 'fin-techionary. The dictionary definition of a FinTech keyword, which we talked about on the podcast with our guest, and this week, it's:
cross-border payments
According to the Bank of England, Cross-border payments are financial transactions where the payer and the recipient are based in separate countries. They cover both wholesale and retail payments, including remittances.
Cross-border payments can be made in several different ways. Bank transfers, credit card payments, and alternative payment methods such as e-money wallets and mobile payments are currently the most prevalent ways of transferring funds across borders.
So hope you enjoy our friendly chat with this week's friend.
But first this week in FinTech….
🏦 Financial Services & Banking
🚀 Product Launches
ING, NXP, and Samsung launched a mobile payment method that allows users to pay each other by pointing their phones at each other.
Mastercard partnered with a British woman to build and launch Sibstar, a card built for people with dementia.
📰 Other News
In what may be an extremely consequential move - India is now offering up many of its e-governance tools to other countries and providers as a service, including its real-time payments system, UPI. Many similar initiatives (such as Mojaloop) have tried to productize, standardize, and proselytize (sorry) shared financial systems architectures across countries, but based on the runaway success of India's UPI - which boasts 150 million monthly active users - this may be the first real opportunity for that to happen.
Deutsche Bank is working on a white-label buy-now-pay-later product for merchants.
An outage in Canada's Rogers network provider shut down the Interac money transfer service, banks, and ATMs.
Fidelity is opening its wealth management services to retail investors, with just $1 per stock minimum investment.
The CFPB in the US issued new guidance on how banks and fintech companies can use consumer data.
The Banque de France is stepping up its central bank digital currency efforts. The Bank of England is in the process of drafting sweeping crypto regulation. The US government is pushing to prevent crypto owners from being involved in crypto legislation to avoid conflicts of interest. And the Bank for International Settlements' Committee on Payments and Market Infrastructures (CPMI) and the International Organization of Securities Commissions (IOSCO) published joint guidance on how stablecoins should be regulated.
---
💻 Fintech
🚀 Product Launches
Qori, a French app that allows users to pay in-store, online, or by phone using their bank or crypto wallets - all without downloading an app - launched this week.
Open banking platform Tink launched settlement accounts.
Payments provider Monneo launched an API for upcoming banking-as-a-service features.
UK neobank Starling launched a new budgeting tool for small businesses.
Sendsprint - a UK mobile transfer and gifting service for Nigeria, Kenya, and South Africa for a flat $5 fee - was launched by a former Flutterwave exec.
Isle of Man-based fintech startup Blackfridge launched another GBP stablecoin.
Delio launched South Korea's first crypto bank (in the wake of the Terra meltdown, also based in South Korea).
NBX and Enfuce are partnering to launch cashback payment cards.
---
📰 Other News
In the latest update to the Flutterwave saga, a Kenyan court froze $52 million in assets linked to the company as it undergoes an audit due to money-laundering claims leveled against it.
Defi giant Aave is now set to launch its own stablecoin, while fintech provider Banking Circle is adding USDC payment to its banking rails.
England and Wales' water regulator, Ofwat, opened a £4m competition for fintech ideas to transform water services.
UnitPlus, Vodeno, and Aion partnered on direct payments for ETF investing.
Defi lending protocol Goldfinch passed 1 million loan recipients. Humane debt management facilitator TrueAccord passed 20 million customers served.
Brazilian secured lending platform Creditas bought a bank license. Enfuce, a female-owned Finnish embedded cards platform, opened in the UK.
Australian buy-now-pay-later app Zip closed down its money management app, Pocketmoney, to refocus on lending.
A group of fintech entrepreneurs collaborated to launch the Fintech & Payments Advisory Network.
That's this week in Fintech
And now for our friendly chat with this week's guest, Wiza…
Wiza is the VP of Global Developer Relations at Chipper Cash, a cross-border mobile money service with over 4 million users.
He is an international business development expert specialising in the setup and operations of high-performance technology startups across Africa, often sharing moments from his journey on Twitter @wizaj. His career experience spans 11 years and 16 African countries, founding and building tech startups across industry verticals in the B2B and B2C space.
Wiza holds an honors degree in Information Systems Technology from the United States International University.
He is a Venture Partner at two early-stage funds, Rally Cap Ventures, and Sherpa Africa Partners. He also scouts for two Africa-focused early-stage venture funds, Ventures Platform and Microtraction.
Okay, well, yeah, thank you, Wiza. Is that how you say your name?
You can kind of drag it out like Wisa wisa. Yeah. Where's that from?
You're from Malawi? Yeah. No, I'm Nigerian. I was born and raised in London. But yeah, I'm Nigerian by heritage and a little bit of Sierra Leone. Okay, awesome. Yeah. But yeah. So are you based full-time in Malawi?
No. I'm typically between countries, usually between South Africa and the UAE. Okay, we just came from Malawi for, some word docs and family stuff. Yeah.
So what is the best thing to do in Malawi? Like what would you recommend to people
go to the lake we have, we have a really nice freshwater lake. It's got the most diverse numbers of species of any freshwater body in the world. And yeah, it's like chill by the lake. Very, very calm, very serene. It's, it's again, it's generally not a busy country if you can. It's a great relaxation destination, and the lake has plenty to offer people.
The lake sounds very different from Nigeria. Nigeria is in an incredible country. It's actually very stressful. Especially when Lagos Lagos is very stressful. You have to be like mentally prepared. You have to be like, today I am going here.
You have to pick your island days or your mainland. Exactly. And follow them very legit. Yeah,
it's definitely. Yeah, one way to live. So yeah. So I guess I guess we could start with, you know, maybe your experience and just telling me a bit about yourself, and what got you into the world of FinTech and what you actually do?
Yeah, sure. So I'm currently VP of global Developer Relations at Chipper Cash. We are a cross border, mobile money startup that's operating in a number of African countries, as well as the US and the UK. We enable about 6 million users to transact both domestically and internationally. Our flagship product is the cross-border remittance tool that covers about eight countries and quickly adding a few more. Yeah, so I look after basically all of our Merchant facing business, looking for businesses looking after businesses who want to integrate with us to do collections from our multi million user base across African countries. And yeah, I'm like a career techie. got started out pretty young, started writing code and in Malawi, built a few local startups wasn't really a big market, but it was a great like learning environment. And then I moved to Kenya to study, where I also co-founded a market research startup. In my final year, my classmates raised a little bit of venture, and it was a very interesting journey a, you know, sort of like learning the ropes regarding how the industry works. And then spent some time doing that. I decided to join another business that was starting to scale out into from Kenya into the rest of the African markets called Africans talking. And then yeah, I spent like three years there, running group business development and international expansion. And then got curious as always, like a mobile-first engineer, so kind of like got curious about the intersection of mobile and finance. Having seen mobile money, adoption explode in Kenya during my study was very fascinating to watch. And I was like, Oh, I would love to understand how the sausage is made. And started by picking up a few necessary skills to get a clearer picture of that. . And we're basically building infrastructure for smartphone users to embed USSD infrastructure in the back end of their apps. So USSD is the primary way mobile financial services are accessed on the continent. It's an offline first sort of interface for mobile phones to be able to access services, even though they're offline. And yeah, did a bit of that for about a year and a half. And then, you know,  had a pretty close working relationship with the chipper founders. And then got started with chipper cash at the start of 2021.
Wow, like you have so much different experience, and you started coding at 16, as well, or started to get into this,it's quite impressive, like how many different things you've done and all the different spaces you've been? So if we would go back to like chipper cash, and like what you currently do now?
And I guess the question that I have is  for your non-FinTech friends, how would you explain what you do? So like, for instance, if your mum was asking you, what do you do? How do you explain it to them?
Yeah, just like, basically help people move money around the world, in the cheapest and most efficient ways.
Yeah. And obviously, you primarily focus on Africa and and moving money around in Africa. What, challenges have you faced, and why do you think it's so important within the region?
I think the biggest thing is just cost. If you look this, like a global sustainable development goal to lower the cost of remittances, or what 3% Of the remittance transaction value, when you look at like, many African corridors, that is like moving money within the African continent, it typically costs as high as 20%, sometimes move, like $200, between two African countries. And you know, there's this quite a lot of friction there. A lot of it is because like the infrastructure in the global financial system was really designed for African currency pair exchange, a lot of like the Forex exchange is still basically like intermediated by the US dollar. So when you are trying to transfer money from South Africa to Rwanda, for example, you first have to convert it to US dollars, instead of just like transacting between the two pairs, there's a lot of friction, there's a legacy system that doesn't really work very well for like its target audience. And at the same time, there's also like, increased globalisation. African countries now trade with each other a lot more than they did 30 or 40 years ago. And there's demand for like that local exchange, but the infrastructure doesn't support it. So that's like the main pain point. And it's a pretty big one, we estimate anywhere between 50 and $100 billion of value every year that's transacted into Africa. And a lot of it is forced to go through informal channels, because like the infrastructure for you to do it properly, quote, unquote, doesn't exist.
Now, I think I think that's a really good point. And even growing up, I can remember, like my dad, or my mom trying to send money back to Nigeria. And it just being well, we used to have to get those little calling credit cards, I didn't know my mom would make me go to the shop, and buy these little scratch card things. And then there's such a massive transaction fee, whether you do it through Western Union, I think they used to have to call  because I remember spending a lot of time doing the dial, scratch card code things for them. And yeah, like you said, it's just such a long jarring process. Yeah, actually,
like there's like, a lot of like African countries that actually like senders of remittances, which is kind of counterintuitive, because you think that like, maybe the reach that we're sending to the poor without having to like speak very generally and very broadly, but like a lot of African countries actually import more than they export. So as a result, they have to send more money out. And actually think that the demand for sending money out is way higher than it is for getting money. And I think that's like the more exciting but also a lot more challenging opportunity because many African countries also have exchange control. So pretty fun time,
even when you think about like things as simple as education, more and more people send their kids abroad, whether it starts at like you know, secondary school age or you know, sending your kids to boarding school abroad or sending your kids for university abroad. So you have We have so many people abroad who just need to send money for like, very different reasons. So like you said, it's people from the continent sending money to European countries and vice versa. So you're right, like the actual conversation and the way it's changed the way it's changed, or the way money has changed and where it's going between like Africa and Europe or Africa, and America has changed so much. And there's just no infrastructure for it. So I get that. Absolutely. And so yeah, I was wondering as well, like what kind of, I know I previously said, like,
do you have like a FinTech fact or stat that you've recently found out? Or? Or want to share? Sort of like thought leadership?
Yeah. Yeah, like I think one that blows my mind from last year's Chain analysis, geography of cryptocurrency report. And basically, according to their research, they found that over 100 billion dollars was transacted on chain across African addresses that aren't, you know, Blockchain addresses belonging to African individuals, African entities. And like, the majority of our traffic was like large tickets transfer is in excess of a million dollars that made up about like 50 to 60%. But that's pretty interesting. And like, there is like a massive crypto economy that is starting to pick up on the continent. And it's being primarily driven by businesses out of some of the largest markets like South Africa and Nigeria, where capital controls and foreign exchange controls are a little bit stringent. So I think that that's that whenever I think about it, it gets me very excited. And also very curious as to how things play out and how the regulation evolves to bring into its purview all of the value that has been transacted.
Yeah, I think that's really interesting, I think because, like, a lot of African countries have such a different infrastructure, or the way they're governed is not like other countries. It I think it means that people have to be more innovative when it comes to like finance or when it comes to their day-to-day lives. So when you say that fact, in some ways, it's not that surprising to me, just because I think there is this level of innovative innovation that has to come from being in places with which have which don't have like, traditional or which don't have infrastructures like other countries, do you get what I mean?
Yeah, for sure. Fragmentation is a big issue. And yeah, like, everyone is forced to sort of like adapt to their environment in very creative ways. In Nigeria, it's like the electricity issue. Everyone gets a generator. So I think like, that drives a lot of the adoption of new technologies because they solve a genuine problem in that doesn't exist for people in other parts of the world as concretely.
Yeah, no, I agree. Like some, I think it's a good thing and a bad thing. Because in many ways, like the state and the government, and all these, all these entities, it's there. It's, it should be them driving this infrastructure. But then equally, creating a society where it does come from the ground up means that people start to think about new ways, and different ways in which, you know, money has never been done, which I guess, is the whole sort of like bankers movement. So I think in the context of Africa and Nigeria, South Africa, all these places, it could be really interesting. Yeah.
So I was wondering, what is your biggest sort of dream or vision for fintech?
Yeah, I think it will be great to see all of the digital value stores made natively interoperable at some point in some way. And what I mean by that is, like, you know, if you're, you know, you're in the UK, and you may or may not have like a Monzo account, you should be able to send your Monzo directly to my chipper wallets, like in Nigeria as an example. I think like what's happening is that a lot of the digital finance solutions are being built effectively in silos, leading to fragmentation problem at scale. So like, you know, you need to have like different wallets when you travel to different places. And all of those wallets typically operate in like a sort of like closed loop so you can easily transfer money in and out of those wallets or those value stores. Add to other value stores. And I think this ultimately hurts the industry. So I feel like what is needed globally is like standards for native interoperability between these wallets because, you know, cash is pretty like interoperable US dollars a US dollar everywhere. Yes, there are like currencies and currency exchange that have to be facilitated. But like, it's a lot easier to move cash around than to move the Euro value around between wallets that aren't the same. And if the goal is to get to the ubiquity, or exceed the ubiquity of cash, at some point, then we have to at least match it in terms of that ease of use parity. And I think that's like a global problem that the industry has to get together to solve. And I think that the way that gets solved is through interoperability. And, you know, for like  mobile money, and can more and more  money, they're already doing it, these Gates Foundation initiative that aims to establish interoperability standards for  mobile money. I think that's a great start. But like for fintechs, I don't think such a thing exists yet, and it's not existing can only lead to our detriment. We need that as soon as we reasonably can get it up.
I think you make a really good point. Even just on a simple level, I think if and if FinTech or like the world of banking is trying to be, you know, it's trying to bring everyone along, and not just people who are like working in the industry and really, really understand this stuff, then it does get quite confusing. Yeah, for sure. And yeah, so I'm gonna ask you some questions from our previous guests. So we've had two guests on.
So Rohit, our first guest, he asked, What was your 'oh shit' moment in your career?
What does that mean? Is, like getting a weakening sort of like moment? Like a messed up sort of, like, I've had plenty, yeah.
So I guess, I guess it means a moment in which, yeah, it didn't go; well, you didn't do? You didn't do what you were meant to do? Or you did it wrong. And then you were like, Oh, shit.
Oh, yeah. So there was this one time, when I was in Africa talking. And, you know, we were doing. It was like a major pricing change with one of our partners, which basically meant that for, like, people sending messages to I think it was Uganda, Eritrea, Uganda, through our platform, the cost of those messages was going to increase by like a factor of 10, or 15. And I thought that this was huge, like, pretty big, pretty big deal. And like, we should inform all of the affected people. And like, we had over 5000, plus businesses using us at the time. And like, I had just like, transitioned into the group business development role. And I was looking after all of these people. So I think it was out of ignorance. And maybe it's like an experience as well. I didn't query to find out like, exactly how many people were using that particular service that was about to like, effectively 10x in price, right? If I did, I would have learned that it was like, just like a handful of customers were affected. And I probably could have emailed all of them, personally. But because it was such a major increase, I thought, like, Hey, guys, it's just like, sent this communication to all of our users. And like, the wording wasn't very clear. So what happened was that we sent out this email. And because the wording wasn't very clear, many people who weren't affected thought that their costs would go up 10 times. So you know, this is just me, like, literally a few weeks into this role. And founders of the company out in Pari, and then all of a sudden, the CEO starts calling me and saying, like, Hey, why is that? Why are people calling me? And we realised after the fact that like miscommunication had not been reading correctly, and has gone out to all of our customers that have like 30 or 40, who are truly affected. And it took like weeks to contact key accounts, we sorted out the first day, but like, there were like, those weeks of cleaning up and re communicating to ensure that like, Hey, if you don't use the service and pricing, it doesn't affect you. But the lesson learned that was like it was embarrassing at the time, but like in retrospect it's like you know, stuff happens in the course of the industry. And now I've learned from it you only interact with the customer. That's the only like, give the information that's needed to the to the customer that's affected by it. At any one time, and anyone who's not affected, don't bother.
Oh my gosh, that sounds like such a big problem as well. It  weeks to sort out as well.
Yeah, it was it wasn't it wasn't fun. It was just like it was just confusing for the consumer because they were like, Okay, why why? Why is my price going up? Do you use Airtel, Uganda? And okay,
yeah, 10 times? Like, I would be, I would add, no, if I got that email, I would be like, What is going on?
Yeah, right. It was, it was quite something
cool. And a question from our guests. Last week was what keeps you up at night, professionally and also personally.
And professionally, I would say like, just like, how you manage risk in financial services. So like, for example, yesterday, we had a spike in daily volume for one of the merchants that I look after, which was like three times their regular daily volume. And, you know, I panic, I'm like, oh, gosh, anytime you see, like a 3x increase, and you can't explain why. It's usually like a sign that someone is doing something that they shouldn't be doing. And you know, freaked out, called the merchant, okay, just giving you a heads up that we're seeing irregular activity. I got my T monastery investigated 9pm. And we found out that like, the merchant had just done like a promotion, and the promotion was working, right. Like, nothing was amiss, and everything was working fine. But like, I guess when you've been in the industry long enough, you just, you have a certain level of paranoia. So anytime you see like, a graph go up, and to the right, and in the way that startups typically romanticise in financial services. It was It isn't always for that really keeps me up at night like this, like, oh, gosh, are the numbers that we're seeing what we're expecting, and if there's any discrepancy, if I don't know what's causing it, that can be very anxiety-inducing, professionally, and personally, not much. I tried to maintain a very optimistic approach to life and most things. So I focus on what's going well, and when I can control. And yeah, I don't I don't think there's much that keeps me up at night personally, like a baby at night now.
That's great. Maybe it's because you're by the lake in Malawi. So I think maybe, because you might be up at night, just stressed out. To get to work. I want to ask you some serious questions on this podcast. And I feel like we've talked about your podcast, you, and you know what you're about. And yeah, so I wanted to do a quick fire round quickly. So I'm going to ask you a question and just tell me what comes to the top of your mind we've got 10 questions, and then after that, if we have time, we'll do a couple more like asking maybe a bit longer one so you ready? Yeah, sure. sunrise or sunset?
Quick Fire Round
Describe yourself in five words.
Curious. Patient, cautious, optimistic funny.
What was your nickname growing up?
Call me Ways or WizKid or some variation like you know, just like with an add your favorite appendix because my government name is Wisa and people think it's a nickname so they feel very free to remix it in very colorful ways. Much to my displeasure.
What does it mean?
It means he has arrived in Malawi
if you are fruit, what fruit would you be?
probably be an apple. I feel like apples are calm and collected fruits. You know, they don't try too hard. So just bear with me. They're like they're very consistent. Apples. Tastes like apples in most parts of the world that I've been to. So yeah, I kind of like that. The grapes are all over the place. You never really know what you're getting with a grape depending on where it's from. Apple
grapes all over the place. I didn't make wine out of grapes. Yeah.
What's the best excuse you've ever used for being late?
Yeah, we had like, almost like a coup style situation. In Malawi at some point like in I think it was 2013 where like, the president of the country time had died. And they the powers that be tried to like take over the country and like, not let the vice president cede power during an incident known as like the midnight six if you go home in late six Malawi, you can learn a little bit more about it. But anyway, I had like a meeting the next day with like an international client that I was I was doing some work with. And I couldn't make the call on time because I play my country had a coup last minute. I didn't know what that meant for my existence and my future. But like, yeah, so several like I'd actually missed the media. And then I emailed them later saying like, Hey guys, sorry but you know, we just survived a small coup , thankfully, there was your I mean,
yeah, I don't think anyone can ever talk that answer.
Yeah, it was fun time. Mala. Mala is a very interesting country.
Sorry, guys. I was late my country was having a
what would be the tagline to the sitcom of your life?
What made up word would you love to add to the dictionary?
Would you rather sleep in late or take a long nap midday?
Honestly, I would rather do both. A really big fan of sleeping in late and taking midday naps really fast. Choose between one and another sleeping late.
I think I'd take a long nap. That's just because I like to wake up
expensive presents or homemade presents,
homemade presents. I'm not too big on material.
What do you think is the key to living a good life?
I think like, acceptance is a very interesting, like philosophy to follow, not in the sense of life. So whatever happens to you, you don't fight back or you don't resist or try to design an outcome that you're looking for. But like when something is happening, not fighting the actual reality. It's like, okay, this is happening and like, how do I respond to it in a way that doesn't make things worse. And that's like, a very useful, practical way of dealing with things and it certainly works very well. For me. I'm pursuing a theme of equanimity this year, which my therapist describes as not letting the you're never as bad as they say you are, but you're never as good. So yeah, those themes are I'm finding them very useful for this phase in my life., equanimity. equanimity, equanimity.
So, got three more questions. What do you think is the most important thing you'll do in your career?
What is the most important thing I'll do my career hopefully just impacts people at scale. Hey, like, for the better. And you know, that can take many forms. I'm always excited to work on things that have got like millions of users, because pretty easy to then quantify the impact that you're making and objectively see its value. So yeah, I don't know what form that takes. I think it's still very early days. But as long as it did positively impact people at scale, I think I'll be very happy with any
positively impacts people.Just making it way more efficient and easy for people to move money back and forth. Yeah. So as this is the FinTech friends podcast, we're keen to highlight other friends that maybe, you know, people don't know about.
So who's a friend of yours that you think we should highlight? Or look out for?
she runs a business called Akiba Digital and they do like risk modeling for credit decisions, in Africa. They do quite a bit of work with a large bank. I think she's super smart. One of the most capable FinTech founders I've had the pleasure of interacting with I think she'd make a great fit For the podcast,
Signals
Signals is our subscriber-only newsletter, focusing on deep dives, etc. -- Our latest Signals piece marks a This Week in Fintech debut for Dez Fleming, an investor at FirstMark Capital and author of the newsletter All Things Venture.
Dez interviews the CEO of Decimal, Matt Tait, on building accounting operations for small businesses, bootstrapping to profitability, growing a remote-first team, and the role that serendipity played in snagging Decimal some highly-coveted internet real estate.
To read the article, please  subscribe to this week in fintech newsletter
See you next fortnight besties!