Hey Fintech Friends
Hey Fintech Friends #2 ft Pierre Whatley
Helen Femi Williams looks at the latest fintech news, discusses serious and non-serious fintech matters, and shares some of our most recent "Signals" article. This week's friend is Pierre Whatley!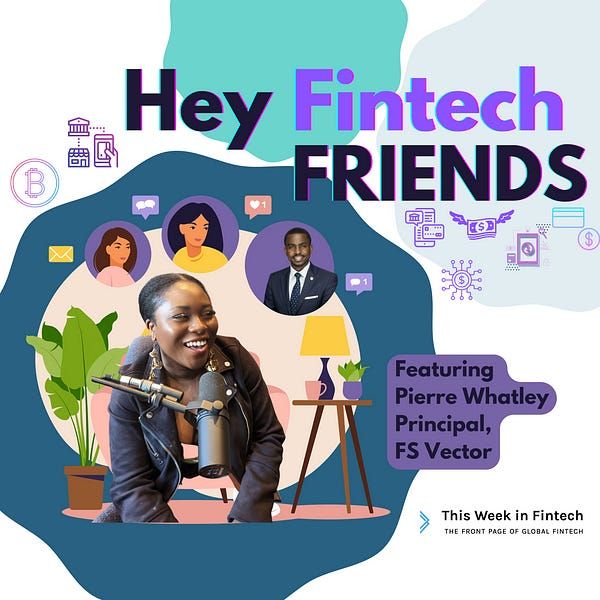 Available on Spotify, Apple and anywhere else you listen to podcasts!
Hey Fintech Friends #2 ft Pierre Whatley
Timestamps:
Intro
Interview with Pierre about his experience and current work at FS Vector (4:46)
Quick Fire Questions with Pierre and friendly questions (37:00)
---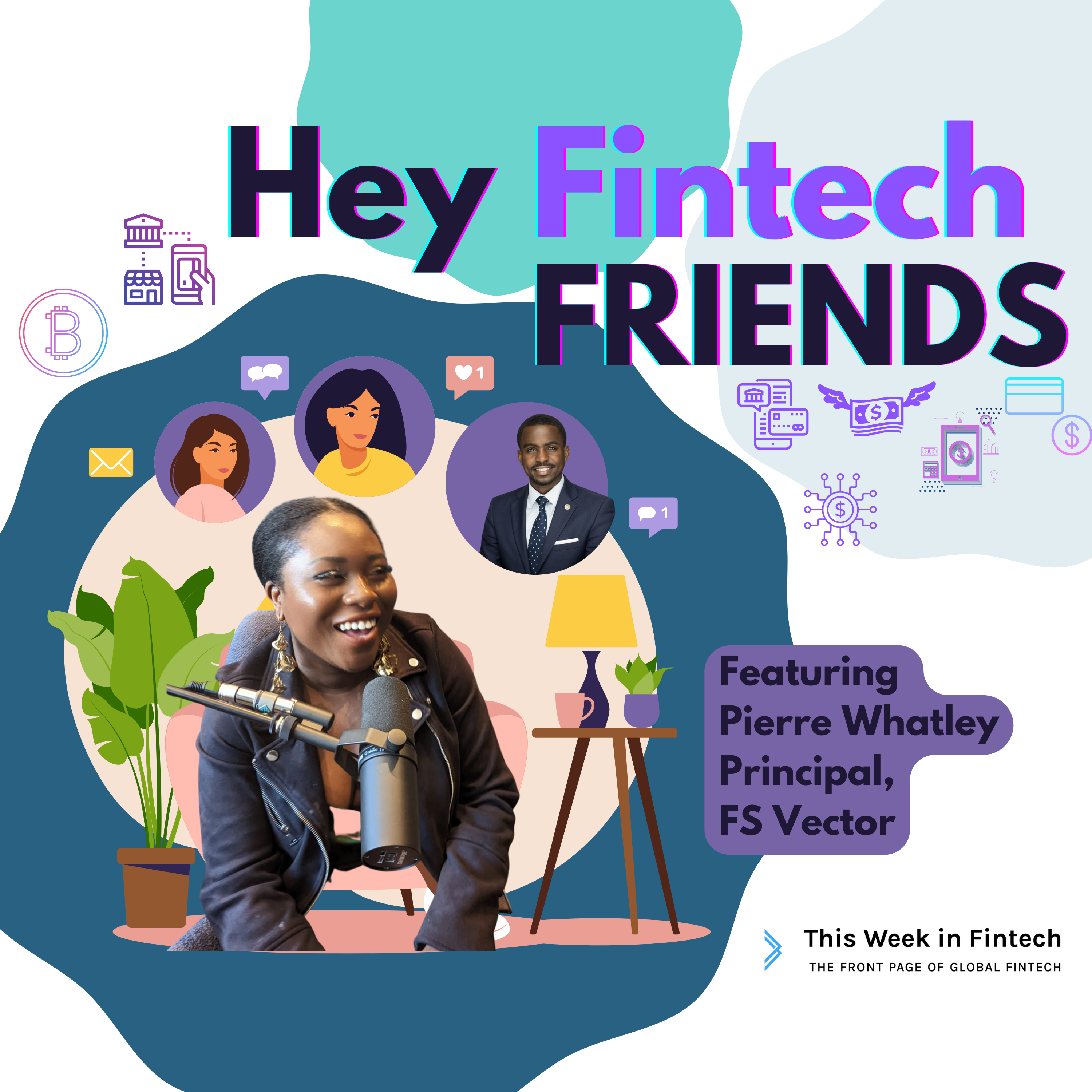 Transcript:
Hey FinTech friends. Hey FinTech friends. My name is Helen Femi Williams and I'm your host of this new podcast. Hey FinTech friends. This podcast is brought to you by This Week in FinTech, which is on the front page of global FinTech news, fostering the largest FinTech community through newsletters, thought leadership, and events. Oh, and now podcasting. And what's quite cool about this community is the creativity, the intelligence, and also understanding that those who work in the field are just regular people who've decided to devote themselves to solving a particular problem. And with that comes a unique mix of finance, technology, and fun, which is exactly what this podcast wants to explore. So expect this content to be informative? Yes. But we're also keen to get to know our founders and ask them the questions that you didn't know you needed answering. So let's talk about the structure of this podcast. First, we're gonna go through the news. And if you're a subscriber to this week in FinTech newsletter, you're in luck, because this is the audio version. Then we're going to chat to this week's friend, which is Pierre Whately, principal at FS Vector a strategic consulting firm for financial services clients. And lastly, we'll go through the latest Signal article on the stock market's Secret Menu written by Sophie Vo.
But first this week in fintech:
🚀 Product Launches
FIS launched its guaranteed payments feature to ensure e-commerce merchants payments guaranteed from chargebacks and fraud.
📰 Other News
It's a big week for bank + fintech partnerships!
Goldman Sachs is reportedly raising $2 billion to buy the assets of distressed crypto lender Celsius (which filed for bankruptcy), and lost $1.2 billion (a drop in the bucket…) from its consumer banking push in the last year.
RBC made customer financial data for 17 million accounts available through Plaid.
Citibank partnered with Swiss crypto infra provider Metaco to make crypto investing available to its customers.
Canada's banks are partnering with market infrastructure provider CanDeal to build a capital markets KYC offering.
Mastercard is adding fintech Spire's Ingage financial wellbeing platform to its merchant services.
Deloitte and NYDIG are partnering on building a bitcoin banking practice.
Japanese bank Credit Saison is giving its Singapore headquarters the authority to lead its Southeast Asian card expansion.
India's central bank continues to crack down on fintech and crypto companies, leading many to relocate their base of operations to HQs such as Singapore.
Mastercard started a female and non-binary web3 association and… debuted a music album featuring its 'sonic brand.'
"Cocaine. Stashes of cash. A down-on-his-luck Bulgarian wrestler," that's how Credit Suisse's money-laundering conviction story begins.
---
🚀 Product Launches
Tenet launched its fintech financing platform for electric vehicles and batteries.
Binance launched a platform for institutional and VIP investors and launched zero-fee bitcoin trading.
Revolut will roll out its Pay Later buy-now-pay-later product (which it touts as gauging affordability) across Europe.
Stitch * launched its Payouts feature to make it easier for African businesses to move money.
Bushel launched a digital payment network for US agriculture.
StellarFi launched its bill payment credit reporting tool.
PayPal launched its 2% cashback card for small businesses.
Instinet launched a digital private investment platform.
Somewhat-asset-backed stablecoin Tether plans to launch a £1 coin.
📰 Other News
Facebook Pay rebranded to Meta Pay, with plans to build a cross-metaverse wallet.
The FTC is suing Walmart for facilitating money transfer fraud (and UK Finance revealed a 39% uptick in authorized push payment fraud in the last year). Bitcoin asset manager Grayscale, meanwhile, is suing the SEC.
Morgan Creek is trying to counter FTX's proposed lifeline to Blockfi, which would potentially wipe out the company's equity holders.
Are sanctions a thing of the past? VTB Factoring conducted its first cash-backed crypto transaction in Russia.
Marqeta added 40 APIs and dashboard workflows to its card suite. European business neobank Banking Circle added a dynamic sender name field.
Embedded tax provider Untied partnered with Virgin Money on freelancer taxes. Amdaris partnered with Stripe.
UK mobile bank Kroo secured a banking license. Airwallex came to New Zealand. LatAm open banking tool Belvo received authorization to build account-to-account payment tools in Mexico. Remittances provider Atlantic Money secured an EU license.
Latin American B2B payments platform Tribal * joined the Blockchain Association.
Austrian crypto exchange Bitpanda and digital banking infrastructure provider Amount are the latest to make job cuts.
Robinhood shares jumped 12% on rumors of a buyout by FTX.
Australian neobank Volt shut down after failing to secure funding. Meanwhile, US neobank Varo is fast running out of cash.
Telco MTN has taken 18 Nigerian banks to court over a ₦22.3 billion ($53.7 million) mobile money fraud.
The UK's FCA launched a probe into the Wise founder for tax evasion. (Meanwhile, Wise posted 33% full-year revenue growth.)
Crypto brokerage Voyager Digital's valuation plummeted 60% due to exposure to defunct investment firm 3AC.
Interview with Pierre
With over a decade of experience in financial services, serving as a senior policy advisor, consultant, and federal bank regulator, Pierre has advised senior federal financial regulatory officials and a wide range of finance to serve his clients, including the Board of Directors' executive-level leadership at both the community and large global financial institutions as well as members of Congress in both the US and House of Representatives, Pierre is well versed in various aspects of financial services, including consumer protection, financial stability, housing, capital markets, small business tax, and trade and manufacturing matters. In addition, he readily examined legislative, regulatory, and judicial developments impacting the financial services industry. Hi, Pierre, is great to meet you today. You are our second guest, our second friend? So exactly cheer for that. So my first question, I guess is just like, where you base like, we'll start with the serious questions get to know, you can explain to us what you do. And, and like, you know, bridge the gap between like understanding all these very technical terms when that happened in FinTech and like, you know, everything else. So I guess the first question is just about you like, where are you based? How did you get into fintech? What do you actually do? Who are you?
Absolutely. Well, first, appreciate the invite. Super excited. Thank you for having me. Shout out to one thing that I wanted to stress is that it's great to see the diversity in this space. So shout out to you and your team for you know, your leadership in this space and elevating voices like mine who are involved in this space every day. So I appreciate that. So, a little bit about me, Look, I am pretty much if you can tell my personality is pretty big. I'm from a little small country town in Georgia called Newnan. Georgia, it's about 30 minutes south of Atlanta. So I rep it hard everywhere I go. I tell people I'm not from Atlanta. You know, I went in, I used to grow up on a farm and fishing ran horses, you know, all that good stuff. So the typical Georgia boy I am I want to stress that so. And, you know, I, you know, went to school, went to you know, after graduating high school and I play basketball I was involved in like student government. So public service has just always been a part of me, my family, who owned a funeral home back home in Newnan, Georgia. So that also kind of contributed to the kind of being selfless and acts of service things of that sort. I started doing that when I was 1213 years old. Shout out to Sellar Smith funeral home, where service is an everlasting memory.
And then, you know, I graduated high school and went to Howard University based in Washington, DC, the Mecca. Hu. And so it was, you know, there is where it kind of like just cultivated just, you know, the mecca of black excellence, being able to, you know, confidence to know that you're able and you can, you know, do all these amazing things and not be kind of, you go from being kind of, you know, the standout person in the, you know, the one person in the room to kind of being surrounded by people who look and think like you and that, that, that, that excellence, right, and it kind of breeds and, and cultivation. So I'm very appreciative of my time and Howard,, which, by the way, kind of led me down this path. You know, I grew up during the financial crisis. And Howard, you know, so we're talking about, oh, 809, you know, and back home in Georgia. For folks who don't know, Georgia was really, really adversely impacted by the recession, because of real estate, and housing. I believe Georgia suffered the second most bank closings in the country, if not the second, it was definitely certainly top three, during the financial crisis. So for me, being in DC and having my entire family back home in Georgia and seeing kind of the real-world impact of like, a financial crisis, you know, you open up your econ book, your app, you know, I'm in school at Howard, and I was an econ major at Howard. So you go through and you read these read about these concepts, and they're very like theoretical before and then you turn on the TV and it's like, they're talking about supply and demand failures. They have high-interest rates and you know, the Fed federal funds rate you know, all these things that people kind of every day for the last you know, prior To kind of like, what is this, whatever, it's boring, it's for nerdy, you know. So for me that kind of started it, and kind of saying how you know, and what really did it was, you know, I remember turning on the TV every morning and saying, like watching CNBC, you know, folks, you know, that's kind of the business Cable News Network channel, and they were covering kind of the financial crisis, and Lehman Brothers had just, they had just collapsed. And kind of, you know, the Fed and Ben Bernanke, and regulators were trying to respond that Treasury Secretary, and what stood out to me the most, and this is me, I believe, sophomore year, and how it the freshman-sophomore year was, no one in the room looked like me. No one, there was not a single African American slash black minority. I don't even remember, if there has been a woman in the room, I believe Sheila Bair was still there. So one woman, and so you're talking about a crisis that, you know, impacted everyone. So you know, not just the wealthy, not just, you know, rural, not just underbanked or minority. So the lack of diversity is something that stood out immediately. And I said, you know, when we're contemplating these policy responses, moving forward, I wanted to make sure that I was in the room moving forward if this ever was to happen again. And so that kind of motivated me to like get involved in financial services, policy and things of that sort, especially seeing the impact on housing and the banking sector and kind of the products and services that were being offered to consumers and customers around the world. So across the country. So that's, that's my kind of intro. And then luckily, when I was at out, I was fortunate to have an internship at the Securities and Exchange Commission, and under their leadership, I believe that Mary Shapiro, who was the first believe the first woman chair of the SEC, at the time she came over from the CFTC. And she was had, she had been at FINRA, I believe, and, and her leadership, you know, during that time was stellar. And then also kind of just again, the diversity piece of being heard Amplifying Voices. So that was my intro to kind of this world and very happy, very, very happy. And you know, Dodd-Frank came out of that and all these other things, which we can talk about it. Yeah,
that's really interesting. You touched on so much like from your childhood. I don't really know that much about Atlanta. Just like I mean, I do watch The Real Housewives of Atlanta. Oh, great. The seasons are great.
I'm old-school Real Housewives of Atlanta, like Season One, two, and three, like Phaedra. Do you know?
Yeah, she's back. Actually, she's on a girl's trip and on the Real Housewives girl's trip. But ya know, like, exactly the shades just not doing it as it used. They're trying, trying too hard. Now, I feel because they all need us, peach. So yeah, my concept of Georgia and Atlanta comes off that comes out of that. And so I have actually always wanted to like visit it and see it. So I can
talk about so many things related to fintech. You know, Atlanta is known for a lot of different things. Besides the good food. I'm sure you know, the  music. You know, I don't know if it's appropriate to talk about strip clubs, but it's part of the culture and Atlanta. Hey, yeah,
I've had the strip clubs. I'm quite mad. That's what it's known for.
Atlanta is known for many other things, you know, that is much more important, like the civil rights era, Martin Luther King, but
we'll talk about checking things and strip clubs.
strip clubs, which by the way, happened wings. And strip clubs, which by the way, have a very neat FinTech, financial services angle, access to financial services. So we can always you know, spin this thing back. Make sure that I'm always for the people. I'm always for equal access to financial services.
Okay, well, looks like I should definitely come to Atlanta. I will. I'll put it on the list. Although Yeah, I'm not Yeah, yeah. America, Americans. It's a lot for me. And I but yeah, you also touched on like diversity playing this massive role as well within your career, and how it continues. How do you feel like diversity plays a role within like the FinTech space or like the lack of or what do you think it's changing like in your exp It's like in your career has that sort of move Fintech
is something that's relatively new. And, you know, it's, it's always, you know, with, you know, investors and startups and things within these unicorns, you know, more power to them. I think there's much work to be done still, as far as investments and, you know, venture capital and things of that sort putting those types of investments and to minority-owned and women-led FinTech firms. Because, to be honest, you know, is it's, it's, it's an issue that if you want to adequately serve everyone, then you're our companies, our financial services, and products have to be inclusive, and reflective of the customers or the consumers that you're serving. That's the only way I mean, there's a business case for doing that. And not only that, like your leadership has to, you know, be a shining example of that, because groupthink is real group creep thing, group. You know, it's hard for, just to be quite honest, you know, a room full of, you know, a board of, you know, 50 60-year-old white men want to talk about, you know, getting products and services to, you know, rural America, or to, you know, a city that's, you know, majority minorities, right? Yeah, that distribution, and that marketing, and those things are certainly going to be different. And there's a, there's gonna be a disconnect. And so I think, and I think, you know, as people are, you know, consumers and customers are becoming more savvy, the people who are getting these products and services, they're becoming much more politically aware, and socially aware of these type of discrepancies. And, you know, they want to see that in the marketplace. They want to see themselves in the marketplace. That may not have been the case 2030 years ago, maybe not even 10 years ago, I think. But I think with the rise of social media, you know, and things of that sort, and the internet and web three, and the metaverse and all these types of things. ESG. You know, I think people, you know, consumers are way smarter now are much smarter than and being socially aware of these types of issues. So, diversity, for me is very key, very important. That is just good business. It's just good business.
We've talked so much in this space, and you can obviously respond to like, what I think is maybe you have a different perspective on it. But I do realize, actually, we didn't actually talk about what you actually do. So I just want to circle back as well and just say, you know, to your non fintech friends, how do you explain what you do? So like, what do you say to your mom,
or your dad? It shouldn't be? What do I say to my grandma? Explain it. Yeah, no, I think, you know, for me,  I tell folks, you know, back home and my grandparents, and my mother is like, hey, like, what did you do every day? And I'm like, Well, my job is to make fintechs and financial services companies better. And also, you know, so I go to Capitol Hill, to Congress, men, Congress, women, and to banking agencies, regulatory agencies into the executive branch, meaning White House and things of that sort. And I go in there and let them know and tell them all the great things that these companies are doing. And also, on the flip side, whatever, these companies are not doing great things, I still go in and tell that story and act as a kind of a partner liaison between the private sector and to Congress and to executive branch agencies. So basically, I'm the voice, I act as a voice for those entities. But also, what I take what I value the most is, is hell is partnering with these companies to help them do the right thing, and do better business. So for me, like, for example, you know, as I touched on earlier, diversity, fair lending, you know, making sure that these you know, when we talk about FinTech and algorithms, and credit outcomes, right, when you do an online application, that, that when you're getting that, you know, answer back getting denied, or like, you know, approved that those companies aren't telling you the reasons why and there and it's a fair outcome. And I want to make sure that people on the other side of that, ie policymakers and regulators know exactly the type of value that these companies are bringing, or if they need to improve their business practices. So I look at as as if I'm helping move the industry forward in the right direction.
yeah, because there's that, I guess, that there's that real element of financial literacy that is changing. I mean, that is so important, but also, it's so needed, because the financial system is changing so quickly. So you're kind of like the go between what people know, and you know, those creating the policies and kind of coordinating that and making sure everyone's kind of in the same boat? Would that be a way of explaining? Absolutely, I
get it? No, no, absolutely. I am. The for the formal title. You know, it's, it's, I'm a principal at a firm called Fs vector. It's lobbying and, you know, an advisory firm. So again, I'm on the government. I'm on the government relations side slash lobbying side,
that's great. I mean, it's that honestly, it sounds really interesting. I find this stuff I find, like the regulation of like FinTech and like how, how it's changing, and like, how different governments are trying to like, just be the best at it. Because it's, I don't know, chasing their tail a little bit, I find it so interesting because everyone's doing a different approach. But actually, everyone's also kind of doing the same approach. And being the person that's kind of shaping that seems like such an interesting thing to do. And so like, what sort of fact or stat Have you learned recently that you think is important within policy or finance? For me?
You know, I think, you know, I think there's been a lot of, you know, not only in the United States, but globally, you know, around cryptocurrency, right digital assets. Right? And, you know, I think for folks who don't know this, in some, you know, some may or may not, but, you know, the majority of folks who are in the crypto space, retail, crypto space, or, you know, black and brown people,
right, I didn't know that. So,
you know, when we think about crypto being this, you know, you know, slip which it is, but this sliver of only, you know, super smart people are getting involved in and are engaged in it, and only, you know, no one can touch in itself, you know, you have to be elitist, and all of these things that, that some people brand with traditional financial services and products or, or traditional finance, if you will, crypto is being used in, you know, adopted by black and brown communities to most at the fastest rate. Now, what that means also is, you know, there's so many public policy questions that we can ask about that is why of course, is that, and what do the protections look like? And why are traditionally historically underrepresented populations, you know, running towards crypto. And we can talk about many reasons for that, because we can talk about historical discrimination within traditional finance the wealth generation opportunity. So we talked about the financial inclusion, benefits of crypto, being able to enter, enter, you know, into a space where you don't have to have, you know, that you can troll it yourself, and the outcomes and things of that sort of transparency around it. These are all things that are benefits to you know, I think some of the reasons why black and brown people are running towards crypto. But it's in the same vein for me, because I operate in this space, it's equally important that for all those benefits, that we have the right, you know, policy framework and the protections in place to protect the same people who have been underrepresented, and who traditionally are the first people who are the most vulnerable, who are at the front lines, who are at the front line when something goes bad. And they suffered the most. So we want to make sure that, you know, I'm working diligently and kind of making sure that those protections and that balance is, you know, in place as we think about what this crypto policy and regulation looks like 510 years from now.
Just a quick question on that actually. And I just wanna get your thoughts do you think because like, and this business just just just thinking about as you speak, but do you think because there's like a lack of trust of institutions like historically from certain communities than the idea of like crypto? Yeah, absolutely.
I tell you Look, I tell people all the time, you know, my grandmother, who's not, you know, she's not super old or anything my grandmother is in, you know, her 60s, right? My grandmother just opened a bank account, maybe two years ago. Think about Yeah, right. And the reason is, my grandmother grew up in the 50s. And in listening to her mother, and taught who grew up during the Great Depression, and talking about, you know, never putting your money in banks, because banks, you know, they're terrible, and, you know, ain't good for nothing in the way they treat folks. And, you know, when you look, I'll tell, you know, my grandma, you know, older, but, you know, they watch news all day, every day, you know, think about over the years, how many, you know, financial or related crises, you know, the savings and loan crisis, the recession, you know, the looking on TV and seeing kind of customers being, you know, taken advantage of home appraisals, right, that, you know, discrimination in that market, and kind of the valuation of our homes and kind of the role that, you know, traditional financial institutions have played. Now, they've also played, they've done amazing, great things as well, not bank bashing or anything. But what I'm saying is that the lore of crypto is, this is something that has not have a preconceived historical base here, there's something that, that that that that looks at at edits, you know, you know, as we kind of dive into it, I have an opportunity for an ecosystem to be all inclusive. Diverse, so I say I'd say yes, it there, there comes a fear of and I have friends my age who don't want to open up a bank account at a traditional financial institution, they would rather go with a FinTech because they feel as though what if I go bank with one of the top 20 banks? So you know, community bank, that somehow that they're going to do me wrong? Why? Yeah, why? I don't know, because of you know, hey, we look on TV, we hear about these things, we hear about overdraft fees, we hear about all these things. And again, the most vulnerable people typically are bearing the brunt of this. And so crypto currency serves as kind of this, this, you know, digital assets serve this kind of saving grace, like to say, hey, you know, I can, you know, I can really take advantage of my own kind of financial life, a new asset class to build wealth and opportunity. And I know that it's transparent, and things of that sort. So those are the kind of the benefits and I think people see, that just makes them attractive.
Yeah, of course, like, you know, when people think of like, crypto and stuff, it's more of a flat structure and like, you know, but like, historically, banking institutions have more of a, like, you know, what is the opposite of flat? Sort of pyramid structure? And I think it's, I think it's like, I think it's small things as well, like, because my sister recently, she got her first like, sort of signed up to our first sort of like FinTech bank. And but she said, a question she had was like, how do they like, it's weird that you don't speak to anyone about it. Because I mean, a day when you used to open a bank, you go in and you tell them your whole, like war and peace, you tell them your whole life, just open a bank accounts. And the difference is, like, when you talk about that kind of like, you know, the historical nature, especially within the American context, it's like, if you if like, literally just to open a bank account, you just need to like send a picture of your face and your driving license or whatever. So you don't really have that human interaction, which, to a large extent, people feel like the human interaction is not always great sometimes, and people feel judged, or people feel like, why am I telling this person my whole life? Just open a bank account? And like, I guess, crypto but the FinTech industry, in general, kind of, like, alleviates that historical stuff. So absolutely. Yeah. Because, like microaggressions, I guess is the word.
That's right. That's right. And another benefit? I think it's, you know, you know, I have family,, I think we all do we all know, someone who's been, you know,
you know, involved in the criminal justice system. And, you know, that's another issue that, you know, traditional finance that you know, to open up a bank account. Have you ever been arrested? Have you ever been, you know, for something that maybe 10 years ago, 20 years ago, you know, some banks choose not to open a bank account because you're deemed high risk or whatever the case aces may be, and you know that that's another issue And so I know, you know, banks have moved are moving to trend away from that. But crypto and fintech also serve as a bridge for folks who are coming out of the criminal justice system, as well. So I think that's another huge opportunity for fintechs to kind of go after that market population as well. So yeah, that's, that's, that's, those are all the exciting things that, you know, that make me you know, keep me up every day, you know, tomorrow going to work every day to be like, you know, let's do it.
issue that, you know, traditional finance and open up a bank account. Have you ever been arrested and you've ever been, you know, for something that maybe 10 years ago, 20 years ago, you know, some banks choose not to overlook bank account because you're deemed high risk or whatever the cases may be. And you know, that that's another issue. And so I know, you know, banks have moved are moving trending away from that, but crypto and fintech also serve as a bridge for folks who are coming out of the criminal justice system, as well. So I think that's another huge opportunity for for fintechs to kind of go after that market population as well. So yeah, that's, that's that those are all the exciting things that, you know, that made me you know, keep me up every day, you know, tomorrow going to work every day to be like, you know, let's do it.
No, it's really interesting. You say that, like, because, sorry, another reality TV reference. But I watched love after lockup, again, it's an American show. It's basically one person I watched. One person is in prison, the other one's not in prison. And then it follows their relationship. It's like the one in prison comes out. But a massive thing that those couples have an issue with is like housing, because like, in America, they don't like allow people to rent houses, if not everywhere, but a lot of places can say, like, can discriminate against that, but I'm not, I don't think we have I don't think that's a thing in the UK, but just things like that. There are obviously so many barriers to people just based on like, this used to be bad, so we're just going to continue it to be bad. So like Fintech is no different. This was actually a question that Rohit, our guests from episode one gave, but what was your sort of like, oh, shit moment in your career. So, you know, a lot of the time when people are building or creating or like, you know, just throughout their career, they have all these things happening, and then things go wrong. What was that for
you? Things go wrong, like when I like was sitting down in the office one day, I was like, Oh, shit, like, this is major, like, I'm just wow, are both which one you will?
Next? I was thinking more when you made a mistake.
I'm not going to make a mistake at work on a podcast. No. No, you know what, I think I'm
probably working on the Hill for Maxine Waters. And I, you know, she was getting ready to, you know, meet with a bunch of CEOs and things of that sort. And I, you know, we have briefing, memos, and things of that sort, we're getting prepared. And I accidentally gave her the wrong memo. And it was related to like, I think it was like a housing memo for housing CEO like Fannie and Freddie she's meeting with, so she's like, in the room. And, you know, she glanced and she's looking at, like, she's reading down. And, you know, this is on the heels of like, getting ready for, you know, in the United States. Congress, we we have troops traditionally annually brought up for the last couple of years, the CEOs of the, you know, five largest banks, seven largest banks, the G sibs. And so we were getting ready for that. And I accidentally gave her the wrong memo. So, you know, that wasn't very well. And if anybody knows the Chairwoman, you have to, you know, dot your i's and cross all your T's. So that would, that was my best shot in my way. It was like, Oh, that was my oh shit moment as in, like, the severity and how serious and how important where, where I sit every day, not to take that, you know, for granted and kind of how, you know, like, you should come every day prepared and pay attention to detail and, and things of that sort. So all those things that everyone knows, you know, as being a professional or going to work or being an adult, all those things, but, you know, when you really sit down and think about it, how those little things are what separates kind of, you know, people who are at the top and kind of that mid-tier so for me, that was kind of my ocean moment. Like peer gets, you know, stay on top of your game all the time every time 24/7
Gosh, if that's your shit moment, then like you're great because like, but that was nothing need. I mean, obviously, it was something but I mean that in the sense of like, I don't know, like, you seem you seem like you're pretty. You're pretty. I don't know. I feel like I'm like oh shit moments every day. Even setting up the recording,
I'll tell you now I mean, look, I, I take a lot of pride in, you know, my work product and being kind of in this space, I mean, I'm gonna tell you that I mean, I know every time when I walk into a room or get on a zoom, or in pot, or you know, or video that I'm probably walking into a row where no one else looks like me that I'm going to be the only black guy, I'm going to be the youngest guy in the room. There are preconceived notions, misconceptions already, you know, I'm on a podcast with a gold chain, you know, little things like that. And so I know for me, that I have to come prepared and bring my A game every time, every time. And so when you asked me the question, and kind of oh, shit moment, it's, I prepare, you know, you know, that was a real moment that I just mentioned, but my oh shit moments, I prepare not to have oh, shit moments, because, unfortunately, within the financial services space, it's, it's, it's, it's, it's, you know, you, you, you, you, you walk a fine line and you walk in, you know, you know, unfortunately, you know, there's not a lot of room for error. And that's just real. So, I don't say that to say like, oh, yeah, like, that's not really it's just like, I prepared not to have oh, shit moment because I can't afford to
know I get I get you and I think, you know, I feel like, you know, I'm, I know what you're going through because I definitely feel that same way. Especially in like my old jobs. Like, of course, I was the only one who looks like me. But do you know what it was? Like? People are gonna look at me anyway. So it doesn't really matter what I wear if I put on without whether I have like massive big braids, or if I if I you know, have straight hair. I'm gonna be looked at anyway, so it really does not matter. I'm just like, I'm just prolonging the inevitable but yeah, well, I'm in cranial environment for that but I also want to create the environment to ask you like questions that literally mean nothing
These are excellent questions, by the way. Excellent.
Oh, thank you. Some of them I just came off the top of my head but um, yeah, we're going to do quick-fire session. So I was doing questions and just like what stretching for this answer what comes to your head so
Okay, let's go lead a normal life from here onwards or start again reborn with all your memories
that you live from your own remote office?
Have unlimited money or be the best at five things of your choice.
Spicy or sweet? Spicy?
Know the world's biggest secret but not be able to tell anyone or everyone else knows the secret but you're the only one in the world that does
the first one know The world's biggest secret and I tell them I want to know I want to know can you tell me how to cheat
Learn by  watching or learn by doing. Learn by Doing so
What was your last Google search?
Search? Oh? Ric Flair his last match. Ric Flair The Wrestler his last match. It's coming in July 31 Ric Flair I'm a huge wrestling fan.
Okay, last one tell your past self one thing I'll tell you your future self one thing
I would tell futures to just do it. Just do it. You can just just go do it. Just go do it. Oh, you do a bunch of research you try to do
what do you say? You said I would tell
my future self to just do it like just go and do it don't do you know you can do too much research. You can do too much second-guessing you can do too much kind of planning and you know all this stuff that the end of the day. It means nothing because it's only going to you know there's no such time as a right time or a perfect time to do anything. So just go
just go do it. You saw that off Naik. So, just go and
so yeah, which is what I do. I Kind of, yeah, just go do it when doing this, you know, I went in this stuff, you know, if I wasn't doing what I do now for the last, you know, 13 Since I was 19, basically so I think we're at 13 years now. I think I would like be doing like basketball, I would be coaching basketball or be involved in, you know, helping kids with like basketball or something like that. And so when I say go and do it, like that's something that I still want to go and do, and I'm gonna go do it when I don't know. But I'm gonna do it that's, that's on my bucket list.
Nice. Yeah. I mean, I don't think it's beyond Endo. I think you can you can do policy and be
one quick. Well, I know we've probably about to wrap so I got a shout-out. I got a shout-out to my son,. This is the Fourth of July. Weekend. He's coming up here in DC. So if anybody has any recommendations, let me know. For a 15-year-old come to DC because as we all know, DC is never full of bars and happy hour, and 15 you have a 15-year-old? Oh, wow. Yes. Happy
Visiting so I'm getting ready for that this weekend here in DC so it should be fun. So
I mean, if he was in the UK, don't you have three years.
He comes up regularly during the summer but you know, this was a little bit more meaningful, you know that you're 15 now and you're gonna have to get your learner's license and stuff. For anyway, that's what I'm dealing with in my personal life.
Ya know, I still drive and I'm waiting to see, I don't know why that. I know. I'll be honest with you, though. Like my neighbor shout out to my neighbor. Whilst we're doing shoutouts he actually gave me my first ever driving license. Like, the other day, he was like he was he took me to a car park. And she just took me to a car park and we weren't around back in the day. Like it's just honestly not on like my top, like the list of things to do. That's the problem of growing up in a city like like London, you don't learn. Like, it's not that I don't want to do it. It's just like, there's never a time where I'm like, I need to learn to drive because I don't know, I've always lived in a city. So at some point, maybe when I turned 60 or something I didn't know. I made it for the passenger life and I'm just going with that. Yeah, I just what I bring is charisma, and, and, and good songs, you know, and just that's, that's what I contribute to the drive. And I'm okay with that. You know, other people might not? Yeah, yeah, one thing I learned one day, and yeah, okay, just quick wrap-up questions. So as this is the FinTech friends podcast, we're keen to highlight other friends that maybe don't know that people don't know about. So who is a friend of yours that you think we should highlight or look out?
For a few you know, this is what I got a few I think, shout out to:
1. Charla Ouertatani, Staff Director, U.S. House Committee on Financial Services (Majority Staff)
https://www.linkedin.com/in/charlaouertatani
2. Alexandra (Alex) Barrage, Partner, Davis Wright Tremaine, Former FDIC Executive
https://www.dwt.com/people/b/barrage-alexandra
3. Perianne Boring, Founder & CEO, Chamber of Digital Commerce (oldest, largest trade association comprising the entire digital assets ecosystem)
https://digitalchamber.org/about/
4. Avy Mallik, Director of Fintech Policy, U.S. House Committee on Financial Services (Majority Staff)
https://www.linkedin.com/in/avy-mallik-8684a449
5. Raj Date, Co-Founder, Fenway Summer & FS Vector, Former Deputy Director of Consumer Financial Protection Bureau
https://fsvector.com/raj-date/
And so I think those you know, those are my FinTech friends who I think could have some add some valuable insights and perspectives to the space.
Awesome, nice friends, please. Actually When we finish, please send me their links as well so that we can actually follow up with our extra friends that we're going to create. And last question. What is a question? You think we should ask that
question? Well, first of all, you should have asked me you should ask me. You know, my music, my preferences, we gotta get off this FinTech because, you know, it's all about the culture. Know what the first thing you want to ask them is kind of what keeps them up every day? What keeps them up every day? What's their biggest that day that like they go to sleep? They're like, what if like, what's with this is what, you know, keeps me up at night? Like, that's an interesting question, especially within everything that's going on now with market volatility and inflation. You know, we've seen kind of the activities that are happening in the digital asset space, crypto space. So I think, you know, your, your next guest is what keeps you up at night cybersecurity hackers. You know, I'd be interested in hearing that and I would be interested in hearing
Yeah. I kind of want to know what keeps them up at night in their personal life.
Oh, yeah. Oh, yeah. And a personal
question. Okay. The answer your own questions through the roof. What? What keeps you up at night? I'm joking. What keeps you up at night? The first thing I say? Go on. Yeah. Going on.
I have to come back to you on that. I am single. If you know any future. If you hear me, FinTech, female. I'm open and dating. We can talk crypto and fintech over a nice glass of wine.
Amazing. Thank you so much for this one week in FinTech is having a FinTech formal. And obviously, I think that's great to fight. You know, I'm just saying, there we go. This is perfect. But yeah, thank you so much for your time.
Thank you again, for the conversation and the invitation, and all the best to you. But your podcast I mean, this is just amazing. Keep thriving, keep elevating voices and you know voices that need to be heard. To help move you know, this space for appreciate everything that you guys are doing.
Signals
Let's say you want to buy 5 shares of Hooli ($HOOL). Your broker, Robinhood, will execute the trade without charging you a commission. Instead, a market maker will pay Robinhood for the privilege of filling the order, otherwise known as payment for order flow.
Payment for order flow is already banned in the UK and the SEC is reviewing its role in US markets, but fans argue that without PFOF, retail investors would have to pay fees to brokers to execute their orders. And if retail investors pay less to trade, doesn't this make them better off?
The short answer: It's nuanced!
Let's dive into payment for order flow.
Robinhood goes shopping
As your broker, Robinhood has to fill your order at the best price available in the market as quoted by the National Best Bid and Offer– in Europe, the European Best Bid and Offer. The NBBO/EBBO reflects a security's highest bid (selling) price and lowest ask (buying) price offered across exchanges at any point in the day. Robinhood can also offer you ✨price improvement✨ by filling your buy order at a price below the NBBO.
That was The stock market's Secret Menu by Sophie Vo read the rest of this article please subscribe to the This Week In Fintech newsletter