Latin America
TWIF Latam (04 Dec)
$18 million in equity financing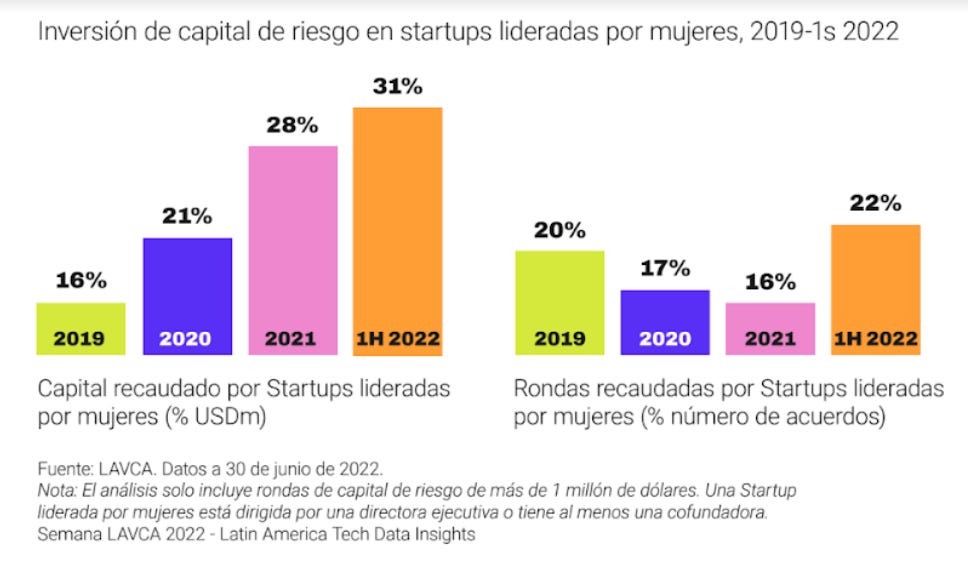 Hola amig@s fintech,
Happy Sunday after a bitter taste feeling given the elimination of Mexico from the World Cup after their win over Saudi Arabia last Wednesday. Watch the match recap for an emotional rollercoaster.
Please find below this week's front page of Latam fintech news.  If you're reading this on the web, we'd really appreciate your support by sharing and subscribing.
💛 Y'all be good out there.  ¡Saludos!  Até a próxima!
- Daniela here hoping you enjoy this newsletter written using mostly my phone (my computer died…)
Feedback?  Reach out to us anytime! This week we're Andrea on Financing, Venture Funds, and Quotes; Elena on Stats, Read & Tweet of the week, Product Launches & Partnerships and Deeper Reads; Lorena on Policy, and yours truly on Product Launches & Partnerships, Other News, and editing.
---
Editor's Note: sign up here for virtual office hours with TWIF Latam Editor-in-Chief Christine Chang to go through your pitch, chat about the ecosystem, talent, career paths, whatever is on your mind, dear reader!
---
Sponsored Content
Want to sponsor a newsletter? See our sponsorship information here.
---

📣 Latam startup alum who have been impacted by layoffs and recruiters looking for top talent, check out the Startups Alumni and Layoffs Brasil databases.  If I can be of help in some way, feel free to sign up for office hours here.
If you're looking to hire from a group of 10,000+ smart, motivated fintech professionals, come pick up a Collective Pass and post a job here.  If you're looking for your next adventure at one of the best fintech companies, check out the open roles here.
---
📊 Stat of the Week
As a way of understanding the path of women entrepreneurs in Latin America and the impact generated, Platzi presents the Report on women startup leaders in Latin America.  In the first half of 2022, almost a third of venture capital went to start-ups led by women.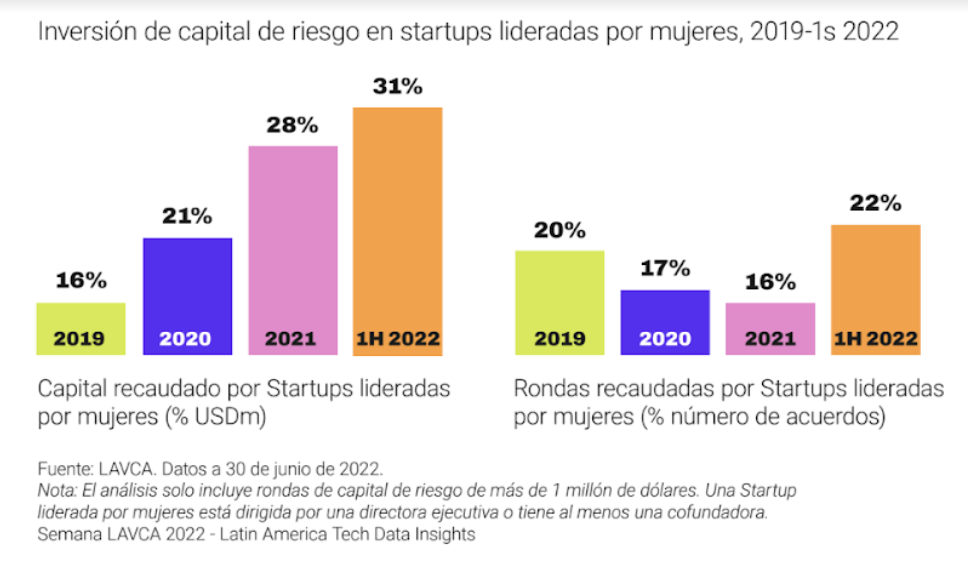 📖  Read of the Week
The Latam Tech Report is focused on the exponential growth of the fintech market in Latin America. The analysis organizes the B2C Fintech ecosystem into 6 different verticals: digital banking, digital loans, payments and remittances, investments and wealth management, personal finance and education, and insurtech, allowing us to see growth trends in the fintech market.
---
💸 Venture Financing
Racional, the Chilean wealth tech app, raised a $2 million seed round from Genesis Ventures and Amarena. The company disclosed having over 45,000 users. The company allows retail investors to buy both US and local equities in Latam.
Kredito, the Chile-based B2B payments and financing platform, raised a $6 million seed round from Genesis Ventures, Amarena, and Grupo Penta. The company disclosed having over 105,000 companies registered, and 25% are monthly active users.
Destacame, a Chilean consumer lending platform, raised a $10 million series B led by Santander Bank, with participation from Kayyak Ventures, FEN Ventures, and local family offices. The new round will boost growth in Mexico, where they disclosed having 4.5 million users.
---
💰 Venture funds
Magical, the Chilean accelerator, announced a $5 million closing of their second fund, Magical II. The fund is looking to invest $125,000 in 17 companies. Investments include Vita Wallet, Edipro, and Pignus.
---
🚀 Product Launches & Partnerships
💻 Fintechs
Crabi, the first licensed digital car insurer in Mexico, and WOOW, the marketplace that offers protection, assistance, health and telephony, announced a partnership to offer agility, speed, innovation and convenience to Crabi customers during all their processes.
Inter&Co, the Brazil-based fintech that offers banking, investment, credit, insurance, shopping, and remittance-related services, announced its integration into Amazon's Payment Service Provider Program (PSP), allowing Inter&Co customers to receive and send payments directly to your accounts.
Payana, the Argentinian fintech that offers solutions for the digitalization and automation of payments to suppliers, collection accounts and payroll to SMEs, announced its expansion to Colombia.
Fintual, the Chilean asset management startup for young professionals, announced the launch of the retirement savings business in Mexico, the same model launched by the company in Chile in 2018. Fintual expects to reach 10,000 Mexican clients in the following months.
Yuno, the Colombia-based startup that offers companies an ecosystem that integrates multiple digital payment options in one place, announced a partnership with IBEX to allow payments in crypto. By integrating the API of the IBEX HUB service, companies that use the Yuno payment ecosystem will be able to offer their buyers the option of using the Bitcoin Lightning network to make their payments.
Resuelve tu Deuda and Soy Yo announced a partnership to support people to join the financial system in Colombia. With this partnership, people in Colombia with debt will be able to verify their identity through Soy Yo to know and monitor their credit history, and to resolve their debts with the support of Resuelve tu Deuda.
🏦 Financial Services & Banking
BBVA announced the launch of Openpay in Argentina, with the aim of becoming a digital payment instrument for companies and entrepreneurs. Openpay is a fintech company that was founded in 2013 in Mexico, as a startup, and was acquired in 2017 by BBVA.
---
📰 Other News
Bitso announced layoffs of about 25% of its workforce after the fall of FTX. It has also developed a transparency roadmap to give clients more clarity about the location of their assets. This is the second staff cut during 2022, the first layoff happened in May when the company laid off 80 employees in Mexico.
Kushki, the Ecuador-based integrated payments platform and omnichannel solutions provider, announced the launch of Kushki Mundial, aimed to connect all of Latam through a payment ecosystem. Kushki Mundial is focused on payment providers that operate outside of Latam, thus becoming a one stop shop for the entire region.
Mach, the Chilean neobank, announced the launch of its new transfer service to other banks at no cost. The platform allows users to buy and contract streaming services, payment of basic bills, and offers an app that allows users to pay through QR in face-to-face stores. This new functionality will help the company have a better connection with the BCI digital ecosystem and with the users of different banking institutions.
BlockFi, the US-based wealth management platform for crypto investors, filed for Chapter 11 bankruptcy protection in US courts. It would be the fourth company in the sector to go bankrupt, after FTX, Voyager and Celsius, after the prices of digital assets plummeted and the crypto winter reflected liquidity gaps in the sector.
---
Brazil. The Central Bank's objective with Open Finance is to increase competition and financial inclusion, so the institution may have to intervene if banks and fintechs continue to disagree on its implementation. The Central Bank will prioritize the sharing of non-banking data, and the new model for payments initiation. Also this week, the president of that institution introduced a super app that will aggregate all the user's financial transactions, including the "digital real" (expected in 2023) and stablecoins, it will also integrate the Pix system.
Brazil. The National Monetary Council (CMN) authorized credit fintechs to act as payment transaction initiators (ITPs).
Brazil. The bill to regulate crypto and services linked to virtual assets was voted and approved by the House on November 29. It will now pass to the Executive.
Brazil. The Central Bank announced 12.2% of borrowers from authorized financial institutions are in a risky indebtedness situation, with the total number of Brazilians almost tripling since 2019, reaching 12.2 million in 2Q22. The data shows that individuals' ability to pay has deteriorated amid expanding access to the financial system, higher borrowing costs and the economic slowdown.
Colombia. The Financial Superintendence of Colombia has eight months to define the rules of Open banking / Open finance.
Mexico. After one week of intermittencies in the operation of the Inter-institutional Information Transfer System (SITI) for PLD/FT system, the CNBV (regulatory agency) has restored the platform. The CNBV also published the authorization for Kuspit to operate as an Institution of Electronic Payment Funds (IFPE) under the Fintech Law.
Mexico. The Mexican Association of Popular Financial Societies (Amsofipo) has proposed to the authorities some changes to the Popular Savings and Credit Law to encourage access to financial services.
Uruguay. The Central Bank announced its intention to advance with the modernization of the financial market in the country.
---
📚 Deeper Reads
APIs detonate superapps (ESP)
Web3 got more interest than fintech before FTX blowup
Why 2022 is the year of the fintech 'founder factories'
There are more women now in the fintech industry (ESP)
The Theranos Case, According to Two LatAm Healthtech Founders
Beyond exchange: Brazil explorer uses crypto
---
🦉 Notable Tweets
---
Made in Latam with 💛 by Elena, Daniela, Lorena and Andrea
👍👎 Did you like this edition of TWIF Latam?  Take a 1-minute anonymous survey here or message me with news items and suggestions.  I'd genuinely appreciate any and all input. If you liked what you read, please consider sharing or subscribing.
Come meet us in person at www.thisweekinfintech.com/events.  You can also join our global community on Twitter, LinkedIn, and Instagram.