Hello TWIF UK & Europe friends,
Quick question to start - Are we at peak fintech with Prince Harry and Meghan Markle joining fintech asset manager Ethic? Let me know your thoughts.
Please find another week of fintech news, financings and exits below.
---
Editor's Note: If you're an early-stage startup founder raising equity or debt, I may be able to help - reach out to michael@thisweekinfintech.com.
---
Tweet of the week 🦉🏆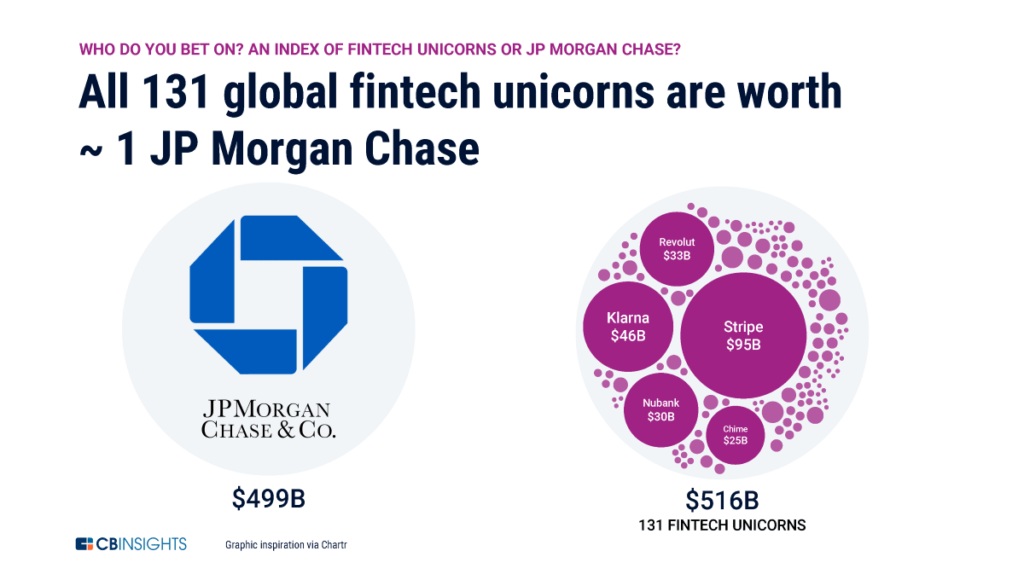 ---
Funding 💸
There were 21 deals in the fintech space across the UK and Europe since the last post, with a total investment of $2.1bn. Some highlights are below.
🇪🇺 N26 confirmed its Series E, a $900m investment valuing the company at $9bn led by Coatue and included Dragoneer and Third Point.
🇪🇺 Resistant AI raised a $16.6m Series A led by GV and included Index Ventures, Seedcamp and Credo Ventures.
🇪🇺 kevin. raised a $10m seed deal led by OTB Ventures and Speedinvest.
🇪🇺 Billie raised a €86m Series C at a €464m valuation from Tencent and Dawn Capital.
🇪🇺 Unstoppable Finance raised a €4.5m seed deal from Speedinvest, Backed VC and Cadenza.
🇬🇧 Primer raised a $50m Series B led by ICONIQ Growth with participation from Accel, Balderton, Seedcamp and Speedinvest.
🇬🇧 Zopa raised $300m, at a unicorn valuation, in a round led by SoftBank and included Augmentum, Northzone and more.
🇬🇧 Updraft raised £72mm in debt and equity led by NatWest.
🇬🇧 Proportunity raised $150 of debt and equity led by VentureFriends and Kibo Ventures.
🇬🇧 BondAval raised a $7m seed round led by Octopus Ventures.
🇬🇧 Copper is raising a $500m round.
🌍 MoonPay raised $400m from Tiger Global and Coatue.
🌍 FTX has raised $420m in a round led from Sequoia, Ribbit Capital, Lightspeed, ICONIQ and Tiger Global.
🌍 Brex raised $300m at a $12.3bn valuation led by Greenoaks Capital.
Challenger Banking 🚀
🇪🇺 Bling Card has developed a prepaid card for kid's pocket money combined with financial education in partnership with BaaS provider Treezor.
🇪🇺 N26 has had to reduce its customer growth due to a temporary cap by German regulator BaFin.
🇬🇧 PensionBee has hit 100,000 pension users for their platform.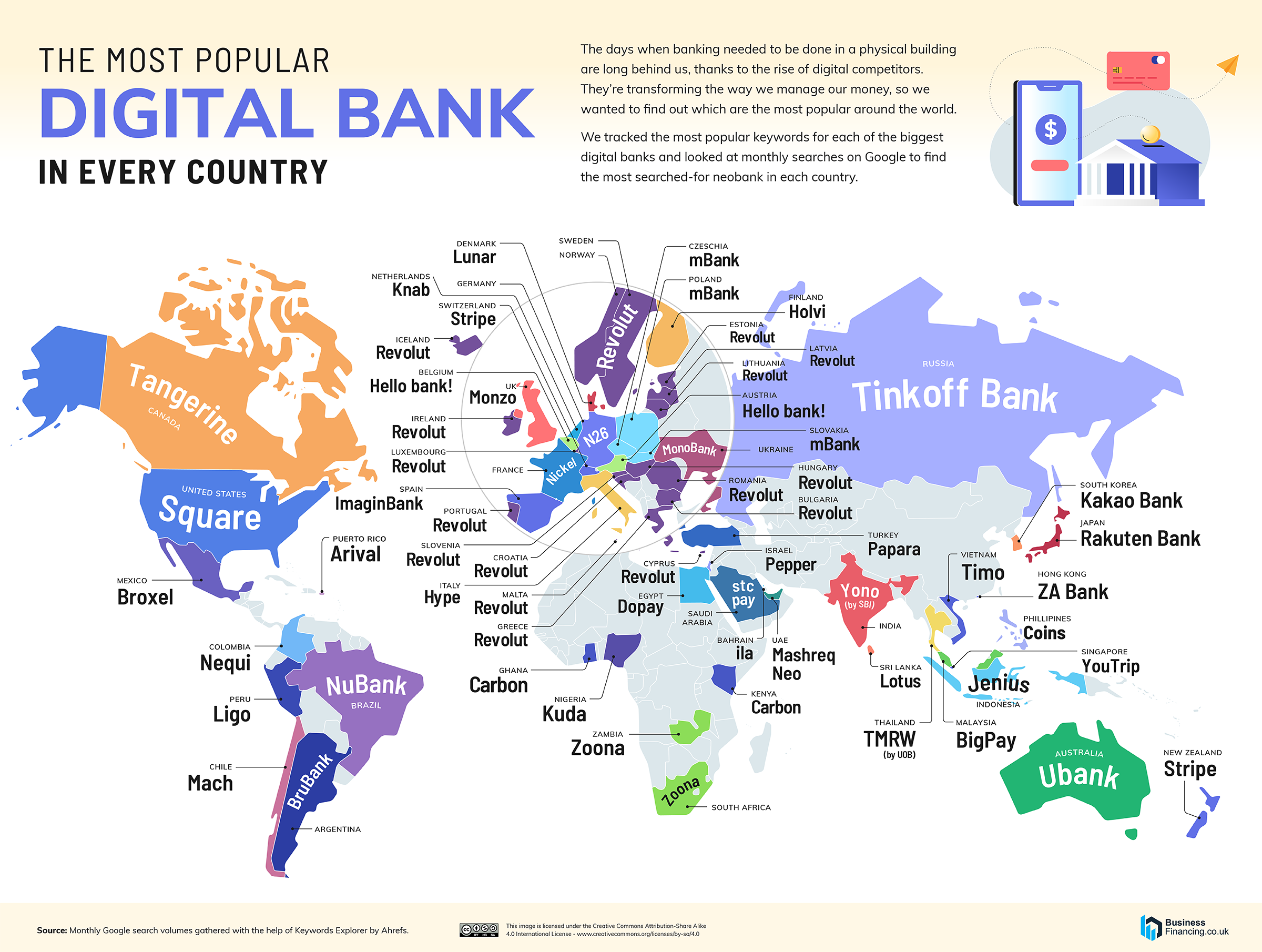 🇬🇧 Brian Cohen maps out the most opoular digital banks in nearly every country above.
Digital Assets ₿
🇬🇧 Copper has been selected to provide custody to Multicoin Capital.
🌍 ProShares bitcoin futures ETF listed this week with nearly $1bn shares traded, nearly breaking the record.
🌍 Worldpay has been ramping up its crypto payments business, hiring 50 people in 2021. It serves large exchanges such as Coinbase, Binance, MoonPay and Luno.
🌍 Houston Firefighters Pension Fund have become the first pension fund to directly hold bitcoin in their portfolio with help from NYDIG.
🌍 Coinbase is the custody provider of choice for Facebook Novi and was named as exclusive partner to the NBA.
Traditional Banking 🏦
🇪🇺 Credit Suisse received a £147m penalty from the FCA for serious financial crime due diligence over loans to Republic of Mozambique. It must also write off the $200m of debt.
🇪🇺 BBVA is making a big push into the Italian retail market with a digital only bank.
🇬🇧 UK specialist lender Shawbrook is beefing up its digital capabilities and hiring 100 tech employees.
🇬🇧 Lloyds is closing another 48 branches.
🇬🇧 Barclays is using Clausematch to automate its policy management and compliance technology.
🌍 Goldman Sachs is partnering with American Express to develop a cloud-payment service for large corporate clients.
Fintech Infrastructure 🚧
🇬🇧 Yobota is expanding from core banking solutions to BaaS with a partnership with Chetwood Financial.
🇬🇧 HSBC is partnering with Oracle to get into the BaaS space with the latter's enterprise NetSuite customers getting access to the UK banks payment and business banking services.
🇬🇧 Currencycloud is partnering with Plaid to power its payments solutions with its Payment Initiation Service, enabling customers to stay in the Currencycloud platform to top-up their accounts.
🇬🇧 WealthKernel signed Wealth8 as a customer for its white-label robo-advisor platform.
🌍 Identity platform Alloy has launched a credit underwriting feature to expand its onboarding and monitoring products.
Payments 💰
🇪🇺 Klarna revamped its product range after criticisms of its practices. It also acquired travel planner Inspirock.
🙌🏻 TWIF Take - Klarna introduced a Pay Now option to give consumers the option to pay in full as well as integrating affordability checks using open banking and is working with credit agencies about furnishing credit reports with Klarna data. Language and T's & C's are also easier to understand and there are no late fees. This arrived the same week as the FCA's comments on the BNPL space.
🇪🇺 Mastercard is pulling the plug on Maestro with no further issuance allowed across Europe.
🇪🇺 VisionLabs has unveiled a payment terminal with facial recognition.
🇬🇧 Flux has launched Flux Offers to enable instant cashback for retailers.
🌍 Plaid has launched an A2A payments platform with 50+ partners including Square, Dwolla, Checkout and Currencycloud.
🌍 Stripe acquired Recko, an Indian payments reconciliation software.
🌍 PayPal is rumoured to be considering a $39bn acquisition of Pinterest.
🌍 Amazon, Apple, Facebook and Google have been ordered to hand over their payment system plans to the CFPB so they can establish how they use customer data.
Regulatory Corner 🔎
🇬🇧 The FCA is pushing the government to extend its Online Safety Bill to cover paid advertising on social media websites.
🇬🇧 HM Treasury has launched its consultation on BNPL regulation which closes on 6th January.
🙌🏻 TWIF Take - Highlights include consumer protections, credit assessment and clearer communications on risks such as debt collection.
🌍 Coinbase is pushing for a new digital assets regulator after recent frustrations and clashes with SEC.
🌍 The SEC issued charges against a crowdfunding platform for failing to address red flags and to reduce the risk of fraud.
🌍 International
Don't forget to subscribe to TWIF US & Global by Nik Milanovic and TWIF India & SEA by Osborne Saldanha.
---
Longer reads 📜
---
Want to be a This Week in Fintech - UK & Europe sponsor? Reach out to me at michael@thisweekinfintech.com or find me on Twitter.
Your feedback is a gift, please give below 🙏
See you next week!