Hello TWIF UK & Europe friends,
Please take part in this two question reader survey so I can find out more about you and your language preference.
Please find another week of fintech news, financings and exits below.
---
Sponsored Content 
2022 will see countries contend with a rapidly changing, varied and tense geopolitical landscape. From tensions between the West, Russia and China to instability in Afghanistan, Myanmar, Sudan, Hong Kong and Ukraine, it's set to be a landmark year. And that means an uncertain sanctions landscape for compliance professionals.

Download our State of Financial Crime 2022 report to access our prescriptive recommendations on how firms can prepare: https://complyadvantage.com/insights/the-state-of-financial-crime-2022/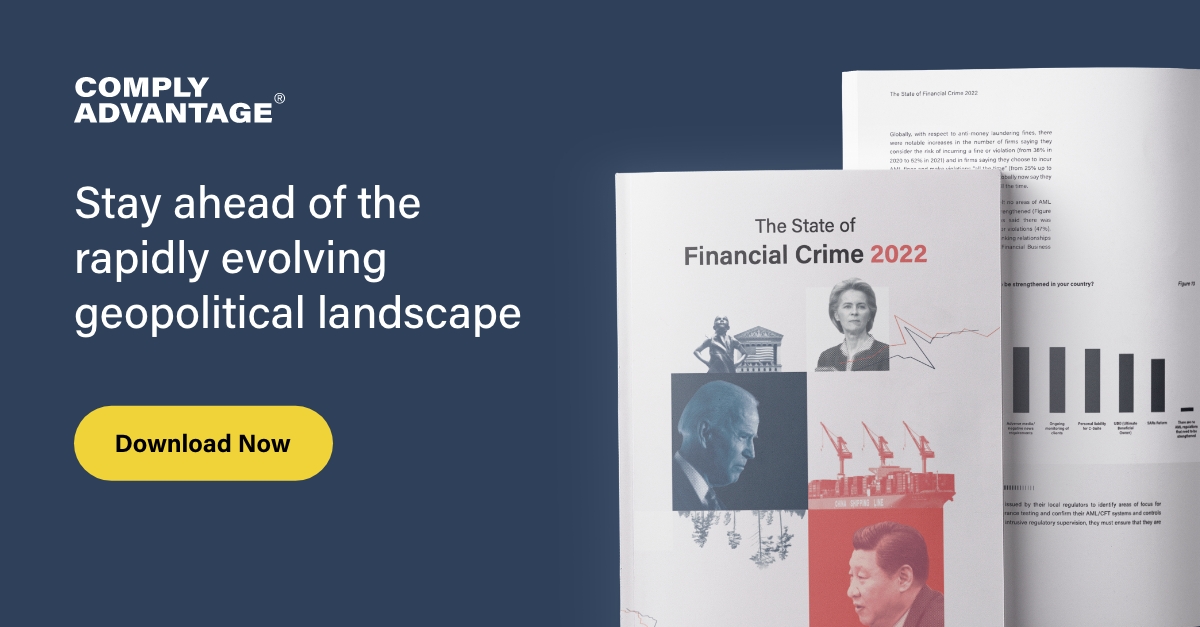 ---
Tweet of the week 🦉🏆
---
💼 Open Role Spotlight
Come find your place on the team at the most inspiring fintech startups! Browse open roles on This Week in Fintech's job board.
---
Funding 💸
There were 14 deals in the fintech space across the UK and Europe since the last post, with a total investment of $404m. Some highlights are below.
🇪🇺 Nordic neobank Lunar has received an investment from actor Will Ferrel.
🇪🇺 Swedish VC firm Wellstreet has launched a $40m fintech fund.
🇬🇧 Thought Machine has received a £40m investment from new customer Intesa Sanpaolo.
🇬🇧 Capital markets software provider Genesis raised a $200m Series C led by Tiger Global and included Accel, GV, Illuminate Salesforce and Insight.
🇬🇧 Securities lending startup Sharegain raised a $64m Series B led by Westcap and included Blumberg Capital, Citigroup and others.
🇬🇧 Sustainable fintech Novus has closed a $3m round via crowdfunding and is going live.
🇬🇧 A2A payments fintech Banked raised a $20m Series A led by Bank of America and Edenred Capital as it seems US expansion
🇬🇧 Crypto infrastructure bank Fiat Republic raised a $3.5m seed round from Breega, Credo, Kindred Capital, Seedcamp, Softbank and Speedinvest.
🇬🇧 Atom Bank has raised £75m as rumours of its impending IPO grow.
🌍 Payroll infrastructure provider Check has raised a $75m Series C led by Stripe.
🌍 South African API platform Stitch raised a $21m Series A led by The Spruce House and also included TrueLayer and PayPal.
🌍 3Box Labs* raised $30m to build out an interoperable data composability network called Ceramic, from Multicoin Capital, USV, Coinbase Ventures, Digital Currency Group and more.
🌍 Warren Buffet bought $1bn shares in Brazil neobank Nubank whilst reducing Visa and Mastercard shares.
🌍 African payments platform Flutterwave raised a $250m Series D at a $3bn valuation led by B Capital.
🌍 Circle has doubled its SPAC valuation to $9bn after renegotiating.
Challenger Banking 🚀
🇪🇺 Forget Finance, a financial literacy platform, is rumoured to be raising again.
🇪🇺 German lender Auxmoney has appointed a former Barclays exec as its chief growth officer.
🇬🇧 Paysafe hired a former Barclays and Amazon executives to strengthen its senior ranks in its digital wallet business.
🇬🇧 Revolut is looking to expand and has scooped up Arvog Forex, an Indian FX company as well as a credit license in Australia. It also has added payroll management to its business banking toolkit, providing another service that businesses require.
🇬🇧 Starling Bank is offsetting its 2021 emissions by investing in eight carbon capture projects.
🇬🇧 Revenue-based lender Capchase is expanding beyond the US to Europe with an office in London.
Digital Assets ₿
🇪🇺 VTB Bank and PSB have tested a transfer of a digital ruble using the Bank of Russia's CBDC infrastructure.
🇬🇧 Alternative asset app Koia is launching asset-backed NFTs.
🇬🇧 27 UK firms who are temporarily registered to operate in the UK face a frantic countdown until the end of March to be approved by the FCA, who are backlogged.
🇬🇧 Binance has had its access to Faster Payments reinstated via a deal with US payments company Paysafe, despite FCA disapproval.  The regulator has limited powers to stop it.  Binance has also invested $200m in business media outlet Forbes.
🌍  The Superbowl turned into the CryptoBowl with FTX, Coinbase and Crypto.com all buying up expensive commercial time.
🌍 Uber CEO Dara Khosrowshahi said the firm will "absolutely" accept crypto in the future but also spoke about transaction costs and climate concerns with the technology.
🌍 BlockFi is to pay $100m to settle its lawsuits that it failed to register interest-bearing accounts without registering them with the SEC.  BlockFi positioned it as paving the way and providing regulatory clarity for the whole sector, maybe everyone in web3 should chip in!
🌍 JPMorgan has opened a lounge in Decentraland, a virtual world in the metaverse.
🌍 An association called Travel Rule Universal Solution Technology (TRUST), which includes Coinbase, Anchorage, Circle and Robinhood, is looking into a solution to allow crypto transactions to comply with the FinCEN Travel rule, which stipulates that you have to know who is sending money to whom.
Traditional Banking 🏦
🇪🇺 BBVA has invested $300m in Brazilian neobank Neon.
🇪🇺 Project Carbon, a blockchain marketplace where businesses can buy and sell carbon offsets, has gained three new members in the form of UBS, Standard Chartered and BNP Paribas.
🇬🇧 NatWest is providing SMEs with tools to manage their climate impact as part of its £100bn Climate and Sustainable Funding and Finance program. It is also closing another 32 branches.
🇬🇧 The CFO at Metro Bank quit eight days before the company released its financial results.
🇬🇧 TSB is partnering with Bankifi to provide SMEs a way to easily chase invoices a through Revenu, a new payments app.
Fintech Infrastructure 🚧
🇬🇧 Open Banking in the UK now counts 5m active users based on CMA9 data, growing from 4m only four months ago.
🇬🇧 Stripe Issuing is now available in the UK.
🌍 Payments software firm ACI Worldwide now offer a single solution for merchants to integrate more than 70 BNPL lenders.
🌍  Plaid and Marqeta have partnered to allow the latter's customers to authenticate users bank accounts and more easily initiative ACH transactions.
Payments 💰
🇪🇺 80% of payments in the Nordics are contactless according to Next Gen Nordics.
🇪🇺 Worldline is selling its POS business to private equity firm Apollo for $2.3bn.
🇬🇧 A Klarna survey has found that no one they asked could calculate the interest cost of a credit card purchase and calls for an overhaul of the Consumer Credit Act.  To counterpunch, Barclays is calling for stricter BNPL regulations.
🌍 Mastercard has attracted 16 technology companies, including Adyen, Checkout, PayPal, Stripe and TabaPay, to its Mastercard Send program which will is a multi-rail payment proposition for people and businesses. It is also expanding its consulting services to include open banking, open data, crypto, digital currency and ESG
🌍 Affirm's results were released a day early on Twitter with shares declining 21% despite meeting or slightly beating expectations. Shares are down over 50% YTD.
🌍 Facebook will let US users split payments in its Messenger app.
Regulatory Corner 🔎
🇬🇧 The FCA is forcing BNPL firms to refund customers for charges that were unfair and unclear.
---
Sponsored Content 
Banks Must Act now to Avoid Subscription-Related Costs
Join MinnaTechnologies's Linkedin Live event on 23 Feb to hear from Forrester Analyst, Jacob Morgan, and Joakim Sjoblom, CEO of Minna Technologies to break down Subscription trends in the US, UK, and Australia, exploring how "Banks Must Act now to Avoid Subscription-Related Costs''.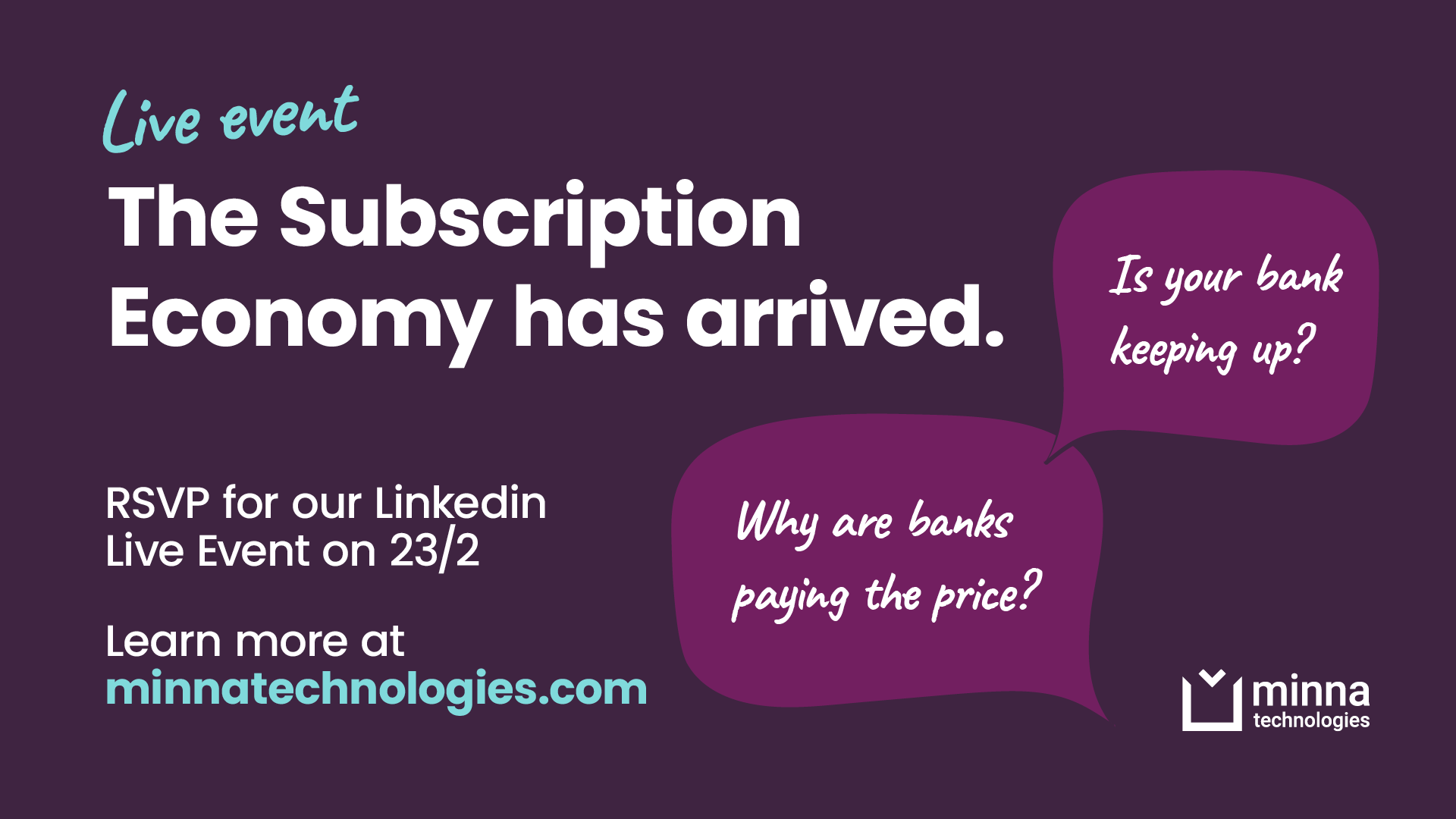 ---
Longer reads 📜
---
Your feedback is a gift, please give below 🙏
See you next week!