Hola amig@s fintech,
LOOK UP! The October night skies have a few tricks and treats in store for stargazers over the coming weeks 🔭🌟. Fun fact: This month's full moon is at its peak today... so look for it low over the horizon around sunset, and you will see a trick played by our brains known as the "Moon illusion", a suitably spooky effect for this month 🎃🧛👻. Daniela here, taking over this week for Christine, with the dream team:  Andrea, Elena, and Jorge.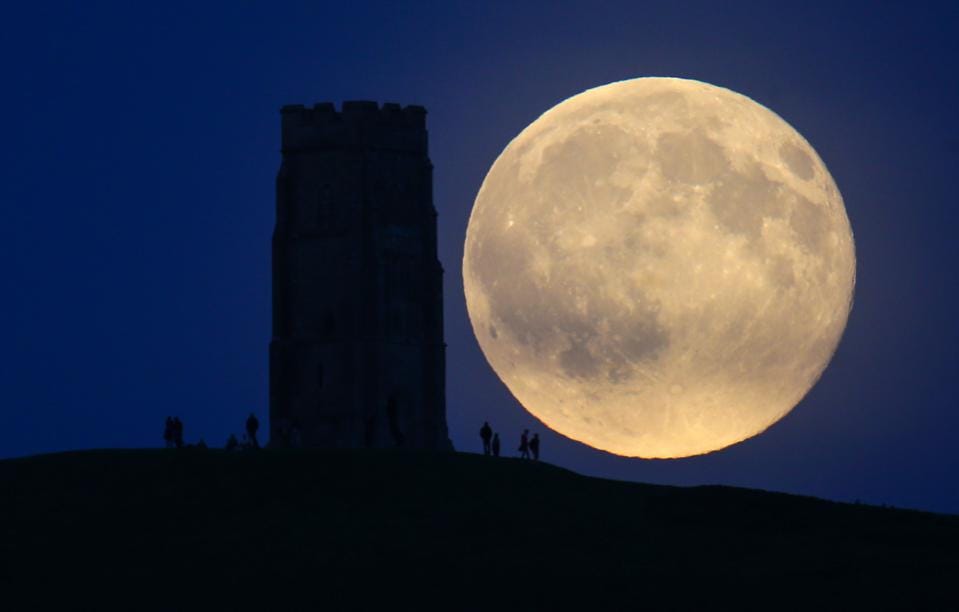 tl;dr:
$10 million in venture financing
Altman Capital launches new US-Latam cross-border fund
Spin by OXXO becomes one of Mexico's largest regulated fintechs
Please find below this week's front page of Latam fintech news.  If you're reading this on the web, we'd really appreciate your support by sharing and subscribing.
💛 Y'all be good out there.  ¡Saludos!  Até a próxima!
---
Sponsored Content
Want to sponsor a newsletter? See our sponsorship information here.
---

📣 Latam startup alums who have been impacted by layoffs and recruiters looking for top talent, check out the Startups Alumni and Layoffs Brasil databases.
If you're looking to hire from a group of 10,000+ smart, motivated fintech professionals, come pick up a Collective Pass and post a job here.  If you're looking for your next adventure at one of the best fintech companies, check out the open roles here!
---
💬  Quote of the Week
"Entrepreneurs are the geese that lay the golden eggs. If you take too many eggs off them, they either die or flee to wherever they're treated better" - David Velez, Nubank CEO and co-founder, responding to a tweet by Gustavo Petro, Colombia's president, regarding controversial tax reform proposals
📖  Read of the Week
If we want to make the Oxxo fintech a thing, I love Packy McCormick's article about FEMSA: The Most Interesting Company in Mexico - Andrea
🦉 Tweet of the Week
---
💸 Venture Financing
Solvento, the Mexican freight financing platform, raised a $5 million seed round led by Ironspring Ventures, with the participation of Quona Capital, Proeza Ventures, Dynamo Ventures, 9Yards Capital, Susa Ventures, and Zenda Capital. The company offers credit lines and advance payments to trucking companies.
Greenergy, the green financing Costa Rican company raised a $5 million seed round led by Deetken Impact Sustainable Energy (DISE). The company offers tailor-made financing to allow businesses to produce, store and manage their own electrical energy, including Energy as a Service (EaaS) and Microgrids as a Service (Maas) solutions.
---
💰 Venture funds
Atman Capital announced a $30 million US-Latam cross-border fund focused on pre-seed and seed-stage startups in B2B, software, commerce, consumer and fintech, with tickets averaging from $750,000 to $1.5 million. Notable LPs in the fund include Alexandre Liuzzi of Remessa Online (EBANX) and Doug Storf of Swap.  Portfolio companies include Bamboo and LoopiPay of Brazil.
---
☯️ Exits
🤝 M&A - Fintech
Mexo Exchange, the Mexican crypto exchange, and TruBit Wallet, the crypto wallet, announced they will merge to create TruBit Pro. The new cryptocurrency platforms will offer a wallet, an exchange platform, and a stablecoin linked to the Mexican peso developed by Mexo. TruBit has 70 cryptocurrency assets and 60 trading pairs, including DeFi and NFT sections.
💻 IPOs & SPACs
Clara, the Mexican corporate card provider, seeks to be the second Mexican startup in the fintech segment to go public, the first being Covalto (fka Credijusto), which will IPO via SPAC.
---
🚀 Product Launches & Partnerships
💻 Fintechs
Fintual, the investing app with operations in Chile and Mexico, announced the launch of Fintual Kids, a 100% online product aimed at saving and financial education for children.
Geopagos, the Argentina-based payments infrastructure platform, announced its expansion to Brazil, allowing Brazilian companies to sell and collect with any payment method.
Bitso and Via, the global payroll platform that helps hire and pay workers anywhere in the world, announced a partnership that will allow workers from all over the world to receive their salary, without the friction of the traditional system of sending and receiving resources.
BeGo, the Mexican startup specialized in improving the efficiency of the transportation sector through artificial intelligence, announced the launch of BeGoPay, a product that will allow carriers to access a line of credit and generate a credit history.
iTAMapp, the Chile-based platform SaaS that allows companies to control the reconciliation of transactions, announced its expansion to Mexico seeking to unify and reconcile the different forms of payment in Latin America.
Lank, the Chilean digital payments platform in Latin America that allows easy and fast sharing of gaming and streaming subscriptions, among others, announced its expansion to Mexico, a new market of 85 million potential users.
🏦 Financial Services & Banking
Bancolombia and Monet, the Colombian digital wallet, announced partnership to launch Monet Pay, loans with which people can pay for their services within the Monet ecosystem.
Mastercard, Uber, Marqeta and Branch, announced a partnership to launch the Uber Pro Card, a loyalty card and payments to help drivers and carriers save on gas, fares and expenses.
---
📰 Other News
CB Insights has unveiled The Fintech 250: the most promising fintech companies of 2022. Several Latam startups were featured including Flink, Klar, C6 Bank, Konfío, Quinto Andar, Kueski, Habi, Tribal, Ualá, and Unico.
Creditas, the Brazilian consumer lending platform, announced a loss in the first half of 2022 totaling $118 million, 3x higher than in the same period in 2021. The company announced $163 million as income, an increase of 248% compared to the same period in 2021.
---
📜 Policy
The Central Bank of Mexico plans to allow users to initiate payments with their cell phone number via the existing interbank instant payments infrastructure, SPEI, by the end of the year.  The system, tentatively dubbed CoDiCel o PagoCel, is meant to complement previously launched CoDi, the QR code-based payment system.  Both are seen as ways to prepare for Mexico's planned digital currency (CBDC).
Banorte, one of Mexico's largest banks, was approved by the regulator to launch a new digital bank, similar to initiatives such as Santander's Openbank (not yet operational in Mexico) and Banregio's HeyBanco.
Spin by OXXO, a digital wallet issued by Mexico's largest convenience store chain, has been formally authorized by the banking commission (CNBV) to operate under Mexico's Fintech Bill, bringing over 3 million users to the regulated financial system.
Asaas, a Brazilian B2B payments company received  authorization from Brazil's Central Bank to operate as a credit institution.
AFIP, Argentina's Tax Agency, issued new rules to include digital wallets in the Federal Government's Revenue System. Under this new scheme, about 10 million users of digital wallets will now have to report commercial transactions for tax accreditation purposes.
Chile's Senate Chamber has approved the new fintech bill, and is expected to be voted by Congress in the upcoming days.
---
📚 Deeper Reads
Global VC Pullback Is Dramatic In Q3 2022
Fintech pivots: How Mexico's Fintech Law has sparked strategic shifts for startups
A Few Things We Learned by Ram Parameswaran, Octahedron
What is CBDC (Central Bank Digital Currency)?
Why doesn't bitcoin stop falling? (ES)
Fintechs take aim at LatAm's under-penetrated mortgage market
---
🔦Spotlight on TWIF Latam contributor Elena Cruz, sunbeaming as Digital Innovation Manager at Banco Azteca
Q. Three words to describe yourself?  A. doer, challenger, unstoppable

Q. Three fun facts about the fintech landscape in Mexico that everyone should know?
There are at least 12k bank branches and 59k ATMs, however, the average time in rural areas to reach a branch or ATM is up to 60 minutes.
65% of Mexican adults don't have any type of bank account and only 10% save through a financial institution, in addition to the fact that 83% of Mexican adults don't have access to electronic payment systems.
90.1% of purchases over $500 are in cash and only 7.4% with credit and debit cardsQ. What is making / will make a huge difference for financial inclusion?  A.

that product/service that is focused on the user and really focuses on those people who have never had access to financial services, that is where the challenge continues

Q. What are you most excited about with regard to Latam fintech right now?  A. That despite an uncertain economic scenario, products/services continue to emerge that seek to transform people's lives, in addition to the value generated by partnerships that allow an idea to materialize faster or even break down geographical and regularization barriers.

Q. One resource you would recommend for those interested in learning more about Fintech?  A. a tool that I like because it allows interactive visualization of the evolution of fintech in latam is Fintech RegMap from the IADB
---
Made in Latam with 💛 by Christine Elena, Daniela, Jorge and Andrea
👍👎 Did you like this edition of TWIF Latam?  Take a 1-minute anonymous survey here or message me with news items and suggestions.  I'd genuinely appreciate any and all input. If you liked what you read, please consider sharing or subscribing.
Come meet us in person at www.thisweekinfintech.com/events.  You can also join our global community on Twitter, LinkedIn, and Instagram.