Hola amig@s fintech,
Enjoy this newsletter - we're going to be taking a short summer break 🏝 for the month of August.  If you want to get involved with our community via the newsletter or events around Latam, give me a shout!
Please find below this week's front page of Latam fintech news.  Highlights:
$84.4 million in fintech financing (equity + debt)
Oxxo's Spin reaches 3.1 million users while Bitso and Nubank both hit 1 million crypto users in Brazil
Seedstars announces $20 million fund II
Colombia passes open banking regulation
Don't fret, we're leaving you with a little self-care 🧘🏽‍♂️ with this 75% discount code off your first therapy session or 15% off a 4-pack via Terapify.
And, if you're in CDMX, come out next Thursday to hang out with the TWIF Latam team at 🍻 Cripto Chelas!  We'll have some of those killer #satoshiisfemale t-shirts you've all been wanting.
If you're reading this on the web, we would really appreciate your support by sharing and subscribing – we're just a few short of breaking 2K - help us out!  ⤵️
💛 Y'all be good out there.  ¡Saludos!  Até a próxima!
---
Editor's Note: sign up here for virtual office hours to go through your pitch, chat about the ecosystem, talent, career paths, whatever is on your mind, dear reader!
---
Sponsored Content
Want to sponsor a newsletter? See our sponsorship information here.
---

📣 Latam startup alum who have been impacted by layoffs and recruiters looking for top talent, check out the Startups Alumni and Layoffs Brasil databases.  If I can be of help in some way, feel free to sign up for office hours here.
If you're looking to hire from a group of 10,000+ smart, motivated fintech professionals, come pick up a Collective Pass and post a job here.  If you're looking for your next adventure at one of the best fintech companies, check out the open roles here!
---
📊 Stat of the Week
At 9.1%, the Consumer Price Index in the US is currently higher than Mexico's 8%: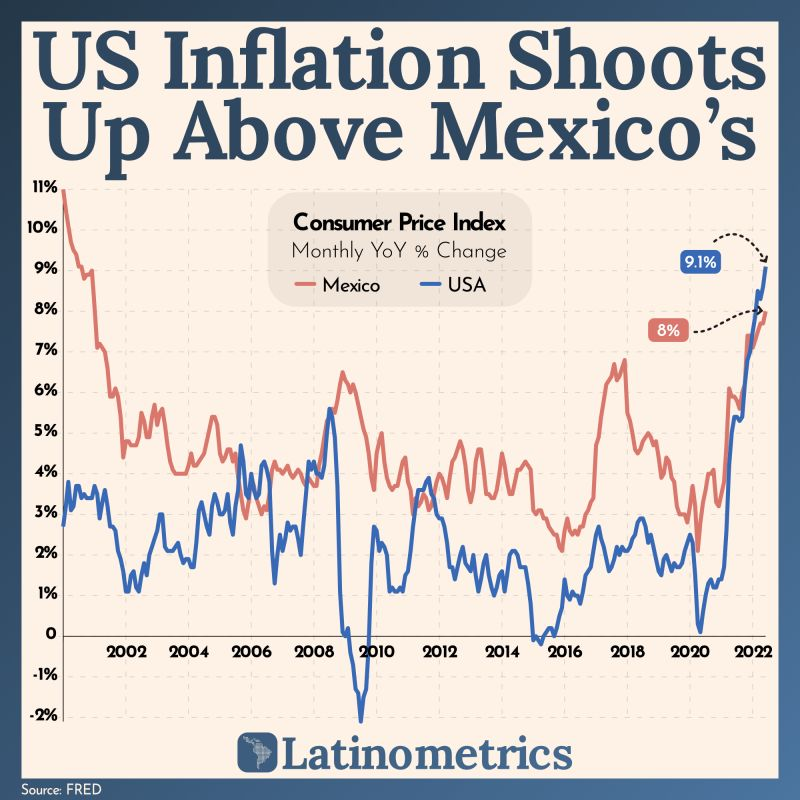 ---
💸 Venture Financing
Finanzero, the São Paulo-based credit marketplace raised $4 million from existing investors VEF, Dunross & Co, Atlant Fonder, and Webrock Ventures.  Finanzero offers personal loans, auto and home equity financing in Brazil and has generated loan volumes of $174 million to date.
CAF (fka Combate à Fraude), the Brazilian digital identity verification platform, raised a $400,000 angel round led by Ethoca co-founders and former LexisNexis CEO Andrew Prozes. The new round of funding will go towards innovation, platform development, new hires and global expansion.
💵 Debt Financing
Neon, the Brazilian digital bank, raised an additional $80 million for its first Credit Rights Investment Fund (FIDC) focused on credit cards. This investment increases the total fund to $170 million. Neon ended 2021 with a $270 billion credit portfolio, over 15 million customers, and recently achieved a valuation of $1.6 billion after its series D.
---
💰 Venture funds
Seedstars, the seed stage venture capital fund dedicated to global emerging markets, closed $20 million for its second fund to invest in 100 tech startups. Notable investors include the International Finance Corporation (IFC), Visa Foundation, The Rockefeller Foundation, and Symbiotics. The fund is expected to reach a total of $30 million. Latam portfolio companies include Graviti, Baubap, Mango Life, dbmenos, among others.
Animo Ventures, the pre-seed and seed-stage VC firm with offices in San Francisco, New York, and Miami, announced closing $78 million for their second fund. Animo invests from $500,000 to $2.5 million in companies raising up to $5 million. The fund is led by Argentine natives Caro Acevedo, Vicky Franco, Nico Berardi and CDMX native Antonio Osio. Ps. We loved the video they made to share the news!
Pygma, the Colombia-based startup accelerator, acquired the Bogotá-based VC fund Scala, which has 17 companies in its portfolio including FinZi and Tenmás. Pygma has accelerated 82 companies and invested in 29 pre-seed technology startups from Colombia, Brazil, Mexico, Venezuela, Argentina, Chile, Peru, Ecuador, and Costa Rica. Details of the transaction were not disclosed.
---
☯️ Exits
M&A and private equity in LatAm in 2022: Driven by digitalization
---
🚀 Product Launches & Partnerships
💻 Fintechs
Stripe announced the launch of bank transfers for businesses through SPEI (Interbank Electronic Payment System) in Mexico, thereby reducing administrative and transfer costs for companies.
Mercado Libre and Creditas announced a partnership to offer loans for used cars in Mexico.
Milo Credit, the Colombian digital bank, announced the launch of mortgages in cryptocurrencies, so that Colombian residents can acquire properties in the US.
Trii, Colombia-based investment platform, announced the start of operations in Chile, allowing anyone to invest from their cell phone in more than 200 companies listed on the Santiago Stock Exchange.
🏦 Financial Services & Banking
Seguros Bolivar and dacadoo, the Switzerland-based insurtech, announced a partnership to launch "Boliver Conmigo", an app that will allow Colombians to have free digital health coaching.
Icatu, the Brazilian insurer and Onze, a private-pension focused platform, announced a partnership to provide more accessible pension plans for Brazilians.  Currently, only 8% of Brazilians have a savings and retirement plan.
Banco Santander announced it plans to offer crypto trading services for clients in Brazil in the next few months.  It is also reportedly considering tokenization of traditional market assets.  This follows Banco Itaú's launch a couple of weeks ago of its asset tokenization platform, Itaú Digital Assets.
---
📰 Other News
The Paraguayan Electric Authority (ANDE) and The Commons Foundation signed an electricity purchase agreement to use energy for crypto mining. With this deal and the crypto project law, Paraguay hopes to attract more bitcoin miners to the country.
Bitso facilitated the transfer of a soccer player to São Paulo FC through cryptocurrencies, this transaction was the second such transaction in Latin America.  It also launched a collection of 100 NFTs for the Mexican national soccer (football) team ahead of the World Cup in Qatar and announced it has reached 1 million users in Brazil, just one year after starting operations in the country.
Oxxo, the Mexico-based convenience store chain, reached 3.1 million users with 61% active users for Spin, the digital wallet launched one year ago.
Nu reached 1 million clients on its cryptocurrency trading platform, just one month after its official launch in Brazil.
---
📜 Policy
Colombia's financial regulator URF approved a decree to enable open banking which specifies rules for consumer data between financial entities as well as enabling the commercialization of clients' personal data if the client agrees.  It also includes regulations for the initiation of payments, among other rules.  The regulator, Superfinanciera, has 12 months to establish standards for the open financial architecture.
Kushki, the Ecuador-based paytech, received approval from the Central Bank of Ecuador to become the first payment aggregator in the country, and to be the intermediary between banks and companies when processing payments.
Paraguay senators pass digital assets and block reward mining bill
Colombian regulator calls for public comments on digital assets regulations
Brazil Asks WhatsApp to Delay 'Communities' Launch
Check out our global policy issue here.
---
📚 Deeper Reads
Fintech investment isn't dying. It's changing.
How Argentine Unicorns and Startups Are Dodging LatAm's Winter of Layoffs
A new look at Open Finance (PT)
Bitcoin: Opening The Door To Financial Inclusion
Stop Undervaluing Exceptional Women
Still Betting Big: Argentine Venture Capitalists Hernán Kazah and Nicolás Szekasy
How This Mexico-Based Used-Car Seller Became The Most Valuable Startup In Latin America
📖  Read of the Week
CB Insights: State of Blockchain Q2'22 Report
---
🦉 Notable Tweets
---
---
Made in Latam with 💛 by Christine, Elena, and Andrea
👍👎 Did you like this edition of TWIF Latam?  Take a 1-minute anonymous survey here or message me with news items and suggestions.  I'd genuinely appreciate any and all input. If you liked what you read, please consider sharing or subscribing.
Come meet us in person at www.thisweekinfintech.com/events.  You can also join our global community on Twitter, LinkedIn, and Instagram.