Happy Halloween and Día de Muertos!  With two months left of the year, also a great time to do some reflection.  Check out this framework from VC investor Sahil Bloom.
tl;dr:
$43.6 million in venture financing.
$792 million in seed investment has been deployed in Latam as of 3Q22
Yaydoo (Paystand) acquires Oyster
Please find below this week's front page of Latam fintech news.  If you're reading this on the web, we'd appreciate your support by sharing and subscribing.
💛 Y'all be good out there.  ¡Saludos!  Até a próxima,
🪶Team Gryffindor (Daniela & Elena): Exits, Product Launches, and Partnerships, Deeper Reads and Other News
🐍Team Slytherin (Andrea & Jorge): Financing, Venture Funds, Policy, and all the other bits and bobs
---
Sponsored Content
Want to sponsor a newsletter? See our sponsorship information here.
---

📣 Latam startup alums who have been impacted by layoffs and recruiters looking for top talent, check out the Startups Alumni and Layoffs Brasil databases.  If I can be of help in some way, feel free to sign up for office hours here.
If you're looking to hire from a group of 10,000+ smart, motivated fintech professionals, come pick up a Collective Pass and post a job here.  If you're looking for your next adventure at one of the best fintech companies, check out the open roles here!
Shameless self-promotion: I'm looking for a Head of Marketing!  Come join my team at Tribal!
---
📊 Stat of the Week
Startups in Latam raised at least 5x less capital in 3Q22 when compared to 3Q21, according to LAVCA. Investment in venture capital is even lower than in 2019, when it rose to $1.7 million, compared to $1.2 million in 3Q22.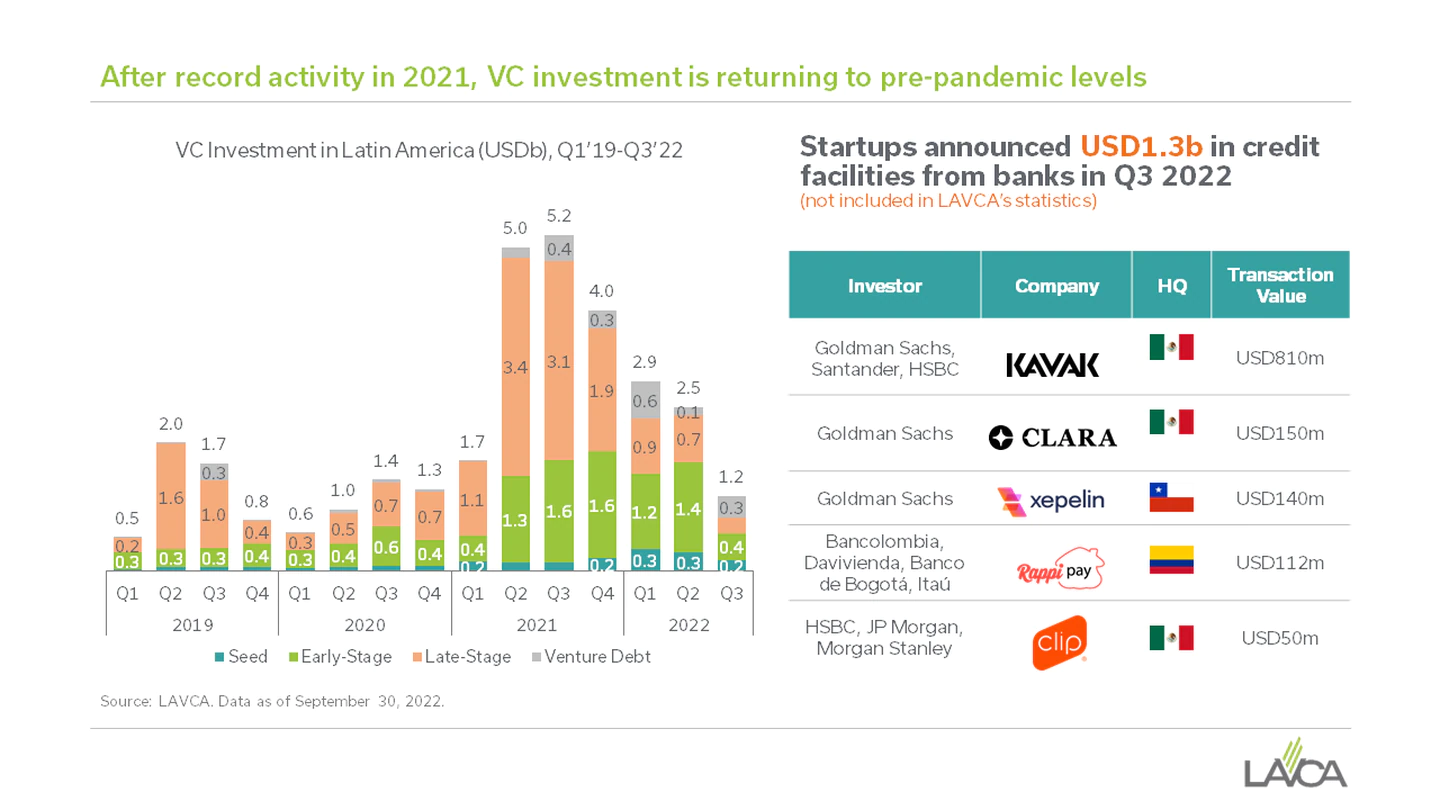 Latin startups added $1.3 billion in credit facilities from banks in 3Q22, breaking the annual record of $823 million in 2021.
💬  Quote of the Week
"the bird is freed"
-Elon Musk
---
💸 Venture Financing
Ubanku (fka enlaU), the Colombian neo-bank for GenZ, raised a $1 million pre-seed round from Newtopia VC, and Irie VC, along with various angel investors. The company plans to launch savings, credit, and investment functionalities in Colombia and Mexico in 2023.
Vixtra, the Brazilian financial services platform for cross-border trade, raised a $3 million pre-series A round led by Valor Capital, with the participation of Fontes. The platform works as a payment method mainly in the tire, chemical, metal, and electronics segments coming from Asia, allowing international suppliers to offer extended payment terms and importers to pay their purchases over time.
Cicada, the Connecticut-based trading exchange platform, raised a $7.6 million seed round, led by Kaszek Ventures and DILA Capital. The bonds and swaps exchange platform enables electronic, anonymous trading. Third-party apps can link into the exchange, allowing retail investors to trade fixed income the way they can with stocks.
Mattilda, the Mexican financial solutions platform for schools, raised a $10 million seed round led by Fintech Collective, with participation from DILA Capital, QED Investors, and GSV Ventures, among others. The platform allows school administrators to collect tuition through digital rails while offering financing options.
Traive, the Brazilian financial solutions platform focused on agriculture, raised a $10 million round from BASF Venture Capital. The company offers a fully-fledged credit risk assessment to farmers through the application of machine learning to agricultural and financial data.
Franq Open Banking, the Florianopolis-based digital financial platform, raised a $12 million series A led by Quona, supported by existing investor Valor, Globo, and Broadhaven, among others. The company connects customers and companies to financial products from more than 50 providers (banks, insurance companies, and other fintech), through bankers and autonomous agents.
---
☯️ Exits
🤝 M&A - Fintech
Yaydoo, the B2B solutions provider that recently merged with blockchain-enabled payments network PayStand, announced the acquisition of Oyster Financial, the corporate payment solutions platform. Details of the transaction were not disclosed.
SproutFi, a wealthtech platform that allows investing in the US, announced the acquisition of Passfolio's client portfolio in Brazil, the commission-free stock and crypto trading platform. The company will allow Passfolio's users to have an investment platform in the US with no brokerage fees and no minimum amounts. Details of the transaction were not disclosed.
💻 IPOs & SPACs
Is Latin America the next frontier for technology M&A?
---
🚀 Product Launches & Partnerships
💻 Fintechs
Kushki, the Ecuador-based payment platform, announced the launch of its business unit: Kushki Mundial, the platform makes cross-border payments easier, provides quicker settlement of funds, and creates opportunities for additional revenue generation in new markets.
Nomad, the Brazilian platform that provides international bank accounts and an investment platform, announced the launch of three exchange-traded funds (ETFs) , in addition to a fixed-income index fund.
Satoshi Tango, the Argentine cryptocurrency broker, announced the launch of its debit card, with which its users can make purchases with their cryptocurrencies.
Binance announced partnership with Inswitch to enable fiat on/off ramps in LatAm. Inswitch is integrated with the most important payment methods, banks, and local currencies in over 10 countries in Latam.
MercadoPago announced the launch of MercadoCoin, its cryptocurrency exchange in Mexico. MercadoCoin currently operates in Brazil, allowing users to buy, sell and store Bitcoin and Ethereum.
ETPay, the Chilean fintech that allows payments to be made in physical and virtual stores through bank transfers, announced its launch in Mexico. To date, the company makes more than 1.5 million monthly transfers for more than $170 million in Chile.
Lemon Cash, the Brazilian cryptocurrencies platform, announced it has started accepting PIX for cryptocurrency transfers and credits in Brazil. The company started operations in Brazil at the beginning of this year, among its goals in the market is the launch of a prepaid Visa card.
🏦 Financial Services & Banking
Santander announced the launch of the project to use tokenization and facilitate real estate transactions, simplifying the sale of real estate and cars for the Brazilian population.
Unicorn Strategic Partners, a leading distribution partner to asset managers, and iCapital, the global fintech platform driving access to alternative investments for the wealth management industry, announced an exclusive partnership to distribute private market and hedge fund investments to financial advisors in Latam and intermediaries in the US.
---
📰 Other News
Betterfly, the Chilean insurtech, and Flexoh, the Spanish employee benefits company, have completed their integration process after the acquisition agreement earlier this year in 2Q22. Both companies have been integrated under the name Flexoh by Betterfly in Spain with the projection of expanding throughout Europe.
Crediclub, the Mexican lending platform, raised $80 million led by L Catterton, with participation from the IFC and Sarona. The transaction is expected to close in early 2023, subject to customary regulatory approvals.
In Brazil, PIX, Brazil's low-cost instant payment system championed by the Central Bank to drive inclusion, reached 1 trillion reais in monthly transactions. Pix now processes over half a million transactions per minute, rapidly gaining market share in Brazil's rising universe of digital payments.
Google announced a collaboration agreement with a group of fintechs and business expense management companies, to grant financing to SMEs in Mexico that wish to carry out a digital campaign that boosts their sales. The group of fintechs include Clara, Covalto, Jeeves, Konfío, Mendel and Tribal*.
---
📜 Policy
The head of Mexico's Securities and Banking Commission (CNBV), Jesús De La Fuente, was appointed ASBA's (Banking Regulators Association of the Americas) new president.
Representatives from Brazil's Central Bank participated in a forum on cryptocurrency regulation organized by The Blockchain Association in Washington, DC. Along with the recent statement on crypto securities regulation, Brazil seems to be acting fast on crypto regulation compared to other LatAm countries.
Fintechs in Brazil will be negatively impacted by the Central Bank's decision to set a cap on card transaction fees according to Nubank. Such a new rule will be effective as of April next year. Nubank disclosed that interchange fees on prepaid cards accounted for 7.0% of the company's total revenue. If those caps had been in place, the digital bank said, it would have had a negative effect of 2.9% in income.
Banks in Mexico argue that regulated Fintechs in the country have regulatory privileges compared to the banking sector. During a forum organized by the Federal Competition Commission (COFECE), key local decision-makers expressed their concern on a number of issues, including the challenges with Open Finance implementation.
---
🦉 Tweet of the Week
---
📚 Deeper Reads
The Crypto Story. Where it came from, what it all means, and why it still matters.
What fintech forgets about consumer lending
The state of Central Bank Digital Currencies in Latin America
How will Web3 payments go mainstream?
Panama Startups: How a Network Nurtures Local Entrepreneurs
The new rules of the Central Bank of Brazil for the authorization of Financial Institutions (POR)
---
Made in Latam with 💛 by Elena, Daniela, Jorge, and Andrea
👍👎 Did you like this edition of TWIF Latam?  Take a 1-minute anonymous survey or message me with news items and suggestions.  I'd genuinely appreciate any input. If you liked what you read, please consider sharing or subscribing.
Come meet us in person at www.thisweekinfintech.com/events.  You can also join our global community on Twitter, LinkedIn, and Instagram.