Hola Amig@s Fintech,
Saludos desde NYC!  Somehow in my seven years as a New Yorker I never made it to Central Park Boathouse but last night's Fintech Formal crossed that off the bucket list in style!  So amazing to finally meet Nik, Cristina, and Katie from our TWIF team IRL but also plug into our massive NYC community.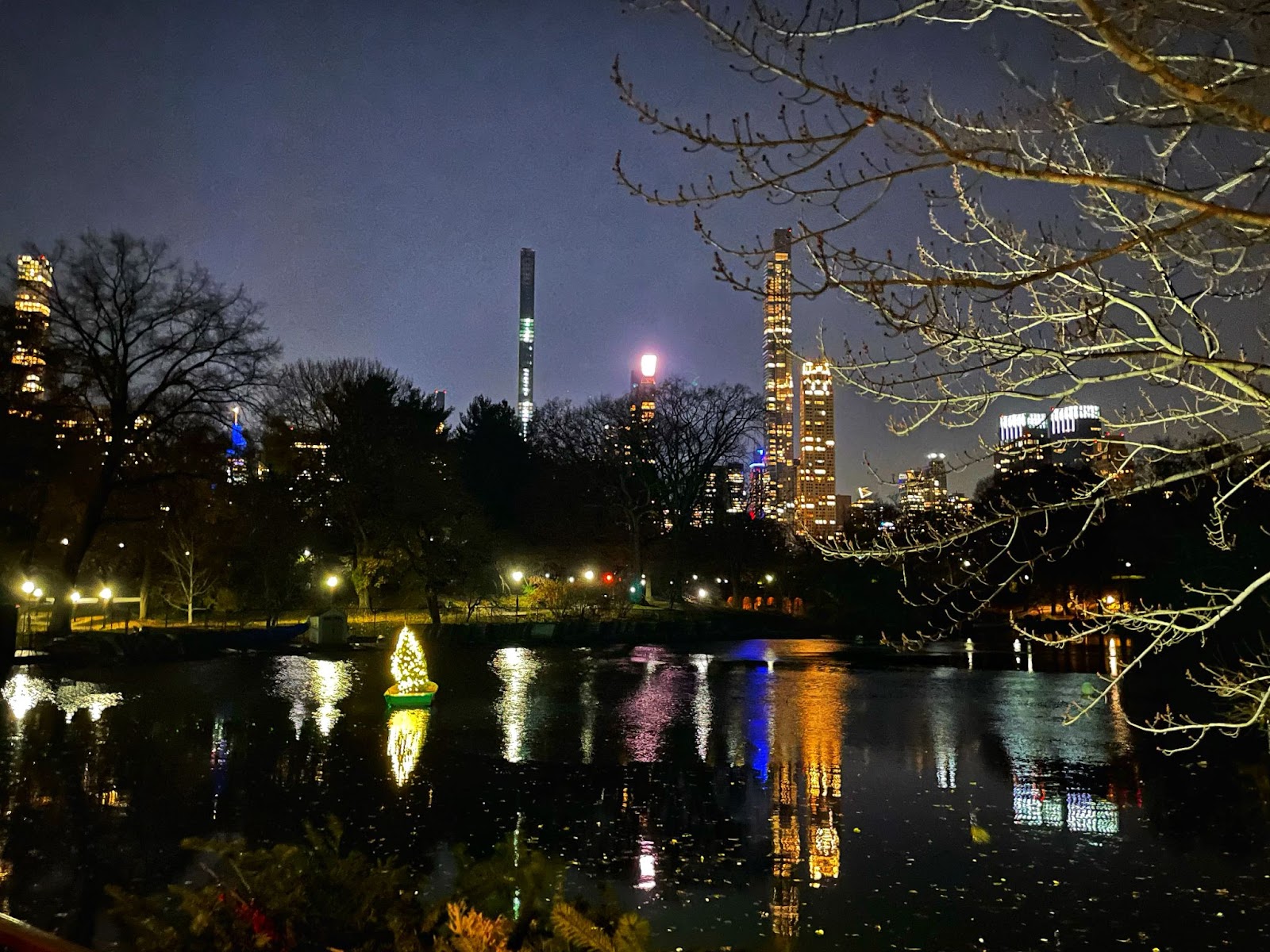 ✈️ Next stop Miami: for those of you who will be there next week, join us on Wednesday evening in Brickell for a meet-up sponsored by NovoPayment.  RSVP for free here. Need a last-minute ticket for LendIt LatAm? Use code 'JS15' for 15% off to register for the conference.
Please find below this week's fintech financing, exits, and news. Also, a bit of housekeeping — we'll also be moving next week to this link so go ahead and click through then hit subscribe 👉🏽 https://thisweekinfintech.substack.com/s/latam. Thanks in advance!
Y'all be good out there.  ¡Saludos!  Até a próxima!
---
Editor's Note: If you're an early-stage startup founder raising equity or debt, I may be able to help - email me at christine@thisweekinfintech.com
---
🦉Notable Tweet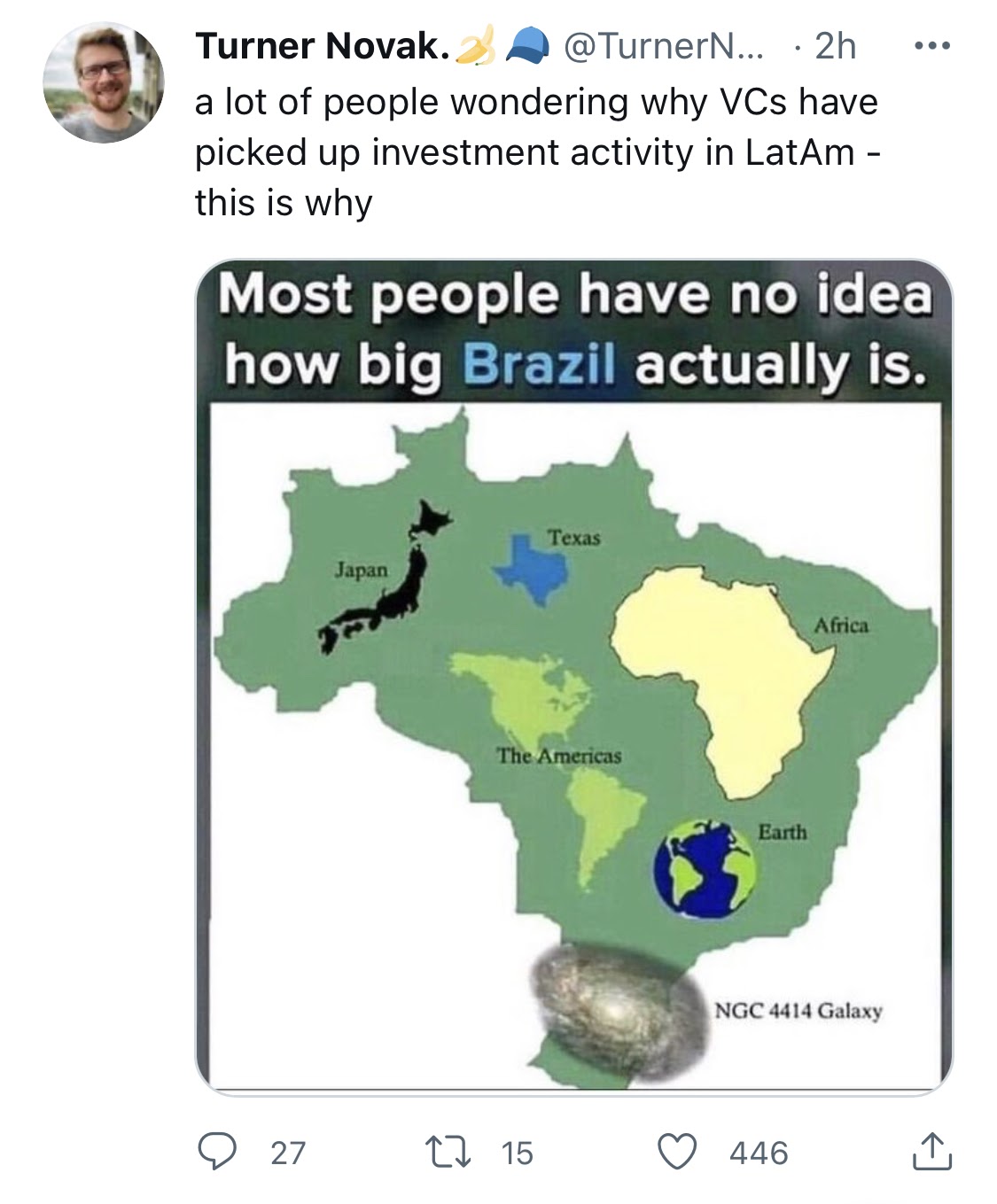 ---
📊 Notable Stat
According to a recent study by Equifax Argentina and the Argentine Fintech Chamber, fintech users break down as: 61% male vs 39% female; 40.2% between the age of 36-50 years old, 30% between 26-35, 23.3% over 51 years old, and 6.5% between 18-25 years old. (Source)
---
💸 Venture Financing
Jefa, the digital bank account designed for women's financial needs, raised a $2 million seed round.  Participating investors include The Venture Collective, partners of DST Global, Foundation Capital, Amador Holdings, Rarebreed VC, Latitud, Magma Partners, and notable angels such as Daniel Bilbao, JP Duque, and Allan Arguello.  The startup also announced a multi-year partnership with Visa.  It currently has 115,000 women on its waitlist and plans to launch in Mexico followed by Colombia and Central America.
Aptuno, the Colombian proptech, raised a seed round of $5.1 million led by Dalus Capital and Kayyak Ventures with participation from Amador Holdings, Salkantay Ventures, FJ Labs, the former President of Colombia Álvaro Uribe's sons and the founders of La Haus, amongst others.  The company currently operates in Bogotá, Medellin and Mexico City with rental listings plus related services such as quicker credit approvals and insurance products.  The financing will go toward growing the team and building out additional product and presence throughout Latam.
2TM, the holding company for Mercado Bitcoin, Brazil's largest crypto exchange raised $50.3 million in a Series B extension.  Participating investors include 10T, a crypto-focused private equity firm, and Tribe Capital who have invested in exchanges like FTX and Kraken.  This is in addition to the $200 million it raised from SoftBank in June.  The funding will be used to expand operations into Argentina, Chile, Colombia, and Mexico.
Kueski, the Mexican buy now, pay later (BNPL) lender, raised $102 million in equity plus $100 million in debt financing in its Series C.  The equity financing was led by StepStone Group with participation from One Prime Capital and Glisco, as well as existing investors such as Cathay Innovation, Angel Ventures, and Cometa while Victory Park Capital led the debt portion of the round.  Along with the BNPL product, Kueski offers Kueski Cash (personal loans), and Kuski Up (interest-free salary advances) and has experienced 210x growth in Gross Merchandise Volume (GMV) over the past year.
Mendel, the Mexican corporate spend management solution, raised a series A round of $15 million in equity plus $20 in debt.  The equity financing was led by ALLVP and Infinity Ventures with participation from angel investors like Airbase founder Thejo Kote, Auth0 co-founder Matias Woloski, and Mercado Libre CFO Pedro Arnt, among others. Mendel seeks to be the one-stop shop for all business-to-business (B2B) spend.  Its current list of 150+ clients includes Mercado Libre, Petco, and Telcel.
BrBatel, the Brazilian credit platform for small and medium-sized businesses (SMEs) announced new funding from family office Doninelli Particpações.  The amount of the financing was not disclosed, however, bring the startup's valuation to $26 million and will be used for marketing, team hires, and automation.  Founded last year, BrBatel seeks to change the commercial credit market via education, products better designed for each stage of a company's growth, and better credit analysis.
💵 Debt Financing
Mercado Libre raised $375 million from Citi to grow its lending operations for consumers and small and medium-sized businesses (SMEs) in Brazil and Mexico via Mercado Crédito.  Currently Mercado Crédito is available in Argentina, Brazil, and Mexico and offers loans averaging $450 dollars with a term of 11 months.
---
💰 Venture funds
Innogen Capital Ventures of El Salvador announced its second fund, ICV II.  The $20 million fund will be led by Rodrigo Dumont, Christian Quiñonez, Roberto Samayora, and Fernando Moran to invest in early-stage startups in Latin America with a focus on Central America, Mexico, Colombia, and the Caribbean.  Previous investments from Innogen Capital include Foodology, Koibanx, and Atexto.
---
☯️ Exits
🤝 M&A - Fintech
Blockchain.com, the London and Miami-based cryptocurrency platform, announced the acquisition of SeSocio, one of the largest crypto companies in Argentina with operations in Argentina, Brazil, Chile, Colombia, and Mexico.  The two firms plan to open offices in each of these countries and focus on making it easier for customers in the region to have safe and easy access to financial services.
Bitpoint Latam, the crypto exchange, announced the acquisition of 1ecommerce, the Bogotá-based aggregator that allows companies to administer their online sales via a single platform to accelerate B2B sales via crypto.  1ecommerce currently operates in Colombia and Mexico.
💻 IPOs
Nu Holdings, the parent company of Nubank, announced a revised expected price of its initial public offering (IPO) from $11 per share to $9 per share.
---
🚀 Product Launches & Partnerships
🏦 Financial Services & Banking
Chubb, the Zurich-based insurer, announced a partnership with Chile-based insurtech Betterfly.  The alliance will allow Betterfly to offer Chubb products to its customers in Mexico, Colombia, Ecuador, Chile, and Argentina, and vice versa.  The companies plan to launch life insurance first then expand into other products such as home coverage and hospitalization.
Mastercard Mexico announced a partnership with Jeeves that will enable the fintech to issue cards directly for its clients.  Jeeves is a global platform that offers borderless digital bank accounts to small and medium-sized businesses.
💻 Fintech
Creditú, the Chilean property financing solution, announced its entry into Brazil.  The startup offers its clients real estate credit origination combined with insurance products and a faster process, with procedures completed in as little as one week.  The startup currently operates in Chile, Mexico, and Peru.
Nowports, the logistics and distribution startup, announced new AI-driven financing solutions for 1,000 clients in Mexico, Chile, and Peru.  The company plans to offer this option in the near future in Brazil, Colombia, and Uruguay.
Mercado Libre announced that it is integrating Paxos' blockchain infrastructure to allow Brazilian users of its digital wallet, Mercado Pago, to buy, sell, and hold cryptocurrencies such as bitcoin, ether, and the stablecoin Pax dollar.
📰 Other News
Kavak, the online marketplace for used cars, announced the acquisition of Turkish platform Garaj Serpeti for an estimated $40 million as it embarks upon its international expansion outside of Latin America.  Kavak currently operates in Mexico, Argentina, Brazil and plans to launch in Chile soon.  Garaj Sepeti offers services related to selling, buying, renting, and owning a car in Turkey, which is the fifth-largest used car market in the world.
---
📜 Policy
The Central Bank of Chile (BCRA) launched its Transferencias 3.0 system to enable the interoperability of digital payments via QR codes.  Users can use any bank or fintech application to make payments to merchants.  Meanwhile, merchants receive the funds within 25 seconds with one of the lowest commissions in the market of 60-80 basis points.
Check out Addem Capital's recap of Mexican fintech regulation: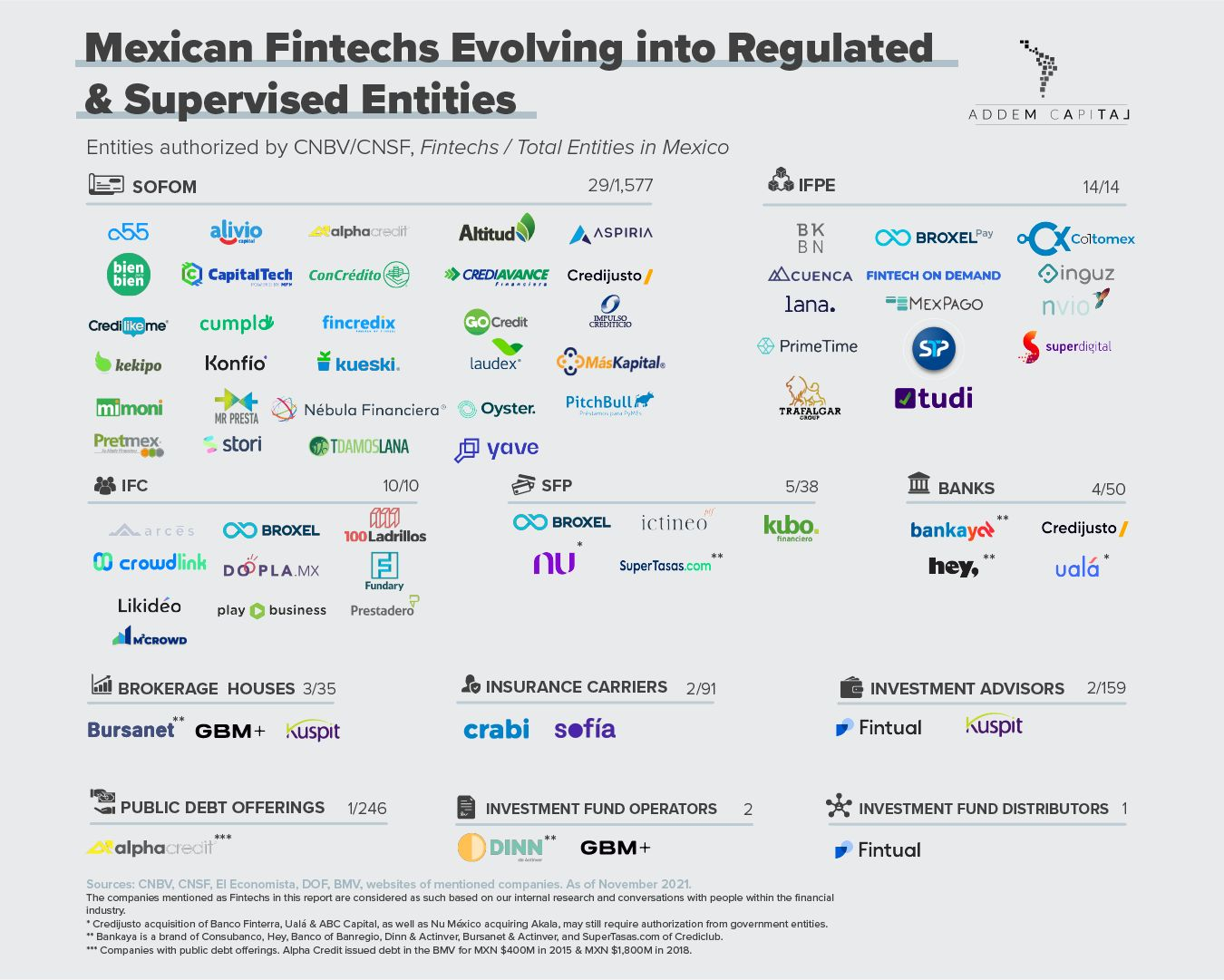 ---
📚 Deeper Reads
Brazilian startups raised over $809 million in VC funding in November, with fintech taking 39% or $311 million
Early-stage and emerging tech trends: Web3 & DeFi, enterprise SaaS, supply chain tech, and gaming lead funding activity
---
🌎 Fintech Around the World
See our global coverage and consider subscribing.
---
👍👎 Did you like this edition of TWIF Latam?  Take a 1-minute anonymous survey here or message me with news items and suggestions.  I'd genuinely appreciate any and all input. If you liked what you read, please consider sharing or subscribing.
Want to be a This Week in Fintech sponsor? Reach out to us at sponsor@thisweekinfintech.com.

Come meet us in person at www.fintechhappyhour.com.

Join our global community!  ​You can find us on Twitter, LinkedIn, and Instagram.