Hola Amig@s Fintech,
Bom dia!  IRL events are back in force. I had the joy of re-connecting with many colleagues at the IDB Lab Forum and VC Latam Summit this week in Miami.  So many great things happening.
On that note, we're super excited to announce the first This Week in Fintech gathering in the region.  Join us in Mexico City on Thursday 11 Nov at 6pm for a 🍻networking happy hour 🍻 sponsored by Kushki.  Please RSVP here.  Look forward to seeing you!
TLDR:
Infrastructure, infrastructure, infrastructure
Brazilian startups are on a funding tear
New products launches: from DiDi Préstamos to Nuvem Pago
---
Editor's Note: If you're an early-stage startup founder raising equity or debt, I may be able to help - email me at christine@thisweekinfintech.com
---
📊 Notable Stat
VC Investment in the region reached USD5.1b in Q3 2021 alone, according to LAVCA preliminary data, on track with the USD4.8b invested in Q2 2021.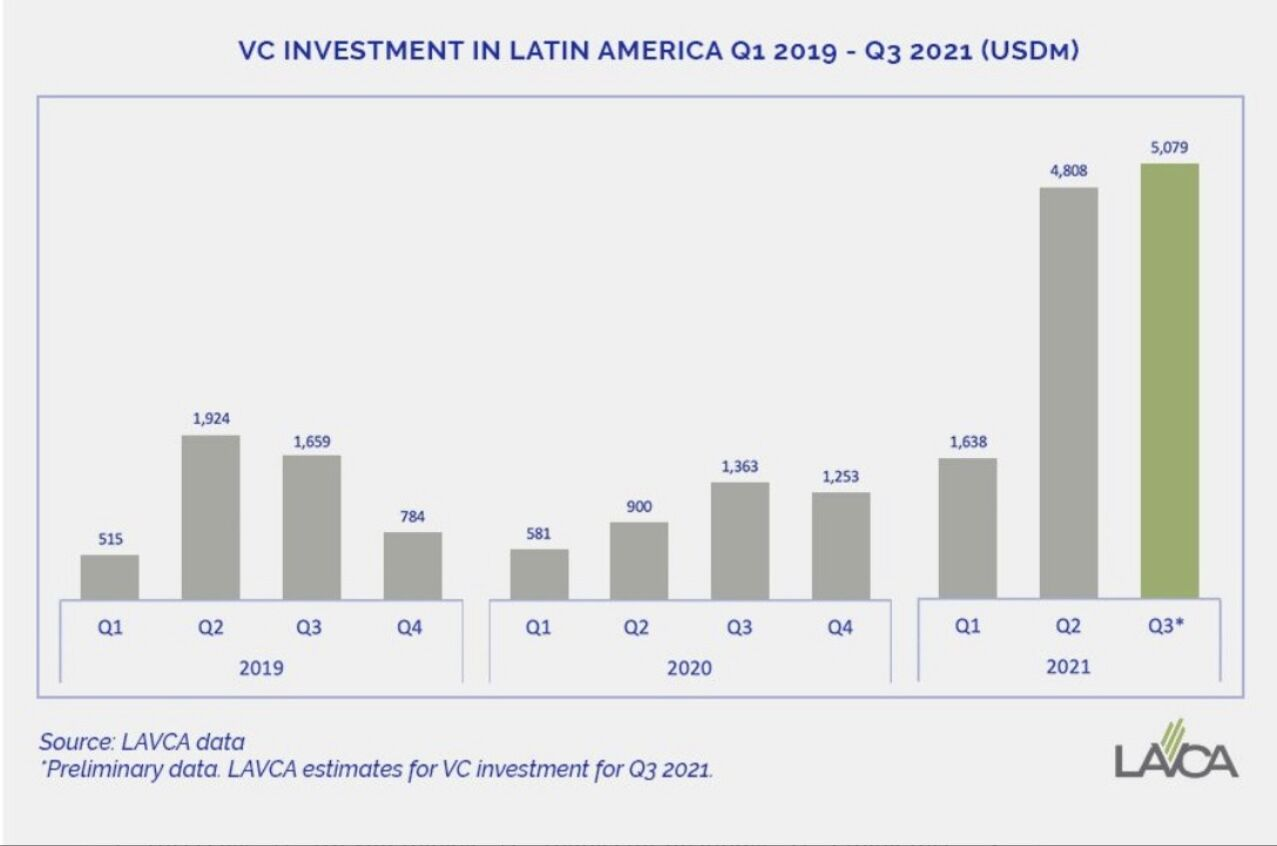 ---
💸 Venture Financing
Pomelo, the Argentinian infrastructure platform for financial services, raised a $35 million Series A led by Tiger Global Management.  The seven-month-old company boasts a long list of other notable institutional and angel investors such as Insight Partners, monashees, QED Investors, Clocktower, Sequoia, Max Levchin, Jackie Reses, and Angela Strange.
Reworth, the Mexico City-based cashback solution, raised a $2.8 million Seed round led by ALLVP with participation from FJ Labs, Soma Capital, Rally Cap Ventures, and Gilgamesh.  With 80% of transactions in Mexico still made in cash, Reworth's cashback API solution helps fintechs and banks incentivize the use of credit cards.
Pismo, the São Paolo-based infrastructure provider for financial services, raised a $108 million Series B co-led by SoftBank, Amazon, and Accel.  The software company allows its business clients the ability to launch products for cards, payments, digital banking, wallets, and marketplaces.  The financing round will be used to continue expansion outside of Latin America.
Hash, the Brazilian payments infrastructure provider, raised a $40 million Series C co-led by QED Investors and Kaszek to fund continued growth within Brazil and to build out additional services for its 16,000 small and medium-sized business (SME) customers.
Justos, the Brazilian insurtech, raised a $35.8 million Series A led by Ribbit Capital with participation from SoftBank's Latin America Fund and GGV as new investors.  Existing backers include Kaszek, Nubank CEO David Velez, Kavak CEO Carlos Garcia Ottati, and Creditas CEO Sergio Furio.  The company will be formally launching its insurance plans that are up to 30% cheaper by using customers' driving data.  Justos also supports five non-profits via donations to Instituto Ayrton Senna, AACD, Gerando Falcōes, Casa 1, and Conexsus.
Swap, the São Paulo-based banking-as-a-service (BaaS) startup, raised a $25 million Series A led by Tiger Global Management with participation from Endeavor, Global Founders Capital, and Flourish Ventures.  The capital will be used to expand within Brazil where the company offers full-service solutions as a bin sponsor, card processor, partner bank, and core infrastructure provider.
Tarken, the Brazilian grain trading marketplace, raised a $3.5 million seed round, co-led by Monashees and Maya, with participation from Gilgamesh Ventures and notable angel investors such as Carlos Garcia of Kavak, Pierpaolo Barbieri of Ualá and VivaReal's Brian Requarth.  The funds will be used to continue to build out the technology that connects grain buyers and sellers to improve pricing transparency.
Vixtra, the Brazil-based import credit startup, raised $6.2 million led by partners of the trading company Sertrading with participation from Mauro Negrete of Mercado Bitcoin and Gustavo Jobim of GPS Investimentos.  The company aims to be a means of payment for foreign trade for middle-market customers.
---
💰Venture funds
Brazil-based monashees announced plans to raise $700 million between two funds: $350 million for early-stage startups and $350 million for later-stage companies.  The venture firm has previously invested in companies such as Rappi, Loggi, and Neon.
Mexico-based venture capital firm Wollef announced its plans to raise a $100 million third fund for early-stage companies.  The company was formerly known as Jaguar and has invested in companies such as Kavak, Konfio, Loft, and Nubank.
Softbank announced its decision to double down on its Miami initiative, committing an additional $150 million to a total of $250 million to invest in startups based in the city.  Since the inception of the initiative a year ago, it has funded 12 companies including Heru, Kushki, Betterfly, and OnTop.
---
☯️ Exits
🤝 M&A - Fintech
Ebanx, the Brazilian international payments platform announced the acquisition of Juno, a payment institution licensed by the Central Bank of Brazil that offers banking-as-a-service (BaaS) to small and medium-sized companies.
💻 IPOs
Nubank, the Brazilian neobank, announced it has filed to go public.  The company, which is the largest digital bank in the world, filed both in the US with the SEC and the Comissão de Valores Mobiliários (CVM) in Brazil.
🏦 M&A - Banks, Insurers & Incumbents
Banco Santander spun off and listed Getnet Brasil, Brazil's third-largest card processor.  Getnet operates in Brazil, Mexico, Argentina, Chile, and Uruguay and is now trading on the Sao Paulo stock exchange with a $1.32 billion market value.
📈  SPACs
Rose Hill Acquisition Corp (ROSEU) began trading on the Nasdaq Global Market, raising $125 million via a Special Purpose Acquisition Company (SPAC) to invest in Latin America.  The SPAC is run by Albert G. Hill IV from Dallas and Juan Jose Rosas of Peru.
---
🚀 Product Launches & Partnerships
🏦 Financial Services & Banking
Citibanamex and the IFC announced a partnership focused on reducing the gender gap by improving access to financial services for women entrepreneurs in Mexico.  The initiative is part of the Banca Mujer program with global commitments of $3.05 billion from 104 financial institutions in 44 countries.
💻 Fintech
DiDi, the ride-hailing platform, announced DiDi Prestamos, offering its customers and drivers in Mexico access to loans ranging from $15 to $1,500.
Cybersource, a Visa solution, and Ebanx, global payments fintech company that specializes in Latin America, announced a new partnership for payments in Brazil.
DriveWealth and Grupo Bursátil Mexicano (GBM) have partnered to offer fractional trading in US stocks to GBM's 2 million customers in Mexico.
Novi, Facebook's digital wallet subsidiary, announced plans to launch a pilot in the U.S. and Guatemala, allowing users to trade the Paxos Dollar (USDP).  Coinbase will provide custody services for the program.
Clara, the Mexico City-based corporate spend startup, announced a partnership with Mastercard that will allow it to issue its own credit cards.
C6 Bank, the Brazilian digital bank, launched the Yellow account for children and teenagers.
Nuvemshop (aka Tiendanube in Spanish-speaking Latam), the e-commerce platform announced the launch of its own payment solution, Nuvem Pago, which will enable its 90,000+ merchants to offer multiple forms of payment. This follows the acquisition earlier this month of logistics solution Mandae.
---
📰 Other News
Revolut announced the appointment of Juan Miguel Guerra as its CEO for Mexico.
The Mexican banking commission (CNBV) named Dr. Jesús de la Fuente Rodríguez as its new President.
While women in Mexico maintain 20% higher balances in savings accounts than men, group savings and loans associations (Socaps), as well as mortgage lenders, favor men in terms of number and amount for loans.
---
📜 Policy
RecargaPay received its license from the Brazilian Central Bank to become a Direct Credit Society (DSS).  The payments company, which raised a $70 million Series C this past February, intends to expand its credit and microcredit offer including bill pay in installments.
The CNBV, the Mexican banking commission, fined Bnext US$128,000 (2.3 million pesos) for infringement of the Fintech Law.  The financial marketplace with 35,000 users in Mexico and headquartered in Spain was recently affected by the CNBV's rejection of Cacao Paycard's application for the fintech license as well.  Cacao offered fintech-as-a-service to various startups for virtual accounts and card issuing.
---
🔦Spotlight on Perú with Meghan Stevenson-Krausz, Board President at PECAP & Director, Inca Ventures 🇵🇪
Q. Three words to describe yourself?  A. Curious, loyal, passionate.

Q. Three fun facts about the fintech landscape in Perú that everyone should know?  A.  Roughly 50% of the population is un(der)banked; people often underestimate the size of Perú - there are 33 million people (one-third of which is in Lima), which is bigger than Chile and more concentrated than Colombia; there are 1 million Venezuelan refugees in Lima alone, which represent a particularly interesting opportunity for fintech.

Q. What is something that will make a huge difference for financial inclusion?  A. If someone could crack the code to generating trust for new technological solutions in rural areas, that would make a huge difference.

Q. What are you most excited about with regard to Latam fintech right now? A.  Insurtech where previously we were only really seeing marketplaces but now we're starting to see companies that are truly reinventing what insurance can be and I think that's really exciting.

Q. What is one resource you would recommend for those interested in learning more about fintech in Perú?  A. EY's recently published Peru FinTech Guide (Spanish)
---
📚 Deeper Reads
Latin America: An Emerging Impact Market
The hyperactive open banking market of Latin America: How the region is being APIfied
Frontier Giants: The Companies to Watch in Emerging Markets
Why Cowboy Ventures is looking to invest in Consumer Fintech-Enabled Companies
---
🌎 Fintech Around the World
See our global coverage and consider subscribing.
---
👍👎 Did you like this edition of TWIF Latam?  Take a 1-minute anonymous survey here or message me with news items and suggestions.  I'd genuinely appreciate any and all input. If you liked what you read, please consider sharing or subscribing.
Want to be a This Week in Fintech sponsor? Reach out to us at sponsor@thisweekinfintech.com.

Come meet us in person at www.fintechhappyhour.com.

Join our global community!  ​You can find us on Twitter, LinkedIn, and Instagram.
Y'all be good out there.  ¡Saludos!  Até a próxima!