Hola Amig@s Fintech,
Hope you had a wonderful Thanksgiving, one of my favorite times of the year as an excuse to reflect on all the things I'm grateful for, including your readership! Interrupting your Black Friday shopping excursions today to bring you your bi-weekly digest of Latam fintech financings and exits from the second half of November.
TL;DR: despite hurtling toward the end of the year when things are supposed to slow down, Latam fintechs continue to grow at breakneck speed with some game-changing product and country launches, as well as attracting VC dollars, with $220.5 million raised in the past two weeks.
Anddddd, I've officially fallen into the 🐇🕳 of Web3, NFTs, and the potential to unlock the next wave of fintech and financial inclusion in Latam.  I'd greatly appreciate any resources or insights you have to share!
Last but not least, looking forward to seeing some of you in NYC at our fintech formal and in Miami at LendIt LatAm (use code 'JS15' for 15% off at LendIt)!
Y'all be good out there.  ¡Saludos!  Até a próxima!
---
Editor's Note: If you're an early-stage startup founder raising equity or debt, I may be able to help - email me at christine@thisweekinfintech.com
---
👀 Fun Fact
Collins, a dictionary publisher founded in 1824 recording over 4.5 billion words, named "NFT," or 'non-fungible token,' as the top word for 2021.  (Source)
---
📊 Notable Stat
According to Pitchbook data, women founders outperform with earlier exits and higher valuations.  Female founders' median time to exit is 6.7 years versus 7.7 for the market overall while valuations average $45.7 million versus $40.0 million. BOOM 💥.  (Source)
---
🦉 Notable Tweet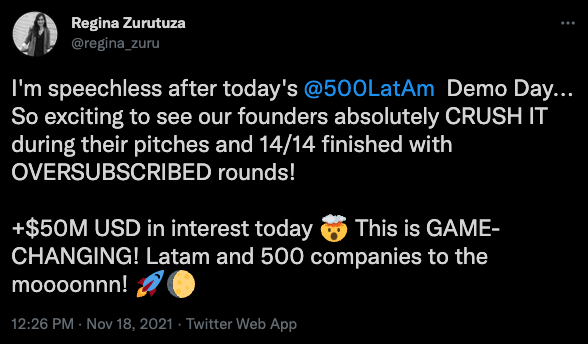 ---
💸 Venture Financing
Hackmetrix, the Santiago-based compliance and cybersecurity platform, raised a $1.5 million seed round led by Cometa Ventures with participation from Amador Holdings, Hero Capital, Rally Cap Ventures, Arkfund, and notable angels such as David Buenfil, CEO of Skandia Latam, and Santiago Garcia, CEO of Skandia Colombia, among others.  The funding will go towards products launches and regional expansion starting with Mexico.
Z1, the Brazilian neobank for teenagers and young adults, raised a $10 million Series A led by Kaszek with participation from existing investors MAYA Capital, Homebrew, Clocktower, and The Chainsmokers.  The new financing will go towards growing the team to 100 people over the next months.  The company also announced that the core banking experience that had a monthly subscription fee of $2 per month will now be free.
Aplazo, the Mexican buy now, pay later (BNPL) startup raised a $27 million Series A led by Oak HC/FT to grow its team and launch in two additional countries in 2022.  Existing investors Kaszek and Picus Capital also participated in the round.
TruePay, the São Paulo-based buy now, pay later startup raised a $32 million Series A led by Addition.  This is Addition's first time leading a Series A in Latin America.  TruePay launched in December 2020 with former venture capitalists Pedro Oliveira (Kaszek) and Luis Eduardo Cascão (DNA Capital) at the helm.  The company aims to close the gap between receiving and payment terms to optimize working capital flows for retailers.
CloudWalk, the São Paulo-based payments company, raised a $150 million Series C led by Coatue with participation from DST Global, Valor Capital, Plug and Play Ventures, and The Hive Brasil, among others.  The company offers payments processing to 150,000 merchants across the country, provides cashback in crypto for which it launched a stable coin Brazilian Digital Real, and reports growth of 5,000% in the last 24 months.  Now valued at $2.15 billion, the company is now officially a unicorn as well.
---
💰 Venture funds
Seaya Ventures and Cathay Innovation announced a joint $125 million fund, the Seaya Cathay Latam Fund, focused on Series A and B investments in Latin America.  Its first investment was in Xepelin's $30 million equity round in September.  The fund will be led by Federico Gómez Romero and plans to invest in 12 to 15 companies with check sizes of $5 to $10 million.
---
☯️ Exits
🏦 M&A - Banks, Insurers & Incumbents
Bancolombia announced its acquisition of Vlipco S.A.S. for $2.6 million.  Vlipco provides services to the bank including the technology behind its payments gateway, Wompi.  The bank previously held 47.7% of Vlipco.
Mastercard announced its acquisition of Arcus FI, which enables bill pay and cash-in, cash-out services for retailers, fintechs, and financial institutions in the US and Mexico.  The transaction will allow Mastercard to enhance its Bill Pay services within Latin America.  The financial terms of the deal were not disclosed.
🤝 M&A - Fintech
Nubank announced its acquisition of Olivia, an app that uses artificial intelligence (AI) to help consumers plan expenses better and save money by analyzing spending habits.  This marks Nubank's sixth acquisition since 2020.
Omie, the Brazilian cloud-based software-as-a-service (SaaS) platform for mid-sized companies, announced its acquisition of São Paolo-based digital bank Linker for $22 million.  Linker offers financial services to more than 30,000 small and medium-sized businesses and partners with more than 100 accounting firms.  With this acquisition, Omie seeks to expand its target market and grow customer loyalty through a more robust product offering.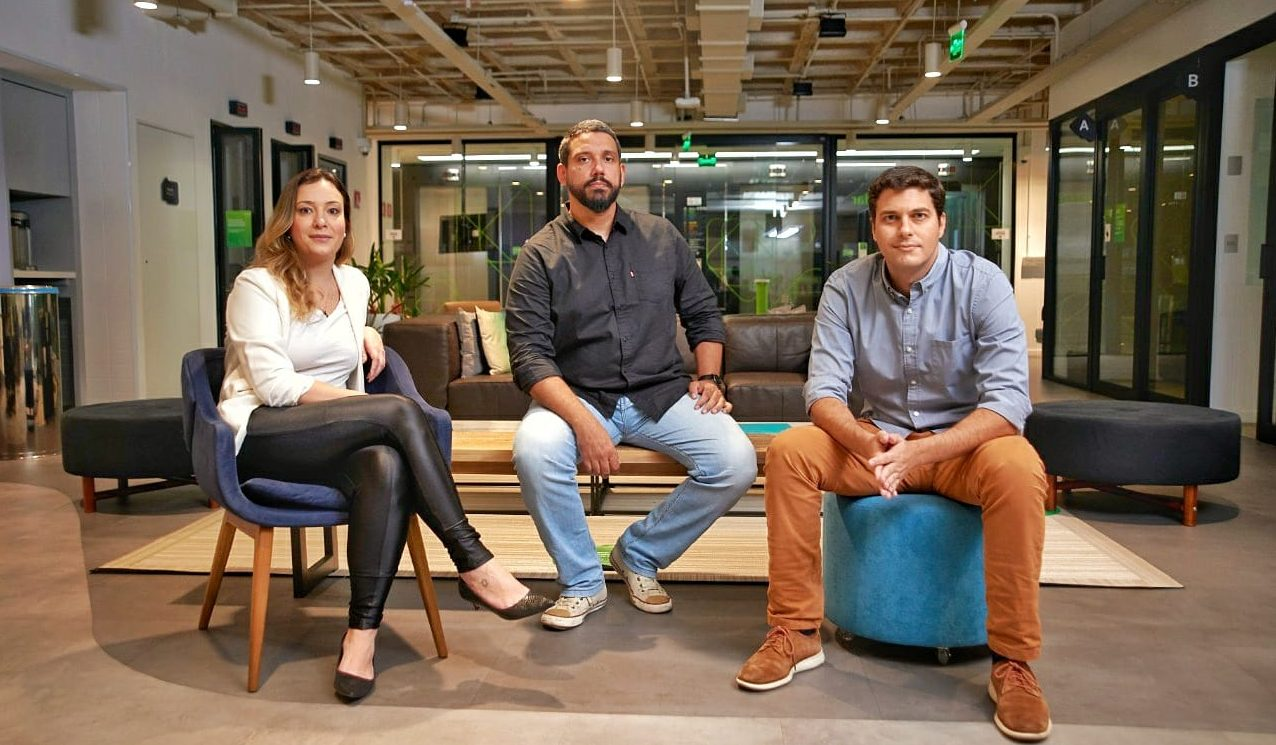 ---
🚀 Product Launches & Partnerships
🏦 Financial Services & Banking
BBVA announced a deal with Canadian fintech Newt and Blackhawk Network to develop and operate a software-as-a-service (SaaS) payment platform. Connecting Newt's payments services with Blackhawk Network's digital offering of prepaid and gift cards aims to offer more solutions for BBVA's 11 million customers in Mexico.
Mastercard Mexico announced a partnership with delt.ai that will enable the fintech to issue cards directly for its clients.  Delt.ai offers digital banking for businesses in Latam.
💻 Fintech
Tribal Credit, the corporate card for SMEs in emerging markets, announced it will be launching operations in Colombia, Perú, and Chile in 2022.  This will be in addition to its Mexico presence.
Tpaga, the Colombian digital wallet, announced it will launch microcredits in partnership with international development agency USAID, allowing users to borrow amounts ranging from $6 to $60.
Máximo Fintech of Perú announced the launch of a pre-paid card designed for gamers.  The initiative is in alliance with Mastercard and Riot Games (League of Legends) to address the needs of approximately 11 million gamers in Peru between the ages of 13 to 35.  Currently, only 8.9 million of 33 million of the country's total population are banked.
Wibond, the Argentinian digital payments platform, announced a partnership with Tiendanube to offer buy now, pay later to the e-commerce platform's merchants.  Customers will be able to pay in 3, 6, or 12 months with or without interest and without having a credit card.
Nubank announced it will add an e-commerce section to its app in Brazil, allowing millions of customers to shop at retailers like AliExpress, Dafiti, and Magalu without leaving the app.
Bankingly, the Uruguayan digital banking services provider, announced its entry to Mexico in conjunction with CSN Cooperative Financiera.  Bankingly currently serves over 80 clients in Latin America and Africa.
Creditú, the Chilean fintech focused on property financing solutions, announced its entry into Brazil.  The company currently operates in Chile, Peru, and Mexico.
Belvo, the open banking API platform, announced the launch of the Recurring Expenses tool which provides analysis into users monthly subscriptions and recurring expenses in order to provide insights and recommendations to improve their financial wellbeing.
Bitso, the crypto platform, launched Bitso Shift, an electronic wallet that will enable users to send and receive payments between Mexico and the United States.  The service is targeted toward Mexican SMEs that offer products to customers in the US.  Users can deposit funds in both Mexican pesos and dollars as well as make withdrawals in Mexico via SPEI and in the US through domestic transfers.
---
📰 Other News
El Salvador announces world's first 'Bitcoin City'
Ualá has 53 job openings in Argentina as it looks to grow its base of more than 14,700 employees
Comedy Monsters Club sold 1,800 NFTs upon launch with buyers from Colombia, Venezuela, Argentina, Chile, Mexico, and the US
Tencent Cloud to launch first data center in Latin America
---
📜 Policy
Mercado Pago received authorization from the Chilean regulator (CMF) to issue cards and to operate as a payment services provider.  This will allow Mercado Pago to launch a prepaid card in Chile, along with offering free online accounts as it already does in other countries in Latam.
Mexico announced reforms to its anti-money laundering laws which include transferring responsibility to the banking commission (CNBV) for the supervision of digital assets and cryptocurrencies.
The CNBV, CONSAR, British Embassy, DAI, and Distrito Emprendedor announced the second edition of the Sandbox Challenge, encouraging entrepreneurs with new business models to apply before its deadline on 21 January 2022.
---
🔦 Spotlight on Uruguay 🇺🇾 with Ximena Aleman, Co-Founder & Co-CEO at Prometeo OpenBanking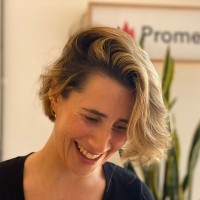 Q. Three words to describe yourself?  A. analytic, committed, intuitive.

Q. Three fun facts about the fintech landscape in Uruguay that everyone should know?
Uruguay is ranked among the top 20 countries in the world in terms of fintech development, coming in 17th place in the second edition of the Global Fintech Ranking.
Uruguay's early internationalization has allowed it to become the first per capita software exporter in South America.
Uruguayan IT companies export to more than 50 different markets and the United States is the top software export destination, accounting for 65% of placements.Q. What is one product that is making / will make a huge difference for financial inclusion? A. As digitalization becomes a day-to-day reality in financial services, embedded finances will definitely reshape how consumers interact with the financial sector and how financial brands provide value to their users. Loyalty definitely will become a privilege and something financial providers will have to fight for providing better experiences instead of leveraging captive markets.

Q. What are you most excited about with regard to Latam fintech right now? A. It's amazing to witness how the ecosystem has matured in a few years. As Open Banking pioneers, at Prometeo we are more than excited about the evolution that Open Banking, Open Finance, and the API economy are having across the region, in particular with regulations in place in Mexico and Brazil, but also regulatory frameworks appearing in Chile and Colombia. It's only a matter of time until we see the rest of the region following their steps.  

Q. One resource you would recommend for those interested in learning more? A. Open Banking Exchange webinars and content is a recurring source of information that has allowed me to track the progress of the trend in real-time across geographies, keeping both a local and a global perspective.
---
📚 Deeper Reads
Why Latin America Needs to Build a Cybersecurity Fortress ASAP
The Tim Ferriss Show on 'The Wonders of Web3… and the Untapped Potential of NFTs'
---
🌎 Fintech Around the World
See our global coverage and consider subscribing.
---
👍👎 Did you like this edition of TWIF Latam?  Take a 1-minute anonymous survey here or message me with news items and suggestions.  I'd genuinely appreciate any and all input. If you liked what you read, please consider sharing or subscribing.
Want to be a This Week in Fintech sponsor? Reach out to us at sponsor@thisweekinfintech.com.

Come meet us in person at www.fintechhappyhour.com.

Join our global community!  ​You can find us on Twitter, LinkedIn, and Instagram.