Hola amig@s fintech,
Anyone got a good rec for a boxing gym in CDMX?  'Cos I've got a lot of hurt, anger and frustration to get out of my system.  Yes, this space is for fintech news but some days, the front page of world news just sucks all the air out of the room.  So I'll just leave this here, a 💎 that my mom sent on Friday to her 'women leader daughters': Dangerous Times Call for Dangerous Women.
TL;DR: "We will move forward together, willing now to take more risk, to be more fearless, to speak up, speak out and show up for one another."  Who are you showing up for today?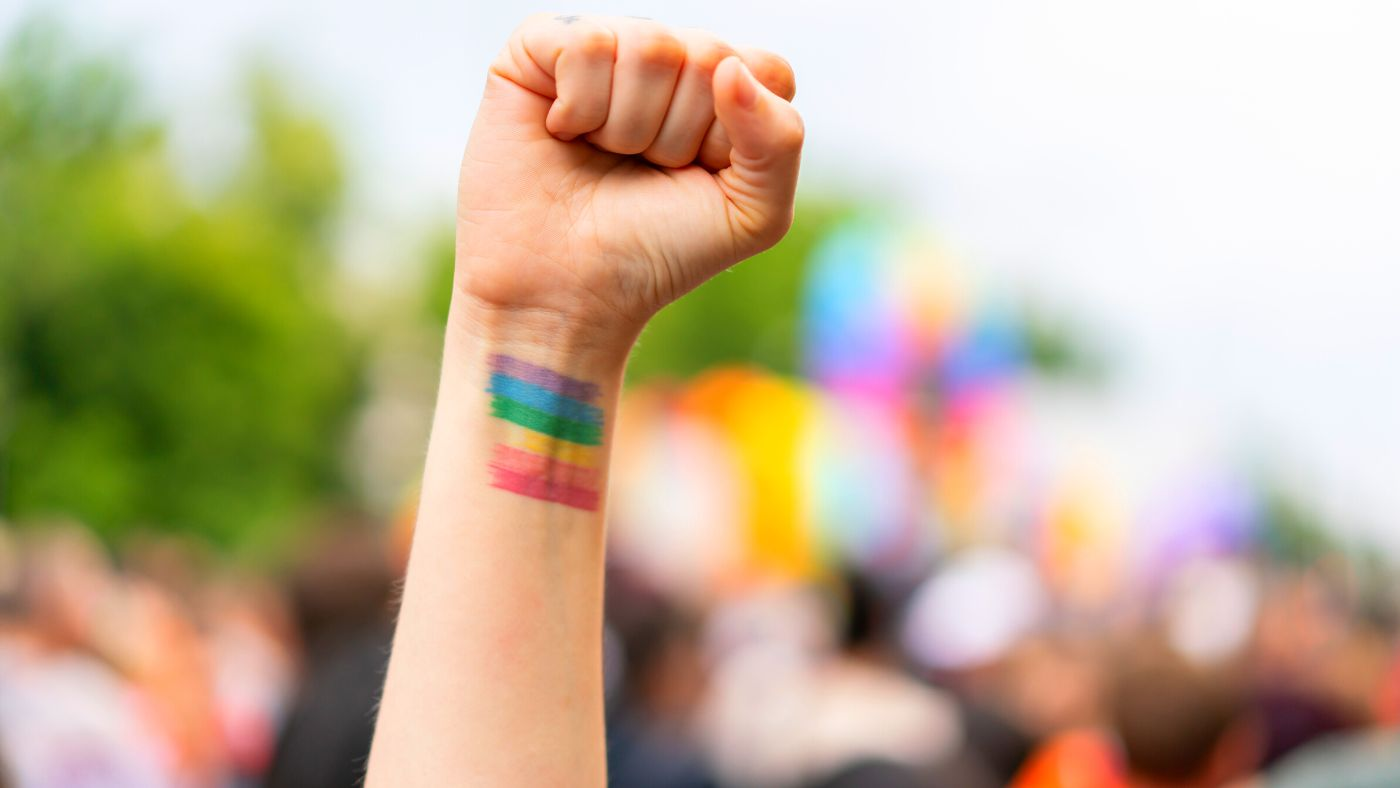 Please find below this week's front page of Latam fintech news.
💛 Y'all be good out there.  ¡Saludos!  Até a próxima!
---
🤔 Question of the Week (again, cos no one answered last week - whomp)
I've been asked a couple of times recently about payments in Latam.  For those of you in the region, what is the one thing that everyone should know about payments in your country?  For those of you outside of Latam, what have you heard that you're curious to hear more about?  Send me your thoughts here or via email at christine@thisweekinfintech.com
---
Sponsored Content
Want to sponsor a newsletter? See our sponsorship information here.
---

If you're looking to hire from a group of 10,000+ smart, motivated fintech professionals, come pick up a Collective Pass and post a job here.  If you're looking for your next adventure at one of the best fintech companies, check out the open roles here!
📣  Latam startup alum who have been impacted by layoffs and recruiters looking for top talent, check out startups-alumni.com and layoffsbrasil.com
---
📊 Notable Stats
Per BLOCKDATA, as of last month, 23 major banks have made investments in blockchain or crypto-related entities: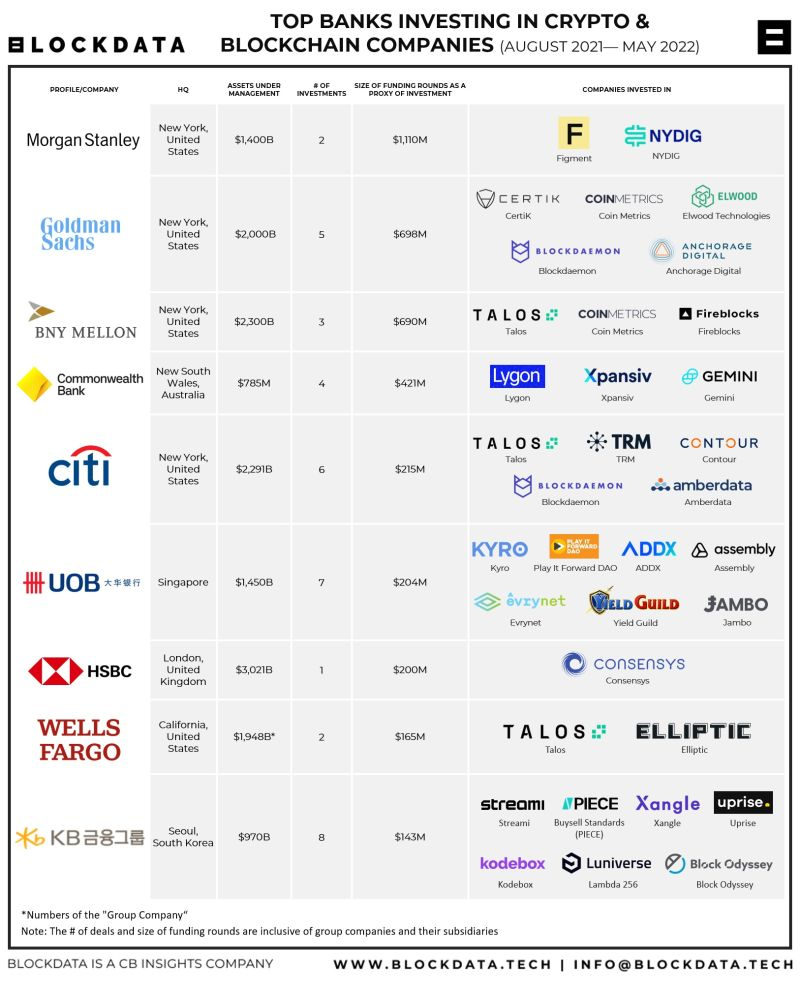 ---
💬  Notable Quotes
🦉 Tweet of the Week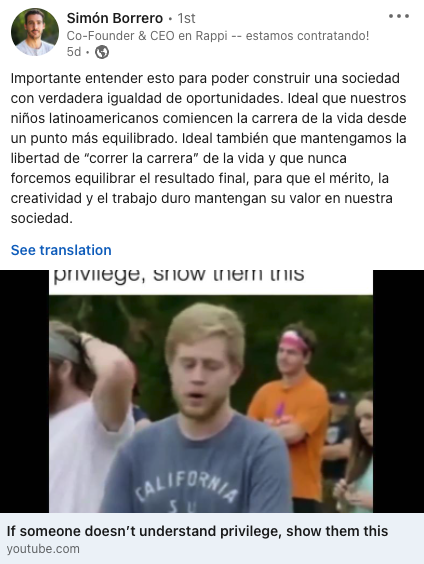 ---
💸 Venture Financing
Wibond, the Argentinian startup offering buy now pay later (BNPL) without a credit card, raised a $3.75 million seed extension from Y Combinator, Fintech Capital, Soma Capital, and notable angels such as Randy Reddig of Square (Block), and Alanna Gregory of Afterpay, among others, joining a long list of existing investors like Fen Ventures, Newtopia, Kalei, and Marc Randolph of Netflix.  The company offers over 300 merchants in Argentina the ability to offer installment payments to customers.  It plans to launch in Mexico and Chile next.
SumUp, the London-based payments firm, raised $73 million in debt and equity for its Brazilian operation.  The financing is part of a larger $623 million round was led by Bain Capital with participation from BlackRock, btov Partners, Centerbridge, among others.  The company has 800 employees in Brazil where it offers payments, loans and a marketplace to its small retailer clients.
---
💰 Venture funds
Maya Capital announced its second fund, with $100 million to invest in 25-30 early stage Latam startups.  The Brazilian firm is led by Monica Saggioro Leal and Lara Lemann.  Fintech companies in the current portfolio include Belvo, Divibank, Nuvocargo, Truora, and Z1.
Vine Ventures announced its second fund, with $140 million dedicated to early stage investments in the US, Israel, and Latam.  The New York-based firm invests first checks of $1 to $10 million at the seed stage.  Current portfolio companies include TUL, Habi, and Kocomo.
---
☯️ Exits
🤝 M&A
Nubank Hunts M&A LatAm FinTech Bargains
ICYMI: through May, the Mexican M&A market totaled 148 transactions for a total of $5.9 billion, an increase of 1.4% in volume while average deal size ws down 35%, according to TTR.  The most active sectors are internet, software, and IT services.
💻 IPOs & SPACs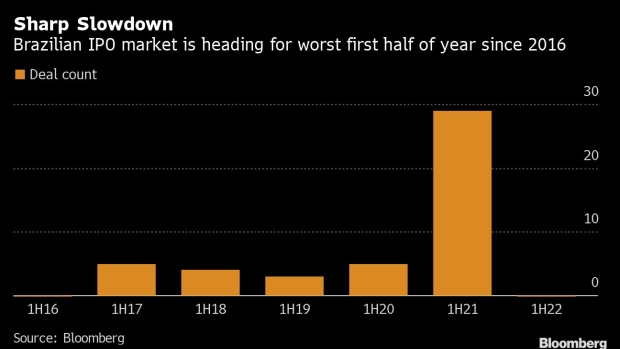 By this time last year, the Brazilian IPO market had seen 29 deals, raising about $6.9 billion.  This year, there have been none through the first half of the year.  Read more here.
DLocal (DLO), who launched its IPO in June last year, reported Q1 2022 earnings, with 117% year-over-year growth in revenues to $87.5 million, beating Wall Street estimates by 5.9%.
---
🚀 Product Launches & Partnerships
💻 Fintechs
Mercado Libre, the Argentine e-commerce company, announced that it will start offering life insurance in Brazil.
Conekta and Nu announced a partnership where Conekta clients can offer BNPL when paying with Nu credit cards.
Fondeadora, the Mexican digital bank, announced the launch of "Fondeadora Negocios" targeted at SMEs and independent workers.
🏦 Financial Services & Banking
BBVA, Citibanamex and Banorte announced an alliance with Poliglota, a Chilean language teaching platform, allowing clients of these financial institutions to obtain up to 60% discount for online skills training in the face inflation and layoffs.
JP Morgan and Ontop, announced a collaboration to expand the Global Wallet strategy, allowing users to keep their salaries in dollars via the Ontop Visa card.
---
📰 Other News
Bitso, the crypto exchange platform, announced Barbara Gonzalez as the new General Director in Mexico, in addition she will continue to be Global CFO, a role she has held since 2018. Barbara will be responsible for developing the strategy to increase financial inclusion and develop new products. It also reported this week that it has processed more than $1 billion dollars in remittances between Mexico and the US this year, which represents 4% of the world's largest corridor.
Fintual, the Chilean asset management startup, announced Priscila Robledo as its first chief economist. Her main activities will be linked to the investment team and the creation of new content.
Brazil-based cross-border payments company Ebanx announced it is laying off 20% of its 1,700 employees.  The move to cut 340 employees is part of a restructuring where some projects such as the digital wallet Ebanx Go will be phased out.  Ebanx tabled its expected IPO this year and joins other Latam unicorns that have recently announced layoffs including Kavak, Vtex, Olist, Bitso, 2TM, QuintoAndar, Facily, and Creditas.
Binance, the global crypto exchange, announced the suspension of deposits and withdrawals in Brazilian reals via Pix following the termination of its partnership with Capitual, a local payments gateway and due to policy changes from the Central Bank of Brazil (BC) with new KYC requirements.
---
📜 Policy
Hey crypto platform frens:  FintechLAC and friends are conducting an important study to increase transparency and make your voice heard.  Fill it out here.
Guest post by Lorena Buzón, Government Relations at Tribal Credit
Mexico. The Board of the Central Bank (Banxico) raised the reference rate by 75 basis points to place it at 7.75%. In an unanimous decision, all board members took action in line with market expectations and with the US decision. It is the first time that Banxico has made an increase of this magnitude. (Source)

Colombia. Electoral results. On 06.19, Gustavo Petro was elected as the new president (2022 - 2026). This is the first time in the country's history that a left-wing politician will occupy this seat.  While he has promoted the strengthening of public banks to become the financier of micro, small, and medium enterprises in the country, "Petro's government plan makes no explicit mention of the fintech sector." (Source)

US. On 06.30, the House Financial Services Committee will hold a hearing titled "Combatting Tech Bro Culture: Understanding Obstacles to Investments in Diverse-Owned Fintechs." (Source)
Also, check out our Global Policy edition here.
---
📚 Deeper Reads
El Salvador's $425 million bitcoin experiment isn't saving the country's finances
The Chilean women who lead the venture capital industry (ES)
Uber, PayU Team Up to Break LatAm's Cash Habit
The great tech worker reshuffle
Union Square Ventures: The Thinkers
Brex says it did a 'poor job' explaining its decision to cut off SMBs
JPMorgan, Goldman Sachs and Other Big Banks Will Now Cover Travel Expenses for Employee Abortions
---
📖  Read of the Week
---
Made in Latam with 💛
👍👎 Did you like this edition of TWIF Latam?  Take a 1-minute anonymous survey here or message me with news items and suggestions.  I'd genuinely appreciate any and all input. If you liked what you read, please consider sharing or subscribing.
Come meet us in person at www.thisweekinfintech.com/events.  You can also join our global community on Twitter, LinkedIn, and Instagram.