Hola amig@s fintech,
Hope you're enjoying your Sunday!  I'm giving myself permission to go at my own pace these days, amidst the frenzied pace that is trying to be our new normal (this is not normal).
For those of you in Argentina, I look forward to meeting you!  Please come out and say hi at our 🇦🇷 Buenos Aires Fintech Happy Hour this Wednesday, 27 April.  RSVP: bit.ly/fintech27abril.
Please find below the front page of Latam fintech news for this week.  Like what you see?  Subscribe here.
💛 Y'all be good out there.  ¡Saludos!  Até a próxima!
---
Editor's Note: If you're an early-stage startup founder raising equity or debt, I may be able to help - email me at christine@thisweekinfintech.com or sign up for open office hours here to go through your pitch, chat about the ecosystem, talent, whatever is on your mind, dear reader!
---
Sponsored Content
Join Neuro-ID and GoNet as we discuss how to solve the Digital Identity Crisis.  Learn how to enhance your digital identity assets and connect with industry leaders over free drinks and great food in a beautiful locale!  Register here: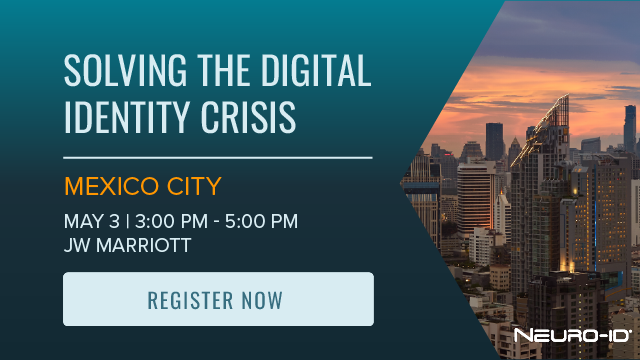 Want to sponsor a newsletter? See our sponsorship information here.
---

If you're looking to hire from a group of 10,000+ smart, motivated fintech professionals, come pick up a Collective Pass and post a job here.
If you're looking for your next adventure at one of the best fintech companies, check out the open roles here!
---
🦉 Tweet of the Week
---
💸 Venture Financing
Ruvix, the Chilean personal financial management startup, raised $250,000 from angel investors to digitize its platform and set up its US-based entity, which is regulated by the SEC.  The company plans to launch its online platform in May.  Currently it manages $100 million in investments.
Zunify, the Costa Rican payments startup, raised a $1 million pre-seed round, which includes Loyal VC and angel investors from the US and Costa Rica. The company offers various functionalities such as QR code payments for physical points of sale as well as e-commerce platforms.
Novopayment, the A banking-as-aservice (BaaS) platform, raised a $19 million Series A co-led by Fuel Venture Capital and IDC Ventures, with participation fromEndeavor Catalyst and Visa's venture arm. This is the company's first institiutional fundraise and will be used to grow its customer base in the US, add 100 new hires, and develop new product capabilities for more than 50 institutional clients that include banks and credit unions.
---
💰 Venture funds
17Sigma, announced its first fund of $30 million to invest in pre-seed and seed stage companies in Latam.  The firm is led by Bianca Sassoon, formerly of Kaszek Ventures, and includes Pierpaolo Barbieri, founder of Ualá, as the lead investor amongst a list of notable names including General Catalyst, Marcelo Claure and Paulo Passoni formerly of SoftBank, Sebastian Mejia or Rappi, and others.
EWA Capital, the Colombia-based VC firm led by Patricia Sáenz, announced a $1 million investment from La Fundación WWB Colombia, which shares its mission to generate societal change to achieve equality for women.  This funding is part of EWA's $25 million fund through which it has invested in companies like Merqueo and Platzi.  Part of its investment requirements is that the company employs at least 30% women and have female decision-makers.
Tofino Capital announced the launch of its $10 million fund to invest in primarily pre-seed and seed stage companies in emerging markets including Latam, particularly in B2B segments such as fintech, logistics, and marketplaces.  The firm is led by Eliot Pence and Aubrey Hruby and plans to use a 'barbell strategy' to invest between $50-500K per startup either in early-stage or pre-IPO stages.
SoftBank announced the departure of Shu Nyatta and Paulo Passoni from its Latam fund.  The two will be starting their own firm focused on late-stage startups in the region.. In terms of new leadership, Alex Szapiro, former head of Amazon in Brazil who joined SoftBank last year, will take on the role of managing partner, and Juan Franck who currently holds an operational role, will be head of investments in Mexico.
---
☯️ Exits
🤝 M&A - Fintech
PayU, the online payments provider  controlled by Prosus with operations in 50+ countries, announced the acquisition of Ding, a Colombian mobile payments platform. The terms of the transaction were not disclosed.  Ding is the operating name of Tecnipagos, a spinoff from CredibanCo and offers busineses the ability to accept payments via debit or credit card, QR codes, as well as mobile phone credits, which are often seen as a way of doing international remittances in emerging markets.
---
📊 Stat of the Week
Latam saw a record-breaking quarter for mergers and acquisitions (M&A), with 29 transactions in Q1 2022.  (Source)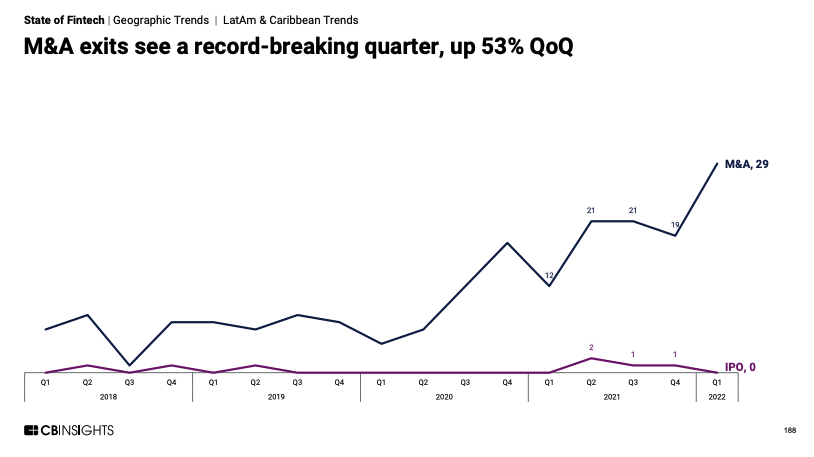 ---
🚀 Product Launches & Partnerships
💻 Fintechs
Trii announced its plans to launch in Chile.  The Colombia-based startup allows retail investors to buy both US and local equiities in Latam.
Wibond, the Argentinian payments startup, announced a partnership with Samsung Argentina to offer buy-now-pay-later (BNPL) options without a credit card.
ePayco, the Colombia-based payments gateway, announced its plans to launch in Mexico, Peru, and Ecuador. The company specializes in providing easy to use solutions for micro entrepreneurs.
🏦 Financial Services & Banking
Credicorp  Group of Peru announced the launch of credit offerings via Yape, its digital wallet and superapp.  Providing loans is part of a plan to roll out new features gradually to its more than 8.7 million users.  This number is signifant given that the banked population in urban Peru is 8.9 million people.
Visa announced a partnership with Ontop, the remote worker HR platform, allowing Ontop users to receive their payroll and transact with Visa cards.
---
📰 Other News
Trii from Colombia and Doopla and Fundary of Mexico were announced as the top three winners of the 'Premios Objetivo Fintech 2021' at the metaverso Vector event organized by Vector Casa de Bolsa and VectorGlobal, becoming the first financial entities in Latam to host an event in the metaverse.
Former head of business development at Rappi Pay, Angela Maria Acosta, raised a $5 million pre-seed round for Morado, a Colombian marketplace for the beauty industry.  The company aims to reinvent the current supply chain by offering software, next-day deliveries, access to credit, and a B2B marketplace.  The round was led by Tiger Global Management and H20 Capital Innovation with participation from a16z, QED, Latitud, Village Global, and notable angels including Simon Borrero of Rappi.
Andreessen Horowitz (a16z), announced a16z START, a program that offers early-stage founders up to $1 million to launch companies in American dynamism, consumer, enterprise, fintech, games, and other categories.
Amazon Web Services (AWS) announced the launch of AWS Impact Accelerator, that will fund early-stage startups led by Black, Latino, LGBTQIA+, and women founders.  The three-year initiative will give up to $30 million to help accelerate growth of these companies via $225,000 awards ($125,000 in cash and $100,000 in AWS credits) and access to potential investors, advisory support, and a community of experts.
Startup Weekend announced a special Blockchain Mexico edition event which will take place between 20-22 May in partnership with Techstars and Stellar Development Foundation.
---
📜 Policy
The Central Bank of Brazil announced it will run a pilot during the second half of this year for its proposed central bank digital currency (CBDC).  In the same announcement, the institution also mentioned that crypto currencies are viewed more as investment assets versus payments methods, though it may change as adoption grows.
Banxico, the Mexican central bank, announced details for SPEI 2.0,  to the existing interbank electronic payment system (SPEI). The main objective is to drive  interoperability within the same architecture, such as settlement in different currencies and foreign exchange operations.
The Mexican banking commission (CNBV), announced the authorization as Institution of Electronic Payment Funds (IFPE) to Todito Pagos, as well as to the Collective Funding Institutions (IFC) Arkangeles and Top Kapital. Currently there are only 27 fintechs with final authorization, with 31 more platforms granted provisional authorizations.
The National Securities Commission of Argentina (CNV) announced the launch of an innovation center cryptocurrencies and investments in fntech, in addition to being the link between private entities and the institution with the aim of expediting time-to-market for fintech and crypto-based investment tools while ensuring compliance and credibility of the same.
The National Council for Supervision of the Financial System (Conassif), the Central Bank of Costa Rica (BCCR), and the Inter-American Development Bank (IDB), announced the creation of the Center for Financial Innovation (CIF) of Costa Rica, whose keyobjective is to advise and guide regulators and advisors in regulatory framework compliance.
---
📚 Deeper Reads
Believe it or not, Latin America is the fastest growing region for startups in the world
Salary in cryptocurrencies? The keys to understanding this phenomenon (ES)
A great disruption is coming for venture capital
The boom of crypto prepaid cards: the benefits they offer and how they work (ES)
Chris Dixon thinks WEB3 is the future of the internet? - is it?
The pros and cons of Mexico as a destination for Latin American startups (ES)
Meta suffers setback with WhatsApp business payments in Brazil (h/t Jenny Johnston)
---
Made in Latam with 💛
👍👎 Did you like this edition of TWIF Latam?  Take a 1-minute anonymous survey here or message me with news items and suggestions.  I'd genuinely appreciate any and all input. If you liked what you read, please consider sharing or subscribing.
Come meet us in person at www.fintechhappyhour.com.  You can also join our global community on Twitter, LinkedIn, and Instagram.