Hola amig@s fintech,
Who's going to LendIt NYC 🗽 this week?  Let's meet!  Speaking of conferences, if you haven't already gotten your tickets, FINNOSUMMIT returns in-person to 🇲🇽 Mexico City from 1-2 June.  The international forum is an opportunity to connect with entrepreneurs, investors, and key players in the ecosystem.  Special deals for TWIF readers:
Use code 'PARTNERFS20' for a 20% discount via finnosummit.com.
Women in fintech can also use 'MUJERESFINTECH' to receive 40% off.  Stay tuned for a fun This Week in Fintech activity at FINNOSUMMIT!
Also, one lucky winner will receive a FREE ticket to the conference.  Answer all questions in this short feedback survey to enter the raffle!
Please find below this week's front page of Latam fintech news, written to old school hip hop beats.
💛 Y'all be good out there.  ¡Saludos!  Até a próxima!
---
Editor's Note: If you're an early-stage startup founder raising equity or debt, I may be able to help - email me at christine@thisweekinfintech.com or sign up for open office hours here to go through your pitch, chat about the ecosystem, talent, whatever is on your mind, dear reader!
---
Sponsored Content
Want to sponsor a newsletter? See our sponsorship information here.
---
If you're looking to hire from a group of 10,000+ smart, motivated fintech professionals, come pick up a Collective Pass and post a job here.
If you're looking for your next adventure at one of the best fintech companies, check out the open roles here!
---
📊 Notable Stats
Who are the most active VC funds in Latin America?  Canary, Maya Capital, and DOMO Invest lead with 12, eight, and seven deals closed in Q1 '22 respectively, out of 253 VC transactions total in the quarter.  Kaszek Ventures led by deal volume at $533.2 million invested via ten deals in the first quarter. (Source)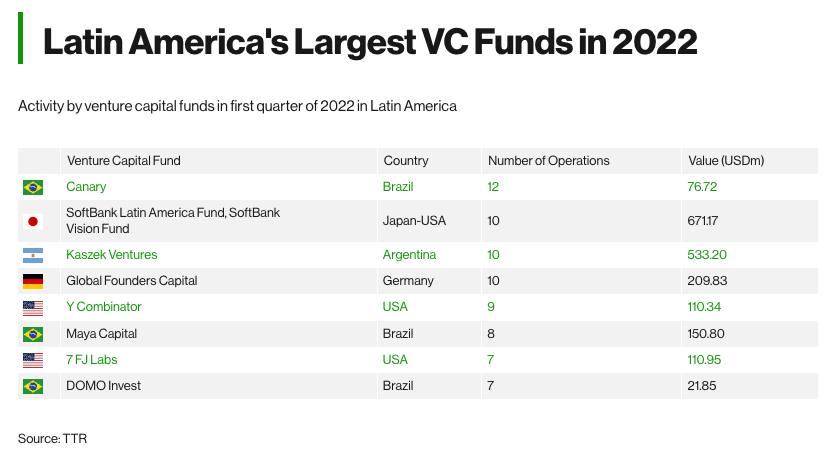 AngelList reports that crypto companies are getting more VC funding than any other category in 2022 with more than $3.8 billion invested in web3 companies this year. (Source)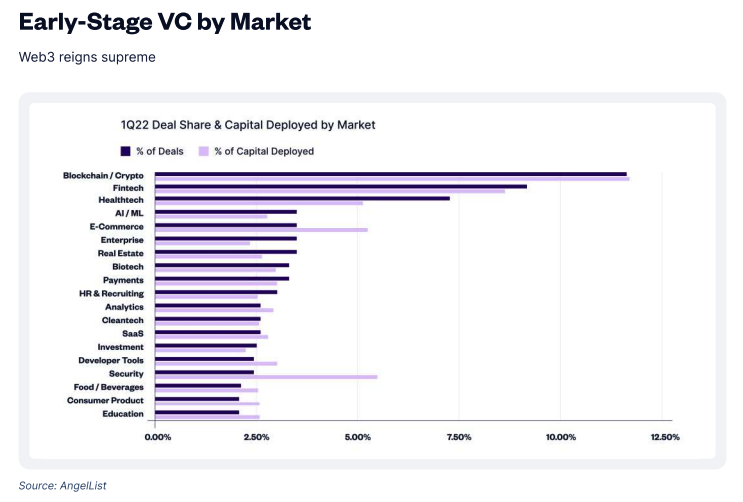 📖  Read of the Week
CB Insights State of Blockchain Q1 '22 Report
---
💸 Venture Financing
R5, the Colombian lending platform, raised a $7 million seed round led by Global Founders Capital with participation from Magma Partners, Carao Ventures, Accion Venture Lab, and Endeavor Catalyst.  The startup uses AI to design financial and insurance products customized to the needs of each person.
Elevva, the Chile-based e-commerce enabler, raised a $30 million seed round from Canary, MatterScale Ventures, Redwood Ventures, Latitud, Bolt Ventures, Pierpaolo Barbieri of Ualá, and Ariel Lambrecht of 99taxis, among others.  The funding will be used to launch new products including SME lending for clients in Colombia, Mexico, and Chile.
Nomad, the São Paulo-based platform offering Brazilians access to financial services in the US, raised a $32.1 million Series B led by Stripe with participation from Monashees, Spark Capital, Propel, Globo Ventures, and Abstract.  The startup offers US bank accounts, international debit cards, and ETFs to more than 300,000 customers.
💵 Debt Financing
Konfio, the Mexican B2B lender, raised $10 million from the Scaling Enterprises project that includes Citi, the Ford Foundation, and DFC Corporation focused on low-income communities and emerging markets.  The funds will be used to support SMEs in the south of Mexico, with half dedicated to loans to women entrepreneurs.
---
💰 Venture funds
Infinity Ventures, an early-stage fund led by former PayPal Ventures team members, announced a $158 million fund dedicated to global fintech investing.  The fund participates in pre-seed through Series A rounds with checks ranging from $500,000 to $8 million.  Its portfolio includes Mexico City-based Mendel.
Lightrock, the global private equity firm, announced a $300 million growth equity fund for Latin America.  The fund is anchored by LGT Group, one of Europe's leading financial institutions, with participation from local investors including Bradesco and XP Inc's fund of funds, BNDES, and local family offices.  Lightrock has invested more than $400 million to date in companies such as Creditas, Konfio, Buser, Tul, and Betterfly.
HSBC announced the launch of its $1 billion Female Entrepreneur Fund to support female-owned businesses in 11 markets including Mexico, Argentina, and Uruguay.  This is in conjunction with the HSBC Roar program, which will provide mentoring, networking, and masterclasses designed to help women entrepreneurs scale and grow their businesses.  Female-owned businesses received just 2% of global VC funding.
---
☯️ Exits
🤝 M&A - Fintech
Flink, the Mexican investment app, announced the acquisition of Mexican brokerage firm Vifaru Casa de Bolsa for $25 million.  The acquisition will provide Flink customers with more investment options such as local money markets and starting at 50 cents.  The deal is pending approval from Mexico's regulator (CNBV).
Crediclub, the Mexican lending platform, announced that US-based PE firm L Catterton has acquired a minority stake in the company.  The amount of the transaction was not disclosed and the deal is subject to regulatory approvals.  The partnership aims to provide Crediclub with growth capital and expertise from L Catterton, who has previously invested in other Latam companies such as NotCo, Petlove, Despegar.com, and Ben & Frank.
Coinbase announced it is no longer exploring a deal with Brazilian firm 2TM, the cryptocurrency brokerage that owns Mercado Bitcoin.  In March, Coinbase announced it was in M&A talks for a controlling stake in 2TM as part of its expansion plans in Latam.
💻 IPOs & SPACs
Crescera Capital Acquisition Corp, raised $201 million in an IPO on NASDAQ, listing as CREC.  The Brazilian special purpose acquisition company (SPAC) is sponsored by asset management firm Crescera Capital and aims to pursue a merger with a company in Latam – the particular industry and sector were not specified.
---
🚀 Product Launches & Partnerships
💻 Fintechs
IwanaCash, a Chilean cashback site, announced an alliance with Fintonic, a Spanish personal finance management app to grow in Mexico where there are alliances with more than 140 brands.
Bitso, the Latam cryptocurrency exchange platform, announced the official launch of its application in Colombia. Users can load Colombian pesos using PSE, a local payments system tied to the country's major banks.  In the latest Chainalysis Global Cryptocurrency Adoption Index, Colombia ranked 11th, with an estimated $70 billion of crypto trading per month.
DLocal, the Uruguay-based payment processor, announced its expansion into emerging markets in Africa and Asia. The company seeks to diversify geographically and will even evaluate mergers and acquisitions to accelerate its growth in the region.
Nubank, the Brazilian digital bank, announced the launch of Nucripto, a cryptocurrency platform that operates with bitcoin and ethereum in order to democratize its use in Latin America, initially it will only be available in Brazil.  It also announced the launch of NuTap, allowing corporate clients to use cell phones as a POS terminal to collect payments.
---
📰 Other News
Bank for International Settlements (BIS), revealed that nine out of 10 central banks are exploring the development of their own digital currency, including the Bank of Mexico.
WeXchange announced the 15 finalists for the WeXchange Women STEMpreneurs competition which will take place in Miami on 24 May.
GetNet Brazil, controlled by Banco Santander, announced it will delist from stock exchanges B3 in Brazil and NASDAQ and go private.  The country's third-largest card processor offers payment solutions and POS terminals.  Reasons for the decision were not given, however, its price per share has dropped 33.7% since listing seven months ago and could be due to increased competition from new players such as Stone and PagSeguro.
---
📜 Policy
Guest post by 👩‍💻 Lorena Buzón, Government Relations at Tribal Credit

Global. G7 to discuss crypto regulation. Governors of G7 Central Banks and corresponding MoFs (Ministries of Finance), are allegedly planning to discuss crypto regulation after recent crypto market volatility. Reuters reported that Bank of France Governor François Villeroy de Galhau said representatives from the United States, Canada, Japan, Germany, France, Italy and the United Kingdom will likely start discussing issues related to a regulatory framework for cryptocurrencies at a meeting in Germany. (Source)

Mexico. The CNBV penalized several entities. In its May report, the CNBV published several sanctions against some financial companies, among which are GBM, Casa de Bolsa Inbursa, Mercado Libre, and Financiera Sustentable. The last one is owned by the president's party representative at the House Patricia Armendáriz. (Source)

Brazil. Central Bank employees have been on strike since the beginning of May. Employees are claiming for a 27% increase on their salaries, to cope with inflation. The strike has affected the publication of several reports and economic indicators of the monetary entity. (Source)                                

Chile. The Chile Fintech Forum took place this week. From 05.17 to 05.19, the Forum hosted and organized by FinteChile (Fintech Association) had more than 3,000 attendees and all the participants agreed on the need to approve the Fintech Law. Most of the participants talked about the challenges of financial services' innovative companies, and the need of having implementing rules for topics such as open banking and virtual assets. (Source)
---
📚 Deeper Reads
Digital payments have gone viral in Brazil
What Changed to Finally Put LatAm on the Map of Tech Development?
National Survey of Financial Inclusion - Mexico 2021 (ES)
The a16z State of Crypto Report
¿Qué son los NFTs y para qué sirven? (ES)
Venture Deals Summer 2022 Enrollment Open
---
Made in Latam with 💛
👍👎 Did you like this edition of TWIF Latam?  Take a 1-minute anonymous survey here or message me with news items and suggestions.  I'd genuinely appreciate any and all input. If you liked what you read, please consider sharing or subscribing.
Come meet us in person at www.fintechhappyhour.com.  You can also join our global community on Twitter, LinkedIn, and Instagram.