Hola amig@s fintech,
If last night's CDMX Fintech Happy Hour was any indication of what's to come this year, bienvenida sea!  We had 45+ women for our pre-event networking hour and 125+ friends in attendance.  Thanks to everyone who came and for your donations to www.laboratoria.la.  Huge thanks to our amazing sponsors, Galileo and Neivor.  ¡Gracias a tod@s!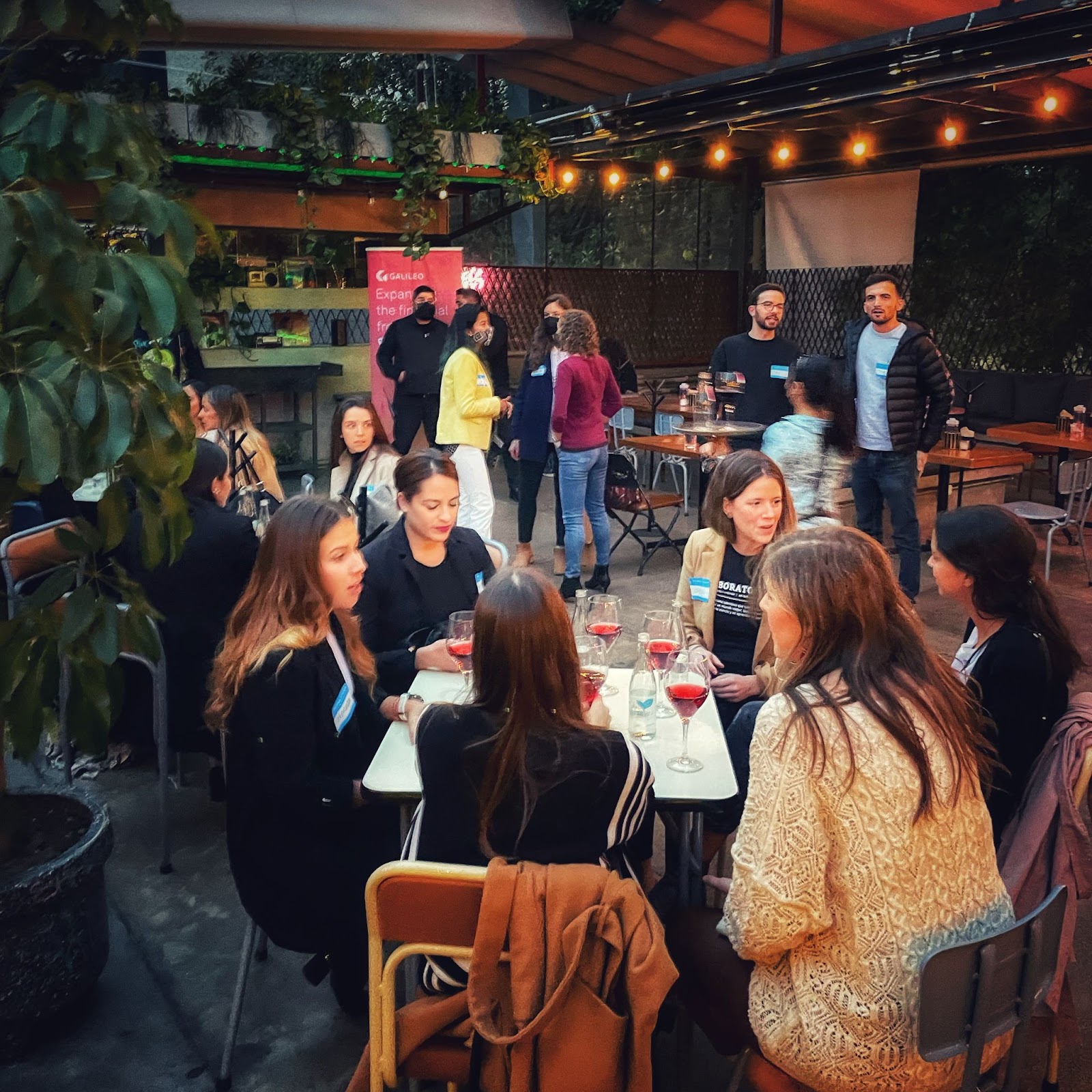 ICYMI, here is a partial list of our events this year all around the world, including Bogotá 🇨🇴 on 23 March!  DM me if you're interested in collaborating as a sponsor, host or local coordinator to bring a TWIF happy hour to your town.  Huzzah!
Please find below this week's front page of Latam fintech news.
💛 Y'all be good out there.  ¡Saludos!  Até a próxima!
---
Editor's Note: If you're an early-stage startup founder raising equity or debt, I may be able to help - email me at christine@thisweekinfintech.com or sign up for open office hours here to go through your pitch, chat about the ecosystem, talent, whatever is on your mind dear reader!
---
Sponsored Content
Want to sponsor a newsletter? See our sponsorship information here.
---
💼 Open Role Spotlight
Capria Ventures is looking for a Global Investment Fellow for Latin America.
Browse open roles on This Week in Fintech's job board.
---
📊 Stat of the Week
In 4Q21, an average of 14 fintech deals were announced every day.  That would be $387,777,777 raised every 24 hours.  Global fintech funding in 2021 reached a new record of $131.5 billion across 4,969 deals. 🤯 (Source)
📖  Read of the Week
CB Insights' 2021 State of Venture Report tells you everything you need to know about venture: 959 total unicorns $621 billion in global financing and more.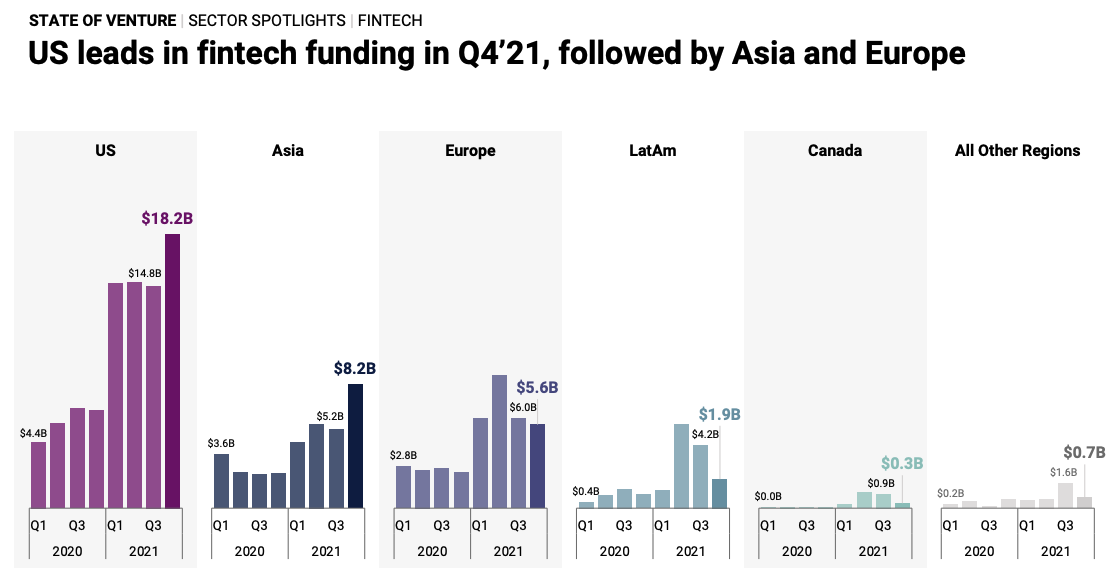 ---
💸 Venture Financing
Palenca, the identity verification platform, raised a $2.6 million Seed round with participation from 500 Startups, Gilgamesh Ventures, Uncommon Capital, and notable angel investors such as Gerry Giacoman, co-founder of Clara, Courtney McColgan, CEO of Runa, and Federico Antoni, co-founder of ALLVP.  The company currently operates in Mexico, Brazil, Argentina, Peru, Colombia, and Chile.  Through its API-based solution, Palenca can verify employment and identity in order to qualify gig-economy workers for financial services.
Avanzo, the Colombian payroll advance startup, raised a $1.3 million Seed round led by 1414 Ventures, with participation from notable angel investors such as Julio Vildosola of Cloudbreak Capital.  The company currently has more than 70 corporate clients through which Avanzo has offered 4,000 loans.
DitoBanx, the Salvadorian Bitcoin-based fintech, raised a $500,000 Seed round from an unnamed angel investor.  The company plans to launch products aimed toward improving financial inclusion via Bitcoin in Mexico and Brazil.
Payflow, the Spanish salary advance platform, raised a $9.1million Series A co-led by Seaya Ventures and Cathay Innovation with participation from Force Over Mass Capital, Y Combinator and Rebel Fund.  The software-as-a-service (SaaS) company currently works with more than 175 enterprise clients across Spain, Chile, and Colombia.  It plans to open one more market in Latin America this year.
Fairplay, the Mexican revenue-based investment startup, raised $15 million in equity and $20 million in debt in its Series A.  The equity portion of the round was co-led by DILA Capital and Kayyak Ventures with participation from SpeedInvest and Elevar Equity while Architect Capital led the debt financing.  Existing investors who also participated include QED Investors, Nazca, and notable angels such as Carlos García of Kavak and Ricardo Weder of Jüsto.  Fairplay offers alternative financing options to its clients which are mostly e-commerce brands and marketplace sellers.
Agrolend, the Brazilian fintech for farmers, raised a $14 million Series A led by Valor Capital with participation from Continental Grain Company, SP Ventures, Provence Ventures, and Barn Invest.  Additionally, it raised $7 million in debt financing.  The company aims to be the Nubank for farmers, offering fast, easy access to loans through its app.  It currently operates in more than 100 cities in Brazil.
💵 Debt Financing
R5, the Colombian Insurtech, raised $1 million in debt financing from AlphaMundi group.  The online lender and insurance policy provider will use the financing to continue providing afrordable loans to low and mid-income customers.
Amigo PAQ, the Guatemalan microcredit platform for small shop owners, raised $5 million in debt led by GPS Capital.  The financing will go towards providing loans ranging from $300 to $1,000 to clients in Perú and México where it currently operates, as well as Colombia and Ecuador where it plans to launch operations this quarter.
Xepelin, the Chilean fintech catering to small and medium-sized enterprises (SMEs), raised a $80 million debt facility from Community Investment Management (CIM) to offer clients in Mexico payments with short-term working capital financing.  This follows Xepelin's Series A announced in July 2021, where the startup raised $30 million in equity and $200 million in debt.
Pravaler, the Brazilian educational financing company, raised $35.7 million via Fundo de Investimento em Direitos Creditórios (FIDCs), a type of fixed-income instrument widely used in Brazil.  The financing will support the company in its goal of benefiting 1 million students by 2025.
---
💰 Venture funds
Latitud announced plans to launch an angel fellowship program at the end of January.  The progam aims to offer guidance to angel investors as well as access to deal flow.
---
☯️ Exits
🏦 M&A - Bank and FinServ
Minsait Payments, part of Spanish conglomerate Indra, announced the acquisition of Ecuadorian payments company Credimatic, to enhance its catalog of services in Latin America with additional functionality such as interoperability and payment acquisition.  The acquisition will allow Minsait to enter Ecuador.  The amount of the transaction was not disclosed.
💻 IPOs & SPACs
Creditas, the São Paulo-based consumer lender, is preparing its initial stock offering (IPO), with an estimated debut valuation between $7 to $10 billion.  Currently the company is the largest secured credit fintech in Brazil.  It has also been operating in Mexico since late 2020.
Ebanx, the Curitiba-based payments platform, is also purported to be working on its IPO, seeking a valuation of more than $10 billion.
---
🚀 Product Launches & Partnerships
💻 Fintechs
Credoro, the Brazilian consumer loan startup, announced a partnership with media group VCRP Brasil to offer alternative financing solutions for media, branded content, and related communications spend.
Remessa Online launched its API-based foreign exchange as a service (FXaaS), enabling its clients to offer money transfers to more than 100 countries.  The company was recently acquired by Ebanx.
Oplay and STP (Sistema de Transferencias y Pagos), announced a partnership to promote the use of transfers via QR code (CoDi).  Through the alliance, the two companies aim to convert at least half of Oplay's 8 million customers to CoDi users by making the process as simple as possible.  According to Banxico, the progress of CoDi adoption has been much slower than expected with 2.9 million transactions realized in the two years since launch in 2019, versus original estimates of 28 million.
Mendel, the corporate spend management platform, announced a partnership with Visa which allows the startup to be a direct issuer of corporate credit cards.  Mendel currently works with 150 corporate clients in Mexico and is considering entering other Latam markets this year.
🏦 Financial Services & Banking
Davivienda, one of Colombia's largest banks, announced a partnership with Binance, crypto exchange, to allow deposits and withdrawal of cryptocurrencies.  The Colombian regulator, Superintendencia Financiera de Colombia (SFC), has authorized transactions via Bitcoin, Ether, Litecoin, and Bitcoin Cash.  An initial pilot will be conducted with 5,000 users before opening up the service to all users.  According to the Colombian Fintech Association, approximately $17.6 million worth of crypto transactions are made each month, the majority of which are with Bitcoin.
---
📰 Other News
Ualá announced it plans to add 700 jobs this year.  This includes roles that don't require previous experience.  The company also plans to provide training via its in-house 'Jedi Academy'.
After initially communicating in November that it would accept Bitcoin for payment, Colombia proptech La Haus announced that a resident of Lima, Peru purchased an apartment in Tulum for 5.78 ₿ through its platform.
The Mexican Banking Association (ABM) confirmed that it will be holding its annual conference in Acapulco this year on 24-25 March.  The hybrid event will offer both in-person and virtual sessions.
Mastercard and Coinbase announced a partnership to allow card payments on Coinbase's soon-to-be-launched NFT marketplace.
Mercado Libre and Centro de Comercio Internacional (ITC) announced a partnership to promote female entrepreneurship in Mexico, Argentina, Chile, Colombia, and Brazil.  The SheTrades program seeks to provide tools and resources for women interested in e-commerce to grow from a benchmark of 18% of companies currently led by women.
Mercado Libre announced investments in Mercado Bitcoin and Paxos.  The investment in Mercado Bitcoin was made via acquisition of shares in its parent company, 2TM Group.  Paxos is the leading regulated blockchain which allows Mercado Pago to offer Brazilian customers access to buying, holding and selling crypto.  The amount of the investments were not disclosed.
FinteChile announced the launch of its Women in Fintech initiative to improve diversity within the industry.  Currently women represent 1 out of 10 fintech founders.
---
📜 Policy
CNBV, the Mexican banking commission, issued another set of fines to financial institutions including Te Creemos, Fundación Dondé, HSBC, Scotiabank, Santander, and Accendo Banco, whose banking license the CNBV revoked last September.  These fall within a new wave of 103 sanctions totaling more than $1.8 million just in the month of January, ranging from fines to suspensions and warnings.
---
🦉 Tweet of the Week

---
📚 Deeper Reads
ColCapital and VC fund MrPink's predictions on the Latam unicorn Class of 2022
500 Global's Christine Tsai shares her 2022 VC predictions
---
🔦Spotlight on Guatemala 🇬🇹 with Ana Cristina Gadala-Maria, Principal at QED Investors
Q. Three words to describe yourself?

Curious, empathetic, thoughtful

Q. Fun facts about the fintech landscape in Guatemala that everyone should know?

1. The number of fintechs in the country has nearly doubled in the last two years. With an active tech hub in Guatemala City and an enormous opportunity in financial services, the seeds are being planted for a booming ecosystem.

2. Most of the active fintechs in Guatemala are in the digital payments space - primarily in the form of wallets. That said, ~90% of the population still does not have access to formal credit - more than most countries in LatAm. Still a ton of opportunity!

3. Guatemala is the Central American country with most digital payments users - people do have a smartphone and are willing to transact online!

4. Remittances represent ~15% of the country's GDP - a massive opportunity for fintechs.

Q. What is one product that is making / will make a huge difference for financial inclusion?

Solving for the back-end of financial products - i.e. the infrastructure- can make a tremendous impact on what's possible for an individual. I am particularly excited about DeFi and its ability to boremove geographic boundaries — being able to transact cross-border - for savings, accessing debt capital, investing, etc. can make such a difference across the region.

Q. What are you most excited about with regard to Latam fintech right now?

I am excited to see the flywheel start turning - better talent, better businesses, and more investment, which feed into each other. We have only scratched the surface of problems to solve, and I am hopeful we will see an increasing number of founders - especially women! - working to provide better financial services across the region.

Q. One resource you would recommend for those interested in learning more?

For fintech overall - subscribe to Fintech Brain Food by Simon Taylor, and follow QED's @fintechjunkie on Twitter!
---
Made in Latam with 💛
👍👎 Did you like this edition of TWIF Latam?  Take a 1-minute anonymous survey here or message me with news items and suggestions.  I'd genuinely appreciate any and all input. If you liked what you read, please consider sharing or subscribing.
Come meet us in person at www.fintechhappyhour.com.  You can also join our global community on Twitter, LinkedIn, and Instagram.