Latin America
This Week in Fintech Latam I (19 Jun)
1 of 2: venture financing, venture funds, and exits
Hola amig@s fintech,
ICYMI: last week there was no newsletter as I was enjoying a yoga retreat in beautiful Zihuatanejo.  Sharing one of many stunning sunrises and karma yoga, aka beach clean-up, doing our small part to give back to Pachamama🌎.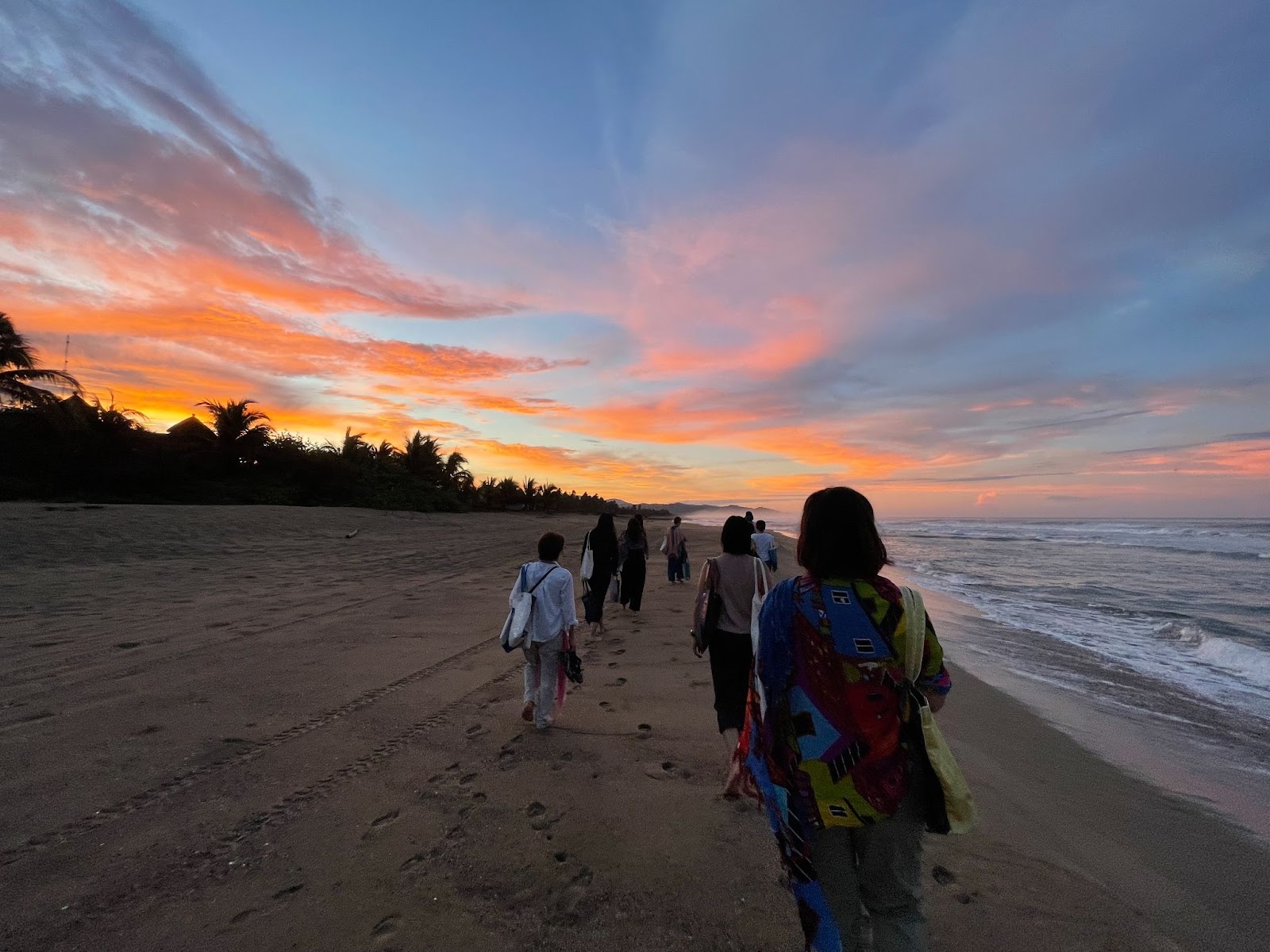 Also, it appears that two weeks' worth of news was too much for one edition so this is 1 of 2.  Please find below the front page of Latam fintech news from the past fortnight for venture financing, venture funds, and exits.  To follow: product & partnerships, other news, policy, deeper reads and (NEW) question of the week.
💛 Y'all be good out there.  ¡Saludos!  Até a próxima!
---
Editor's Note: If you're an early-stage startup founder raising equity or debt, I may be able to help - email me at christine@thisweekinfintech.com or sign up for open office hours here to go through your pitch, chat about the ecosystem, talent, whatever is on your mind, dear reader!
---
Sponsored Content
Want to sponsor a newsletter? See our sponsorship information here.
---

If you're looking to hire from a group of 10,000+ smart, motivated fintech professionals, come pick up a Collective Pass and post a job here. If you're looking for your next adventure at one of the best fintech companies, check out the open roles here!
PLUS 📣: Latam startup alum who have been impacted by layoffs and are looking for a new adventures and recruiters looking for top talent, check out this database by Karola Martinez and team.
---
📖  Read of the Week
Check out Endeavor Mexico's newest report, Ecosystems de Venture Capital y Growth Equity,  chock full of data and showing how the ecosystems in Argentina, Brazil, Chile, Colombia, and Mexico have evolved from 2011-2021 with 1,728 startups having raised over $35 billion.  Image below of fintechs only, representing 21% of the total count and 48% of total fundraising.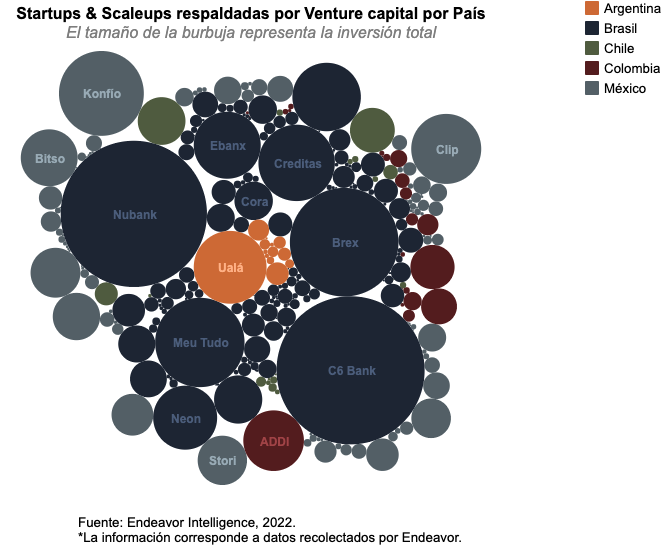 ---
💸 Venture Financing
Juancho Te Presta, the Colombian microlending startup, raised a $550,000 angel round. The platform currently has 15,000 users and plans to double it by the end of 2022, as well as having granted more than 20,000 digital credits worth $10 million dollars.
LISA Insurtech, the Chilean startup that uses AI to automate claims processes, raised a $2.5 million seed round led by HSC Capital. The company currently serves multinational companies in Chile, Peru, Colombia, Spain, and Mexico in the home, auto, life, and health verticals and plans to launch this year in the US.
Verqor, the Mexican credit platform for farm workers, raised a $2.5 million seed round led by SP Ventures with participation Amplifica Capital, Mercy Corps Ventures, Magma Partners and Angel Hub. Verqor helps farmers with the liquidity they need to purchase supplies such as fertilizers, agrochemicals, seeds, irrigation equipment, and more.
Dextaxa, the Brazilian payments marketplace for offline merchants and payment acquirers, raised a $3.1 million seed round led by Quona Capital with participation from Caravela and Norte Ventures, and angel investors Tiago Dalvi of Olist and Alessio Alionço of Pipefy.
Kriptos, the Ecuador-based cybersecurity startup, raised a $3.1 million round led by Act One Ventures with participation from CompuSoluciones Ventures, BuenTrip Ventures, and SVLA Venture Capital, among others. The company uses AI to classify and determine how to treat sensitive information.
Mono, the Colombian SME neobank, raised a $6 million seed round led by Tiger Global with participation from Soma Capital, Y Combinator and angel investors, including founders of Monzo, Fintual and Belvo. Mono offers a debit card to more than 300 clients.
Turn2C, the Brazilian fintech catering to the local consortium market, raised a $8.5 million seed round led by Honey Island and 4UM, with participation from B3 and Urca Angels.  The consortium market in 2021 represented $43 billion with annual growth of 27%.  The company plans on expanding to other Latam countries.
Zippi, the Brazilian fintech for micro-entrepreneurs, raised a $6 million series A led by Tiger Global with participation from Y Combinator, Volpe Capital, Globo Ventures, Soma Capital and founders of companies such as Robinhood, Plaid, Creditas, Kavak, Cobli and GoJek. Zippi allows micro-entrepreneurs to use PIX to buy products for their business and pay the following week.
Payface, the Brazil-based biometrics payments startup, raised a Series A, led by BTG Pactual with participation from Oikos.  The financing amount was undisclosed.
Klar, the Mexico-based digital bank, raised a $70 million unnamed round led by existing investor General Atlantic, who led its $70 million Series B last July, with participation from Prosus Ventures, Quona Capital, Mouro, IFC, Acrew, and Endeavor Catalyst.
Kushki, the Quito-based payments infrastructure company, raised a $100 million Series B extension, doubling its valuation to $1.5 billion and making it Ecuador's first unicorn. The financing came from existing investors Kaszek Ventures, Clocktower Ventures, Softbank Latin American Fund, and DILA Capital.
Ozon, the Mexico-based motorcycle marketplace, raised $25 million in debt financing from Architect Capital, in conjunction with a $4 million seed round from 1984.vc, K50 Ventures, Angel Ventures, Magma Partners, Adalberto Flores of Kueski, José Velez of Bold, among others.  The startup offers motorcycle buyers credit for one year with weekly payments.
💵 Debt Financing
Habi, the Colombian proptech, raised $75 million in credit lines  from TriplePoint Capital as well as leading fintechs and local banks. The financing will be used to expand Habi's capacity to lend to middle class consumers looking to buy and sell their homes.
---
💰 Venture funds
Costa Rica announced the launch of two new VC funds of up to $200 million each, targeted at small and medium-sized enterprises (SMEs) in the country.  The objective is to diversify the capital markets and improve financing conditions for SMEs.
Headline XP, the partnership between global investment platform Headline and XP Asset, announced a $177.6 million fund to invest in 25 Brazilian startups.  The fund is led by Romero Rodrigues of Buscapé with 12,500 investors participating in the financing of the fund.
TechCrunch: Investors show Latin American fintech startups the money
---
☯️ Exits
🤝 M&A - Fintech
Uala's acquisition of digital bank rival Wilobank was approved by the Argentine central bank.  The transaction makes Uala the first fintech to acquire a bank license.
Olivia, the personal financial management app acquired by Nubank last year, will shut down its app next month.
🏦 M&A - Bank and FinServ
Toro, Banco Santander's investment platform, announced the acquisition of 100% of Kokpyt, a robo-advisor launched by wealthtech Allê Invest.  The amount of the transaction is undisclosed and will bring multiple portfolios, assets and a robo-advisor functionality to Toro's platform.
Grupo Credicorp's CVC, Krealo, announced the acquisition of Samishop, an e-commerce enabler for small businesses that allows creation of a website plus payment and logistics solutions.  The details of the transaction were not disclosed.
---
(this edition was too long!  to be continued in next publication)
---
Made in Latam with 💛
👍👎 Did you like this edition of TWIF Latam?  Take a 1-minute anonymous survey here or message me with news items and suggestions.  I'd genuinely appreciate any and all input. If you liked what you read, please consider sharing or subscribing.
Come meet us in person at www.thisweekinfintech.com/events.  You can also join our global community on Twitter, LinkedIn, and Instagram.