Hola amig@s fintech!
Saludos desde Medellin reveling in the post-concert glow from Bad Bunny's World's Hottest Tour 🐰, which is on track to be the highest grossing tour of the year, having raked in $31.5 million (!) from two shows at SoFi Stadium alone.  YHLQMDLG ✌🏽
tl;dr:
$96 million in venture financing (equity and debt).
Silicon Valley Bank publishes a sobering report: The State of Fintech 2022
Nu surpassed analysts' expectations with 3Q22 results
Please find below this week's front page of Latam fintech news. If you're reading this on the web, we'd appreciate your support by sharing and subscribing.
Y'all be good out there. ¡Saludos!  Até a próxima!  PS. Felicidades Ecuador! 🇪🇨
---
Sponsored Content
Want to sponsor a newsletter? See our sponsorship information here.
---

📣 Latam startup alums who have been impacted by layoffs and recruiters looking for top talent, check out the Startups Alumni and Layoffs Brasil databases. If I can be of help in some way, feel free to sign up for office hours here.
If you're looking to hire from a group of 10,000+ smart, motivated fintech professionals, come pick up a Collective Pass and post a job here. If you're looking for your next adventure at one of the best fintech companies, check out the open roles here!
---
📊 Stat of the Week
Mexican fintech companies registered important growth during 3Q22. We loved this analysis by Whitepaper.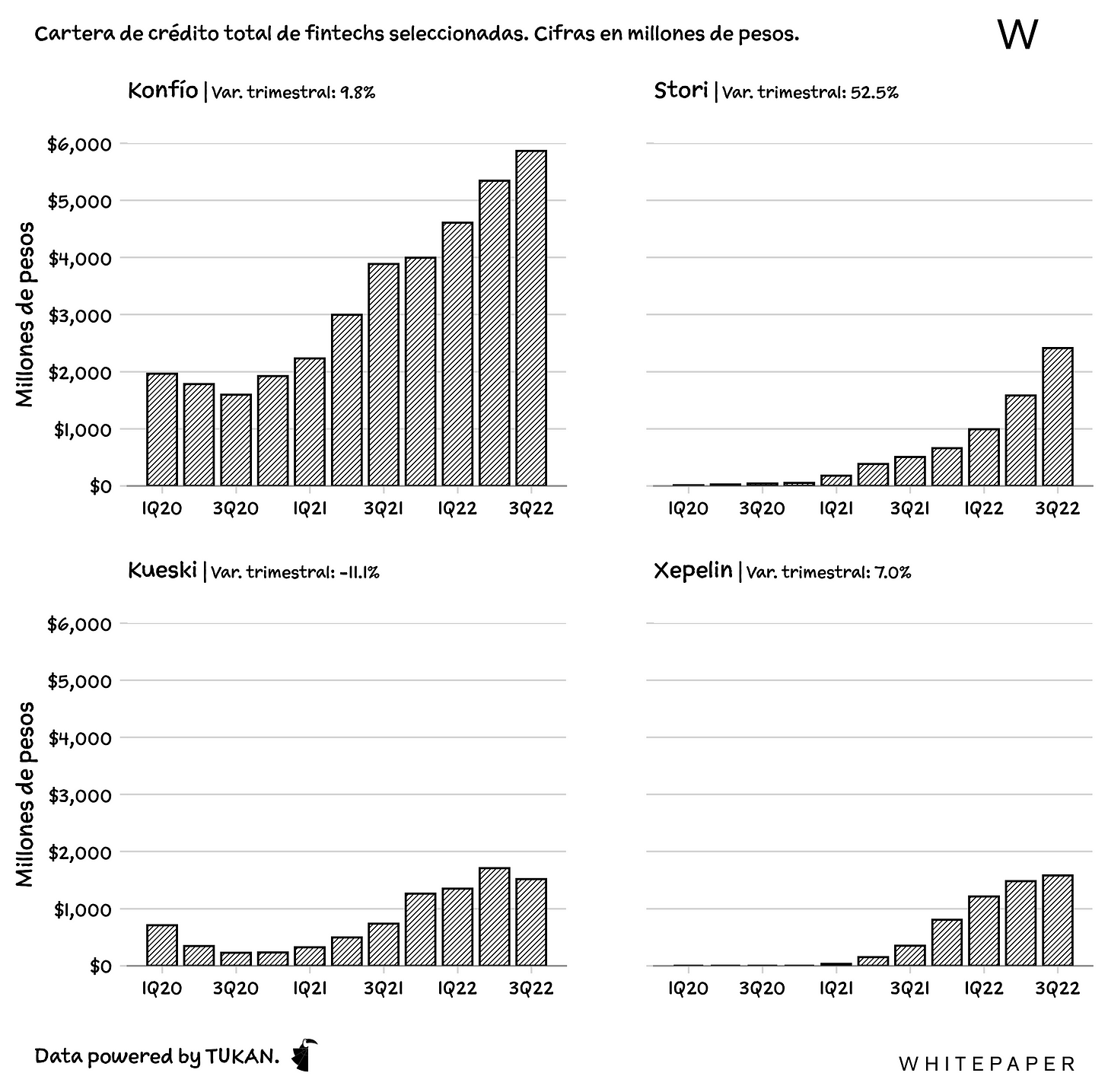 *Note graph is in millions of Mexican pesos.
Stori reported an advance of 52% compared to Q2,and 3.7x the portfolio registered in 3Q21. Portfolio default is close to 14%. Konfío, brought its portfolio +10% vs. Q2, and +51% vs. 3Q21. Default is close to 3.4%. As context, Banco del Bajío's credit portfolio for SMBs is $35 billion pesos, with a delinquency rate of 2%.
📖  Read of the Week
SVB just dropped The State of Fintech 2022 report. The main highlights are that VC-backed valuations are declining at all stages (Series C+ deals are down 24%, while series A deals are down 13%), VC deal growth in web3 was higher than any other tech sector from 2019 to 2022, and that more fintech companies decreased net burn in 3Q22 than at any point since the onset of the COVID-19 pandemic.
---
💸 Venture Financing
Trii, the Peru-based wealth tech platform, raised a $3 million seed round led by Bancolombia, with participation from Y Combinator, GFC, among others. The mobile platform allows retail investors to buy both US and local equities in Colombia, Peru and Chile.
Ping, the Argentina-based payments platform, raised a $15 million seed round from Y Combinator, Race Capital, BlockTower, among others. The company allows users to create an account in USD to receive bank transfers in local currency or crypto.
💵 Debt Financing
Addem Capital, the Mexico City venture debt fund, granted $3 million to Atria, the Mexican startup that offers loans for the purchase of pre-owned cars. This is the second investment that the company has received and it has the option to extend up to $15 million in the following months to grow its portfolio.
Finkargo, the Colombian import financing platform for SMEs, announced a $75 million structured credit deal led by Community Investment Management. The company uses alternative data to underwrite credit for small and medium-sized importers.
---
☯️ Exits
🤝 M&A - Fintech
Avenue, the Brazilian brokerage firm acquired by Itaú last July, announced the acquisition of myProfit, an automated income tax platform. The deal was 70-30 equity-cash, for an undisclosed amount. Avenue owns a US-based digital securities broker with more than $1.2 billion in assets under management.
🏦 M&A - Bank and FinServ
Banco BCI, the Chilean Credit and Investment Bank, announced the acquisition of Krip, the cashback platform, to launch a BCI Plus+ loyalty program. Details of the transaction were not disclosed.
---
🚀 Product Launches & Partnerships
💻 Fintech
Kueski the Mexican buy-now-pay-later (BNPL) and Shopify announced a partnership to offer Mexican SMBs benefits to build their first e-commerce.
Zimpler, a Swiss payments platform, is opening their first office in Sao Paulo. The company plans to introduce its instant payment solution in the country and is already planning market expansion.
🏦 Financial Services & Banking
Afirme, a Mexico-based financial group that operates in banking, insurance, institutional investors, and pension plans, announced the launch of Billú, its new digital bank focused on the metaverse, allowing it to provide customers with new experiences that link virtual reality with physical reality.
7-Eleven, and Arcus, the Mexican multi-rail payment platform, announced a partnership to launch 7pay, a solution that allows SMBs to receive cash payments through a network with more than 1,850 points of sale in Mexico.
---
📰 Other News
DLocal (NASDAQ: DLO), the Uruguay-based payment processor, plunged more than 50% amid a report from short seller Muddy Waters declaring the payment company is "likely a fraud." Muddy Waters announced contradictions in DLocal's disclosures and noted the high volume of insider selling since the IPO. On Thursday, after DLocal refuted the claims, shares were 12% higher, stating that they were inaccurate, groundless, and speculative.
Revolut surpassed 25 million retail customers worldwide and is now processing over 330 million transactions each month. Revolut is expanding its presence in the US this year, where it has over 500,000 million retail users and employs over 150 people in North America. This year the company has also built its teams in Mexico and Brazil.
Nubank (NYSE: NU) released its third-quarter results, surpassing analysts' expectations as the shares rose 7.5% in after-market trading. The neo-bank posted third-quarter net profits of $7.8 million and gross revenues of $1.31 million. Nubank´s loan portfolio grew 83% in 3Q22 to $9.7 million, reaching 70.4 million customers in Latam. The neo-bank said that, in terms of market growth, Mexico and Colombia are growing faster than Brazil.
In the midst of the cryptocurrency crisis following the fall of the FTX exchange platform, Mercado Pago announced it will make inroads into digital assets on demand due to the growing appetite in Mexico. The Institution of Electronic Payment Funds (IFPE) data revealed that more than 12 million Mexicans have already invested in cryptocurrencies or have made transactions through them. To date, 160,000 users use the crypto investment function through Mercado Pago's platform.
Bitso, Ripio, and Mercado Bitcoin announced their request to the Brazilian Central Bank for a payment institution license. They plan on fostering the expansion of services and products for platform users in Brazil.
Open call for applications: Fintech Open Challenge powered by NXTP and Red Link.
---
The Brazilian Federation of Banks released data regarding the popularity of instant transactions in the country. According to the entity, Pix is ​​the most used form of payment. 141.1 million Brazilians use it (67% of the population) totaling 26 billion transactions, within two years of its implementation.
Chile's Central Bank highlighted the importance of the recent approval of the Fintech Law, which will enhance financial inclusion in Chile.
The Superintendency of Banks and the IFC signed an agreement to pilot for the adoption of an open banking system in the country.
The Federal Commission for Economic Competition in Mexico stated there are regulatory obstacles preventing fintech institutions from competing on a level playing field with other financial entities, such as banks. The complete report is not yet public.
The National Commission for Regulatory Improvement in Mexico, published a draft to update the obligations applicable to the fintech companies on regulatory reports and financial statements. The update is a consequence of the adoption of International Financial Reporting Standard 9.
📚 Deeper Reads
Do users really change banks for fintech? (ESP)
FTX Collapse Will Reverberate Throughout The VC World For A Long Time
LatAm crypto firms rush to calm clients amid FTX meltdown
The new Latin American fintech unicorns 2022
Lack of data bogs down BNPL growth in LatAm, and open finance could change this
---
🦉 Tweet of the Week
---
Made in Latam with 💛 by Elena, Daniela, Lorena and Andrea
👍👎 Did you like this edition of TWIF Latam?  Take a 1-minute anonymous survey or message me with news items and suggestions.  I'd genuinely appreciate any input. If you liked what you read, please consider sharing or subscribing.
Come meet us in person at www.thisweekinfintech.com/events.  You can also join our global community on Twitter, LinkedIn, and Instagram.