Hola Amig@s Fintech,
Hello from sunny Mexico!  Where Bitcoin is now accepted as a form of payment at over 1,000 Elektra retail stores.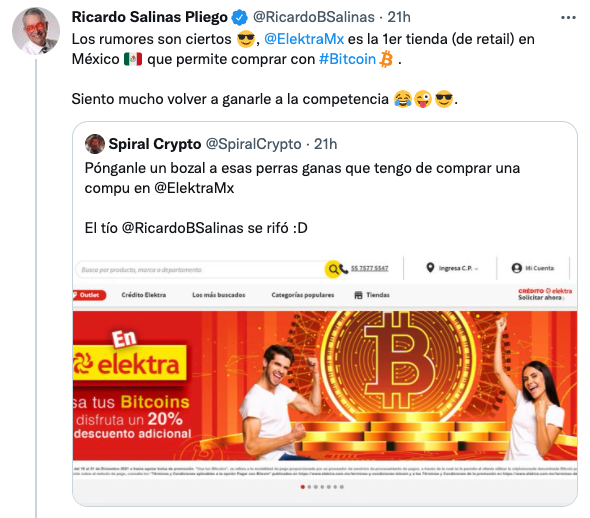 Need I say more?  The times they are a'changing.  Please find below this week's fintech financings and exits.
Y'all be good out there.  ¡Saludos!  Até a próxima!
---
Editor's Note: If you're an early-stage startup founder raising equity or debt, I may be able to help - email me at christine@thisweekinfintech.com or sign up for open office hours here.  Also happy to chat about the ecosystem, talent, whatever is on your mind dear reader!
---
Sponsored Content
Want to sponsor a newsletter? See our sponsorship information here.
---
💸 Venture Financing
Solvento, the Mexico City-based digital lender for trucking companies, raised a $4.5 million Seed round led by Dynamo Ventures with participation from Wollef Ventures and Zenda Capital, It also secured a $3 million debt facility from Marco Financial.  The company offers credit lines and advance payments to trucking companies which generate $60 billion annual revenue.
VELVT, the Brazil-based investment startup, raised a $3 million Seed round led by GFC with participation from Headline, Yolo Ventures, Armyn Capital, and notable angels such as founders from Nubank, Hashdex, and Nomad.  The funds will be used to launch VELVT's platform in Brazil, which will enable VC investors to sell and buy shares of pre-IPO companies and, eventually, a secondary-as-a-service product.
BHub, the Brazilian back-office as a service startup, raised a $20 million Series A led by monsashees and Valor Capital Group with participation from QED, Picus, and Clocktower VC. This comes just two months after raising a pre-seed round of $4 million.  The company offers a subscription model to handle non-core operations such as accounting, finance, tax, HR, and legal matters for startups and small and medium-sized companies (SMEs) in Brazil and Mexico.
Stark Bank, the Brazilian challenger bank for large enterprise companies, raised a $13 million Series A led by solo-capitalist Lachy Groom with participation from K5 Global, Iporanga Ventures, Norte Capital as well as notable angels including founders from Rappi, dLocal, and Slack.  Stark Bank is a licensed Direct Credit Society and in the process of receiving its license to act as a Payment Institution.  The fintech reports it is already profitable and serves over 300 clients including QuintoAndar, Loft, and Buser.
Arquivei, the Brazilian tax document management platform, raised a $48 million Series B led by Riverwood Capital with participation from the IFC, Constellation, NXTP, and Endeavor Catalyst.  The startup has more than 15,000 clients and processes 13% of all electronic invoices issued in Brazil, which provides data intelligence about the companies such as tax, accounting, logistics, buying, and selling.
Agrofy, the Argentinian agribusiness marketplace, raised a $30 million Series C led by Yara Growth Ventures with participation from current investors Syngenta Ventures, ACRE, Capria, Endeavor, Draper Cygnus, and others.  Amongst other products, the company offers an e-wallet called Agrofy Pay and will soon launch loans under the name Agrofy Credits.
Open Co, the São Paulo-based consumer credit startup, raised a $115 million Series D led by SoftBank with participation from existing investors such as Raiz Investimentos, IFC, and LTS.  Open Co was created earlier this year via the merger of Geru, an online lender, and Rebel, a credit underwriting platform.  The company offers its 200,00+ clients access to credit with rates lower than traditional banks.
Check out iupana's list of 2021's biggest fintech investments in Latam here
---
💰 Venture funds
E-commerce platform Nuvemshop (Tiendanube), announced a $10 million fund, Nuvemshop Capital, to invest in e-commerce startups solving problems for retailers across Brazil, Mexico, and Argentina.
---
☯️ Exits
🤝 M&A - Fintech
Mercado Libre announced the acquisition of Redelcom, a Chilean payments service provider.  The Redelcom POS accepts payments from all debit and credit cards from banks around the world as well as offering tools to help merchants with money management.
Brazilian e-commerce platform Ebanx announced the acquisition of international money transfer firm Remessa Online for $229 million.  Remessa Online serves more than 350,000 companies and consumers from 100 countries.
---
🚀 Product Launches & Partnerships
💻 Fintechs
Chilean crypto exchange Buda.com announced the launch of Buda Créditos, offering credit backed by bitcoin and a low interest rate of 1%.
Chilean crypto exchange Orionx announced that it will allow its employees to receive their salaries in bitcoin.
New York-based crypto exchange Gemini announced a partnership with Bancolombia to offer customers of Colombia's largest bank the ability to trade four crypto assets: Bitcoin (BTC), Ether (ETH), Litecoin (LTC), and Bitcoin Cash (BCH).
XP Asset Management, One7, Acquio, and Brazil's National Bank for Economic and Social Development (BNDES) announced a partnership for a credit fund to provide capital to small and medium-sized enterprises (SMEs) via asset-backed working capital lines of credit and trade bills.  The $70 million fund aims to help companies affected by the pandemic.
---
📰 Other News
Every company is a fintech company…
Olist, the Brazilian e-commerce marketplace integrator, raised a $186 million Series E led by Wellington Management.  The funding round values the company at $1.5 billion, securing its unicorn status, and will enable it to start offering financial services in addition to the working capital credit lines it already offers.
Nuvocargo, the New York-based logistics startup, announced the launch of QuickPay, a cash advance product for an estimated 10 million truckers working the U.S. and Mexico trade corridor.  The company also closed a $20.5 million funding round led by Tiger Global Management with participation from The Flexport Fund and Kavak COO Federico Ranero.
Nowports, the Mexican logistics startup, announced a $60 million Series B led by Tiger Globa, SoftBank Latin America Fund, and DST with participation from existing investors such as Mouro Capital, monashees, Broadhaven, and Foundation Capital.  The company seeks to expand as a freight forwarder offering financing services and cargo insurance to clients throughout Latin America.
---
📜 Policy
Grupo Bancolombia announced that Nequi, its digital bank with 9.7 million customers, will be separated from the parent company.  The process will be evaluated by the Superintendencia Financiera de Colombia as Nequi recently launched its digital credit platform, Propulsor.
The Mexican banking commission (CNBV) issued another round of fines for infringement of the Fintech Law including Miio (King David Mobile), FMG Servicios Técnicos y Especializados, and Top Kapital.
---
📚 Deeper Reads
LatAm 2022: Attracting big investors as tech sector grows
Catalyst Fund and BFA Global on Fintech Regulation in Mexico
How everyday Venezuelans are using stablecoins to protect their livelihoods
Looking Back at the Fintech IPOs of 2021
LAVCA List of Top Women Investors in Latin American Tech
---
🦉 Notable Tweet

---
👍👎 Did you like this edition of TWIF Latam?  Take a 1-minute anonymous survey here or message me with news items and suggestions.  I'd genuinely appreciate any and all input. If you liked what you read, please consider sharing or subscribing.
Want to be a This Week in Fintech sponsor? Reach out to us at sponsor@thisweekinfintech.com.
Come meet us in person at www.fintechhappyhour.com.
Join our global community!  ​You can find us on Twitter, LinkedIn, and Instagram.