Hola amig@s fintech,
Happy Friday!  We are officially sold out for next week's CDMX Fintech Happy Hour!  Look forward to seeing some of you there.  Also excited to share the sign-up forms for a few of the other cities around the region where we plan to hold a meet-up this year:
Please find below this week's fintech financings and exits.  Hope you're all staying healthy and well.
💛 Y'all be good out there.  ¡Saludos!  Até a próxima!
---
Editor's Note: If you're an early-stage startup founder raising equity or debt, I may be able to help - email me at christine@thisweekinfintech.com or sign up for open office hours here to go through your pitch, chat about the ecosystem, talent, whatever is on your mind dear reader!
---
Sponsored Content
Want to sponsor a newsletter? See our sponsorship information here.
---
💼 Open Roles Spotlight
QED Investors is hiring a Principal based in São Paulo.
Revolut Mexico is looking for a Head of Engineering (Product).
Browse open roles on This Week in Fintech's job board.
---
🦉 Tweet of the Week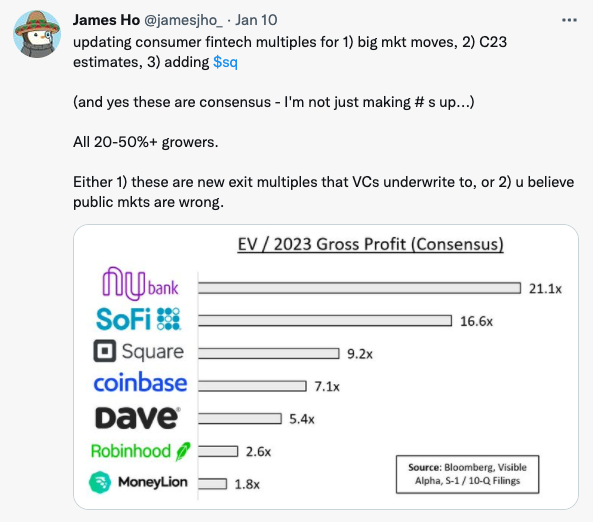 ---
💸 Venture Financing
Guru, the Brazilian weathtech, raised $750,000 to launch a cryptocurrency trading platform and cash in / cash out capabilities.  The financing is an extension of the Seed round announced in July 2021 led by Turin and welcomes investors like Picus Capital, MSA Capital, and Quona.
Mono, the Colombian neobank for SMEs and startups, raised $1.5 million and announced its participation in the Y Combinator W22 class. Its investor list includes notable angels such as Tom Blomfield of Monzo and Jamie Devlin of Revolut as well as funds such as Magma Partners, Duro Ventures and Inca Ventures.
Wibond, the Argentinan payments platform, raised a $2.25 million Seed round led by Fen Ventures, with participation from Newtopia, Latitud, Kalei, and various angel investors including Marc Randolph, co-founder of Netflix.  With Wibond, customers can access buy now, pay later (BNPL) schemes without the need for a credit card.
TerraMagna, the Brazilian rural credit platform, raised $10 million in equity and $30 million in debt financing.  SoftBank Latin America Fund, Shift Capital, and Milenio Capital participated in the Series A, along with existing investors such as ONEVC, MAYA Capital, Canary, and Accion Venture Lab.  The company offers loans to small and medium-sized farmers.
a55, the revenue-based financing platform, raised a $16.3 million Series B led by Movile with participation from existing investor, Mouro Capital.  The company currently operates in Brazil and Mexico and has provided loans to more than 500 companies since its inception.
💵 Debt Financing
SUMA SaaS, the Chilean B2B platform, raised $10 million in venture debt from Partners for Growth.  The debt facility will fund growth as well as plans to offer payments and financial services to its 100,000 small to medium-sized (SME) customers in Chile, Argentina, and Mexico.
---
☯️ Exits
🤝 M&A - Fintech
Warren, the Brazilian investment platform, announced the acquisition of Box TI for an undisclosed amount.  The aqui-hire transaction will add 30 developers to Warren's team and is the company's third acquisition since it announced a Series C in April 2021 of $54 million.
🏦 M&A - Bank and FinServ
Citigroup announced plans to sell its consumer banking business in Mexico.  Citibanamex is currently the country's third-largest consumer bank.
Itaú Unibanco announced the acquisition of Ideal, a cloud-based brokerage firm.  The deal will be completed in two stages worth more than $117 million, and will help Itaú accelerate the distribution of retail investments while Ideal continues to operate autonomously.
---
🚀 Product Launches & Partnerships
💻 Fintechs
Ebanx, the Brazil-based cross-border payments company, announced its plans to open an office in Mexico City as it expects local transactions to grow 105% this year.
Belo, the Argentinian mobile wallet, announced a partnership with Opennode to begin supporting the Lightning Network.  This will allow users to transact with bitcoin payments going forward.
Agrofy, the Argentinian agrobusiness platform, announced a regional partnership with Santander to offer financing to its customers.
Bitso, the cryptocurrency exchange, announced its sponsorship of the Mexican National Team (Selección Mexicana de Fútbol).  The organizations will work together on educational opportunities and develop a series of NFTs.  This deal follows recent announcements of Bitso's sponsorship of Brazil's São Paulo Futebol Clube and Mexico's Tigres soccer club.
---
📰 Other News
Nubank ranked as the most used banking app in Brazil in 2021 with nearly 37.7 million monthly active users (MAU).
Lyft published 25 job postings in Mexico City and Guadalajara as it prepares to launch in Latin America.
Punta Tech MeetUp returned to Uruguay with a hybrid format with 600 participants in Punta del Este and others via streaming.  The agenda featured Noam Bardin, former CEO of Waze, Angela Strange, fintech partner at a16z, and Sumita Pandit, COO of dLocal, among others.
Endeavor announced that Martin Escobari has joined its Global Board of Directors.  Martin currently serves as Co-President, Managing Director and Head of Latin America at General Atlantic.
---
📜 Policy
Ualá resumed account opening in Mexico via ABC Capital, S.A., the bank it acquired last fall.  Previously Ualá's cards were issued in partnership with UnDosTres, however, this was put on hold in October when the banking commission (CNBV) rejected UnDosTres' fintech license application.
Research firm Nau Securities estimates that Mercado Libre could lose $50 million per year as a result of recently implemented regulation by the Argentine central bank (BCRA) that requires digital wallets to maintain 100% of customer deposits on reserve.
---
📚 Deeper Reads
Mexico Passed A "Fintech Law" But Regulatory Headaches Remain
Matthew Rosenfeld: My first impressions of web3
How YCombinator's new deal may affect Latin American startups, VCs, Angels & More
SoftBank's Latin America Funds map out a new frontier
---
Q. Three words to describe yourself?  A. curious, high-energy, and passionate.

Q. Three fun facts about the fintech landscape in Ecuador that everyone should know?

- For digital payments, the number of users is expected to amount to 6.7MM users by 2025

- Around 1/3 of fintech start-ups are classified as Enterprise Financial Management

- Kushki, the Ecuadorian start-up which provides an integrated payments platform, was named after the Quechua word for 'cash'

Q. What is one product that is making / will make a huge difference for financial inclusion?  A. Access to credit would make a huge difference for this region, and there are not too many lending companies tackling the existing problem.

Q. What are you most excited about with regard to Latam fintech right now?  A. I want to see how running and financing a small business will change over the next few years with start-up's innovating in this space.

Q. One resource you would recommend for those interested in learning more?  A. Iupana News and listen to the Wharton Fintech Podcast and follow us on Medium and Twitter!
---
Made in Latam with 💛
👍👎 Did you like this edition of TWIF Latam?  Take a 1-minute anonymous survey here or message me with news items and suggestions.  I'd genuinely appreciate any and all input. If you liked what you read, please consider sharing or subscribing.
Come meet us in person at www.fintechhappyhour.com.  You can also join our global community on Twitter, LinkedIn, and Instagram.