Hola amig@s fintech,
Bom dia!  Although it's the Friday the 13th, and the markets have been a roiling, I hope you are enjoying winding down and going into the weekend like this guy: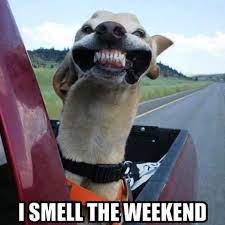 Please find below this week's front page of Latam fintech news.
💛 Y'all be good out there.  ¡Saludos!  Até a próxima!
---
Editor's Note: If you're an early-stage startup founder raising equity or debt, I may be able to help - email me at christine@thisweekinfintech.com or sign up for open office hours here to go through your pitch, chat about the ecosystem, talent, whatever is on your mind, dear reader!
---
Sponsored Content
Want to sponsor a newsletter? See our sponsorship information here.
---

If you're looking to hire from a group of 10,000+ smart, motivated fintech professionals, come pick up a Collective Pass and post a job here.
If you're looking for your next adventure at one of the best fintech companies, check out the open roles here!
---
📊 Notable stats
Data is the new oil is the new data.  This week, state-backed energy group Saudi Aramco became the world's most valuable company, surpassing Apple. On Wednesday, Apple'a value dropped to $2.37 trillion vs Aramco's market cap climbing to $2.43 trillion. (Source: The Guardian)
Did you know?  81% of retail spend at physical stores in Latam in 2018 was paid for in cash (Source: Findexable, h/t Marcel van Oost):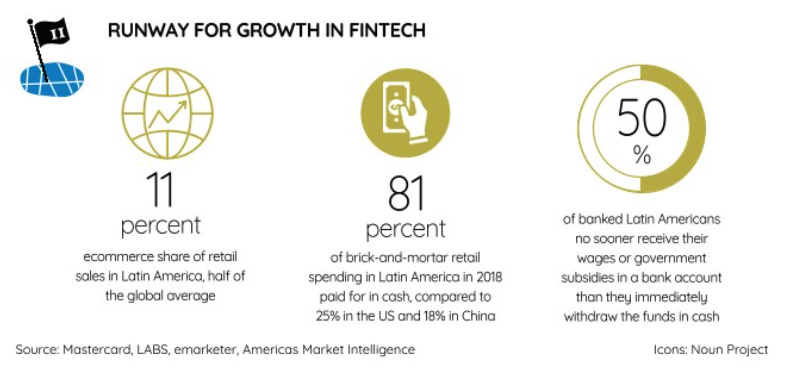 ---
📖  Reads of the Week
128 Latam Women Founded Startups Raised $4B+ in 2021.  Read Harlem Capital's inaugural 2021 Latin American Women Founders Fundraising Report here.  Brava Gabby Cazeau!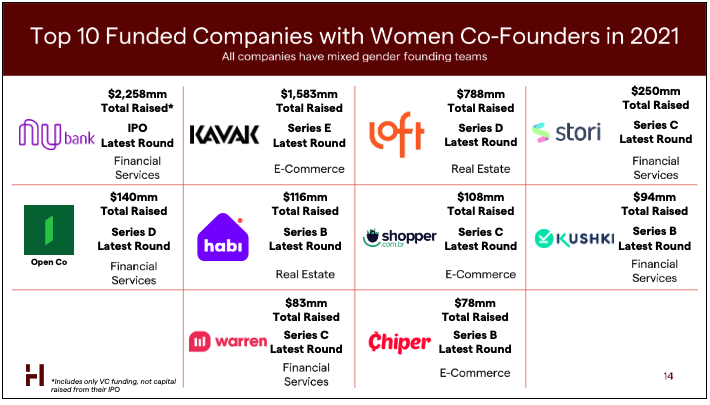 11FS' primer on How web3 is shaping the future of finance.  All you need to know, from the basics of web3, to its technologies, concepts, use cases and more: https://www.11fs.com/web3report by Mauricio Magaldi and team.
---
💸 Venture Financing
Valuelist, the Chilean wealthtech, raised a $500,000 angel round.  The SaaS platform offers financial advisors and family offices real-time investment and portfolio management tools.
Quantex, the Argentinian institutional trading platform, raised a $500,000 pre-seed round, led by the Argentinian Stock Exchange (Bolsa de Mercados Argentinos). The platform offers an e-trading platform with standardized KYC processes, algorithmic trading, and other solutions for institutional traders.
Belo, the Argentinian digital wallet, raised a $3 million seed round, led by CRV, The Venture City, and Newtopia, among others.  Belo offers a pre-paid card that allows payments in crypto, and crypto cashback ranging from 2% to 21%. The platform currently has 170,000 users and plans to reach one million this year in Argentina as well as possible new markets Brazil and Mexico.
Mentum, the San Francisco-based startup offering a customizable API for investments, raised a $4.5 million seed round led by Gradient Ventures, Global Founders Capital, Soma Capital, Y Combinator, and the founders of Plaid and Jeeves. Mentum currently operates in Colombia and Chile, has 2 partnerships with brokers, and is in talks with more than 25 fintechs to offer products like local mutual funds, ETFs, and stocks.
Solfacil, the Brazilian solar financing startup, raised a $100 million series C led by QED with participation from SoftBank, VEF, and Valor Capital.  The company has financed over $234 million in solar power equipment for residences, SMEs, and producers.
Dock, the São Paulo-based payments and digital banking platform, raised a $110 million growth round, bringing its valuation to over $1.5 billion.  The round was led by Lightrock and Silver Lake Waterman with participation from existing investors including Riverwood Capital, Viking Global Investors, and Sunley House Capital.  Dock is the successor of three companies: Conductor, Dock, and Muxi, which combined to offer end-to-end payments technology to over 300 clients ranging from fintechs to retailers, banks, and tech companies.
💵 Debt Financing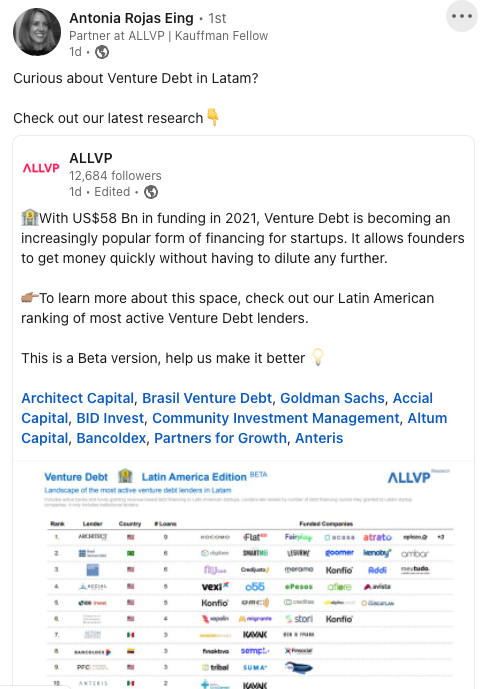 ---
💰 Venture funds
IGNIA, the Mexican VC firm, announced IGNIA VC Fund II, a $150 million fund focused on seed and series A startups in Latam in fintech, e-commerce, software as a service (SaaS), digital currencies, web3.0, healthtech, and proptech. Current portfolio companies include Rapyd, Abra, Fondeadora, Credijusto, Takeoff, and Tiendanube (Nuvemshop).
---
☯️ Exits
🤝 M&A - Fintech
Bexs, the Brazilian foreign exchange services startup, announced its acquisition by Ebury, the UK-based international money transfer solution for SMEs.  Ebury is owned by Banco Santander and processes 17,000 million dollars in commercial transactions each year, has a presence in 20 countries and more than 1,300 employees.  The acquisition, which is subject to regulatory approval, is intended to expand the company's offering of international money transfer solutions for SMEs.
🏦 M&A - Bank and FinServ
Scotiabank Peru announced the sale of Financiera CrediScotia to Grupo Unicomer, a company focused on consumer loans based in El Salvador.  Grupo Unicomer has a multi-brand presence in 26 countries in Latam including operating RadioShack franchises in Peru. The transaction will allow the group to enter the Peruvian market with a population of 33 million.
💻 IPOs & SPACs
Arago Gestión and Alta Growth Capital announced Latam-focused blank check company Arago Acquisition, to raise $75 million in an IPO.  The company is based in Mexico City and plans to list on Nasdaq under symbol ARAGU.
---
🚀 Product Launches & Partnerships
💻 Fintechs
Betterfly, the Chilean-based collective wellbeing platform, announced an alliance with Chubb Colombia, the largest damage and civil liability insurer in the world, expanding the insurance offer that both companies currently offer in Colombia.
Clara, the Mexican corporate spend management, announced an alliance with Crehana, the Peru-based learning edtech to train its corporate clients and promote the development of people through team and skills management solutions.
BPC, the Mexican-based payment solutions company, announced an alliance with Up SiVale, a food voucher card-issuing company to implement fraud prevention tools that will benefit 4 million customers.
Ualá, the Argentine neobank announced more than 15 alliances upon arrival in Colombia including Rappi, Merqueo, Sugo, Go Pass, Alpina go, HBO Max, Despegar, Booking, Platzi, Coderhouse, Digital House, Educacion It, Educacion BIz, Nucba, and Puramente, among others. It also announced that it has received regulatory approval to operate in Colombia.
Pomelo, the Argentine fintech infrastructure startup, announced its entry into Colombia.  This is in addition to existing markets Argentina, Mexico, and Brazil.
Nubank announced a partnership with crypto firm Paxos to start offering crypto trading services within the app.  The Brazilian digital bank will start off with bitcoin and ether transactions, with plans to roll out to its base of 50 million customers by end of July.
🏦 Financial Services & Banking
Mastercard, announced an alliance with Galileo Financial Technologies, to become a preferred technology partner and fast issuing processor within the Mastercard Partner Network in Latin America and the Caribbean.
---
📰 Other News
Habi, the Colombian-based proptech startup, raised $200 million in a series C round, led by Homebrew and SoftBank Latin America Fund. Habi currently operates in more than 15 cities in Mexico and Colombia and becomes the first proptech unicorn in Spanish-speaking Latin America.
Mastercard announced the rollout of a financial inclusion program in Guatemala, El Salvador and Honduras, which includes planned investment of $100 million to accelerate access to the digital economy in Central America where 60% of adults don't have access to bank accounts.  Mastercard will offer solutions such as virtual and physical prepaid cards to un(der)banked consumers and micro- and small-business owners (MSMBs).
El Salvador, the first country to make Bitcoin legal tender in September, lost $36 million worth in value after the cryptocurrency's value plummeted by more than 50%. With the cryptocurrency market crashing, it is feared that El Salvador will not be able to make the next payment on its bonds and may default on its national debt.
Stripe announced that it will allow crypto payments in USD Coin (USDC). Initially, a select group of creators on Twitter will be able to use cryptocurrency-based rails to receive earnings from the social media platform.
---
📜 Policy
The Mexican banking commission (CNBV), announced the authorization to Mercado Libre to operate as an Institution of Electronic Payment Funds (IFPE), Red Girasol and Yo Te Presto, to function as Collective Financing Institutions (IFC), and it is expected that the authorizations for Medá, RhinoPay (Liftoff), and Albo are coming soon. With this round of announcements, there will be 33 entities that operate under the Fintech Law.
---
📚 Deeper Reads
Spotlight: The tech investments of Brazil's major banks
Mapping of the fintech offer in Costa Rica (ES)
Entrepreneurs generate more than 40 thousand jobs (ES)
American Express, Google to make Chrome's Autofill with a credit card more secure
Will there be new unicorns in Mexico this year? (ES)
Why LatAm is on the Rise (h/t Mohamed Elkasstawi)
---
Made in Latam with 💛
👍👎 Did you like this edition of TWIF Latam?  Take a 1-minute anonymous survey here or message me with news items and suggestions.  I'd genuinely appreciate any and all input. If you liked what you read, please consider sharing or subscribing.
Come meet us in person at www.fintechhappyhour.com.  You can also join our global community on Twitter, LinkedIn, and Instagram.