Hola Amig@s Fintech,
Feliz viernes!  Well, that was fun.  Last night we had not only one but TWO happy hours due to popular demand! 👯‍♂️ Thanks to all who came out and to our sponsor, Kushki, for such a good time.  We're pleased to announce that the proceeds from the event will go to benefit Mujeres Invertiendo.  Gracias a tod@s por habernos acompañado!

Please find below your digest of Latam fintech financings and exits from the first two weeks of November.
Y'all be good out there.  ¡Saludos!  Até a próxima!
---
Editor's Note: If you're an early-stage startup founder raising equity or debt, I may be able to help - email me at christine@thisweekinfintech.com
---
📊 Notable Stats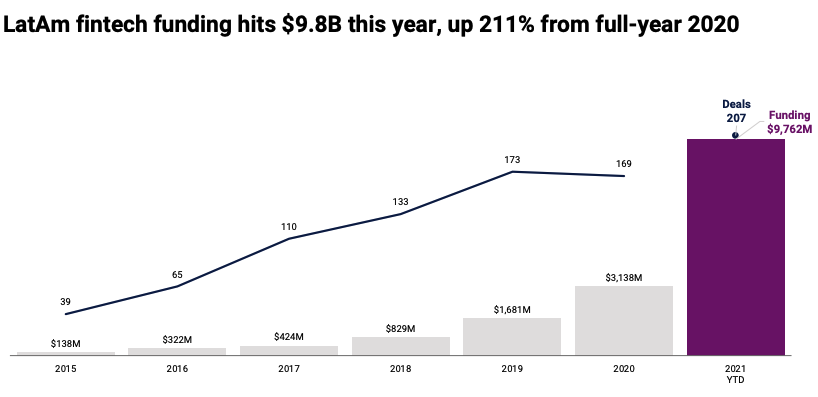 (Source)
Meanwhile…
Just 1.5 percent of global fintech firms are founded solely by women, and receive just one percent of total fintech funding, a new study has found.  The Fintech Diversity Radar research, conducted by Findexable among over 1,000 private fintech companies, reveals women make up barely 11% of all board members and 19% of company executives. Brazil currently ranks 2nd in the world in terms of top countries with female fintech founders.  (Source)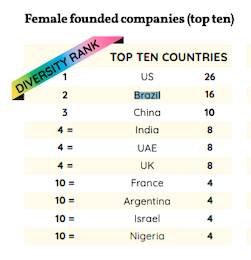 ---
🦉 Notable Tweet

---
💸 Venture Financing
Brazilian fintechs have raised $3.2 billion so far this year 🔥
Fintual, the investing app with operations in Chile and Mexico, raised a $39 million Series B led by Sequoia Capital. This is Sequoia's first investment in Chile.  Previous investors include Kaszek, ALLVP, and Y Combinator.  Fintual currently has $680 million under management with more than 70,000 clients.
Castor, the Mexico and U.S.-based pay-on-demand startup raised a $1.8 million pre-Seed round led by Canary and Vast Ventures.  The financing will be used for the planned December launch of its product that allows users in Mexico to access their earned income in advance, as well as the debut of the Castor card.
Stori Card, the Mexico City-based company that aims to provide credit cards to the masses, raised a $200 million Series C comprised of $125 million in equity funding and $75 million in debt.  The equity portion of the round was led by GGV Capital and GIC, with participation from General Catalyst, Goodwater Capital, Tresalia Capital, Lightspeed Venture Partners, and others.
QI Tech, the São Paolo-based Lending-as-a-Service (LaaS) startup, raised a $50 million Series A led by Singapore's sovereign wealth fund, GIC.  QI Tech is the first Direct Credit Company (SCD) approved by the Brazilian Central Bank and with this round of capital plans to quadruple the number of employees, expand its offering of API-enabled services and pursue mergers and acquisitions.
Zak, the Brazilian SaaS platform raised a $15 million Series A from Tiger Global, with participation from Valor Capital, Monashees, Base 10, and Canary.  The company aims to be the Toast of Brazil, offering payments, point-of-sale, and additional services for the restaurant industry.
Mola Corban, the São Paolo-based digital solution for banking correspondents, raised a $2.2 million Seed round from Hix Capital and Kinea Ventures, Itaú Unibanco's Corporate Venture Capital fund.  The financing will be used to fund growth, new hires, and to develop new products and services.
💵 Debt Financing
VirtusPay, the Brazilian buy-now-pay-later fintech, raised $18.5 million in debt financing from investors including Ibiuna, Augme, Verde Asset, Schroeders, and others.  This is in addition to $4.6 million raised earlier this year.
Konfío, the Mexican fintech focused on small and medium-sized businesses (SMEs), raised an $80 million debt facility from Community Investment Management (CIM). This financing is in addition to a recent $235 million equity raise which minted the company as a unicorn.
---
💰 Venture funds
Brazil-based VC Canary announced a new $100 million fund, focused on early-stage investments in Latin America.  This is the firm's third such fund, which has already invested in 100+ companies including Castor, Clara, Coru, Hashdex, and Swap.
General Atlantic announced its sixth flagship growth equity fund closing at $7.8 billion, double the size of its predecessor.  The firm invests in tech-enabled companies globally.  In Latam it has funded startups such as dLocal, Klar, Kavak, Neon, Clip, QuintoAndar and XP Investimentos.
Brazilian fintech Nubank and VC firm Sequoia Capital are rumored to be joining forces for future investments in Latin American startups in consumer internet, corporate software, and fintech.  Sequoia has been a backer of Nubank since 2013 and the two firms partnered in a $44 million funding round in August for Indian digital bank Jupiter.
---
☯️ Exits
🤝 M&A - Fintech
Ualá, the Argentine neobank, announced an agreement to buy ABC Capital, a Mexican bank, which will provide it with the proper authorizations to continue operating in the country after its previous partner UnDosTres was denied its fintech license.  Ualá also announced plans to buy Wilobank, Argentina's first digital bank.
---
🚀 Product Launches & Partnerships
🏦 Financial Services & Banking
BCI, FinteChile, Fundación País Digital, Mastercard, Redbanc, Transbank, and Visa announced an alliance to promote financial education and inclusion in Chile.  The goal of the new entity, ChilePay, is to grow digital payments in the country to 80% by 2030.
BAC Credomatic, Banco de Costa Rica (BCR), Scotiabank, and Banco Promerica Costa Rica launched Apple Pay functionality in Costa Rica.
Citi's Treasury and Trade Solutions launched domestic instant payments in Brazil, giving institutional clients the ability to send and receive funds instantly.
Visa launched its Crypto.com cards in Brazil providing up to 8% cashback and other benefits.
Just in time for Brazil's Black Friday, Bradesco's digital bank, next, launched nextShop, a marketplace with more than 13,000 offers in telecommunications, electronics, home appliances, computers, and more.  Many of the retailers offer cashback ranging between 7.5% to 10% and interest-free installment payments.
💻 Fintech
Belvo and Visa announced a partnership to support the acceleration of Open Finance products and solutions in LatAm by supporting new payment flows, integrating both companies' APIs.
Nubank launched the 'NuSócios' initiative, inviting select clients in Brazil to invest in the company via Brazilian Depositary Receipts (BDRs).
London-based open payments gateway Volt announced its expansion into Brazil.  As part of the expansion, the company has integrated Brazil's domestic instant payments network Pix as part of its plans to enable real-time payments, currency export, and foreign exchange services.
Lending-as-a-service (LaaS) provider Quotanda and code boot camp Codeable announced a partnership for income share agreements (ISAs) to finance tech education for students throughout Latin America.  Codeable has successfully placed graduates in companies such as Kushki, Globant, and Tekton Labs.
Mexico's Toka Fintech announced a partnership with China-based Whale Cloud to develop a new digital payment app for Latin America with Alipay+ Digital Wallet Solution with the goal of providing inclusive financial services for businesses and consumers.
Check out Latitud Launch to discover products across Latam.
---
📰 Other News
Brazilian proptech unicorn Loft announced its debut in Mexico via the acquisition of TrueHome, a Mexican real estate and home-equity startup.  Loft helps people buy and sell homes as well as offering adjacent services such as insurance, renovations, and rentals.
Colombia-based proptech La Haus announced it is now accepting bitcoin for home purchases, starting with properties in Playa del Carmen, Mexico and soon to expand to more of its 80,000 listings.
Flink named Catalina Clavé Almeida to its executive team.  Catalina comes from having spent 19 years at the Mexican Stock Exchange (Bolsa Mexicana de Valores ) where she most recently led the clearing division.
Fintechs Addi, Bold, and Truora, ranked amongst the top 20 of Forbes Colombia's list of the best startups for 2021.
---
📜 Policy
The Mexican Banking Commission (CNBV) fined Albo $9 million pesos (~USD $435,000) for allowing crypto trading in its application without prior authorization.  The neobank is currently awaiting approval of its fintech license (IFPE) from the CNBV.
---
🔦Spotlight on Colombia 🇨🇴 with Juliana Carmona, fintech consultant and outgoing MD at Colombia Fintech
Q. Three words to describe yourself?  A. funny, creative, team player.

Q. Three fun facts about the fintech landscape in Colombia that everyone should know?  A. Colombia is the third fintech economy in LATAM after Brazil and Mexico. Colombia has the highest fintech solutions appropriation index in LATAM and 76% of the digitally active population use at least one fintech solution.  Colombia's fintech ecosystem has 322 fintech companies, distributed in 9 verticals

Q. What is one product that is making / will make a huge difference for financial inclusion?  A. I believe that crypto assets through decentralized finance models - DeFi, will revolutionize financial inclusion. It is about offering financial services without intermediaries through platforms based on blockchain technology. However the biggest challenge at DeFi is adoption through education.

Q. What are you most excited about with regard to Latam fintech right now?  A. That the innovation and speed of response of the entrepreneurs of this ecosystem have no limits, there is a great revolution in new business models. New ways of reaching non-traditional audiences are increasingly being created by empowering more businesses and people in financial products.

Q. One resource you would recommend for those interested in learning more?  A. Finnovista, because they have consolidated an ecosystem of innovation in finance and insurance in Latin America and Spain where more than 25,000 innovators, entrepreneurs, and experts exchange their knowledge and contacts. They have the annual summit FINNOSUMMIT, and publish the most referenced reports on Fintech and Insurtech in the Spanish-speaking market. (🙌🏽 shout out to my alma mater!)
---
📚 Deeper Reads
Why LatAm's fintech boom is more than hype and superlative venture investment
Fintech's open source evolution: how banking services will become "easy" to code
Brazilian companies finally realize that diversity isn't just marketing - it's also good for business
Why QED, hot on Nubank, is bullish about LatAm fintech
Nubank's IPO filing gives us a peek into neobank economics
Brazil, Colombia Lead Latin America for FinTech Growth
Everything you need to know about Mexico and Chile's startup scene
4 ways to ensure Latin America's growing pot of capital drives long-term growth
---
🌎 Fintech Around the World
See our global coverage and consider subscribing.
---
👍👎 Did you like this edition of TWIF Latam?  Take a 1-minute anonymous survey here or message me with news items and suggestions.  I'd genuinely appreciate any and all input. If you liked what you read, please consider sharing or subscribing.
Want to be a This Week in Fintech sponsor? Reach out to us at sponsor@thisweekinfintech.com.

Come meet us in person at www.fintechhappyhour.com.

Join our global community!  ​You can find us on Twitter, LinkedIn, and Instagram.