Hola amig@s fintech,
Happy Women's History Month!  I hope this is an added opportunity to celebrate accomplishments and progress, as well as to take stock of where we are today to reflect on what we can do together to build a more inclusive industry.
In case you were wondering, no there wasn't a newsletter published last week.  I had to give myself a little break.  Here's what I was doing instead (#sorrynotsorry😎):
Please find below the front page of Latam fintech news from the past two weeks.
💛 Y'all be good out there.  ¡Saludos!  Até a próxima!
---
Upcoming events with This Week in Fintech:
🇨🇴  23 March Bogotá Fintech Happy Hour
🌮  26 March CDMX Fintech Fest
🇧🇷  6 April São Paulo Fintech Happy Hour
🇦🇷  27 April Buenos Aires Fintech Happy Hour
And more to come!  Check out all of our events around the world at: www.fintechhappyhour.com
---
Editor's Note: If you're an early-stage startup founder raising equity or debt, I may be able to help - email me at christine@thisweekinfintech.com or sign up for open office hours here to go through your pitch, chat about the ecosystem, talent, whatever is on your mind, dear reader!
---
Sponsored Content
Want to sponsor a newsletter? See our sponsorship information here.
---
💼 Open Role Spotlight
Browse open roles on This Week in Fintech's job board.
---
📊 Stat of the Week
---
💸 Venture Financing
Qurable, the Argentinian marketplace for blockchain-based physical and digital assets, raised a $1 million pre-seed round led by Newtopia VC.
Yuno, the Colombian payments startup, raised a $10 million seed round co-led by Monashees and Kaszek.  The company aims to provide an easy online checkout solution for multiple payment methods and fraud detection tools for the Latam market.
Contabilizei, the Brazilian accounting services firm, raised a $60 million Series C led by SoftBank with participation from Goldman Sachs and Pruven Capital.  The financing will be used to expand the product offering to more than 30,000 small and medium-sized enterprise (SME) clients.
Acasa, the Bogotá-based proptech, raised a $4.7 million seed round led by Quona Capital with participation from angel investors such as Daniela Izquierdo and Juan Guillermo Azuero of Foodology, Daniel Vallejo of Addi, and Dileep Thazmon of Jeeves.  It also raised $33 million in debt financing from Architect Capital for its "buy before you sell" homeownership solution in Colombia and Mexico.
---
💰 Venture funds
Lolita Taub, the community-driven operator and entrepreneur extraordinaire, announced the launch of early-stage VC firm, Ganas Ventures.  The fund is targeting $9.9 million in total to invest in pre-seed and seed-stage companies in the US and Latin America.
Big Valley Ventures, announced its launch in Bolivia as the country's first VC fund.  The firm will look to invest principally in Bolivia and Paraguay, though it is open to opportunities in the rest of the region as well.  The founders previously launch Yaigo, a Bolivian delivery app that was acquired by Yummy in October of last year.
---
☯️ Exits
🤝 M&A - Fintech
Flink, the Mexican investment app, announced the acquisition of Ualet*, a regulated wealth management app in Colombia, as part of its regional expansion plans.
Rankmi, the Chilean talent platform, announced the acquisition of Ficios, a software company that offers personalized employee benefits including digital wallet and financial services such as payroll advances.
HUMBL, the San Diego-based fintech, announced the acquisition of Ixaya IT for a combination of $150,000 in cash and shares.  Ixaya IT is a Mexican software development firm whose offerings include YoPago and La Caja.
Brazilian unicorn 2TM, the parent company of Mercado Bitcoin, announced the acquisition of Wuzu, the blockchain and crypto solutions developer, for an undisclosed amount.  The transaction will allow 2TM to use Wuzu's token issuance platform as part of its growth strategy.
Grupo Primo announced the acquisition of Grão, the savings and investments app founded by Monica Sacarelli.  The transaction amount was not disclosed.
Brazilian neobank Next announced the acquisition of Aarin, a payments platform, for an undisclosed amount.  The transaction will allow next to incorporate Aarin's technology into the neobank's platform, for example adding PIX features in the nextShop marketplace.
---
🦉 Tweet of the Week
---
🚀 Product Launches & Partnerships
💻 Fintechs
AstroPay, the UK-based payments platform, announced the launch of Payment Links in Peru, Chile, Mexico, and Colombia, following rollout in Brazil in January.  The solution allows SMEs to request and enable instant payments via a link.
Movii, the Colombian digital wallet, announced a partnership with UK-based Paysend, enabling international remittances and real-time mobile transactions.
Mercado Libre and Mercado Pago announced the launch of digital loans for entrepreneurs in Chile.
a55 announced the launch of defi-enabled debt financing via the Solana blockchain via a partnership with Belgian fintech Credix.  The new debt financing model using USDC is available to clients in Mexico and Brazil.
Clip, the mobile point-of-sale and payments platform, and AgendaPro, the web-based schedule management platform, announced a partnership focused on SME clients from the health, beauty, and wellness sector.
---
📰 Other News
Ualá, the digital wallet, reported a phishing attack leading to a data breach that affected 68 users in Argentina.
Mercado Libre, the Argentine-based e-commerce platform, reported unauthorized access of 300,000 of its users' accounts.
99minutos, the e-commerce logistics company, raised an $82 million Series C led by Oak HC/FT with participation from existing investors Kaszek and Prosus Ventures.
Riogrande, the e-commerce brands conglomerate, raised a $12 million seed round led by Y Combinator and Wollef, with participation from notable angel investors such as Arielle Zuckerberg and Justin Mateen.
Flash, the Brazilian HRTech, raised a $100 million Series C co-led by Battery Ventures and Whale Rock.  The app is linked to a Mastercard card, offering companies easy benefits management.
Bloomberg published a list of Latam 'decacorn' candidates.  A decacorn is a company valued at more than $10 billion prior to becoming publicly traded.  Currently there are only 19 in the world.  Only Nubank has reached this status so far, however, those in the making include Kavak, Rappi, QuintoAndar, Creditas, and Ebanx. #wenemoji?
Rappi announced that Maluma is the new face and a shareholder of the superapp.  The singer also invested in proptech La Haus' Series B last year.
Nuvocargo, the logistics startup focused on US-Mexico cross-border trade, was listed amongst Fast Company's 50 most innovative companies in the world and the 2nd in all of Latam.  The company recently launched QuickPay, providing financing solutions to carriers and SMEs operating in the world's largest trade corridor.
Forbes Colombia announced its list of top 30 promising companies which include fintechs Treinta, Trii, Mono, Acasa, Avista, Bold, Finzi, Bitsports, and Aptuno, amongst others.
---
📜 Policy
Outgoing Chilean President Sebastián Piñera and Corfo, the production development corporation, announced legislation to support the creation of a fund of funds structure.  This type of investment vehicle is intended to encourage more participation in the VC ecosystem from local and international investors.
The Mexican Banking Commission (CNBV) announced an organizational restructuring to enable more specific supervision of fintechs and other segments of the financial sector.  The changes include the incorporation of an inter-institutional committee, which will have two representatives each from the Central Bank, the Secretary of Finance, and the CNBV.
Check out our weekly global policy edition by Ben White here.
---
📚 Deeper Reads
Brazilian Fintechs Received $567 Million in Funding in February
Addem Capital's Most Valuable Fintech Companies Latam vs US
The Role of Employers in the Professional Development of Working Moms
Rappi Mafia: a list of startups created by ex-Rappi employees
Female Fintech Leaders Talk International Women's Day 2022
Creditas' and Nubank's 4Q21 Quarterly Earnings Reports
---
🔦 Spotlight on the Dominican Republic 🇩🇴 with Virginia Velázquez Kranwinkle, Executive Director of the Dominican Fintech Association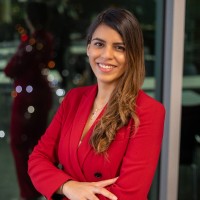 Q. Three words to describe yourself?  

Curious, creative and results-driven

Q. Three fun facts about the fintech landscape in the Dominican Republic that everyone should know?
The DR has one of the first Financial Innovation Hubs in the region
We have more than 80 fintechs operating, with really interesting cases like one of the first neo-insurers in Latam
The sector has been backed by regulators with whom we collaborate actively.Q. What is one product that is making / will make a huge difference for financial inclusion?  

The recent creation of the the Entidad de Pago Electrónico (EPE), which is a regulated digital payments entity.  We are certain that this will have a big impact on financial inclusion in the country.  We are also seeing fintechs that integrate different verticals to better satisfy the needs of this sector of the typically excluded population.

Q. What are you most excited about with regard to Latam fintech right now?  

The investments that the sector is receiving, the collaboration between the associations in the region, and the support of initiatives like FintechLAC by the IDB promise to continue driving the fintech ecosystem in Latin America and generate learnings at a global scale.  This is a key moment for fintech in the region and in the Dominican Republic we are doing all we can to bring visibility to the opportunities in Central America and the Caribbean as an important region and that is competitive at a regional and global level.  We are ready for new initiatives in 2022.

Q. One resource you would recommend for those interested in learning more about fintech in the Dominican Republic?

Suscribe to the Weekly Digest by Adofintech, where every Monday we send news from the fintech ecosystem in the DR and from our members, including regional news items.
---
Made in Latam with 💛
👍👎 Did you like this edition of TWIF Latam?  Take a 1-minute anonymous survey here or message me with news items and suggestions.  I'd genuinely appreciate any and all input. If you liked what you read, please consider sharing or subscribing.
Come meet us in person at www.fintechhappyhour.com.  You can also join our global community on Twitter, LinkedIn, and Instagram.