Hola amig@s fintech,
Adding up the total fintech funding reported via TWIF Latam, 1H22 closed out at $3.96 billion including equity and debt.  Shout out to Andrea Luna for this speedy summation! 🙌🏽  In the first half of this year, we also hosted seven events in four cities, with proceeds of $7,000 going to several regional charities including Mujeres Invirtiendo, laboratoria, Zendal, and BlackRocks.
Please find below this week's front page of Latam fintech news. 📥 If you're reading this on the web, I'd really appreciate your support by sharing and subscribing.
💛 Y'all be good out there.  ¡Saludos!  Até a próxima!
---
Editor's Note: If you're an early-stage startup founder raising equity or debt, I may be able to help - email me at christine@thisweekinfintech.com or sign up for open office hours here to go through your pitch, chat about the ecosystem, talent, whatever is on your mind, dear reader!
---
Sponsored Content
Want to sponsor a newsletter? See our sponsorship information here.
---

📣 Latam startup alum who have been impacted by layoffs and recruiters looking for top talent, check out https://startups-alumni.com/ and layoffsbrasil.com.
If you're looking to hire from a group of 10,000+ smart, motivated fintech professionals, come pick up a Collective Pass and post a job here.  If you're looking for your next adventure at one of the best fintech companies, check out the open roles here!
---
📊 Notable Stats
Global VC funding in Q2 '22 fell 26% versus last quarter, from $162 billion to $120 billion.  It's worth noting that 2021 was a record year and this quarter's results still top every quarter in 2020.  (Source)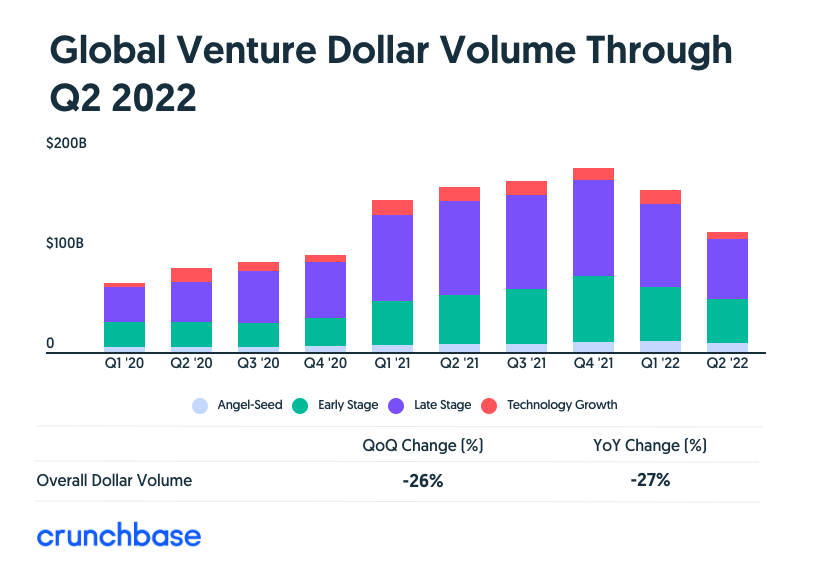 🦉 Tweet of the Week
---
💸 Venture Financing
Creditas, the Brazil-based lending platform, announced a $50 million extension from Andorra's Andbank, adding to a $260 million series F raised in January at a $4.8 billion valuation.
Warren, the Brazilian investment platform raised an extension of its series C from Citi Ventures and existing investors such as GIC and Kaszek, originally announced in April 2021 totaling $57 million.  The amount of this financing was not disclosed.
---
💰 Venture funds
Bridge Latam announced a $15 million fund to invest in 30 pre-seed and seed-stage investments in the region.  Bridge Latam is comprised of notable founders such as Daniel Vogel of Bitso, Allison Campbell of Zubale, Federico Ranero of Kavak, Liza Schvartzman of Fitpass, amongst others.  This is the firm's second fund.  Portfolio companies include Acasa, Mendel, Elenas, and Aplazo.
Headline (formerly e.ventures) announced a $56 million fund based out of São Paulo to invest in seed and Series A companies in Latam across B2C and B2B.  The global firm also announced a $408 million North America-focused fund and a $326 million fund for Europe.  The company uses an AI sourcing system to cut through bias around background, ethnicity, gender and headquarters location.  Latam portfolio companies include Creditas, Grin, and Gympass.
BBVA announced the launch of BBVA Spark, a new business unit dedicated to startups and scaleups in Spain and Mexico that includes services to support its clients and a debt fund of $255 million to offer non-dilutive financing options.
---
☯️ Exits
🤝 M&A - Fintech
Creditas, the Brazil-based lending platform, announced the acquisition of Andorra's Andbank Brazilian banking license, which will allow it to accept deposits as a way to diversify its sources of funding consumer loans.  Andbank becomes a minority shareholder in Creditas via participation in a $50 million extension to the Series F round.  The deal is valued at $100 million total and subject to regulatory approval.
Creditas also announced the acquisition of Kzas, a mortgage marketplace startup, allowing it to offer home loans in addition to auto and payroll loans.  The deal will be financed through $150 million in convertible bonds.  The total value was not disclosed.
---
🚀 Product Launches & Partnerships
💻 Fintechs
Revolut and Stripe announced a partnership in Mexico and Brazil to leverage the compliance, regulatory requirements, and infrastructure that Stripe has in both countries that allows end users to hold funds, pay bills, earn interest and manage cash flow.
Elevva, the Argentina-based e-commerce enablement platform, announced the launch of loans for its SME customers.  The company operates in Argentina, Chile, Colombia, and Mexico.
Tienda Crypto and Simetrik, announced a partnership to create the region's first crypto payment gateway.
PagSeguro, the Brazilian payments platform, announced the launch of its PagBank pre-funded credit card with no annual fee.
Payoneer, the Israeli payments platform, and Husky, the Brazilian payments fintech, announced a partnership that will allow Husky's 8,000 customers to receive multicurrency payments from 190 markets where Payoneer operates.
Credz, the Brazilian card issuer, announced "Credz Proteção" a new insurance marketplace available to all cardholders.
Bitso, the Mexico-based crypto exchange, announced the launch of digital-dollar-based remittances from Colombia to the United States.  In 2021, this market represented $103 million with growth of 102% versus 2020.
Yape, the wallet of Banco de Credito del Peru (BCP), announced its new microcredit product that will be disbursed in a deposit and can be paid in up to 30 days.  It also announced Yape Promos and utility payments within the app for local service providers.
🏦 Financial Services & Banking
Prudential and Mercado Pago, announced a partnership to offer term life insurance, funeral coverage, accident, and health protection via Mercado Libre.
Western Union and Mercado Libre, announced to enable digital remittances to Mexico via Western Union where payments can be collected locally through Mercado Pago.
BBVA announced the opening of the new "Open Space" innovation center in Guadalajara (Mexico), in order to contribute to the development of the entrepreneurial ecosystem in the region
---
📰 Other News
Loft, the Brazilian proptech startup, announced the dismissal of 380 employees (12% of its workforce), as part of its strategy to increase efficiency.
Kavak, the Mexican platform for the purchase and sale of used cars, will invest $180 million to achieve its expansion in Chile, Colombia, Peru, and Turkey.
Meta announced it is abandoning the digital wallet Novi which aimed to use USDP stablecoin issued by Paxos to enable remittances between the US and Guatemala.  Efforts around blockchain-enabled payments will be rolled into Meta Pay.
---
📜 Policy: guest post by Lorena Buzón, Government Relations at Tribal Credit
Chile. The Central Bank (CB) carries out a survey on CBDC. The CB is conducting an analysis on the possibility, advantages, and challenges of issuing a Central Bank Digital Currency in the country. (Source)
Colombia. The Government launched a guide for the adoption of blockchain in agencies and organizations. The Ministry of Information and Communication Technology (MinTIC) presented the guidelines for the development of projects based on blockchain in government entities. (Source)
Colombia. A bill seeking to regulate crypto exchanges was approved in the first of four debates. Bill 139/2021C, sponsored by Rep. Mauricio Toro and Rep. Rodrigo Rojas, seeks to regulate platforms that buy and sell crypto currencies, aiming to provide legal certainty to them as well as to their users. The payment of taxes and the creation of formal jobs are also encouraged. Its main purpose is the creation of a single registry of crypto exchange platforms. (Source)
US. Government officials who privately own cryptocurrencies are now banned from working on regulations and policies regarding digital assets.  (Source)
---
📚 Deeper Reads
VCs showered cash on Latin America. Will they stay?
How Banks Can Compete In The Post-Neobank Era
The Importance of Partnerships in the Great Unbundling
The Underestimated Latin American's Founder's Guide to Raising Venture Capital
Latin America Embraces Billion-Dollar Business of Open Banking, But Progress Slow
Women who create worlds: female entrepreneurship as a key to regional transformation (ES)
Women Make Up Just 22% Of Latin America VC Fund Partner Count
---
📖  Read of the Week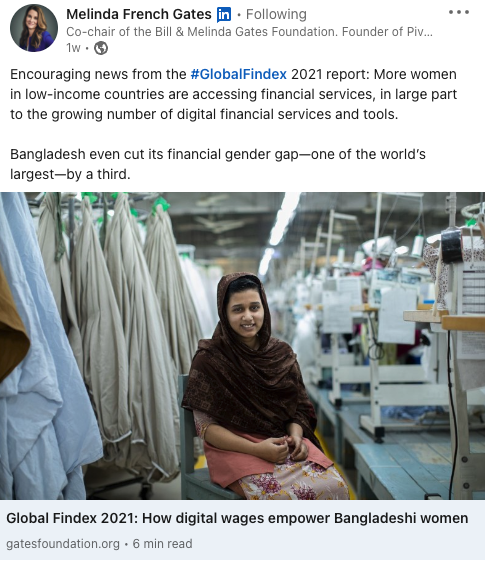 ---
Made in Latam with 💛
👍👎 Did you like this edition of TWIF Latam?  Take a 1-minute anonymous survey here or message me with news items and suggestions.  I'd genuinely appreciate any and all input. If you liked what you read, please consider sharing or subscribing.
Come meet us in person at www.thisweekinfintech.com/events.  You can also join our global community on Twitter, LinkedIn, and Instagram.