Hola amig@s fintech,
Hope you're well and enjoying this Sunday!  Happy Mother's Day to all the moms and working moms. 💪🏽  Please find below the front page of Latam fintech news from the past two weeks.
PS. special offer for TWIF readers: FINNOSUMMIT returns in-person to Mexico City from 1-2 June.  The international conference is an opportunity to connect with entrepreneurs, investors, and key players in the ecosystem. Use code 'PARTNERFS20' for a 20% discount via finnosummit.com.
💛 Y'all be good out there.  ¡Saludos!  Até a próxima!
---
Editor's Note: If you're an early-stage startup founder raising equity or debt, I may be able to help - email me at christine@thisweekinfintech.com or sign up for open office hours here to go through your pitch, chat about the ecosystem, talent, whatever is on your mind, dear reader!
---
Sponsored Content
Want to sponsor a newsletter? See our sponsorship information here.
---

If you're looking to hire from a group of 10,000+ smart, motivated fintech professionals, come pick up a Collective Pass and post a job here.
If you're looking for your next adventure at one of the best fintech companies, check out the open roles here!
---
📊 Notable Stats
Latam fintechs raised $318 million in April.  During the first four months of the year, fundraising totals $1.9 million, a 46% increase over the same period in 2021. (Source)
---
Latam's 10-best funded fintechs, per Latinometrics: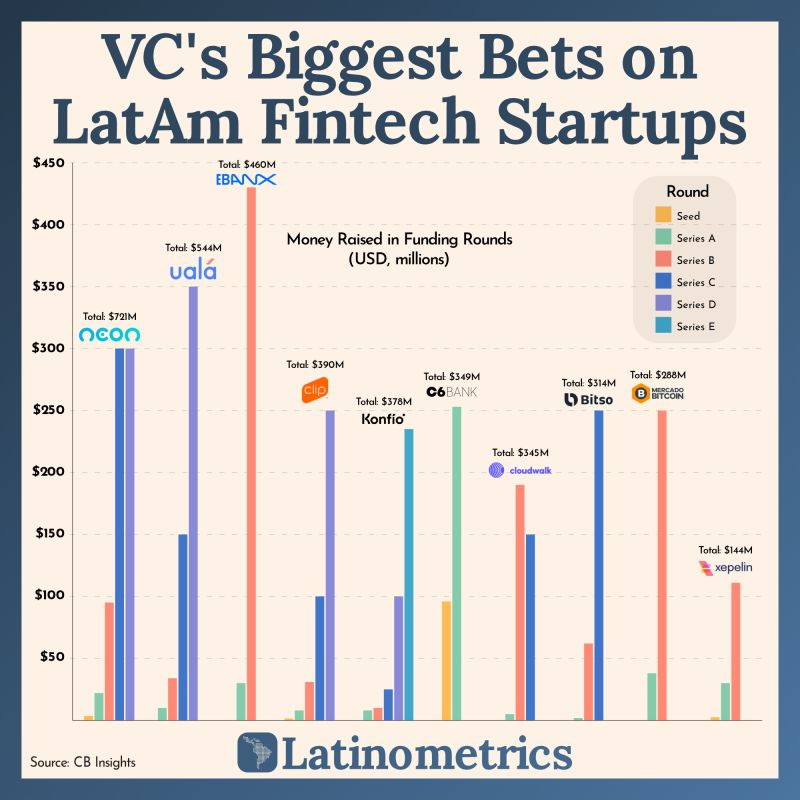 ---
📖  Read of the Week
Why Fintechs Supporting SMBs Are Crucial To The LatAm Economy
---
🦉 Tweet of the Week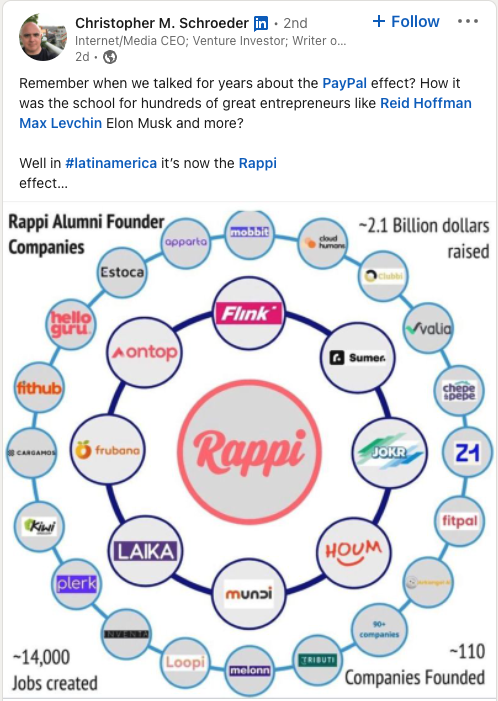 ---
💸 Venture Financing
Veci, the Colombian app focused on neighborhood stores and other micro-and small- businesses, raised a US $2 million in a pre-seed round led by Puntored's founders, Andrés Alban and Mauricio Hovos, along with other angel investors. The company offers working capital as well as other tools like digital marketing and payment services credit to its 7,000 clients.
Littio, the Colombian savings app, raised a $3.7 million pre-seed round led by  Adam Neumann's 1662nd and Justin Mateen's JAM Fund with participation from Global Founders Capital, AngelList, Orange DAO, and various angel investors. The company allows its users to hedge against devaluation via Circle-issued stable coins (USDC).
YoCripto, the Mexican credit card startup offering bitcoin rewards, raised a $4 million seed round led by DILA Capital with participation from existing and new investors that were not named.  The company offers up to 3% cashback on every purchase and its loans are backed by crypto assets.  With this financing, they seek to grow their operations in Mexico where interested users can sign up via waitlist.   Future plans include launching in Colombia, Chile, Peru, and Argentina.
Bankingly, the Uruguayan digital banking platform raised a US $11 million in Series A, led by Dalus Capital, with participation from IDB Lab, IDC Ventures, Athos Group, KUBE Ventures, Grupo Financess, iThink VC, Sonen Capital LLC and Oikocredit, among others. The startup offers a software-as-a-service (SaaS) model to more than 70 banks and financial institutions to digitize their services.
Minka*, the Bogota-based Colombian payments infrastructure startup, raised a US $24 million series A, co-led by Tiger Global Management and Kaszek with participation from existing backers such as FinTech Collective. The company currently offers an open network that allows banks and clearinghouses to collect, send, or exchange money in real-time at no cost.  It has partnered with ACH Colombia on Transfiya, allowing real-time payments at minimal cost for nearly two million customers and 20 financial institutions and fintechs, while growing at 250% year-over-year.
Xepelin, the Chilean SME-focused SaaS platform, raised a $111 million Series B led by Avenir and existing investor Kaszek with participation from PayPal Ventures, Wellington, DST, Endeavor Catalyst, FJ Labs, Picus, Cathay-Seaya Latam, Gilgamesh, Carlos Garcia, and others. The company aims to be the 'digital CFO' for its 15,000 clients in Chile and Mexico through offerings like payments infrastructure and embedded financial services.  This marks the largest Series B round in the history of Chile and one of the largest in Latam.
💵 Debt Financing
Cumplo, the Chilean lending platform, announced an agreement with Fasarana Capital, a UK-based fintech fund, for $40 million in financing targeting thousands of Mexican SMEs.  To date, Cumplo has financed 6,000 operations in the country and more than 50,000 across Latam.  According to the World Bank, there are 27.5 million SMEs in the region needing $1.4 trillion in working capital.
---
💰 Venture funds
Rali_Cap*, the early-stage fintech-focused firm formerly known as Rally Cap Ventures, announced a new $30 million fund. This is the collective's second fund through which it will continue to invest in B2B and API-based fintechs across Africa, Southeast Asia, and Latin America.  To date, Rali_cap has backed 32 startups including 13 in Latam, such as Belvo*, Pomelo, Minka*, and Simetrik.
Picus Capital announced the launch of Picus Capital Venture Partners, a venture partner network across Latam, Europe and Asia.  The initiative targets entrepreneurs in each region, such as Clara founder and CEO Gerry Giacomán Colyer, who was announced as the first venture partner for the program  Picus invests in pre-seed to series A rounds.
---
☯️ Exits
🤝 M&A - Fintech
Ualá, the Argentine neobank announced the acquisition of Empretienda, an Argentine platform that allows microentrepreneurs to create and self-manage virtual stores. The amount of the transaction was not disclosed.  The acquisition is part of Uala's business solution and will offer Empretienda's current users payment solutions via Uala Bis for three months with no commissions while Uala users who open a new account will enjoy this benefit plus three months free on Empretienda.
FitBank, the Brazilian banking-as-a-service (BaaS) company, announced the acquisition of EasyCrédito, a consumer credit marketplace. This is FitBank's first major acquisition and will allow the firm to expand its offerings in credit solutions.  The transaction amount was not disclosed.
---
🚀 Product Launches & Partnerships
💻 Fintechs
Koin, the Brazilian buy now pay later(BNPL) platform, announced an alliance with Movii to enter the Colombian market. Movii is the first fully licensed independent acquirer in Colombia.
Conekta, the Mexican payments startup, announced its new chargeback protection feature that aims to help Mexican SMEs with online eCommerce payments.
🏦 Financial Services & Banking
Banco de Galicia, the largest private bank in Argentina, announced a partnership with Lirium to start offering crypto trading as a way for its customers to combat inflation. Lirium is a Lichtenstein-based EU-regulated entity that offers banks and digital wallets the ability to offer crypto transactions.
---
📰 Other News
Ola GG, the Argentina-based Play-to-Earn (P2E) startup, raised an $8 million seed round from Galaxy Interactive, BITKRAFT, and Arca, among others to expand P2E to Spanish-speaking markets. The platform serves as a regionally focused subDAO of the main Yield Guild Games (YGG) DAO and currently works with 3,000 scholarship players of Axie Infinity and CyBall in its shared rewards program.
Start Path Empodera, a program offered by USAID and Mastercard, announced a program designed exclusively for early-stage and scale-up companies in Ecuador, Colombia, and Peru, that have at least one female co-founder or a woman within the management team.
---
📜 Policy
Brazil's Senate announced the approval of Brazil's Bitcoin Law to regulate crypto trading.
Welcome to our Policy guest contributor Lorena Buzón, Head of Government Relations at Tribal!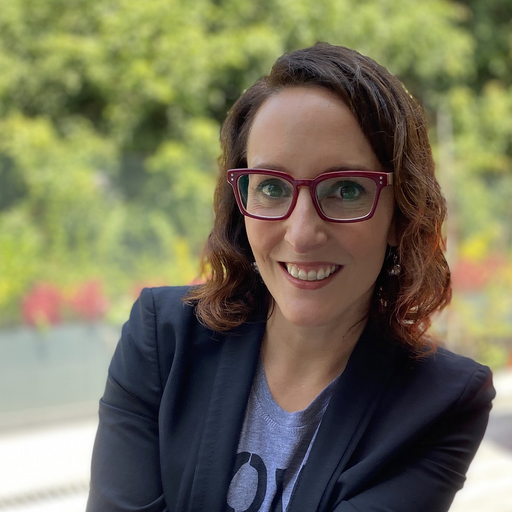 Mexico. Changes keep coming in the National Banking and Securities Commission (CNBV). At the end of last week, two more authorities' changes were announced in the CNBV: the VP of Preventive Processes, and the General Director of Research Visits. In the last six months, since the new Director took office, more than five top-range officials have left their posts. (Source).

Argentina. The Government wants to develop and support crypto and blockchain technology. The National Currency House (Casa de Moneda) expanded its functions through Decree 207/2022, published in the Official Gazette. From now on, the institution in charge of issuing currencies will also look at innovations in the digital world, meaning that it will also be able to develop digital products, such as the digital Peso. (Source).

Chile. Fintech Law approved, in general terms, in the Senate's plenary. Bill 14570-05, which seeks to regulate the fintech industry was voted and approved by 44 votes in favor and 2 abstentions. The bill will now return to the Senate's Finance Committee to be examined in particular, article by article. The Committee will have until 07.09 to comment on the project.  (Source).

Colombia. New regulations for transactions with crypto. In 12.2021, the Financial Information and Analysis Unit (UIAF), together with the Tax Service (DIAN) issued Resolution 314 that requires exchanges to report users' transactions of virtual assets. Starting in April, bitcoin transactions greater than USD 150 must be notified to the UIAF. Penalties for non-compliance will be imposed by the authorities.  (Source).

Panama. The National Assembly has approved the Crypto Law. In the third debate and through a unified vote in favor of regulation, the National Assembly approved the bill seeking to regulate virtual currencies. Some of the relevant topics in the bill include: taxed with a 4% income tax; the State can create its own virtual currency and wallet; national IDs will be digitalized through blockchain; businesses will decide if they accept virtual currencies as a means of payment, and citizens will be able to pay their taxes and some services with them; among others. Now, the approved bill must go through the Executive Branch for its publication.  (Source).

Peru. Congress and open banking. Congress will begin discussion on open banking possible regulations.  (Source).

US. The SEC to strengthen its crypto division. The SEC will nearly double the number of positions in its Crypto Assets and Cyber team in order to protect users of virtual assets and keep an eye on the cryptocurrencies market. The new 20 positions will include investigative staff attorneys, trial lawyers and fraud analysts.  (Source).
---
📚 Deeper Reads
The Herd Of Female-Founded Unicorn Companies Continues To Grow in 2022

Fintech in Latin America and the Caribbean: a consolidated ecosystem for recovery (ES)

47 Top Venture Capital Firms & Companies (Mexico)

Angel entrepreneurs: the venture bets of the new Chilean entrepreneurs (ES)

Latin America At The Center Of The Crypto Revolution

These are the "50 Women of Impact in Latin America in 2022″ (ES)

The 100 fastest growing startups in Mexico (ES)

Q1 2022 venture capital activity in crypto set to outpace 2021
---
Made in Latam with 💛
👍👎 Did you like this edition of TWIF Latam?  Take a 1-minute anonymous survey here or message me with news items and suggestions.  I'd genuinely appreciate any and all input. If you liked what you read, please consider sharing or subscribing.
Come meet us in person at www.fintechhappyhour.com.  You can also join our global community on Twitter, LinkedIn, and Instagram.