Hola amig@s fintech,
Is anyone else watching The Hidden Lives of Pets on Netflix? 🙀 Rats driving cars, goldfish playing soccer (football), dogs who 'talk' – absolutely astonishing what our animal friends are capable of!  Here's my gal who is bravely and quickly recovering from a wee car accident.  Thanks for your well wishes!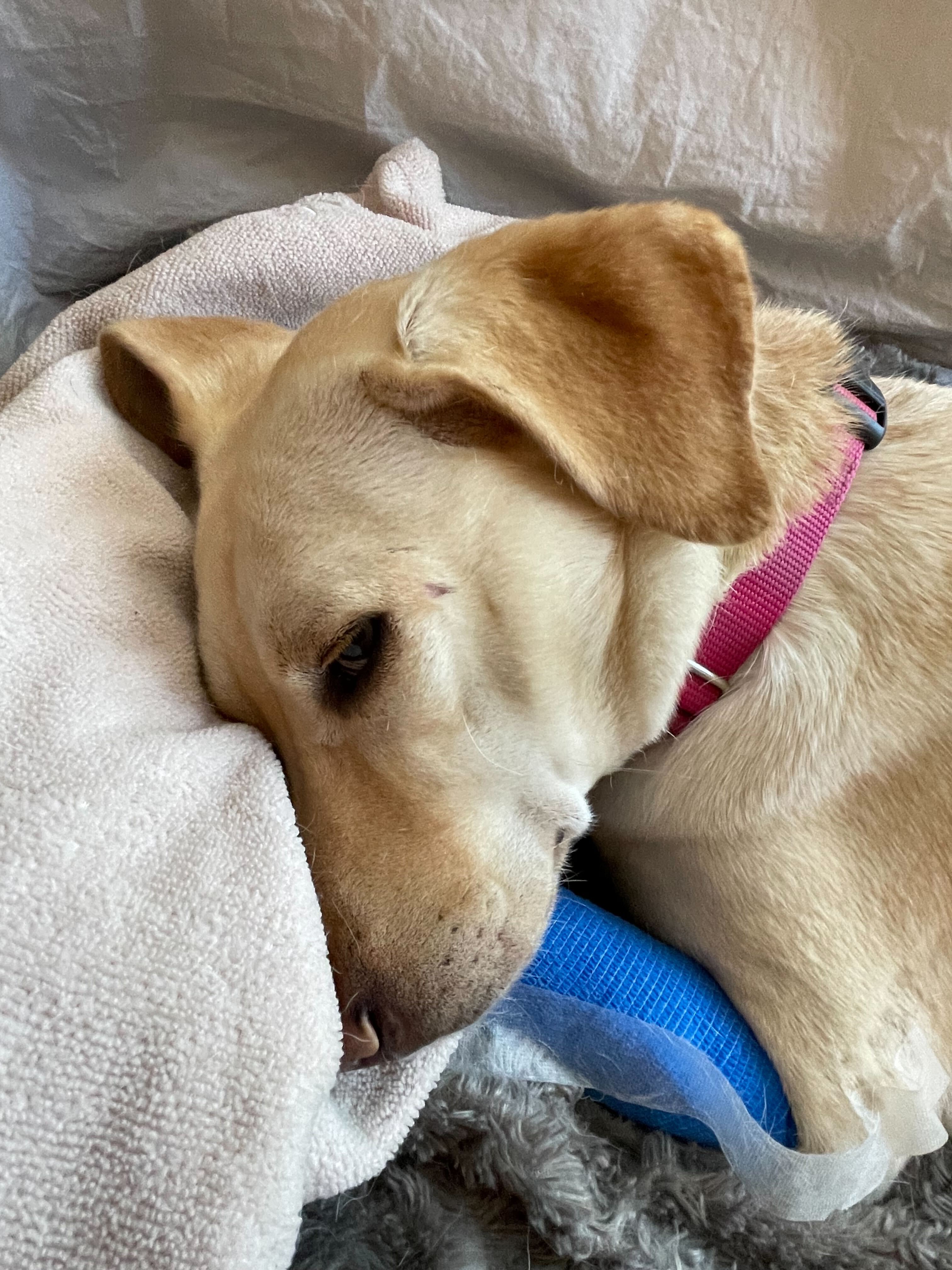 Please find below this week's front page of Latam fintech news.  If you're reading this on the web, I'd really appreciate your support by sharing and subscribing.
💛 Y'all be good out there.  ¡Saludos!  Até a próxima!
---
Editor's Note: If you're an early-stage startup founder raising equity or debt, I may be able to help - email me at christine@thisweekinfintech.com or sign up for open office hours here to go through your pitch, chat about the ecosystem, talent, whatever is on your mind, dear reader!
---
Sponsored Content
Want to sponsor a newsletter? See our sponsorship information here.
---

If you're looking to hire from a group of 10,000+ smart, motivated fintech professionals, come pick up a Collective Pass and post a job here.  If you're looking for your next adventure at one of the best fintech companies, check out the open roles here!
📣 Latam startup alum who have been impacted by layoffs and recruiters looking for top talent, check out https://startups-alumni.com/ and layoffsbrasil.com.
---
📊 Stat of the Week
Per the CNBV, 49% of all credit cards are issued to women, with BanCoppel and HSBC being above average in their split of female / male client base.  (Source)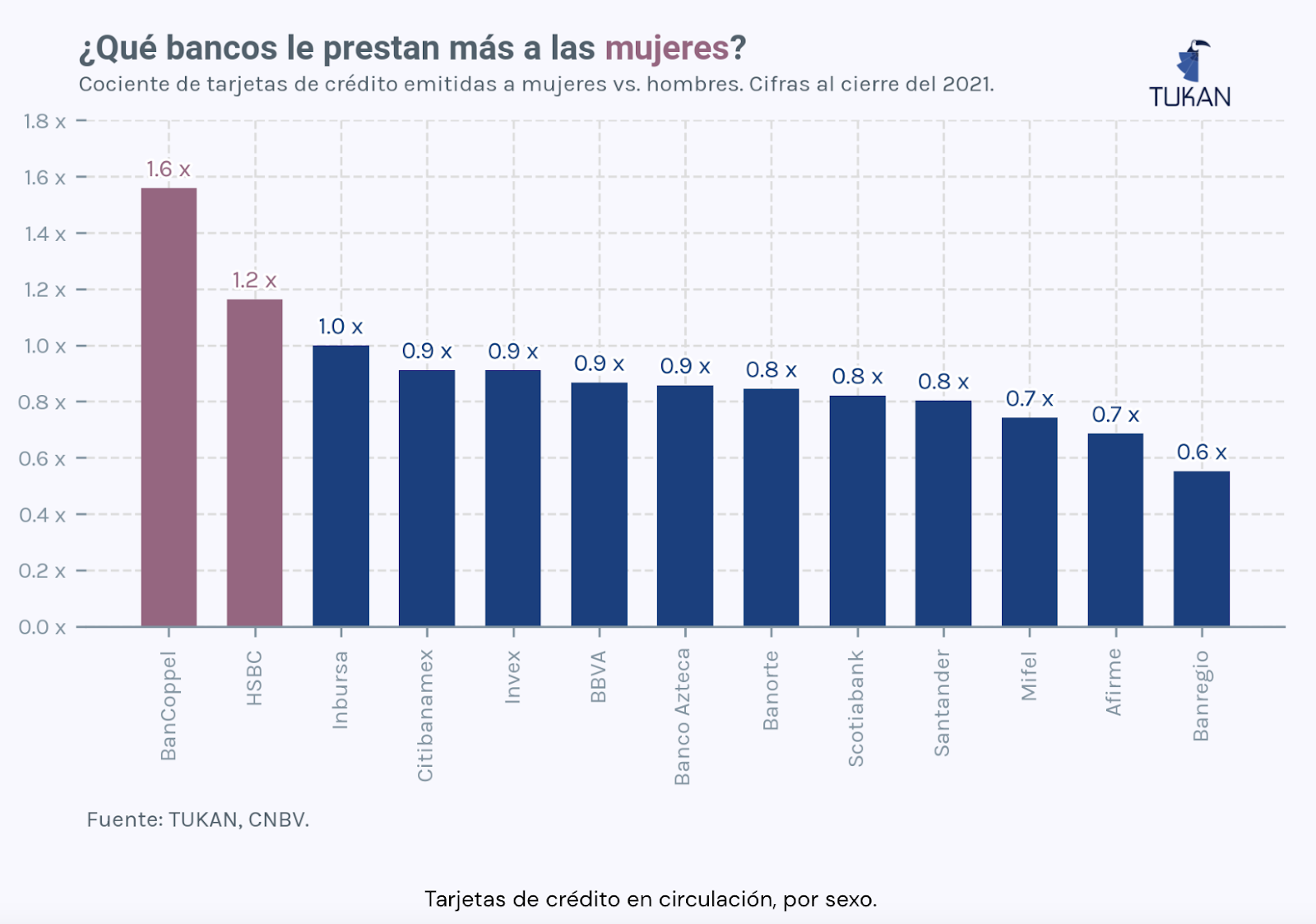 💬  Quote of the Week
"You have power over your mind, not outside events. Realize this, and you will find strength." - Marcus Aurelius via @momentumdash
🦉 Tweet of the Week
---
💸 Venture Financing
RetryPay, the Mexico-based online payments processor carousel, raised a $1.5 million Series A from Mucker Capital.  The platform helps is small and medium-sized enterprise (SME) clients boost card conversion without increasing fraud.  It currently operates in various countries across the region including Mexico, Colombia, Ecuador, Perú, Chile, Argentina, Brazil, and Costa Rica.
CondoConta, the Brazilian digital bank for condominiums, raised $4.5 million from SYN PROP E TECH S.A. a real estate development company.
UnDosTres, the Mexican payments platform, raised a $30 million Series B led by IDC Ventures with participation from AI8 Ventures, Benber, Telegraph HIll Capital, and existing investors IGNIA and Dalus Capital.
Mottu, the São Paulo-based motorcycle rental startup, raised a $30 million Series B led by BASE Partners and the crankstart foundation, with participation from existing investor Tiger Global Management.  It also secured $10 million in debt financing from Verde Asset for its gig economy worker customers who have little or bad credit.
---
💰 Venture funds
Endeavor announced the final closing of Endeavor Catalyst Fund IV, its largest vehicle to date with $292 million to invest in its global network of Endeavor entrepreneurs.  Its most active markets over the past years have been Brazil, Mexico, and Indonesia.  Latam portfolio companies include R5, Novopayment, Ualá, dLocal, Tribal*, Bitso, and Creditas.
Venture Funding Set to Hit Lowest Level Since 2020
Sequoia Capital reportedly raising two funds, and despite slower VC environment, it's not alone
---
☯️ Exits
🤝 M&A - Fintech
FTX US, the crypto exchange, announced a deal that gives it the option to acquire crypto lender BlockFi.  The deal value is estimated to be up to $680  million and is still subject to shareholder approval.  In addition, FTX is extending a $400 million credit line to BlockFi.
🏦 M&A - Bank and FinServ
Goldman Sachs, the Wall Street firm, is raising $2 billion to buy distressed assets from crypto lender Celsius.
---
🚀 Product Launches & Partnerships
💻 Fintechs
QuintoAndar, the Brazilian proptech, announced its launch in Mexico. The company currently operates in 75 Brazilian cities with 175,000 active rental contracts and $17 billion in assets under management.
Nubank, the Brazilian digital bank, announced the launch of its silver credit card designed for Brazilian entrepreneurs and small businesses.
Broad, the European neobank, announced its arrival in Brazil, offering a Mastercard debit card and the possibility of maintaining a balance in 3 currencies: USD, EUR, and GBP.
MercadoLibre and Klimber, announced a life insurance offering through the MercadoPago app in Brazil. The product is backed by Prudential and Swiss Re.
Konfio, the Mexican SME lending unicorn, announced the launch of a new corporate credit card as well as the integration of additional solutions in its platform such as payments, and management solutions.
PicPay and Câmbio Online announced a partnership to offer transactions in foreign currencies as well as remittances.
🏦 Financial Services & Banking
Mastercard and PagueloFacil, a Panamanian online payment infrastructure startup, announced a comprehensive solution for MSMEs that includes payments, administration, and financial management tools.
Visa and Latam Fintech Hub, announced a partnership to connect and grow the fintech ecosystem through activities designed for its community of more than 20,000 founders, investors, financial entities, corporations, and technology providers.
---
📰 Other News
Credijusto, the Mexican SME lender, will inject $7.4 million into Banco Covalto (fka Banco Finterra) to cover previously recorded losses and improve its credit rating.
Unergy, a Colombian solar energy financing startup, creates the first crypto token, backed by real assets such as the dollar, euro, gold, and even real estate.
Agrotoken, an Argentine stablecoin whose value is linked to the price of three grains: soybeans, corn, and wheat, seeks to become the meeting point between agriculture and crypto innovation.
According to Distrito, only five of 100 CEOs of top Brazilian startups are women.  The average age of all Brazilian startup CEOs is 39.5 years old with the youngest being 19 and the oldest at 57.
The Bogotá Post announced its list of top 20 Colombian startups of the year, including MO Technologies, Simetrik, and Sempli.
Sequoia, the Silicon Valley VC firm, announced the launch of applications for its Arc Americas program, offering $1 million in initial funding and a seven-week program.
Volt Bank, the first exclusively online bank in Australia to obtain a license announced it is closing.
---
📜 Policy
Belvo, the Mexican open finance API received authorization from the CNBV to operate as an IFPE in Mexico. With the authorization, Belvo will be able to offer its clients in Mexico services for making and issuing bank-to-bank payments through its platform.
👩‍💻 Guest post by Lorena Buzón, Government Relations at Tribal Credit
Chile. FinteChile and the Banks Association reached an agreement to move forward with open banking. The agreement includes security standards, responsibilities, and mechanisms to protect personal data. (Source)

Colombia. Colombia Fintech has requested the DIAN (IRS) that the new regulations regarding invoicing be implemented later on. "Due to the DIAN guideline, which says that as of July 13, 2022, purchasing companies must send an electronic message acknowledging receipt of the invoice and the good or service purchased through the RADIÁN application, Colombia Fintech requests an extension for the entry into force of this system, since in practice the paying companies present limitations to mass use."  (Source)

US. On 06.30, the House Financial Services Committee held a hearing titled "Combatting Tech Bro Culture: Understanding Obstacles to Investments in Diverse-Owned Fintechs." (Watch here)
📚 Deeper Reads
What's a fintech even worth these days?

The Quarterly Interview: Provocations to Ponder series with Marc Andreessen

How Uruguay Became a Cluster of 'High Quality' Startups, Talent

How to Value Your Startup Today: Look Toward Tomorrow

What if this Wasn't a Bear Market, but a Phoenix Moment?

Blockchain: a golden opportunity for women (ES)

The millionaire open banking market that Latin America has not taken advantage of (ES)

Only 10% of funds are oriented towards gender investment: Pro Mujer (ES)
---
📖  Read of the Week
Startup Genome's Global Startup Ecosystem Report ranks top Latam cities by funding:
São Paulo $108 billion
Mexico City $22 billion
Bogotá $9.8 billion
Buenos Aires $7 billion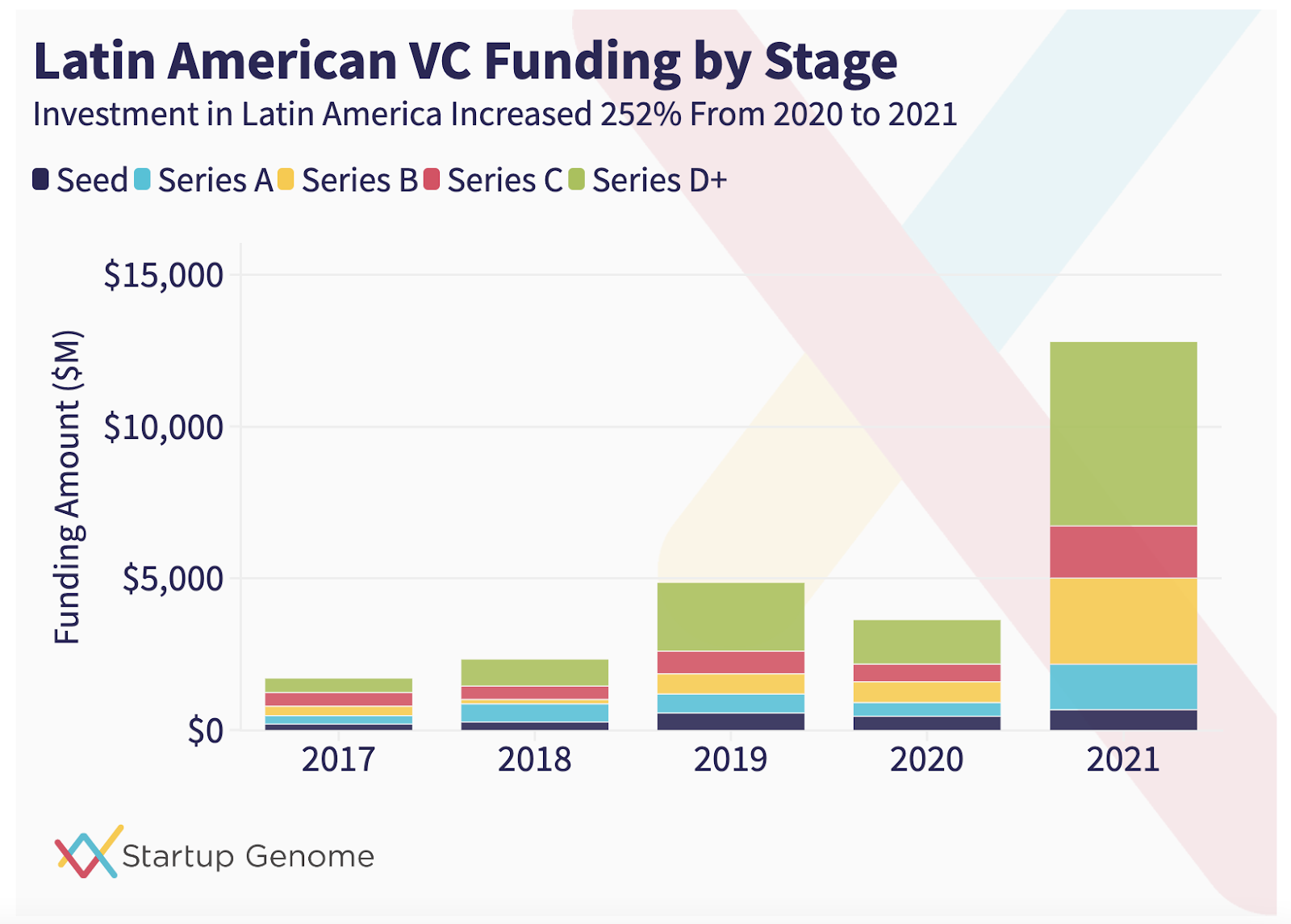 ---
🤔 Question of the Week
On a scale of 1 to 10, how much are you thinking about cybersecurity and digital fraud?  Share with us here and please let us know if you're a fintech founder, investor, or customer.
Thanks to those who responded last week!  Sharing some selected views from our readers here re: what is one thing that people should know about payments in Latam countries?
Ecommerce is skyrocketing in Latin America, but many on the outside fail to understand that the complexities of the regulatory framework of each country often prevent cross-border transactions. Merchants often face roadblocks such as the liability of paying cross-border fees, country-specific payment methods, etc., resulting in a negative impact on their business growth. It will be exciting to see regional fintech companies expand as they continue to find innovative solutions that "jump" this cross-border hurdle. Julia Servin - USA
In México, that most transactions occur in cash. Less every year, but still a lot of transactions there. - Anonymous
in Brazil credit card payments settle to the acquirer D+27 and to the merchant D+30. Issuers have a positive float of ~5 days. And they still charge fees. F*CKING crazy!  - Anonymous
---
Made in Latam with 💛
👍👎 Did you like this edition of TWIF Latam?  Take a 1-minute anonymous survey here or message me with news items and suggestions.  I'd genuinely appreciate any and all input. If you liked what you read, please consider sharing or subscribing.
Come meet us in person at www.thisweekinfintech.com/events.  You can also join our global community on Twitter, LinkedIn, and Instagram.