Hola Amig@s Fintech,
Welcome to the first edition of This Week in Fintech for Latin America (TWIF Latam)!  We read the news so you don't have to.
I'm looking forward to collaborating with Nik, Michael, Osborne, Katie, Ben, and Cristina to highlight all the happenings in the region, where 40% of all VC dollars go to our favorite sector at the crossroads of financial services and technology.
Below is your digest of fintech financings and exits from the second half of September.
TLDR = Latam fintech is 🔥 hotter than ever, thanks to:
the continued boom in e-commerce (61.3% growth from 2019 to 2020) and subsequent need for digital payments and other fintech
crypto as a solution well-suited to the region
the proliferation of embedded finance
---
Editor's Note: If you're an early-stage startup founder raising equity or debt, I may be able to help - email me at christine@thisweekinfintech.com
---
💬 Notable Quote
"Banks are becoming platforms and platforms are becoming banks through embedded finance thanks to changes in regulation, digitization, entrepreneurship, new business models and innovation."

- Arjuna Costa, MD Flourish Ventures, speaking at FINNOSUMMIT Connect
📊 Notable Stat
With its recent found of funding, Kavak is now not only the 2nd most valuable startup in all of Latin America but its $8.7 billion market value also puts it ahead of companies like Televisa and Carlos Slim's Grupo Carso, according to El Financiero.
---
💸 Venture Financing
The highlights below from the past two weeks total more than $1.2 billion. 😲
Sprout, the Brazilian wealth management app raised a $5.2 million round led by Y Combinator alongside Investo, The Marathon Lab, and others to expand into the rest of Latin America. The platform lets customers invest from one dollar in US stocks, funds, and ETFs.
Gank, a Brazilian community-based investing platform raised $1.5 million from Canary and Global Founders Capital (GFC) to launch its operations.
Alfa Collab, the investment arm of the Brazilian conglomerate, announced its first investment in agfintech, E-ctare.  $111 million will be distributed over three years for the startup to develop credit solutions for agribusiness.
Ripio, the Argentinian crypto platform raised a $50 million Series B to expand to Colombia, Mexico, and Uruguay this year.
Higo, the Mexico City-based business-to-business (B2B) payments platform for small- and medium-sized enterprises (SMEs) raised a $23 million Series A led by Accel.  Angel investors joining the round include Stripe COO Claire Hughes-Johnson and Cristina Cordova, former head of partnerships at Stripe.
Abra, the digital cash platform, raised $55 million in Series C funding to develop new offerings in wealth management.  The round was led by previous investors IGNIA and Blockchain Capital.  New investors include Kingsway Capital, Tiga, and Stellar Development Foundation.
Merama raised the largest-ever Series B round in Latin America.  The $225 million equity round will help the Mexico City-based company continue to acquire and build direct-to-consumer brands throughout the region, where the e-commerce market is growing exponentially.
Kavak, a Mexico City-based used car marketplace that offers financing options raised $700 million in a Series E round led by General Catalyst that doubled the company's valuation to $8.7 billion. The company has a presence in Brazil and Argentina, as well as Mexico.
Konfio raised a $110 million Series E extension, bringing its valuation to $1.3 billion and minting Mexico's fourth unicorn.  The small business lender joins the ranks of other fintechs - Bitso, Clip, and used-car marketplace Kavak.
💵 Debt Financing
Sempli, a Colombia-based lending platform raised US$10 million in debt and equity to fund continued growth and their suite of products including loans, insurance, and credit cards for small and medium-sized businesses.
💰Venture funds
Dux Capital, an early-stage fund based in Mexico City and Austin named Susana Espinosa de los Reyes as partner as they launch their second fund, DXII.
Angel Ventures, a Mexican VC firm, announced the acquisition of Coonector, a corporate networking platform.
👀 Is Latam VC an old boys club? Just 5% of venture capital in Latin America goes to female-founded startups, according to a recent study by the IFC.  Additionally, only 7% of VC funds in Latam have a woman investor in decision-making roles.
In case you missed it (or have been living under a 🪨)…
Earlier this month, SoftBank announced the launch of its second Latam-focused fund, committing another $3 billion to its unicorn factory.  (SoftBank has invested in all four Mexican unicorns - Bitso, Clip, Kavak, and Konfio - along with fintechs Creditas, Nubank, and Inter from Brazil and Ualá in Argentina).  This is in addition to a separate announcement for a $300 million early-stage fund for Latin America.
☯️ Exits
🤝 M&A - Fintech
Betterfly, the Chilean Insurtech, announced the acquisition of six startups across Chile and Brazil including Kunder, Keypay, Numi (ProSueños), Racional, Nesto, and Xerpa.  The transaction will support the company's goal of reaching 100 million families in the region by 2025.
Nu México, the subsidiary of Nubank acquired savings and financial society (Sofipo) Akala.  This will allow Nu to accept deposits and expand its product offering in Mexico.
Check out Latam Fintech Hub's summary of 22 fintech acquisitions.
🏦 M&A - Bank
PagoNxt, Banco Santander's payment fintech, has acquired 70% of its Mexican tech partner Mercadotecnia, Ideas y Tecnología (MIT) as part of its strategy to expand its merchant payments business globally under the Getnet brand.
---
🚀 Product Launches
💻 Fintech
Sistécredito launched Luegopago, a buy-now-pay-later (BNPL) marketplace in Colombia.
🏦 Financial Services & Banking
BTG Pactual, the Brazilian investment bank announced it will be launching a crypto platform called Mynt.  The service will be made available later this year, allowing users of BTG Pactual digital and BTG+ to trade bitcoin and ether.
Banco Original, the Brazilian digital bank, announced its participation in Apple Pay.
Financiera Dann Regional, a Colombian bank specializing in corporate and consumer finance launched its first commercial neo-bank spinoff, IRIS.  This is the country's first purely digital bank for SMEs.
---
📜 Policy
Chilean regulators published a draft fintech law and open banking rules.
Accendo, a Mexican bank, lost its license due to compliance issues around capital and liquidity requirements.  Accendo provided banking-as-a-service to various fintechs in Mexico.
---
📚 Deeper Reads
Latin America's Second Wave of Digital Transformation
The Latam fintech opportunity: banking the unbanked
Fintech isn't for everyone - failed fintechs in Brazil
Latam tech's awakening of unicorns, plus a list of soon-to-be unicorns aka soonicorns: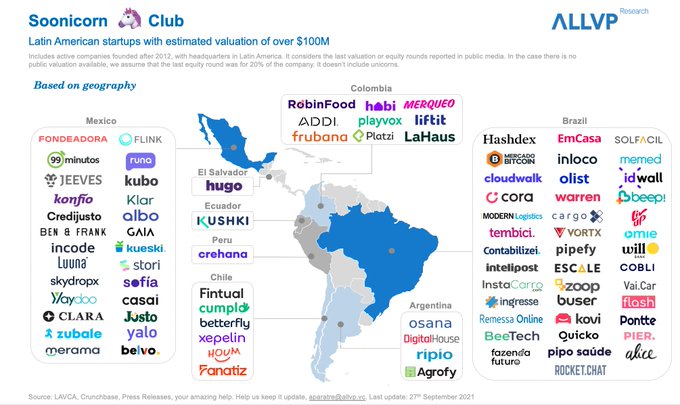 ---
🌎 Fintech Around the World
See our global coverage and consider subscribing.
---
👍👎 Did you like this edition of TWIF Latam?  Take a 1-minute anonymous survey here or message me with news items and suggestions.  I'd genuinely appreciate any and all input. If you liked what you read, please consider sharing or subscribing.
Want to be a This Week in Fintech sponsor? Reach out to us at sponsor@thisweekinfintech.com.
Come meet us in person at www.fintechhappyhour.com.
Join our global community!  ​You can find us on Twitter, LinkedIn, and Instagram.
Y'all be good out there.  ¡Saludos!  Até a próxima!