📢 This Week in Fintech - Announcements!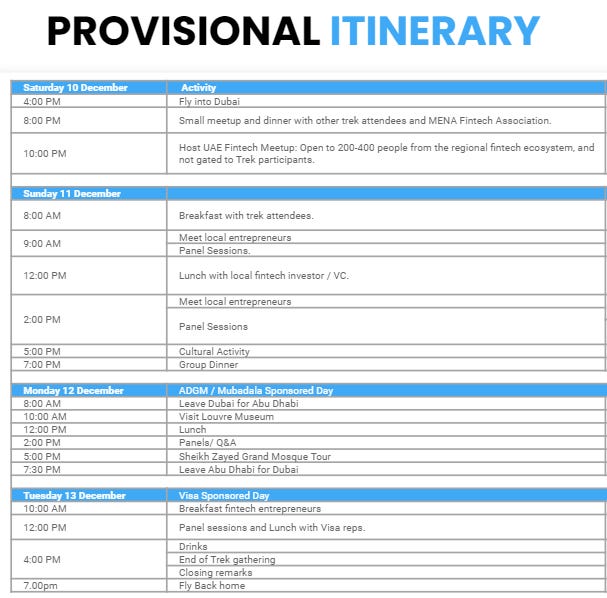 Hi fintech friends,
We wanted to start your week off with a quick programming note from This Week in Fintech!
There's a lot happening behind the scenes and we're excited to finally take the wraps off a few of our top-secret projects 🤫 Read on for more.
Upcoming Events
Dubai Trek, Dec. 10-13
First, something we've had in the works for a while: we will be leading a Dubai and Abu Dhabi Fintech Trek from December 10th to 13th. If you're interested, let us know here (applications will be competitive).
For four days, we will bring a group of 15-25 fintech enthusiasts (founders, VCs, and builders) to meet with the MENA's leaders in financial innovation.
Our local partners for the trek include Visa, Mubadala, the MENA Fintech Association, VentureSouq, Citibank, the Dubai International Financial Centre, Hub71, Wamda Capital, Ziina, iOL Pay, CoinMENA, and more.
We will also include founders and key financial regulators from not just the gulf but also Egypt, Saudi, Israel, and the pan-MENA region.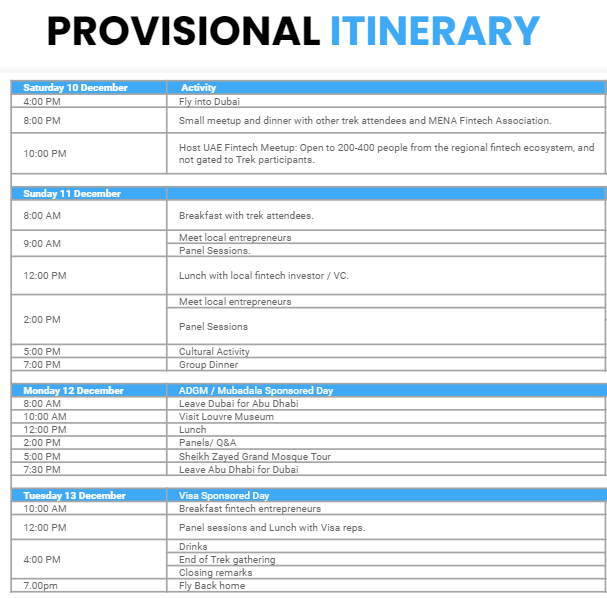 The 2022 Fintech Formal, Nov. 11
Not to be missed - this year we also return with our year-end fintech event, The Fintech Formal, to send people into 2023 on a high note!
Sign me up! https://www.fintechformal.com/rsvp
(Want a sneak peek? Check out our recap video and photos from last year.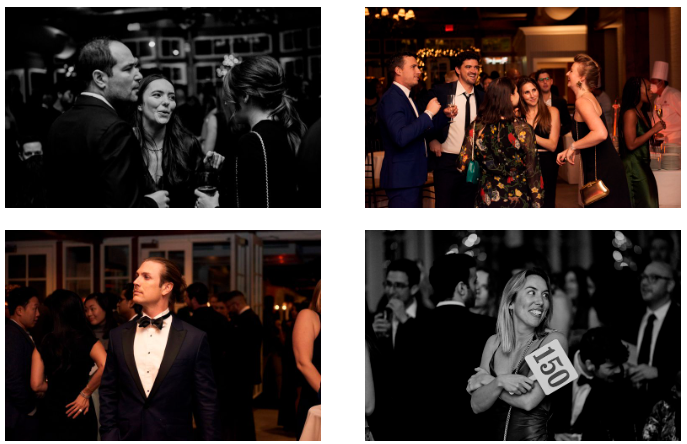 Our Fall Events Calendar
We have an exciting line-up of events this fall, from New York to Mumbai, Austin to Cape Town. You can always see our upcoming events and stay notified at https://lu.ma/twif
Content
New Newsletters, Easier Subscribe / Unsubscribe, and More to Read!
Our goal is to keep bringing you the most important fintech content in the world, and to make it as easy as possible for you to sort through.
At any time, you can see and modify which of our newsletters you're subscribed to at #/portal/signup
We recently added two new geographies to our coverage:
They join our excellent lineup of writers and editors:
Premium Content
We have also been beefing up our premium content written for paid subscribers, led by team member Sophie Vo.
Premium content includes deep-dives, opinion pieces, interviews, and market overviews.
Interested? Check out a few recent pieces:
Podcasts
We recently launched our Hey Fintech Friends podcast, hosted by Helen Femi Williams, and featuring interviews with the likes of Sasha Pilch, Wiza Jalakasi, Ray Besiga & Michael Schwartz, and Giorgio Giuliani. If you haven't given it a listen yet, what's holding you back??
We're also joining forces with Julie Verhage-Greenberg to launch a new podcast focused specifically on topics at the intersection of gender and fintech. Keep your eyes peeled for our first episode coming soon 👀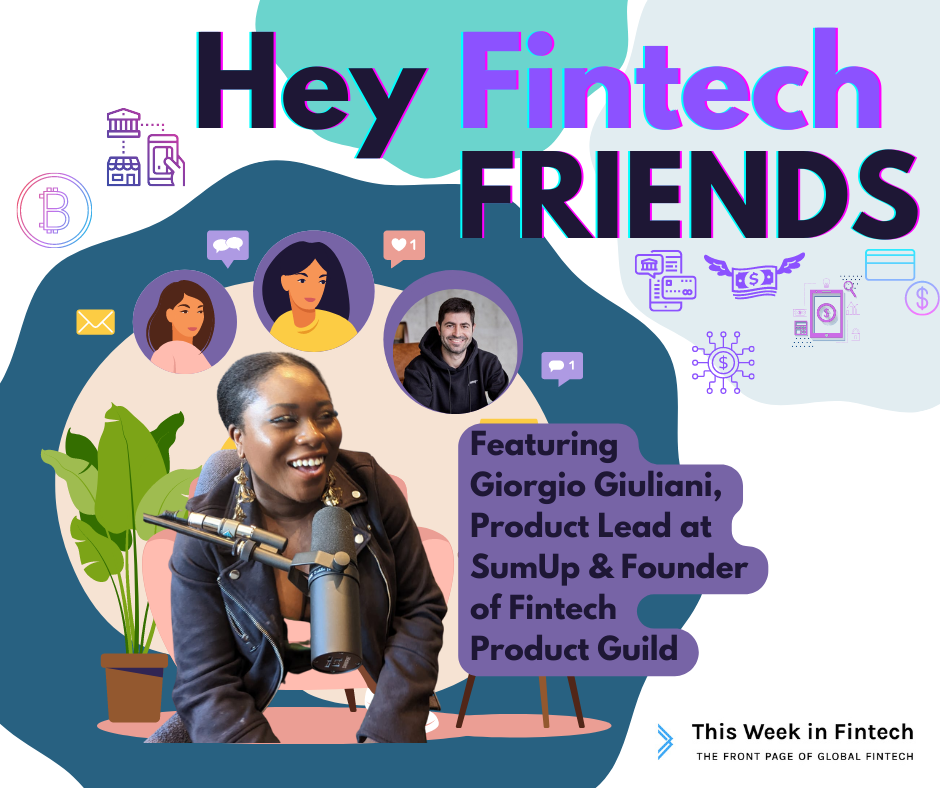 Reader Survey
Last but definitely not least, we'd always love to know how we can improve This Week in Fintech.
Our team put together a quick survey to understand (1) what you like about our content, (2) what's still missing, (3) what, if anything, you would change. Let us know what we can keep doing to bring you the best fintech content every week!
- Nik Milanović