Africa
This Week in Fintech - Africa (9/8)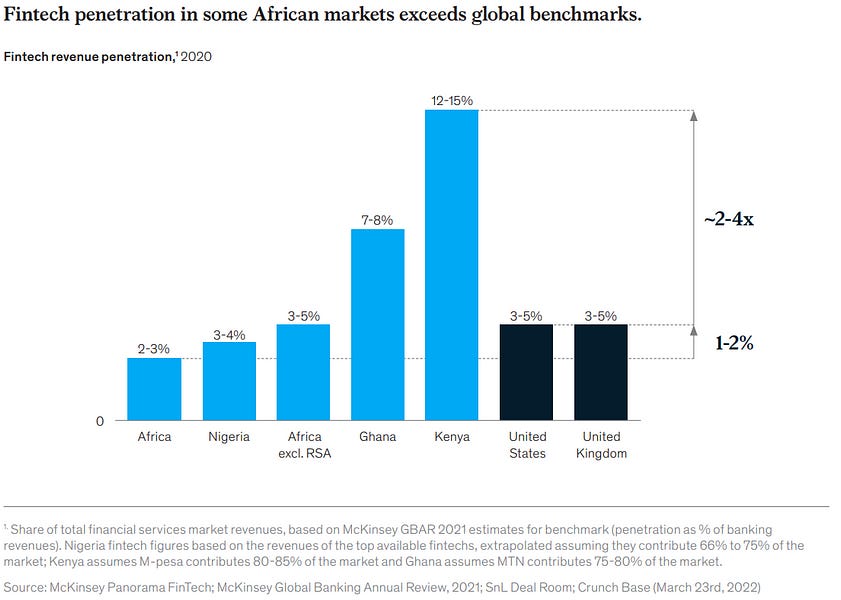 Selam Fintech Friends 👋🏽,
(That's one way to say hello in Amharic.)
Apologies for the delay with this week's TWIF Africa newsletter. That said, here are the week's Africa Fintech highlights:
It was an interesting week for fintech funding on the continent with four deals announced for $13.3M in disclosed equity funding.
Flutterwave, Africa's most valuable startup, announced some much-needed good news after taking a PR beating in recent months; the company is pressing on with IPO plans that'll have a widespread impact across the ecosystem.
McKinsey released a report on Fintech in Africa that garnered a lot of attention across the ecosystem.
Remember, if you're interested in staying up to date with the African startup ecosystem beyond fintech, subscribe to Afridigest and join 5,000+ professionals who read it to stay informed about Africa's innovation economy.
With that said, let's get into it.
💡 "When you change the position of the drum, the tone changes." — Bakossi proverb
---
💸 Fundraises
🇰🇪 Pezesha, a Kenyan embedded lending platform raised an $11M ($6M equity, $5M debt) pre-Series A round led by Women's World Banking Capital Partners, with participation from Verdant Frontiers Fintech Fund, cFund, and IOG. The debt portion was from Talanton and Verdant Capital Specialist Funds.
🇳🇬 Duplo, a Nigerian B2B payments platform, raised a $4.3M seed round from Liquid2 Ventures, Soma Capital, Tribe Capital, Commerce Ventures, Basecamp Fund, Y Combinator, existing investor Oui Capital, and a variety of other investors.
🇳🇬 Grey (formerly Aboki Africa), a Nigerian cross-border payments & virtual international bank accounts platform, raised a $2M seed round from Y Combinator, Soma Capital, Heirloom Fund, True Culture Fund, and others.
🇳🇬 Anchor, a Nigerian banking-as-a-service and embedded finance platform, raised a $1M pre-seed from Y Combinator, Byld Ventures, Niche Capital, Mountain Peak Capital, Luno Expeditions, and others.
---
💰 Venture Funds
Kepple Africa Ventures and EMURGO Africa signed an MoU to jointly spearhead Web3 investment opportunities in Africa
---
🚀 Partnerships & Product Launches
Nigerian vehicle-financing mobility fintech Moove Africa signed an MoU with Suzuki Motor Corporation and MUFG Bank to leverage Suzuki and MUFG's global networks to support Moove's expansion to emerging markets beyond Africa.
Zapper, a South African mobile payments company, has partnered with Stitch, a South African API fintech startup, to allow users in the country to make instant payments. The collaboration will allow Zapper users to make instant electronic funds transfer (ETF) payments via Stitch's LinkPay product at a fraction of the cost of card payments.
Nigerian open banking infrastructure provider Mono launched a new Telco API. The API will enable companies to access user permissioned telco data to build more inclusive products & services.
---
📰 News of the Week
Flutterwave secures Switching and Processing license from the Central Bank of Nigeria. In much-needed good news, Flutterwave, Africa's most valuable startup, received Nigeria's most valuable payments processing license; in the same week, the Kenyan High Court froze another $3.3M belonging to the company that it says is linked to card fraud and money laundering. The week also saw renewed media reports about the company's Nasdaq IPO plans.
---
📑 Read of the week
Fintech in Africa: The end of the beginning. (PDF) We're at "the culmination of African fintech's first phase of development," according to this McKinsey report. And in the next phase, "fintechs [on the continent] may need to adapt their focus ... to achieve enduring success."
---
🙈 Visual of the week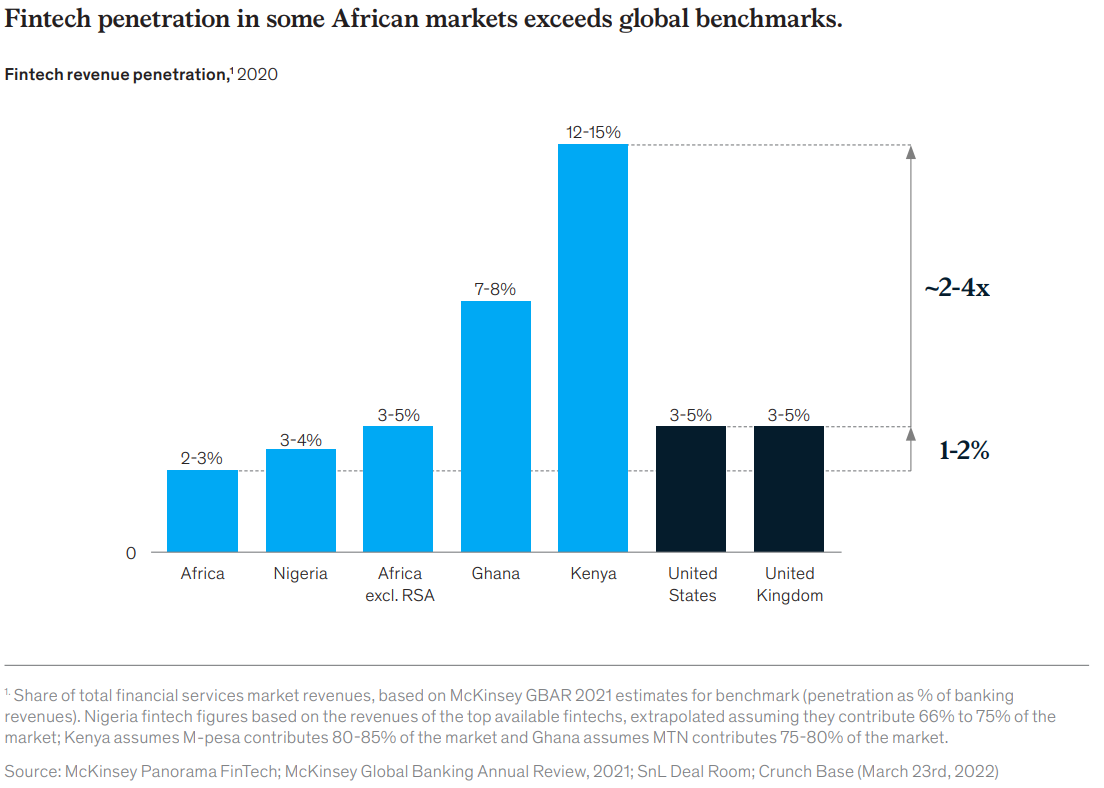 ---
👔 People Moves
Jephtah Chidozie Uche, previously CTO at Kippa, left the organization.
Tori Samples, previously CTO at Leaf Global Fintech, left the organization.
---
📖 Other News, Reads, and Media
NEWS
Fund linked to former US Vice-President Al Gore Vice President buys stake in fintech firm M-KOPA
Nigeria-based financial super app PalmPay announced that it doubled its user base in the last six months and now has 10 million users in Nigeria
Moneymie, a Nigerian digital banking platform for immigrants, has shut down its retail service to focus on B2B services
READS
Open banking in Africa raises more questions than it answers (TechCabal)
South Africa's lowest-cost bank isn't a bank (BusinessTech)
Why digital neobanks are not winning the financial services game (Daily Maverick)
---
🦉 Tweet of the Week
---
Made in Nigeria 🇳🇬 with 💚
👍🏽👎🏽 Did you like this edition of TWIF Africa? Let me know Twitter or LinkedIn.