Africa
This Week in Fintech - Africa (3/20)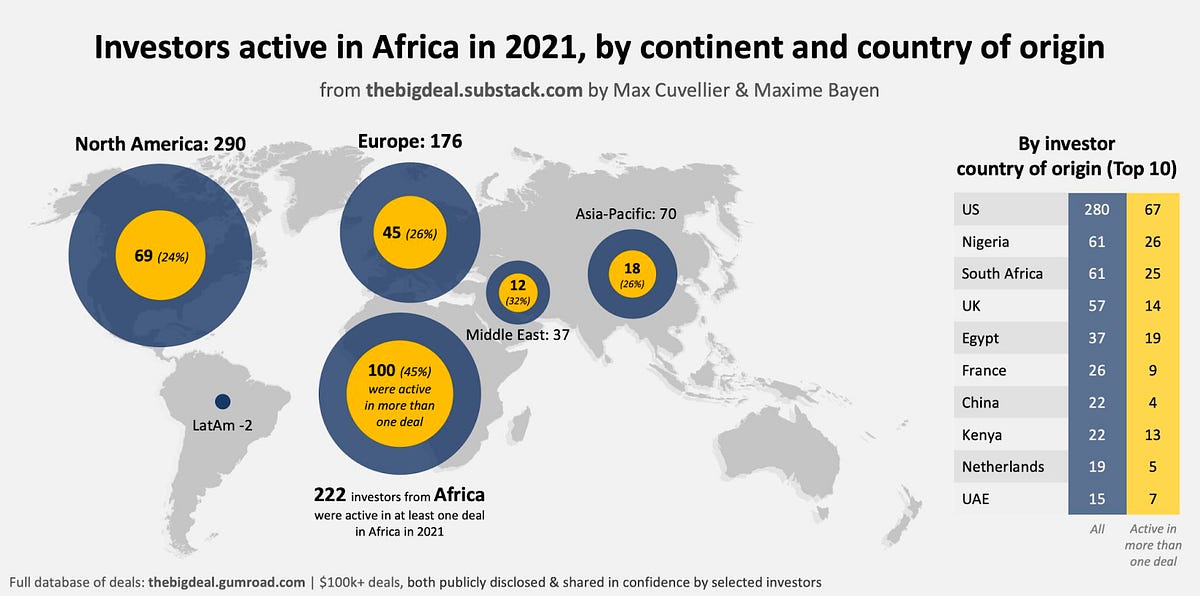 Hey!
Welcome to the fourth Africa edition of This Week In Fintech.
In this episode, I'll share my:
Tweets of the week

Stat of the week

Market updates in Africa

Funding activity on the continent

More from Fintech in Africa (non-funding related)
Tweet of the week
Pitching fintech solutions can be as simple as saying:
😂Wannabe tech, startup, and VC influencers 🤝adding "A Thread" to their tweet but saying nothing
Stat of the week
African investors make up only about 30% of the total investors focused on the continent. Yet, these few African investors are the most active—investing in more than one deal in 2021.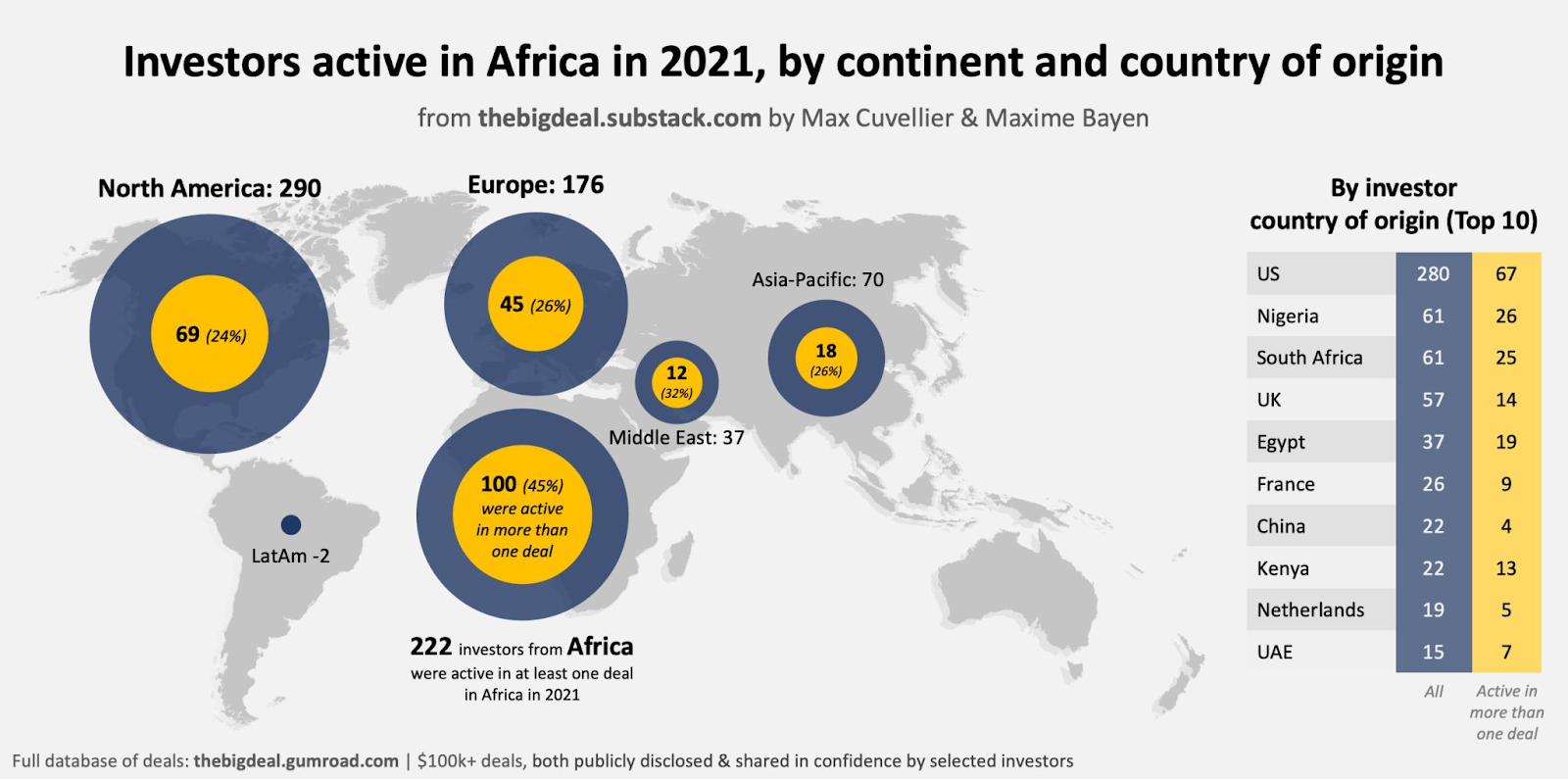 Market updates
Funding announcement
🚗 Uber SSA's first vehicle access partner, Moove has raised a second Series A round of $105 million which comes less than a year from their first Series A.
Going deeper: Moove offers flexible car ownership or long-term access plans to potential and current Uber drivers. They are operating on a continent with the lowest per capita vehicle ownership in the world. It is such that, in 2019, for every 20 vehicles sold in the US only one was sold in Africa. So, roughly speaking, we can say the Africa opportunity is huge. It appears Moove's first Series A will continue to tackle the Africa opportunity. While this Series A2 will focus on continent-wide expansion to Asia, Europe and MENA.
Moove's $105 Series A2 round is a 60:40 split between equity investment into the company ($65 million) and debt capital ($40 million). The new round (A2) was led by lead investors in the first A —Speedinvest, Left Lane Capital and now joined by thelatest.ventures as co-lead in A2.
🛒 Sokowatch raised $125 million Series B, then, rebranded to Wasoko (meaning, "People of the market")
In 2021, I was in Rwanda (an expansion market) to interview General Manager Patrick Musana at their HQ. I was impressed by the scale of their operations and novelty of their approach. I learnt then that "Soko" is a term in Kinyarwanda (local language spoken by Rwandans) that means "Market". So, Sokowatch means Marketwatch—which summarised the bane of their existence which was to help retailers track inventory, receive restock orders and fulfill them same-day, free-of-charge with their salaried Sokowatch agents. They also provide a BNPL service to their customers. Currently, they offer Buy Now Pay Later service via their own balance sheet but are not looking into raising debt.
With Wasoko, the company wants to show its East African roots, while showing its pan-African ambition and becoming a more top-of-mind brand for the African retailer.
Wasoko's Series B round was led by the very active Tiger Global and Avenir.
🏠 Nigerian PropTech startup, Spleet lands $625k in a pre-seed round to offer rent financing and tenant verification services
Nigeria's real estate industry is famed for collecting annual rent in advance, as opposed to monthly as we see in other markets like the UK. Spleet was founded in 2018 to disrupt that rental market by allowing tenants to pay monthly. It raised an Angel round of $265,000 in 2019 to launch a marketplace solution that connects landlords with tenants. But is only just raising a pre-seed round in 2022.
Over the past three years, the startup has been seeking Product-Market Fit to know what to scale. In the 15 months following the launch of its marketplace solution, they were only able to onboard 10 landlords. "There's no point in raising when we haven't figured out how to grow. We only knew what we must build, but we haven't yet figured out how to scale it", Spleet CEO Tola Adesanmi told TechCabal.
In a press statement sent to benjamindada.com, the CEO says, "After launching a marketplace in 2019, we realized that the issues in our rental market were beyond what our marketplace could solve. Affordability is one of the biggest pain points for tenants. Most tenants earn income monthly and can therefore not afford the 1-2 years burden of paying their rent in advance."
Now, with the new capital injection, led by MetaProp VC, they will serve better serve both sides of the marketplace by building the infrastructure each participant needs. For Landlords, they provide a way for them to verify & vet tenants, manage their facilities while automating rent collection. On the other hand, they offer prospective tenants access to flexible payment options via its Rent Now Pay Later product, in beta stage.
More from Fintech in Africa