Africa
This Week in Fintech - Africa (3/10)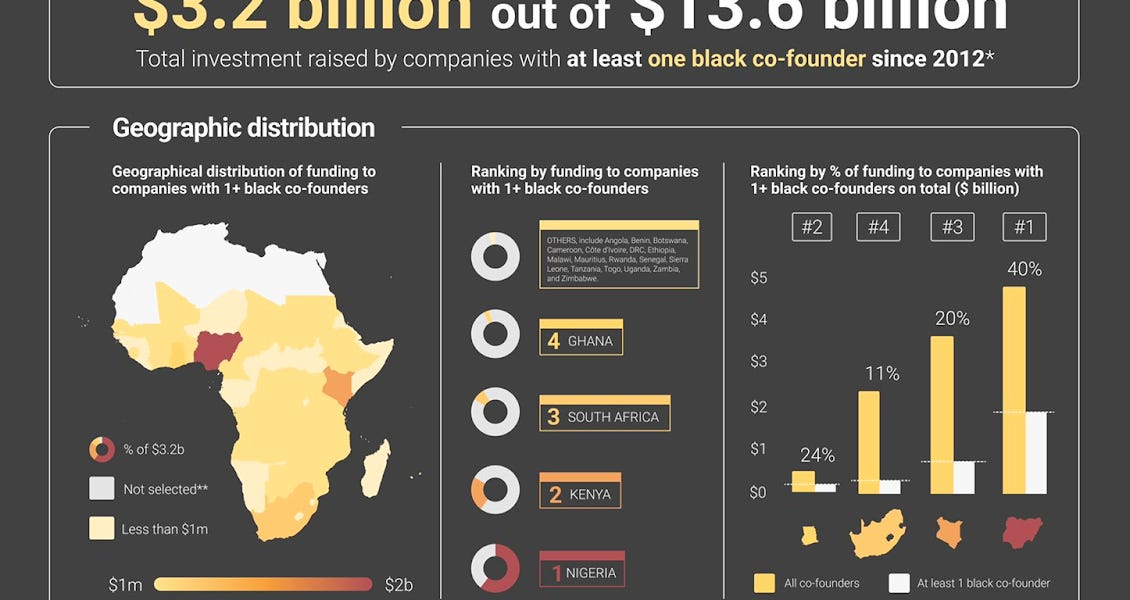 Hey!
Welcome to the third Africa edition of This Week In Fintech.
In this episode, I'll share my:
Tweet of the week

Stat of the week

Market updates in Africa

Funding activity on the continent

More news from Africa (non-funding related)
Tweet of the week
Meet 2/22 Ventures 😂
Stat of the week
In the last decade, only 25% of the total funding into Africa went to founding teams with at least one black co-founder. More interpretative info in the infographic by Briter Bridges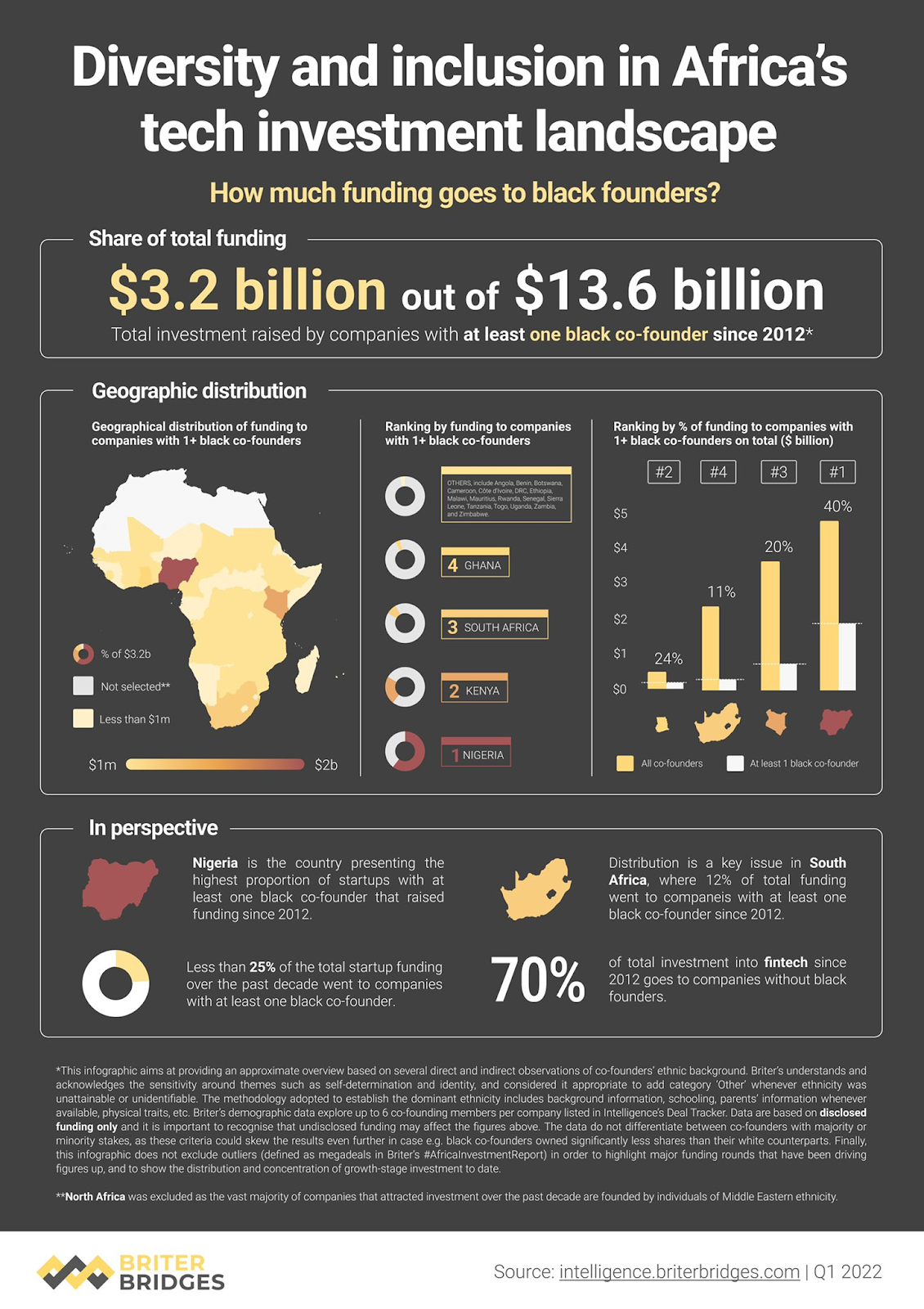 Market updates
Funding announcement
Nigeria-focused fintech firm, Tingo seeks to raise $500 Million: This announcement was met with a lot of controversy from the local tech ecosystem. Observers argued that a company which has not had any significant visibility in the past can't just spring up from no-where and claim they are a multi-billion dollar company. This thread digs a little deeper into the company and its shareholders' digital trail. Now that you've read the Bloomberg announcement and Twitter thread by a former tech journalist, what's your verdict–Fishy or not fishy?
Ghanaian fintech Dash raises $32.8M seed to build connected wallets for Africans: Perhaps, similar to Tingo's stealthiness, Dash raised an enormous seed round. The less than three year old company is facilitating transfers from mobile wallets to bank accounts and vice-versa. This play brings to mind Nigeria's ThePeer that enables inter-wallet transactions. Interoperability seems to be a key trend for today's African fintech.
East Africa's MarketForce raises $40 million Series A, introduces BNPL merchant stock financing:  No surprises here. BNPL is taking off on the continent. MarketForce provides access to inventory for retail and the attendant financing to purchase such inventory. The playbook is such that everyone (including those in logistics) that facilitates "buying and selling" will grow to enable their customers buy now and pay them later. And we are seeing this play out across very many different verticals.
Nigeria's BNPL startup, Klump raised a $780K pre-seed: Following from the MarketForce story, the opportunity in credit for Africa has always been there, but now we are coming into a reckoning as the infrastructure for a "point-of-need" (checkout) credit facility gets built via open banking (Mono's CEO, Abdul is an investor in Klump). Klump's founders' path to building a consumer BNPL solution comes from their experience working in the e-commerce space, amongst other industries. Will be interesting to see how they chart their course onwards.
Jambo raises $7.5M from Coinbase, Alameda Research to build 'web3 super app' of Africa: Like Nestcoin which announced its $6.45M pre-seed last month, Jambo is also building a Web3 product for Africa. While Big Tech like Meta goes after the Emerging Markets in search of Web3 and metaverse adoption, there is the opportunity for home-grown solutions to quickly position themselves as the go-to innovators for the continent. Both Jambo and Nestcoin are looking to play-to-earn models as a way to incentivise adoption of their solutions that bring people into the Web3 verse.
Lipa Payments secures R10m ($665k) for contactless payments platform Backed by a Top 5 South African bank, Capitec, Lipa (pronounced Lee-puh) wants to deploy "Tap and Go" solutions across Africa, starting with SA. They will leverage both Bluetooth and NFC protocols for feature phones and smartphones, respectively. In Africa, there've been pockets of startups springing up to do these contactless payments. In a previous issue we wrote about Nigeria-born "Tap and Go" payment solution for the public transport industry. Already in Rwanda, the AC Group has been operating Tap & Go solutions for their own transport industry. So, what are the barriers to scaling across markets and can Lipa hack that?
M-KOPA raises $75M as it clocks 2 million customers across four African markets: Perhaps the most important thing to take out here is the fact that the announcement was on the equity round (actual investment into the company) and not the debt round (which was way bigger).
Sudo Africa raises $3.7 million pre-seed, targets pan-African expansion: Sudo Africa will use this capital to build its card-issuing API. Perhaps, what's most notable here is that although this investment is in a Nigerian startup, the startup didn't originate from Lagos–a rarity! Perhaps, it's time to double down on cities outside of Lagos in search of the next investable company out of Nigeria.
Nigerian digital bank Yep! raises $1.5M pre-seed for its 'financial super app' play: Co-founder and CEO, Mr Awojoodu has taken a rather unconventional path to arrive at its digital bank/financial super app play in Nigeria. Through its parent company, E-Settlement they ran an agency banking business and now want to go direct to the end-consumer. They will then bank both the agent and end user, and use the agents for remittance last-mile.
More from Africa