This Week in Fintech (9/24)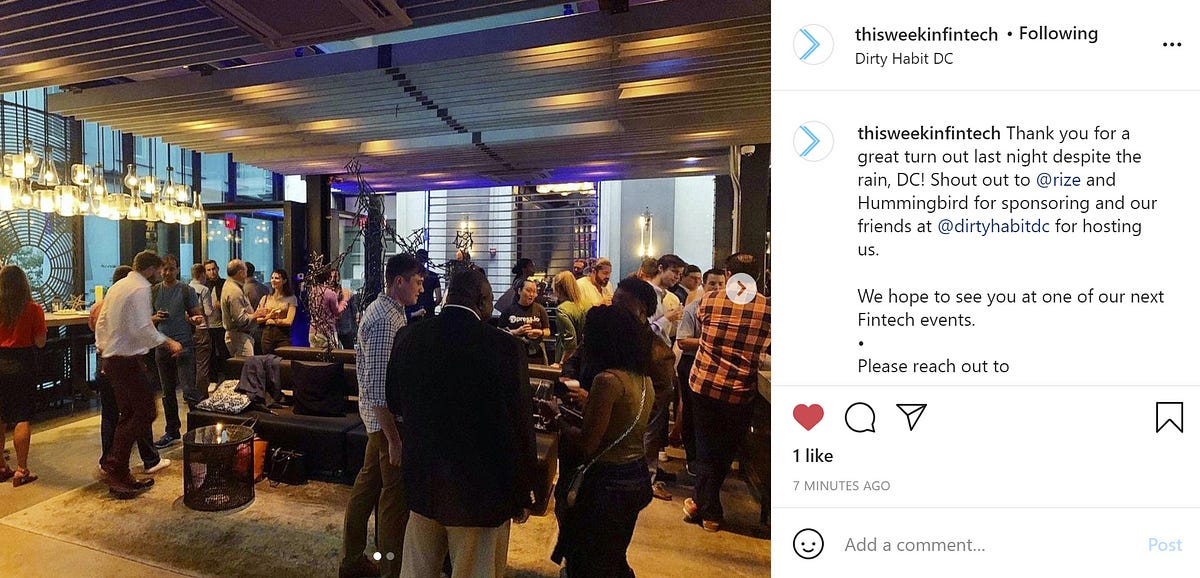 Hello Fintech Friends,
Who brewed the coffee at JP Morgan this year? The bank has been on an absolute fintech acquisition spree (more detail at the bottom).
Sorry if this email gets appended by inboxes - I'm working on a fix so that people can get one concise, well-packaged fintech update each week.
Thank you to everyone who came to hang out with us in DC this week! Rize and Hummingbird helped us put on a great happy hour.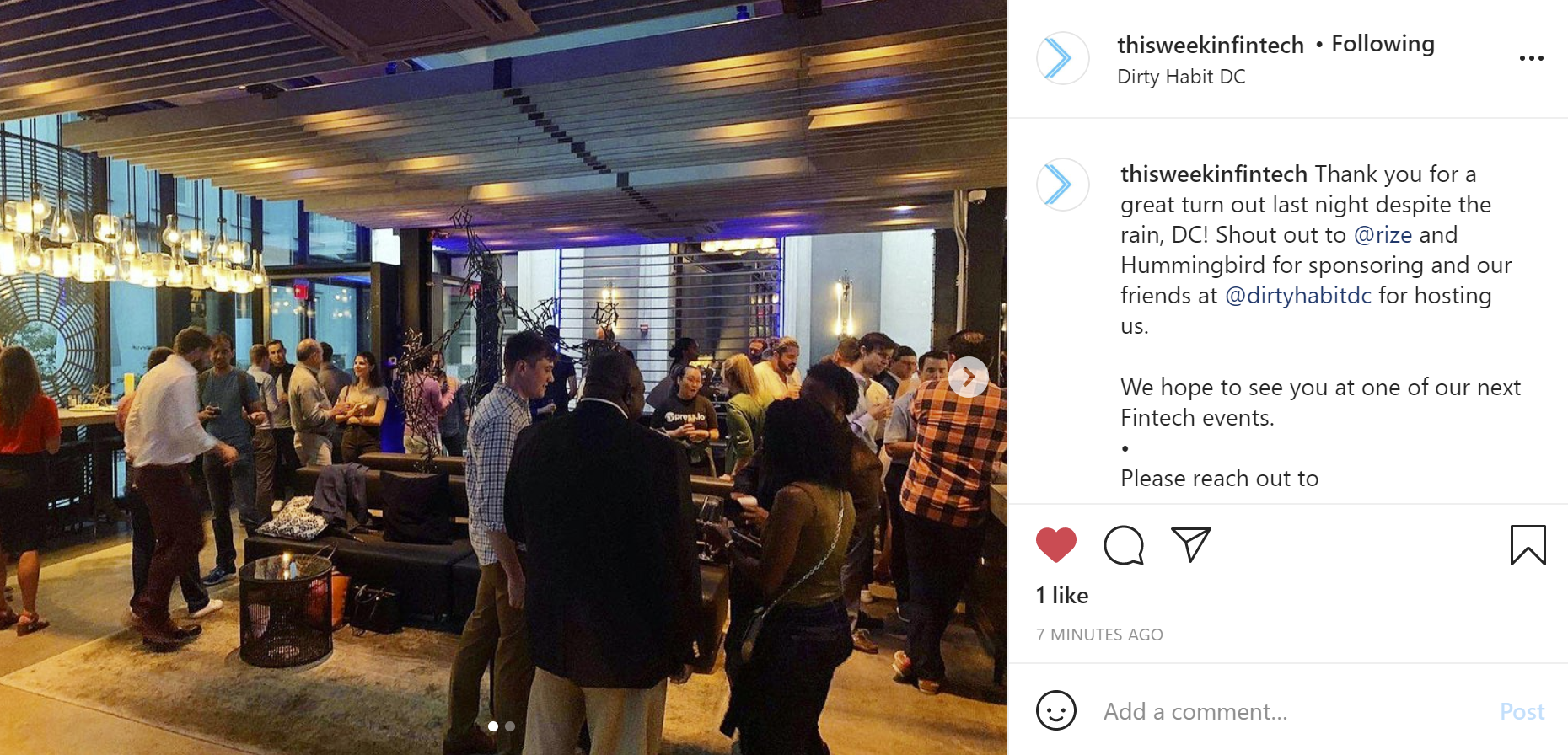 Please enjoy another week of fintech and banking news below.
---
💬 Quote of the Week
"I don't think the answer for us is to build a centralised identity service (such as Aadhar in India) or a centralised reputation management system (such as China's social credit score). I think we need to think about more sophisticated and more flexible options to create an identity infrastructure for the modern world."
David G.W. Birch, Digital Identity Should Be A Big Business For Banks (Source)
---
📖 Read of the Week
Tom Noyes has been on a writing tear this week. In Payments and the Observer Effect, he discusses the new advantage accruing to fintech upstarts by virtue of their access to payments and transaction data. Visibility into transactions is a proxy for so much more, including fraud insights, user behavior profiles, alternative investing data, etc… In PayPal's New Mobile Bank, he discusses the superapp that PayPal is quickly building around its famous online payment experience (more info on that below).
📊 Stat of the Week
More than 400 cash transfer programs were initiated in 166 countries, including 60 low- and middle-income ones, since the beginning of the pandemic. These reached an estimated 1.1 billion people, representing the largest scale cash transfer intervention in history. (Source)
---
Sponsored Content
Use Dwolla's modern payment technology to offer transactions with the speed of credit card payments, with the affordability of bank transfers. Our white-labeled API can be easily integrated into your application or website and offer real-time payments, ACH payments or push payments to a debit card—giving your business the ability to optimize cash flow, streamline processes and increase profits while improving the payments experience. Get started building your solution and create an account today.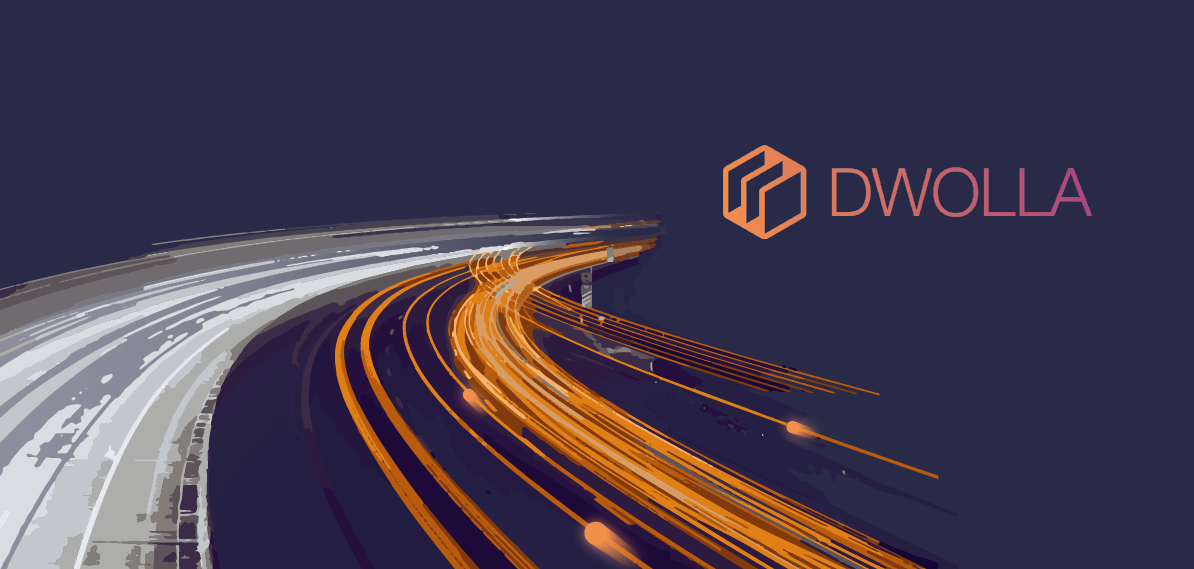 ---
💼 Open Role Spotlight
Vouch is creating the go-to business insurance for high growth companies, and hiring a Fintech Lead (Remote Friendly). For more information, please reach out to jerico.brewer@vouch.us.
---
🏦 Financial Services & Banking
🚀 Product Launches
Brazilian investment bank BTG Pactual launched its own bitcoin and crypto trading app.
JP Morgan is launching its long-awaited omniservice neobank in the UK, with features like current (checking) accounts, savings, and personal loans.
Belize Bank launched the E-kyash mobile wallet.
First National Bank of Omaha launched a buy-now-pay-later product for merchant partners.
Israel launched a system to enable customers to switch banks within 7 days and at no cost.
---
📰 Other News
In a pretty momentous development for the nascent banking-as-a-service sector, JPMorgan Chase will replace its entire US retail core with Thought Machine's Vault product. It will be fascinating to see which other banks follow suit with newer core providers. Chase will also now process US credit card transactions for Alibaba.
Emirates Development Bank is getting into the neobank game with UAE business accounts that can be opened in 48 hours.
Equifax will now offer its US credit reports in Spanish.
Contactless transactions are surging in Germany, Austria, and Switzerland. Meanwhile, Singaporean banks' one-time passwords were exploited by hackers to access account details.
Mastercard and José Mourinho want you to win their NFT.
---
💻 Fintech
🚀 Product Launches
Interestingly, the UK's Starling Bank announced that it is getting into banking-as-a-service on the same day as banking app Monese made the same announcement.
Nubank launched a corporate credit card, in its first foray into business banking services.
MoneyLion launched a crypto investing service.
Chipper Cash launched free P2P money transfers in South Africa.
Synctera launched its new card suite to help customers issue cards quickly. Lithic broadened its platform through a partnership API launch to help companies get cards to market faster.
Investment strategy service Front launched their new app.
Curve joined fellow UK fintechs Monzo and Revolut as a new entrant into the buy-now-pay-later market.
Remittances company Wise launched a public beta of its new investing product, Assets.
---
📰 Other News
Fintech investor Anthemis partnered with Barclays on a fintech female founders fund and Google announced the next 50 recipients of its Startups Black Founders Fund.
Facebook announced it will buy $100 million of unpaid invoices from 30,000 small businesses owned by women and minorities.
Twitter expanded its Tips payment feature to everyone, with features including crypto payments.
Card issuing platform Marqeta is partnering with blockchain platform Figure on the latter's digital money app.
While Robinhood trials a crypto wallet, Revolut got the green light to offer US stock trading. Savings and investment round-up app Acorns is also building a crypto investing product.
UK neobank Recognise Bank got the green light to begin accepting deposits. Monzo customers can now make card payments from their savings pots. PayPal added a savings account and other features like crypto to its payments superapp.
Kenyan Airtel Money users can now receive funds from 129 countries through its partnership with WorldRemit.
Coinbase abandoned its planned lending product after the SEC pushed back.
Stripe opened a Fintech Development office in London. Mastercard opened a Sustainability Innovation Lab in Stockholm. Intuit now has a basketball arena.
---
Sponsored Content
Increased security and privacy concerns are forcing businesses to consider how they deal with what is often their most valuable asset - their customers' data. Ensure data privacy, security and compliance with Skyflow's data privacy vault. Learn about the benefits of data privacy vaults here.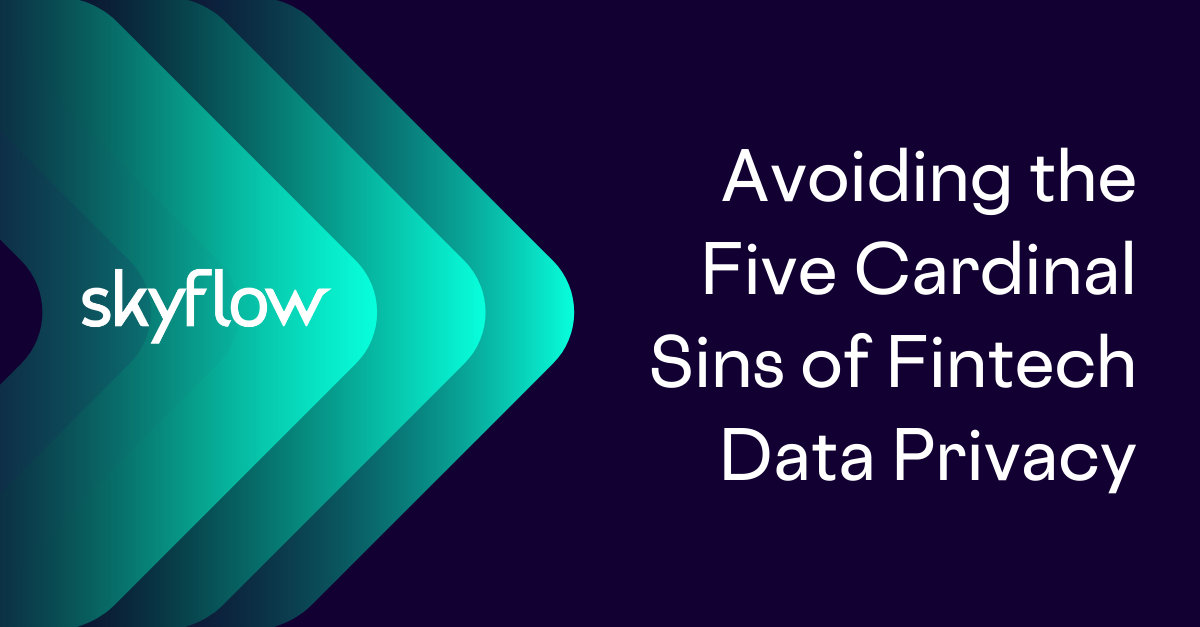 ---
🇪🇺 Europe
Tinkoff added Spotify to its app, giving users a discount and 25% cashback as it looks to build out into a superapp.
Mastercard is offering customers the chance to win an NFT created in partnership with football manager Jose Mourinho.
JP Morgan is set to launch its new UK digital bank next week.
🌏 Asia
---
📜 Policy
In collaboration with Ben White.
President Biden will nominate Cornell professor Saule Omarova to lead the OCC.
Coinbase is preparing a pitch for the SEC on crypto regulation.
The SEC issued a consent order to alternative data provider App Annie for selling details on app downloads to trading firms without appropriate controls.
The CFPB issued a consent order against Income Share Agreement provider, signaling ISAs as credit and beholden to credit rules.
The House Fintech Task Force held a hearing on open banking, with calls for the CFPB to move forward with rulemaking on Dodd-Frank 1033.
Democratic Senators raised concerns about SPACs.
SEC Chair Gary Gensler gave a 30 minute interview to the Washington Post in which he referenced wildcat banking as an analogue.
The Brookings Institute published a paper on fintech's impact on health.
The CFPB announced its newest Consumer Advisory Board, including several fintech nonprofits like SaverLife and MyPath.
Canada re-elected Justin Trudeau to a minority government, meaning most bureaucrats working on fintech issues will remain.
UK fintechs published a letter calling for a "smart data right."
The Bank of England wrote a letter to bank CEOs pressing for better regulatory reporting.
The Central Bank of Nigeria shut down currency exchange Aboki FX, calling it an illegal operation.
The National Bank of Ukraine is drafting fair crypto regulation.
---
JP Morgan's acquisition activity: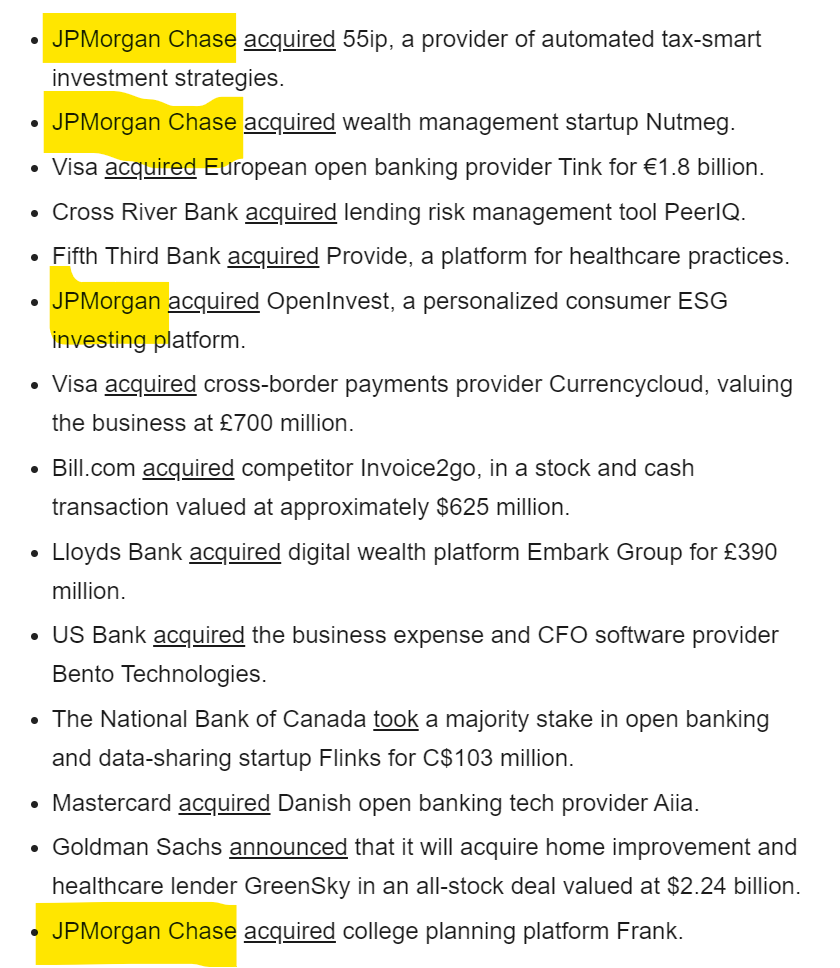 (Source: Alex Johnson, Fintech Takes)
Want to be a This Week in Fintech Sponsor? Reach out to us at sponsor@thisweekinfintech.com.
Come meet us in-person at www.fintechhappyhour.com.