This Week in Fintech (9/18)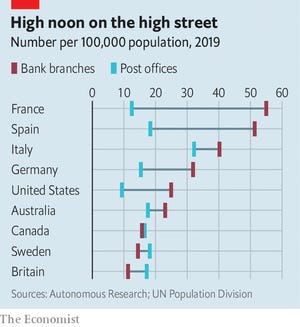 Hello Fintech Friends,
Please find another week of fintech and banking news below.
---
Sponsored Content
LendIt is going online! This year's agenda features 225+ speakers and 1,500 companies. Join in at Lendit.com and use code TWIF15% to save 15% on your ticket.
---
Quote of the week
"Financial products can now be integrated with operational processes so seamlessly that much like the invisible man of H.G. Wells' famous book of the same name, they are very much there but one cannot notice them."
---
Open role spotlight
Pando, a contract and income-pooling startup,is hiring a Head of Legal and a Head of Operations.
Read of the week
In Why are European banks merging?, The Economist explores the current spate of bank consolidation, driven by an existential threat to legacy banks: low returns on capital. Banks on the continent realize a 6.7% return, the lowest of any region, in an environment of negative rates and conservative regulators. Consolidation, always the trusty fallback of businesses under margin pressure, has picked up across the continent as a result.
---
Financial Services & Banking
Product Launches
Wells Fargo launched Clear Access Banking, a new checking and savings account with no overdraft fees and a flat, $5 monthly account fee.
Marcus launched Marcus Insights, a personal financial management app that leverages the Clarity Money interface.
Other News
Santander spun out its $400 million fintech venture capital arm as a standalone called Mouro Capital. Nordic bank SEB created a green tech venture unit.
UK banks including Barclays, HSBC, Lloyds, NatWest and Santander signed a pledge to encourage work with fintech firms. Lloyds is working with ConnectedFi to speed up credit decisions. JP Morgan is working with Saphyre AI to automate account opening workflows.
Franklin Templeton is building a wealth management fintech platform. Fidelity is planning a cryptocurrency manager named Fidelity Digital Funds.
Visa is expanding Click to Play to Canada. Emirates Digital Wallet and its banking partners announced a digital cash platform in the UAE. Swift is expanding beyond transaction messaging into transaction management services.
The US Conference of State Bank Supervisors is debuting a central money transmitter license to make it easier for payments firms to expand across 40 states. Ethiopia is demonetizing its economy by replacing old bank notes with new currency, similar to India's 2016 push, in order to fight organized crime, black markets, and money laundering. Brazil's central bank is rolling out a digital currency in 2022. Banks and payments firms are joining the Trinity Challenge to design better ways to respond to public health threats.
Sevnska Handelsbanken, Sweden's largest bank, will close 180 branches and cut 1,000 staff. The Financial Conduct Authority will force banks to detail the impact of each of their branch and ATM closures on local community access to cash.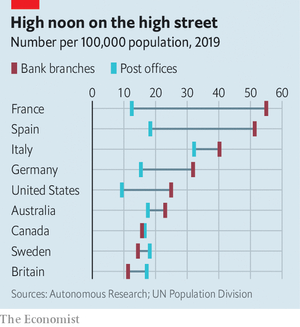 Source: The Economist
---
Fintech
Product Launches
Payments platform Dwolla launched its instant payments push-to-debit functionality.
Following a 10,000 user test, Revolut launched its neobank in Japan. Challenger bank Anaxago launched a real estate green bond for French investors.
The team at MSCHF is back with "the world's first competitive multiplayer bank account."
Rapyd launched its card acquiring business in Europe.
Smartpurse launched a female financial advice platform. Sequin opened the waitlist for its women's credit card. X1 opened the waitlist for its credit card.
Wirecard!
I thought this section was done too. It turns out Australian payments platform Change Financial will buyWirecard's Australian and New Zealand businesses for $7.8 million.
Other News
Kraken became the first crypto exchange to secure a bank charter, under a new Wyoming law allowing blockchain companies to register for special depository, fiduciary, and custodial licenses. It will be interesting to see whether other exchanges follow suit, bolstering AML efforts in the space and driving legitimacy to crypto.
Starling Bank will charge negative interest rates to European savers: -0.5% for those with balances of more than €50,000.
The market value of Square, Visa, PayPal and MasterCard collectively rose to $1.07 trillion. East Money, the Robinhood of China, has vaulted to a $29 billion valuation.
Chipper Cash and Roma football club announced a partnership where the money transmitter will be the club's official cross-border payments solution.
The open banking consortium Financial Data Exchange added 39 new members. Team8 Fintech, a new Israeli fintech incubator, raised strategic funding and came out of stealth. Financial Inclusion Week is coming on October 13th.
eBay announced it will bring eBay Payments to France, Italy, and Spain. PeasyPay will expand its point-of-sale biometrics-based payments system across Europe. More details emerged on QR payments in Apple Pay, as the EU contemplates new rules that would force Apple to give NFC payments access to third-party developers.
Customers are moving their money off Revolut and Monzo as losses mount. Kabbage's PPP loans have been plagued by high fraud rates. German microcredit lender Monedo, once Germany's largest fintech, filed for bankruptcy. Elsewhere, this is apparently what a fintech existential crisis looks like.
Source: Statista
---
Financings
Exits and M&A
SPACs
Deeper Reads
Charting the COVID Effect on Fintech
FT Partners' Overview of Healthcare Payments
European fintechs are dipping their toes into Asia — but it's not for the faint-hearted
There's a new wave of challenger banks looming, and profitability is on their mind
African fintech startups are racking up multimillion-dollar exits
A Booming Fintech Investment and Exit Landscape in South East Asia
Are SA Telcos Barking Up The Wrong Tree By Taking A Belated Stab At Fintech?
The Best Fintech VCs According to the FinTech50 2020
Roboadvisors make slow progress gaining ground with investors
Market review into the supply of card‑acquiring services
Ohio man builds a backyard squirrel bar with seven varieties of nuts on tap
What did we miss? Please let us know here.