This Week in Fintech (8/27)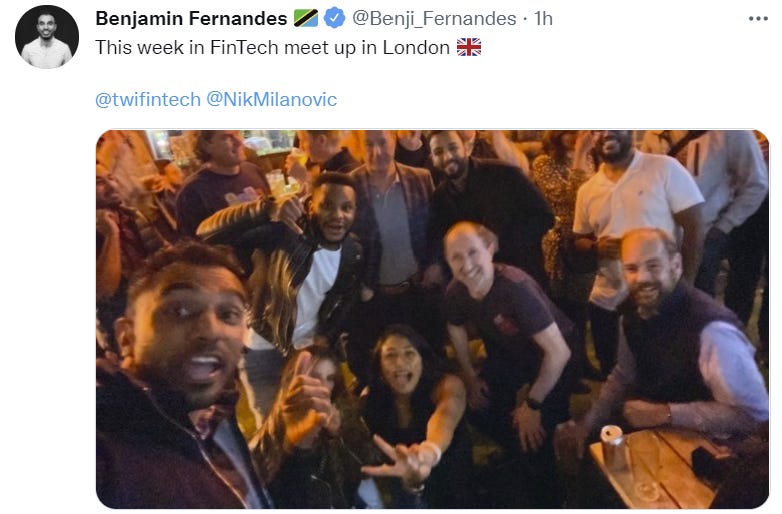 Hello Fintech Friends,
We're looking for someone to join our team!
Our in-person fintech events have scaled globally, faster than we have, so we are looking for a part-time Events Lead. The right person will be scrappy, resourceful, and interested in fintech and building communities. (Full disclosure, it will be unpaid to start - we make no money off events - but we'll add compensation as events scale.) If you're interested, please reach out.
Thanks to Europe Editor Michael for organizing a great meetup in London last night.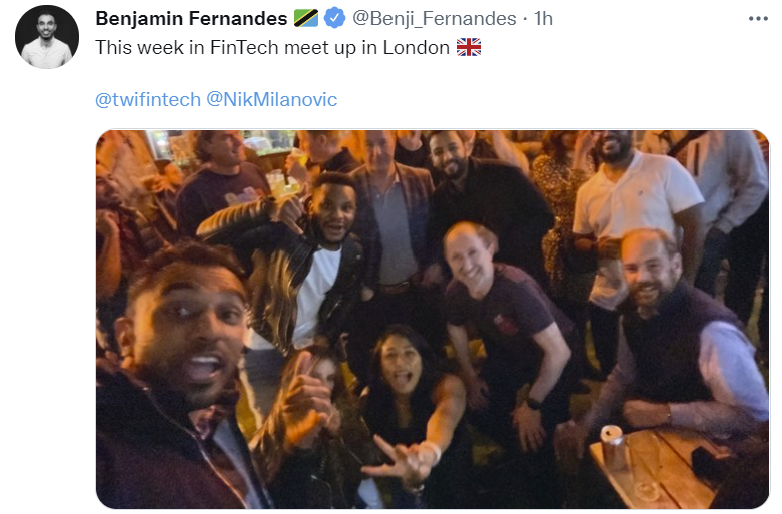 Please enjoy another week of fintech and banking news below.
---
💬 Quote of the Week
"In the first half of this year, fintechs raised 24 per cent more venture capital funding than they did through the whole of 2020."
Nicholas Megaw, Financial Times (Source)
---
📖 Read of the Week
Looking for a fintech crash course? Current's Jon Coffey lays out a list of his favorite resources. (We also keep one here.)
📊 Stat of the Week
Tap-to-pay transactions grew more than 30% over the past year and almost 50% of consumers say they will not shop at a store that doesn't offer a contactless way to pay. (Source)
---
Sponsored Content
How did Snap Finance improve their liquidation rates by 25 - 35%? Read the case study to see how implementing TrueAccord's digital-first, machine-learning-driven collections solution led to increased recovery.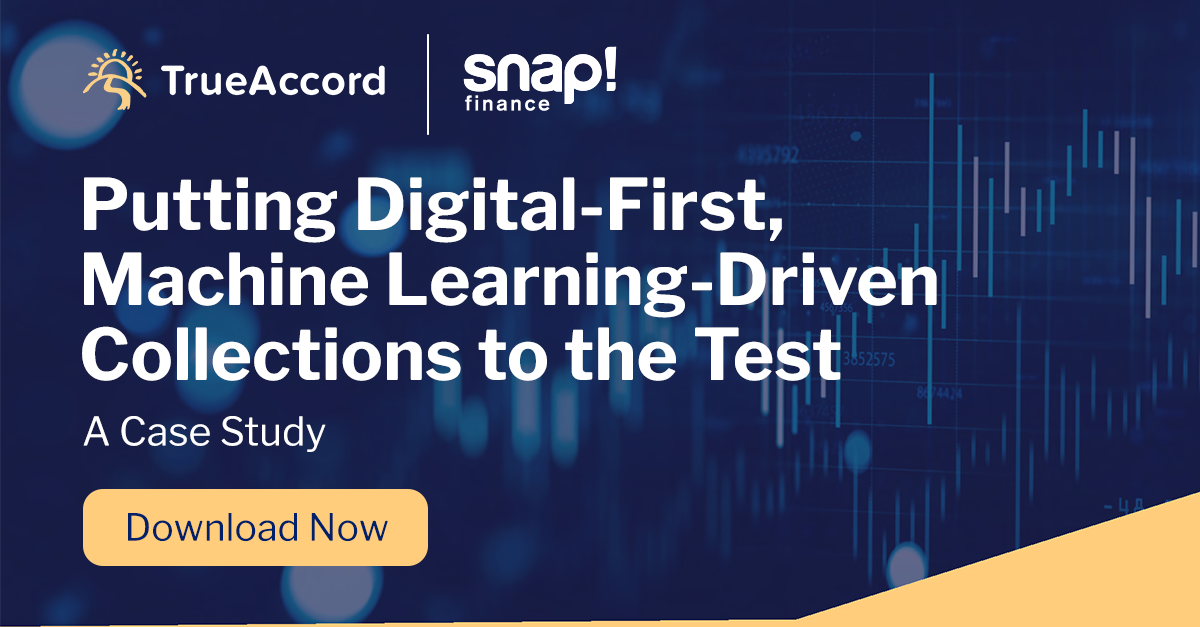 ---
💼 Open Role Spotlight
Ponto is looking to hire a VP of Partnerships, VP of Sales, VP of Engineering (and great engineers generally) and VP of People (HR).
---
🏦 Financial Services & Banking
🚀 Product Launches
NatWest launched an app to let UK renters split shared bills.
Kenyan bank Absa Bank launched WhatsApp banking.
Russian bank VTB issued debit cards for 6-year olds.
BBVA launched dynamic CVV cards in Latin America.
📰 Other News
Discover is partnering with Nigerian startup Flutterwave to enable payment acceptance across Africa.
Finicity (owned by Mastercard) added mortgage verification to its APIs through ICE Mortgage Technology. Meanwhile, Mastercard partnered with NatWest on a UK payments app and selected eleven African fintechs for its Start Path program.
Bank of America was granted 227 patents in the first half of 2021, mostly in machine learning.
Japan's Mizuho Bank has suffered 5 system-wide outages in 2021.
US banks and money transfer companies are unsure what to do with the new Afghanistan.
El Salvador's sovereign bitcoin wallet is expected to go live on September 7th. Visa shelled out for a cryptopunk.
American Express' black card is getting a facelift.
---
💻 Fintech
🚀 Product Launches
Facebook is launching small business loans throughout India.
Brex is launching a venture debt business to support its startup clients throughout their growth.
US and Australian neobank Douugh launched commission-free wealth management.
PayPal launched crypto buying and selling in the UK.
Afterpay introduced in-app ads.
📰 Other News
There are now more Filipinos with Ronin (defi) wallets than credit cards.
Online risque photo-sharing social network Onlyfans blamed banks and payment companies for its move away from explicit content (which it then reversed…)
Ethiopian neobank Hijra Bank was awarded a core banking deal with Islamic banking provider Path Solutions. Ghanaian payments app Waya is moving into new countries.
Linktree and PayPal partnered to let their global users accept direct payments. Grocery store Giant Eagle is the latest to allow PayPal and Venmo payments. PayPal and Fiserv partnered to enable direct paycheck deposits into Venmo accounts.
Blackhawk Network partnered with Disneyland to enable QR code payments. GoDaddy will enable SMBs to accept payments without needing an ecommerce site.
Community bank software Constant partnered with credit risk platform DirectID on loan servicing for banks.
UK small business lender Bank North secured a banking license. Russian neobank Tinkoff is applying for a Filipino lending license.
eToro's crypto income grew 23x over the last year. Astra reported 392% growth of automated transfers on its platform in 2021. Klarna reached 20 million users in the US.
Atom Bank reported narrowing losses - a £36 million loss over the last year, compared to £46 million the year prior. Zip's share price fell on the back of a costly global expansion plan.
Wise is enabling US retail investors to buy its shares. Airwallex expanded to the US.
Public will teach financial literacy to college athletes.
F10 Spain launched a fintech accelerator in Madrid. Arab Bank launched an Egyptian fintech accelerator.
---
🇪🇺 Europe
Monzo and Starling were named best personal and best business accounts in the CMA bi-annual survey with 80%+ customers recommending them. Revolut meanwhile launched early wage access with Payday.
PayPal has opened up its crypto trading feature to UK customers.
Adyen reported €216bn (+67% yoy) in TPV for H1 2021 fuelled by new brands, low churn and new products. Revenue was +46% yoy to €445m.
🌏 Asia
---
📜 Policy
In collaboration with Ben White.
---
Sponsored Content
Meet, network and partner at Fintech Meetup, the world's largest fintech meetings event! Join 30,000+ meetings with 4,000 participants from 2,000+ organizations including Startups & Established Fintechs, Processors, Networks, Large Banks, Community Banks & Credit Unions, Investors and more! Discounted early bird tickets available for a limited time only, qualifying Banks and Credit Unions eligible for free tickets. Get ticket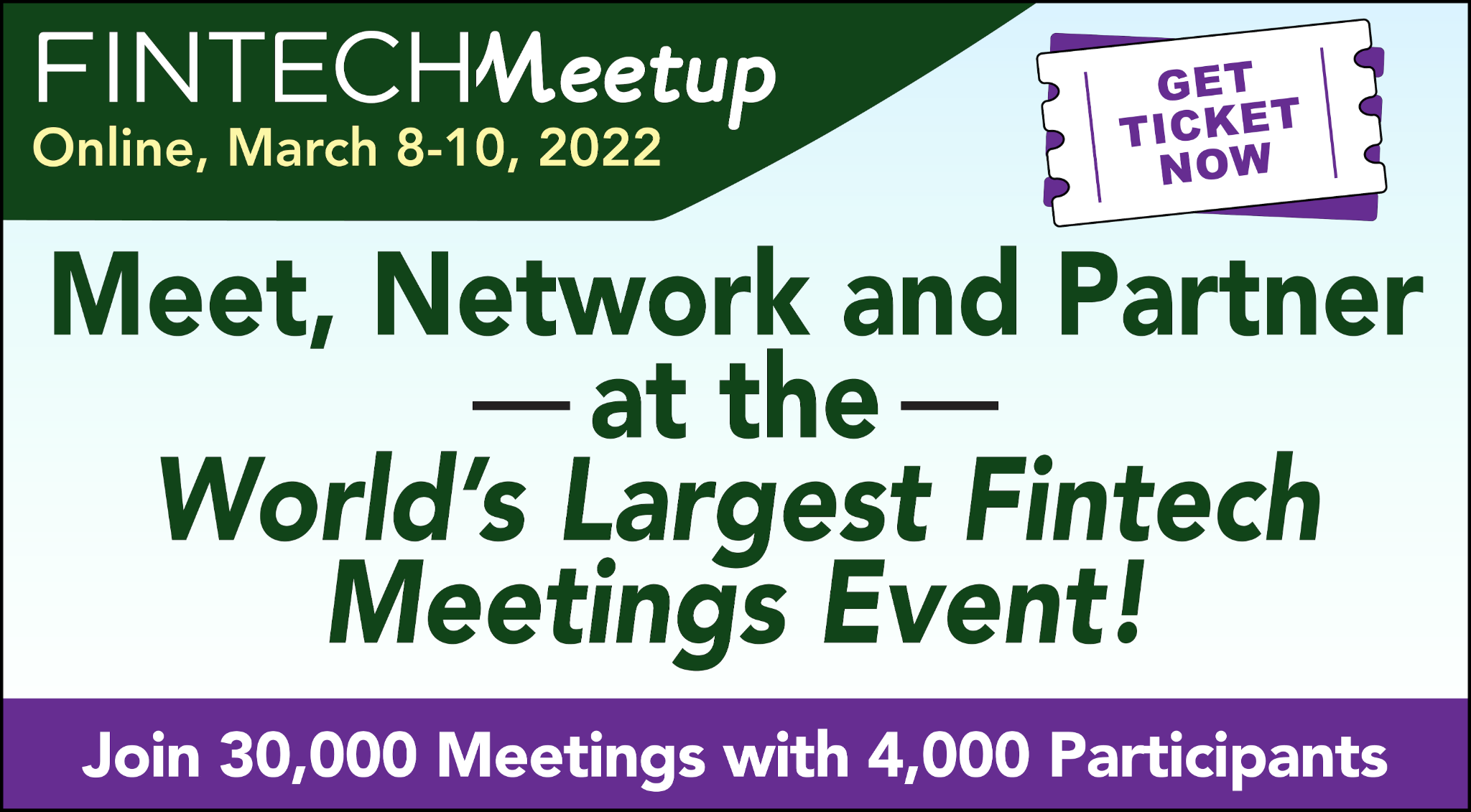 ---
Want to be a This Week in Fintech Sponsor? Reach out to us at sponsor@thisweekinfintech.com.
Come meet us in-person at www.fintechhappyhour.com.