This Week in Fintech (7/9)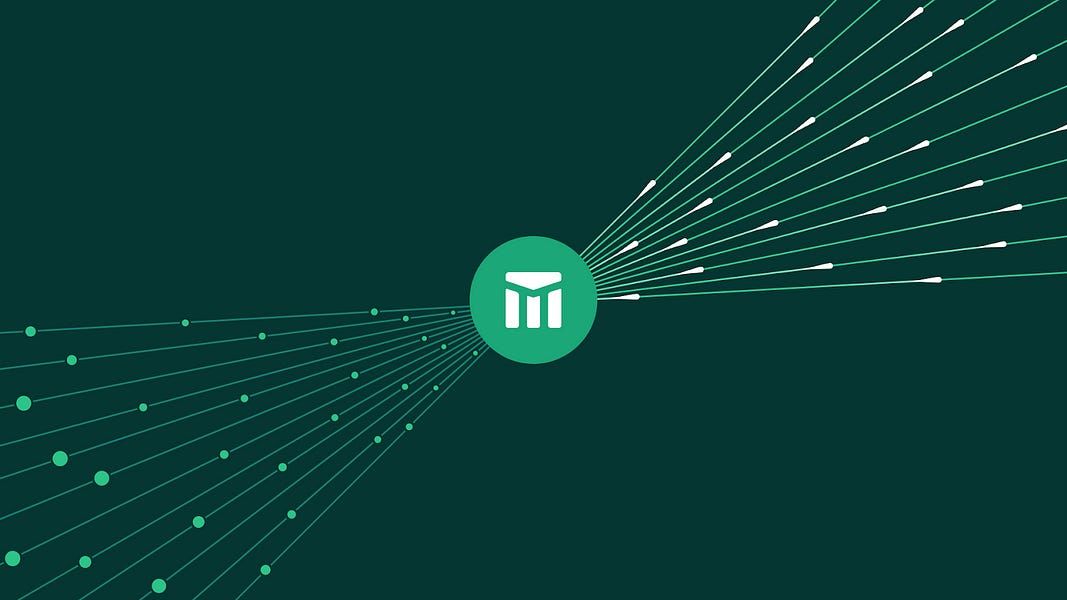 Hello Fintech Friends,
We have some exciting announcements to share with readers next week, stay tuned!
Our Chicago and Denver fintech happy hours are both coming up next Thursday, 7/15. Come by and say hi! (Thank you to co-organizers Saira, Peggy, John, and Martin).
For our readers across the pond we're excited to share that we'll be hosting a London fintech happy hour in late August - RSVP here.
Please enjoy another week of fintech and banking news below.
---
💬 Quote of the Week
"We find solace in the market being high. But the market is not a reflection of the economy or progress — it is increasingly driven by a few firms' ability to arbitrage the gap between the pace of technology and regulation. It's depressing. What to do? I'll check my likes, mentions, and stocks."
---
📖 Read of the Week
It's pretty fascinating to read a sitting member of Congress publicly defending the right to innovation in decentralized finance. This week, Rep. Tom Emmer of Minnesota lays out a case to avoid overregulation of blockchain and defi in The Hill.
📊 Stat of the Week
Commission-free trading and investing apps are making over $100 million a month in commission on other products. (Financial Times)
---
Sponsored Content
Modern Treasury is the most powerful API for money movement. Businesses with complex money flows like Pipe, ClassPass and LedgerX use MT to automate, track and scale payment flows over ACH, Wire, RTP and other payment methods. The platform connects directly to your bank account to give you 2x faster settlement,  complete control over your funds and real-time visibility into payment statuses. Learn more about Modern Treasury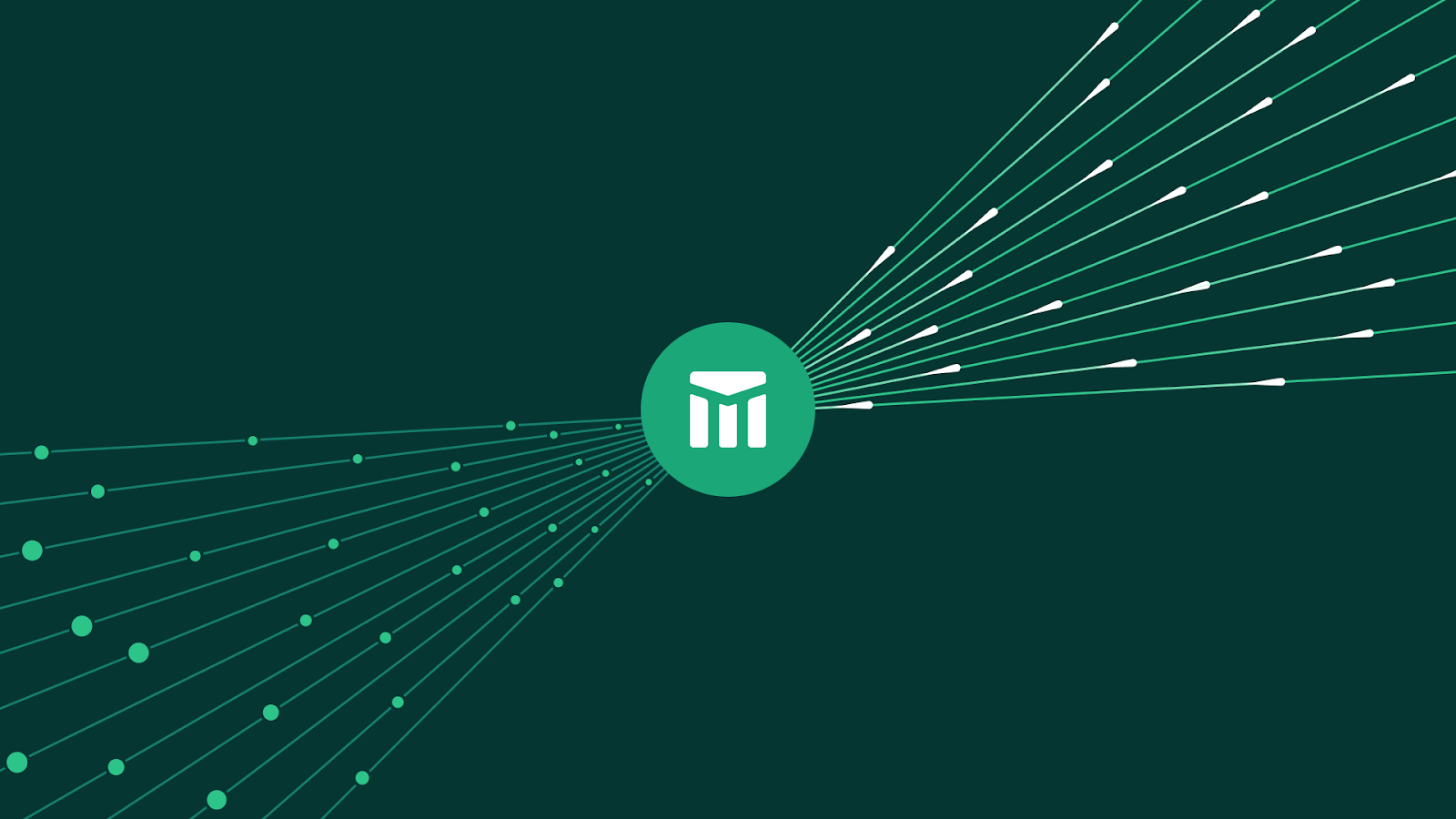 ---
💼 Open Role Spotlight
Banking as a service platform Synctera is hiring across the board in BD, Product, Compliance, and Engineering.
---
🏦 Financial Services & Banking
🚀 Product Launches
Crown Agents Bank launched a pension with biometric authentication.
Equifax UK partnered with United Utilities to launch an open banking income verification tool for the water industry.
📰 Other News
Wells Fargo is shutting all personal lines of credit to its consumers with no warning, which is expected to negatively impact credit scores across the board.
American Express expanded the information in its digital receipts for Amazon purchases.
The line between fintech and crypto is blurring. 650 US banks will soon be able to offer bitcoin purchases to 24 million consumers through partnerships with NCR and NYDIG. Meanwhile, Mastercard is hiring a crypto product manager, while Visa crypto-backed cardholders spent over $1 billion this year.
Meanwhile, Barclays is banning Binance and UBS wants to ban bitcoin.
Russia's central bank is piloting a digital ruble.
Chase customers became billionaires overnight due to a glitch.
Deutsche Bank is cutting 450 roles from its Irish offices. Schwab set aside $200 million for SEC fines regarding its roboadvisor.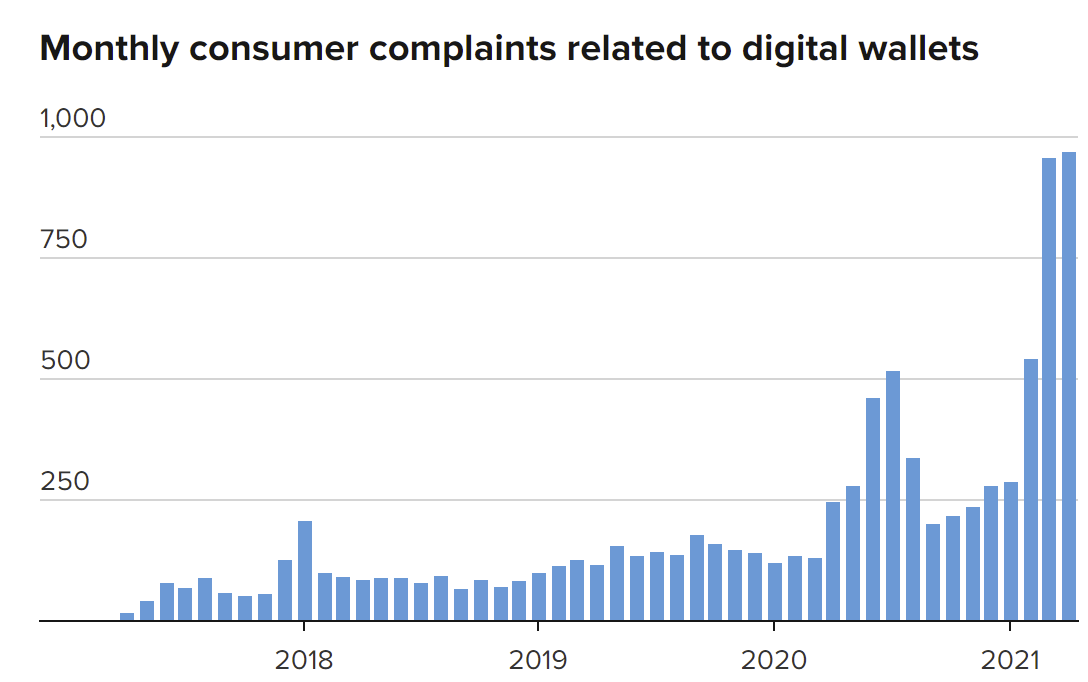 (Mobile payment app complaints are surging as more Americans go cashless)
---
💻 Fintech
🚀 Product Launches
Uruguayan fintech powerhouse dLocal will now issue physical cards across Latin America.
Euphoria.LGBT launched a savings app for gender transitions.
PayPal launched Zettle, a digital point of sale solution for merchants.
Blockfi launched its long-awaited 2% crypto rewards card with Visa. Sygnum Bank will now offer ethereum staking.
KYC and anti-fraud platform Socure launched a user identity solution built specifically for BNPL.
Scandinavian open banking provider Nordigen will let users connect their bank accounts to Google Sheets.
Funding Options launched a UK green finance marketplace.
Australia's Bluestone launched a digital lending platform. India's Centime launched a cloud-based cash flow management platform.
Aries Financial launched mobile trading.
📰 Other News
India's central bank is getting increasingly worried about the presence of large technology providers in financial services.
Booking.com launched an internal fintech unit to build travel financial services.
Amazon's BNPL product hit 2 million users in India. Google will roll out fintech products in Japan.
Venmo raised its peer-to-peer payment fees for the sale of goods and services.
Wish, the Chinese e-commerce site, was granted a Payments Services License by the Dutch Central Bank, allowing it to process European payments on its platform. Germany's Solarisbank is coming to France, Italy and Spain.
N26 partnered with crypto exchanges to introduce trading to its platform and published a Female Opportunity Index.
GoCardless and Pennylane partnered to provide automated accounting to small businesses.
Chime is in hot water for closing accounts and not returning customer money.
Instagram is getting in on NFTs.
---
📜 Policy
In collaboration with Ben White.
---
Sponsored Content
Interested in understanding the key disruptive innovations for payments in the fintech industry? Download the Aite Group Report, featuring TrueAccord, to learn why digital-first, machine learning powered collections are creating better experiences for consumers in debt.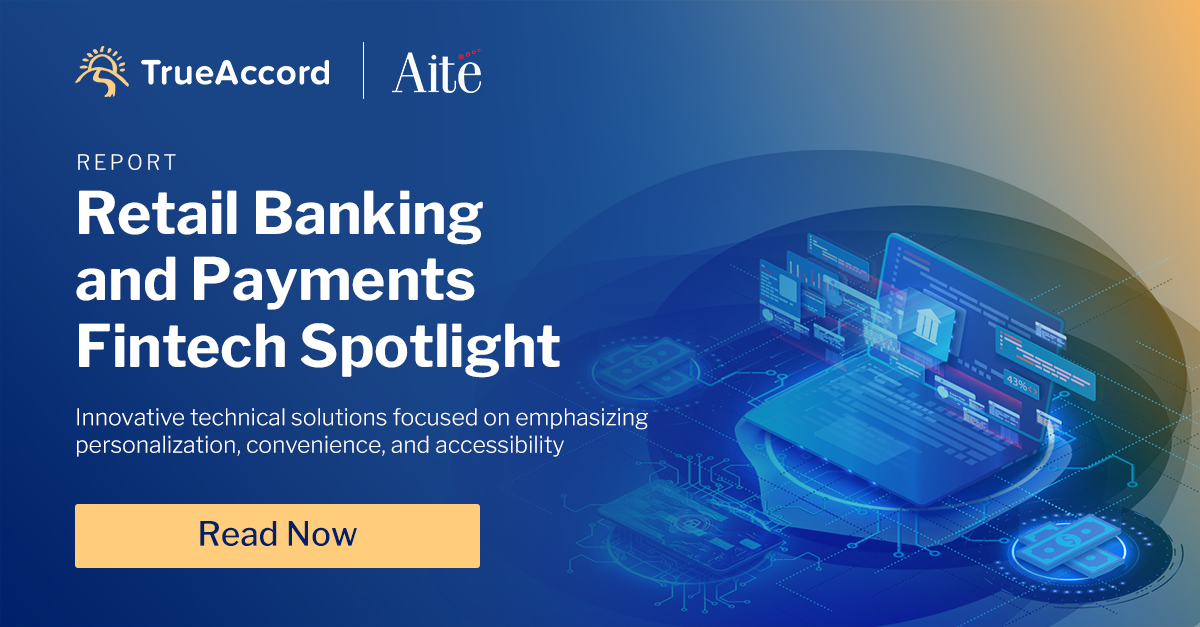 ---
Want to be a This Week in Fintech Sponsor? Reach out to us at sponsor@thisweekinfintech.com.

Come meet us in-person at www.fintechhappyhour.com.