This Week in Fintech (7/23)

Hello Fintech Friends,
As we get into the dog days of summer, I hope everyone is taking some time for themselves!
I was surprised yesterday to see the news that the Stellar Foundation - an open-source cryptocurrency network - is considering acquiring legacy cross-border transfer company MoneyGram (after a blocked Ant Financial acquisition attempt in 2018).
What stands out to me is that Stellar is the challenger, and MoneyGram the incumbent. With fintech balance sheets swelling, something tells me this won't be the last challenger-incumbent acquisition effort we see.
On a separate note - thank you to everyone who came out to our Seattle fintech happy hour last night! More coming in August.
Please enjoy another week of fintech and banking news below.
---
💬 Quote of the Week
"I've been asked a lot of questions about BlockFi recently so I figured I'd do a quick Twitter thread as to what exactly is going on with BlockFi and the legal theory under which the BIA or "Blockfi Interest Account" is being alleged to be a security."
---
📖 Read of the Week
This week, I really enjoyed Dan Akivis' breakdown of the competition in faster (and real-time) payments in the US. This is as crowded a field as it gets, from meteoric challengers like Orum growing quickly, to incumbents like The Federal Reserve and The ClearingHouse fighting to make their solution the gold standard.
📊 Stat of the Week
UK consumers now owe an average of £244.37 per person to buy-now-pay-later providers. (Source)
---
Sponsored Content
Achieve a bank-to-bank transfer in the same day by integrating Dwolla's modern payment technology into your application, software or website. Take an economical approach to moving money using bank transfers to avoid the interchange and processing fees that come with the card networks—while still providing the speed we all expect. Let us help you develop a tailored payment solution or create an account to experience the full power of the Dwolla Platform.

---
🏦 Financial Services & Banking
🚀 Product Launches
Mastercard launched a service to help facilitate real-time payments for customers on its network, PayPort+.
Santander is rolling out a consolidated cash management platform for its business clients.
Danske Bank launched a mortgage in Northern Ireland that is certified to be carbon neutral… (?)
📰 Other News
Small business-focused fintech Centime announced a partnership with First National Bank of Omaha to build a cash-flow management solution. American Express is partnering with fintech BodesWell to launch a financial planning tool.
Barclays added Mastercard account-to-account payments for business clients. Nationwide is using open banking to help customers with debt.
Nasdaq is partnering with SVB, Citi, Goldman Sachs, and Morgan Stanley to launch a new secondary marketplace for trading shares of private companies.
Mastercard made it easier to pay for cryptocurrencies with its products.
---
💻 Fintech
🚀 Product Launches
Square is launching business banking accounts (similar to Brex or Mercury).
Credit card fintech Upgrade launched the Upgrade Bitcoin Rewards Card with unlimited 1.5% bitcoin rewards.
Buy-now-pay-later provider Sezzle is launching a working capital platform for merchants. Competitor Afterpay launched a consumer money management app. Revenue-based financing platform Capchase launched its own buy-now-pay-later platform.
Fabrick, an Italian wealth management platform, partnered with consultant Prometeia to launch a Global Investment Portfolio.
Treasury Prime launched customized card controls to reduce fraud. Ramp launched a merchant-blocking feature for its corporate credit cards.
Neobank Revolut launched a travel booking feature.
Embedded payments provider Infinicept launched a partner network to help enable embedded payments.
📰 Other News
TurboTax's parent company, Intuit, left the IRS' Free File program. Intuit has repeatedly hid its - federally required - free tax filing option, lobbied to prevent Americans from filing their taxes for free, and attempted to acquire and shut down free competitors.
Venmo finally removed its feed so that strangers can't see your payments.
Square is muscling its way into the crypto space with a bitcoin and defi business.
Facebook will enable Facebook Pay as a payment method for third-party e-commerce sites.
Crypto mortgage startup Figure signed a deal with Apollo to enable more mortgages on the blockchain. PayU and stablecoin provider Celo are partnering to enable more merchants to accept stablecoin payments.
Grab and Adyen are partnering to provide buy-now-pay-later across Southeast Asia.
Polish fintech Payment Financial and Lithuanian KYC provider iDenfy partnered.
Paysera is now licensed in Ukraine. MFS AFrica expanded to Sierra Leone. Prex expanded from Uruguay to Peru. Mendel is shooting for 50 Mexican clients.
More fintechs now have public earnings! Wise revenue grew 43% in Q1. Interactive Brokers fell behind estimates. Starling's revenue grew 600%.
Techstars and Western Union partnered on a fintech accelerator.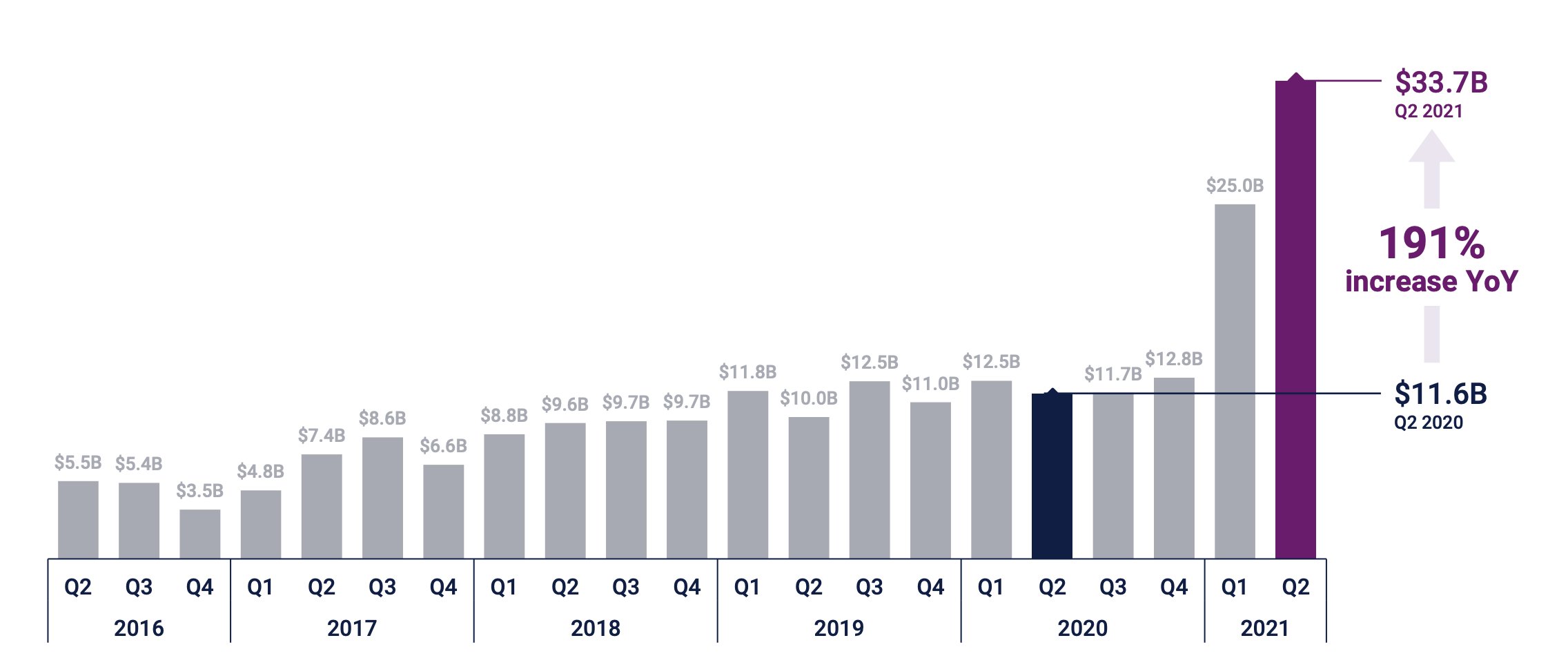 Fintech venture funding over time (Source)
---
🇪🇺 Europe
Bank of Ireland launched video tutorials to help customers to use its digital banking services.
FTX is joining Copper's ClearLoop settlement network to gain access to new institutional funds
Curve has partnered with Discover in Europe to let the card companies customers add their credit cards to the Curve app.
🌏 Asia
---
📜 Policy
In collaboration with Ben White.
---
Sponsored Content
Meet everyone you need to meet  and make valuable connections at Fintech Meetup-- we're facilitating 30,000 meetings with 4,000 participants from 2,000 organizations! Meet, network and partner to get business done! Online, March 8-10, 2022. Get Ticket.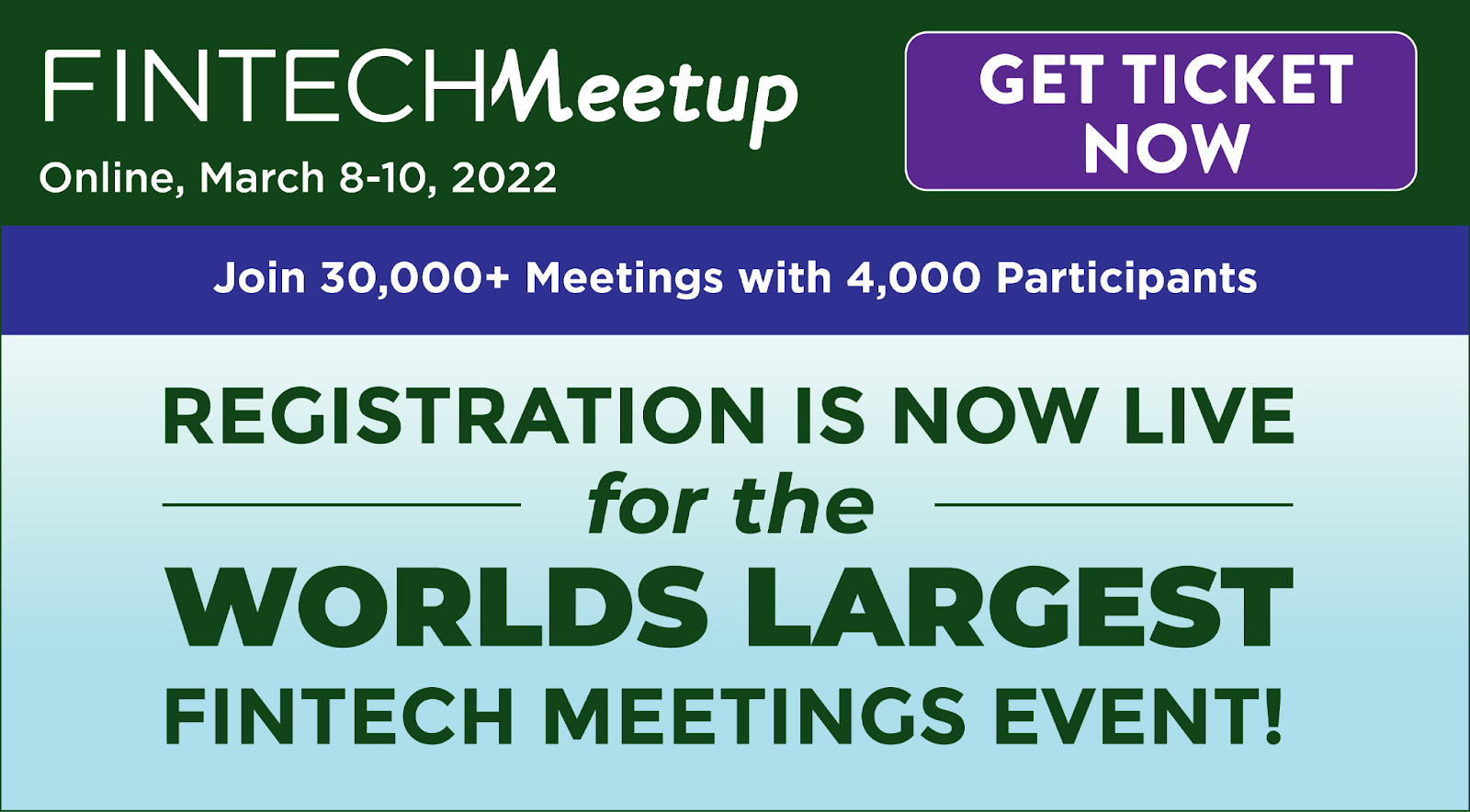 ---
Want to be a This Week in Fintech Sponsor? Reach out to us at sponsor@thisweekinfintech.com.
Come meet us in-person at www.fintechhappyhour.com.