This Week in Fintech (7/2)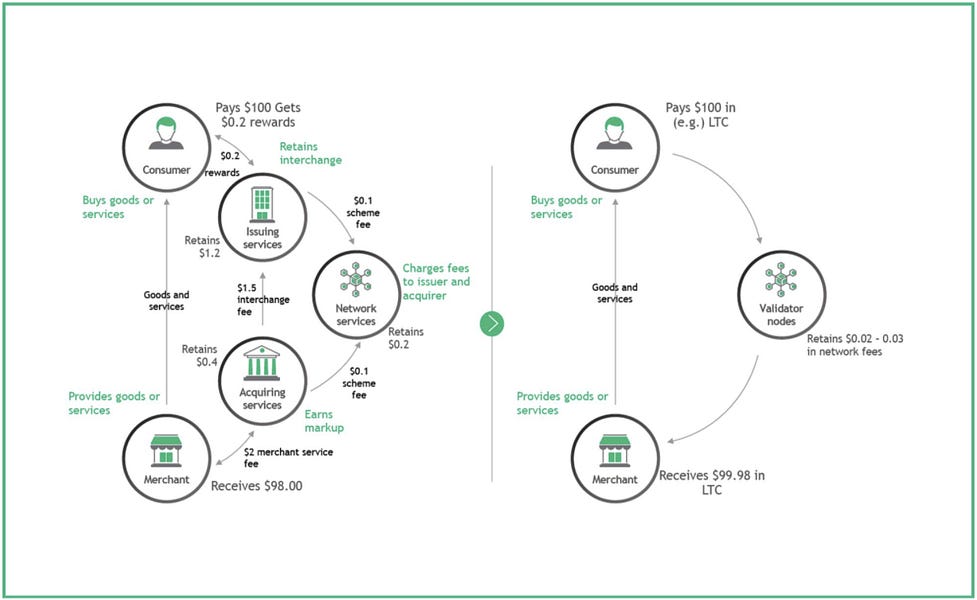 Hello Fintech Friends,
Join us soon for fintech drinks in Chicago on July 15th! We'll share details to the sign-up list (and will be in more cities this summer).
For our US readers, have a great 4th of July!
Please enjoy another week of fintech and banking news below.
---
💬 Quote of the Week
"Your Chase Bank or Wells Fargo bank works well for you, but not for everyone. You can feel the pain of those merchants who don't get money due to antiquated ACH rails for 3-5 business days, immigrants without documents & unbanked users cannot open an account easily and sending a cross-border remittance can be as pleasant as a root canal. Try getting a mortgage from your bank and telling them you want to put up your Robinhood/Crypto account as collateral."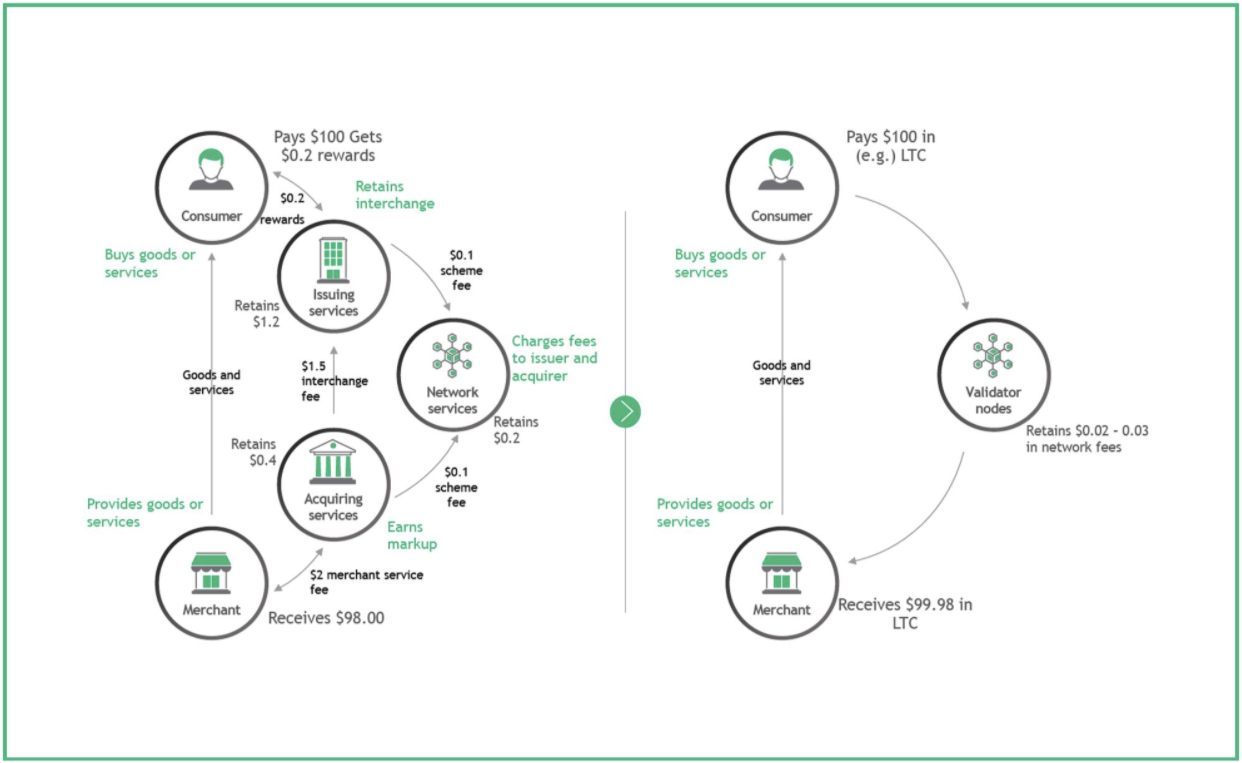 ---
📖 Read of the Week
This week, the Financial Times explores an interesting trend in the recent hyper-specialization of consumer fintech. As more service providers have exploded on the scene, lowering the cost of card issuance, processing, clearing and settlement, banking, underwriting, etc., it has become easier and faster to start a consumer fintech company. This creates space for community-focused neobanks like Daylight, Paybby, Fortú, Cheese, First Boulevard, and Majority -- spaces that are supposedly too niche for big banks to pursue. But is this a sustainable trend, or is consolidation inevitable?
Another new trend is that products like Compound Treasury, Monie, Linus are offering hybrid banking / defi services, either under their own brand, or via APIs (such as Circle's) embedded in neobanks (like Current). However, it's unclear that users know these products - and their high APYs - are backed by defi protocols. How can defi become more accessible while also not obscuring the inherent risks of the underlying asset?
📊 Stat of the Week
60% of central banks around the world are experimenting with "proof-of-concept" digital currencies. (Source)
---
Sponsored Content
No keynotes. No panels. Just high-quality, in-person meetings and social events between decision makers. At LendIt Fintech Nexus, we're bringing together a curated audience of bank and credit union executives, investors, and fintech executives to network and close deals. Learn more and apply to join here.

---
💼 Open Role Spotlight
Unit, the banking as a service company that enables customers to launch in weeks - not years- and one of the fastest-growing fintech startups in New York, is hiring a Developer Relations Lead and the company's first Product Marketing Manager.
---
🏦 Financial Services & Banking
🚀 Product Launches
Banks are beginning to show an adeptness for quickly countering buzzy fintechs.
Citi is launching a buy-now-pay-later rival to Afterpay in Australia.
Australia's eftpos, an electronic funds transfer standard provider, launched a national digital identity service (similar to India's Aadhar).
Mastercard and Bilt partnered on a credit card that can be used for rent payments.
Fifth Third Bank launched a service to let customers access payroll early.
The Commonwealth Bank of Australia launched a revenue-based financing platform (to compete in the same space as Pipe or Clearbanc.)
Nasdaq launched an ESG data hub.
📰 Other News
Goldman will begin to offer transaction banking services in the UK.
Banks are looking to blockchains to lower costs in bond markets. UK interdealer broker TP Icap is looking for regulatory approval to launch a crypto exchange. DZ Bank and BayernLB in Germany traded an interest rate derivative on a smart contract.
Visa is testing a biometric 'pay by glance' feature.
France's Credit Agricole is exploring quantum computing in finance. Mastercard, Ant Financial, and BBVA want you to act more green.
Will bank branches be dead in 5 years?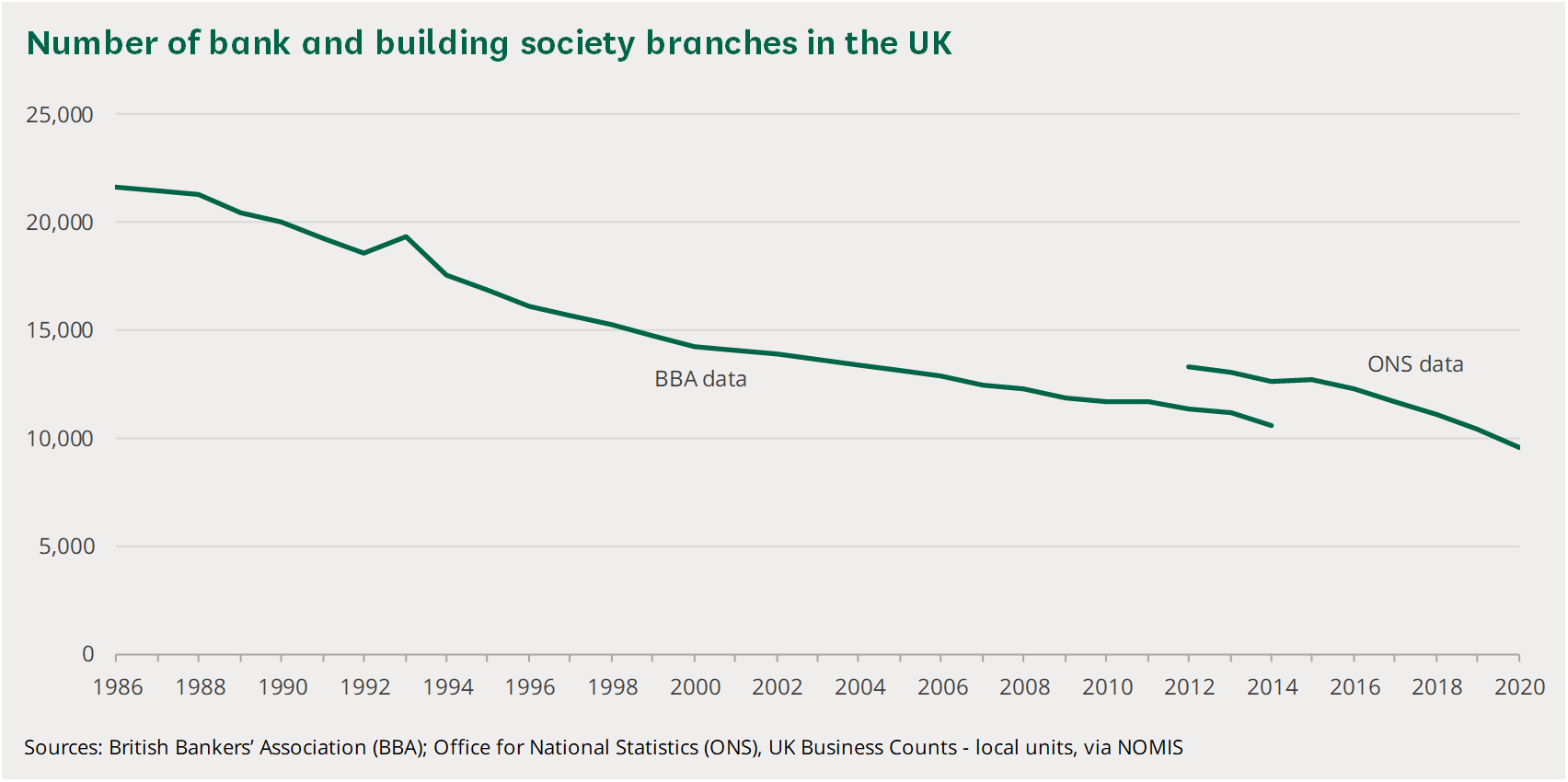 (Source)
---
💻 Fintech
🚀 Product Launches
Alipay launched in-app NFT sales as a feature. Vodacom also launched its VodaPay superapp in South Africa, in partnership with Alipay.
Hong Kong neobank Mox launched a combination debit / credit card.
Green Dot and Walmart launched the Walmart MoneyCard as a demand deposit account. Ramp rolled out Card Programs, for company stipend cards. Pliant launched a corporate card for carbon-neutral travel.
tomato pay launched a QR code payment service in the UK.
OneFor launched a remittances app for migrants in Europe.
MENA roboadvisor FinaMaze launched crypto investing.
Klarna embedded Liberis to add revenue-based financing to its platform.
Fiserv launched a CRM.
📰 Other News
Pan-African fintech Carbon announced a five-year strategic partnership with Visa to enable payments across the continent.
Tomorrow added carbon tracking to its banking app.
Gusto is offering embedded payroll services via APIs to its core products.
Stash will run a financial literacy summer program. Revolut, meanwhile, is using a weekly lottery to encourage spending.
UK business banking platform Tide is coming to India and making a £100m investment in expansion. PayPal exported Zettle's POS system to the US.
Senior fintech executives in Singapore formed the Southeast Asian fintech angel investor network.
Amazon likes defi.

(Source)
---
📜 Policy
In collaboration with Ben White.
---
Want to be a This Week in Fintech Sponsor? Reach out to us at sponsor@thisweekinfintech.com.

Come meet us in-person at www.fintechhappyhour.com.