This Week in Fintech (6/26)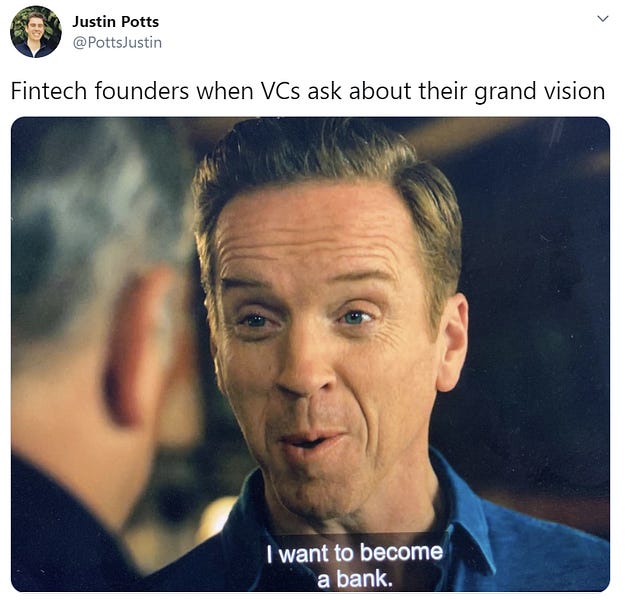 Hello Fintech Friends,
The game is afoot!*
As international tech providers race to win the global payments market, WhatsApp launched payments last week in Brazil. Not one week later, the Brazilian central bank suspended its license. India is potentially rolling out a second real-time payments standard, as services like Paytm, PhonePe, and Facebook go head-to-head. Sudan launched a family transfer proof of concept for its national digital cash system. Ripple and Flutterwave teamed up on a real-time direct payments ID.
It will be a quick race to scale and ubiquity as payments becomes the next focal point for big tech.
Please find another week of fintech and banking news below.
Quote of the week
"Operating in a large and growing market is a force multiplier on your efforts; you can be average on execution and still land in a pretty good place. Operating in a stagnant or shrinking market is a fractionalizer; you might do ok but your execution needs to be that much tighter, and competition will be fierce, and in the end it still might not matter."
Ayo Omojola, Fantastic Waves and Where to Find Them (source)
---
Open role spotlight
Plaid is hiring a Head of Account Management to lead the team of account managers responsible for the retention and growth of existing customers, from the smallest developers to largest enterprises. Happy to put anyone in touch with the hiring team.
Read of the week
I enjoyed this month's a16z fintech newsletter, which provided interesting coverage of the rise in fintech cross-border partnerships. The last decade saw fintechs over-index to vertical-specific and geo-specific growth, but the next will be different as the growth of international fintech provides good opportunities to bridge products across borders.
---
Banking and Credit Cards
Bank stocks are surging in the US as regulators ease rules on proprietary lending into high-yield asset classes like venture and cash reserves for derivatives. The Federal Reserve, however, will limit shareholder payouts and review long term capital plans. Meanwhile, retail banks continue to show signs of race and ethnicity-based preference in how they serve their customers.
Mastercard announced its acquisition of Finicity, an open banking API competitor to Plaid, for $825 million. The credit card network also took the opportunity to issue updated second quarter operating metrics and joined a financial inclusion consortium in the UK. Visa meanwhile launched its Advanced Identity Score, a predictive machine learning score for identifying possible new account fraud.
UK bank NatWest launched an open banking service to let account-holders make instant online payments without a debit or credit card.
Ally Financial and Cardworks, in a surprising about-face, announced the termination of their merger agreement, in which Ally agreed to purchase Cardworks in February.
New York's Department of Financial Services has proposed easing regulations around crypto trading. Across the river, New Jersey's Cross River Bank, a main fintech partner bank, announced that it has channeled pandemic aid to over 100,000 small businesses.
Credit Suisse is launching an internal investigation into funds it invested into Softbank Group securities through Greensill Capital. Goldman Sachs hired AT&T Chief Brand Officer Fiona Carter as its first-ever Chief Marketing Officer.
In Indonesia, $1 billion of insurance premiums have gone missing, leading to indictments at the country's main financial regulator.
---
Fintech
Product Launches
Fintechs including Flutterwave and Ripple are teaming up to work on a PayID to enable customers to instantly send money between their networks, without using ACH or cards as an intermediary. The distributed network is positioned as a counter to walled payment networks like Libra, WhatsApp pay, and Alipay. Facebook Pay, meanwhile, is starting to roll out in the UK.
Yotta Savings launched a lottery-based cash prize FDIC savings account.
Paypal and Venmo announced that they will add crypto buying and selling to their platforms.
Launching a shot across Marqeta's bow, Galileo announced its Instant Issuance product, to let clients launch a debit card in 14 days.
Verizon announced its new Verizon Visa Card, with cashback up to 4% on grocery store and gas purchases and Microsoft debuted the addition of real-time stock prices in Excel.
Other News
Just as quickly as Facebook announced the launch of WhatsApp Pay in Brazil, the country's central bank suspended the peer-to-peer payment service by orderingVisa and Mastercard to halt transfers on the system. It will be a bumpy road for the raft of payments players looking to bring instant, real-time transfers to new markets, due to the existence of entrenched interests. In Brazil, the central bank is promoting its own challenger, Pix (a set of rails, not an interface).
The Wirecard saga, in which the German payments firm cannot account for about $2 billion of funds, is quickly unraveling. On Tuesday, the company's CEO was arrested, and today it was announced that the company will file for bankruptcy.
SoFi CEO Anthony Noto, in the wake of a Robinhood customer who committed suicide, said that they are going to proactively warn users about the risk of products like margin lending, options, and cryptocurrency. The Robinhood founders also penned a letter committing to improvements in their user interface, eligibility checks, and financial education - however, given that much of their revenues are derived from options trading, it may be a difficult balance to strike.
Curve, the UK fintech that allows users to consolidate their card accounts, will partner with Samsung to launch its Samsung Pay debit card later this year. Female-focused investment platform Ellevest also announced its debit card and membership revenue model.
Republic, which allows unaccredited individual investors to invest in startup equity, announced its plans to launch a crypto token to facilitate investments, following 700% growth over the past 18 months.
Zopa, the UK peer-to-peer lender, was granted a UK banking license and announced plans to launch a savings account and credit card (as per Tweet below) joining the ranks of fintech banks, and Transferwise, which has operated in Brazil since 2016, received authorization from the central bank to be a licensed FX broker.
Irish fintech VC Middlegame Ventures has partnered with Enterprise Ireland to create a €20 million fund for Irish fintech startups.
Uber's head of financial services products is stepping down as the company shelves plans for a credit card, digital wallet, and instant payments. Small business lender OnDeck is in jeopardy as it tries to restructure its corporate debt. Bookkeeping and payroll automation startup ScaleFactor announced, after raising $100 million, that it will shut down and return remaining capital to investors.
The Inclusive Fintech 50 applications open June 15th. Early-stage startups driving financial inclusion can win $25,000.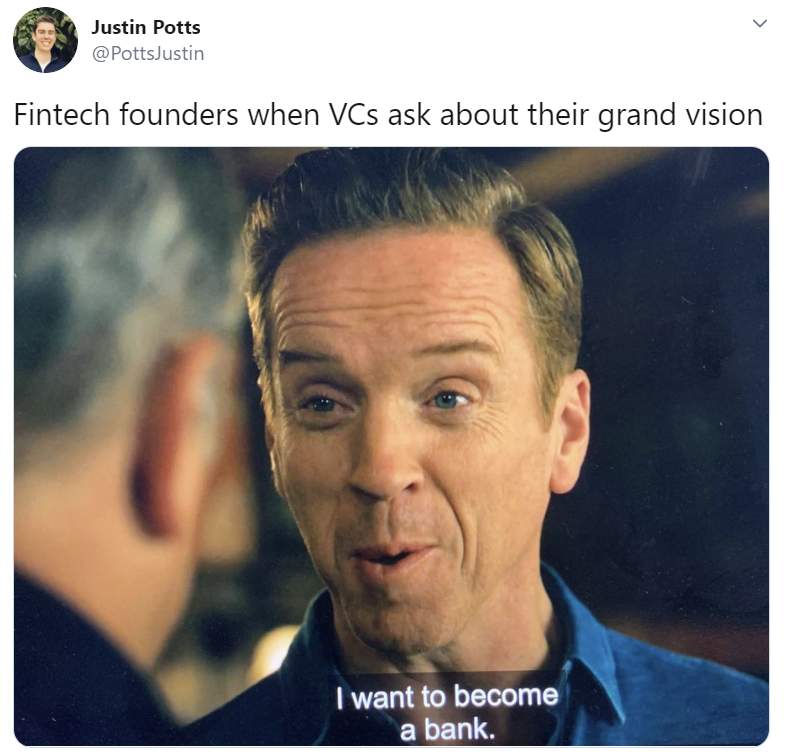 ---
Financings
Exits and M&A
---
Deeper Reads
The banking system, a giant settlement infrastructure
The Credit-Card Fees Merchants Hate, Banks Love and Consumers Pay
How the retail trading boom is shaking up the US stock market
How Coronavirus Upended a Trillion-Dollar Corporate Borrowing Binge and Kicked Off a Wave of Bankruptcies
Are challengers always going to be the secondary bank?
In a digital age, cash still has its attractions
Square, Jack Dorsey's Pay Service, Is Withholding Money Merchants Say They Need
Vast Federal Aid Has Capped Rise in Poverty, Studies Find
Having Stolen the Spotlight, Now Robinhood Has to Dance
Quants Sound Alarm as Everyone Chases Same Alternative Data
Neo and Challenger Bank Market Size Growing at 38.3% CAGR
Why founder-focused VC fundraising and valuations are unsustainable
New York woman nabbed while allegedly handing out baby raccoons