This Week in Fintech (6/11)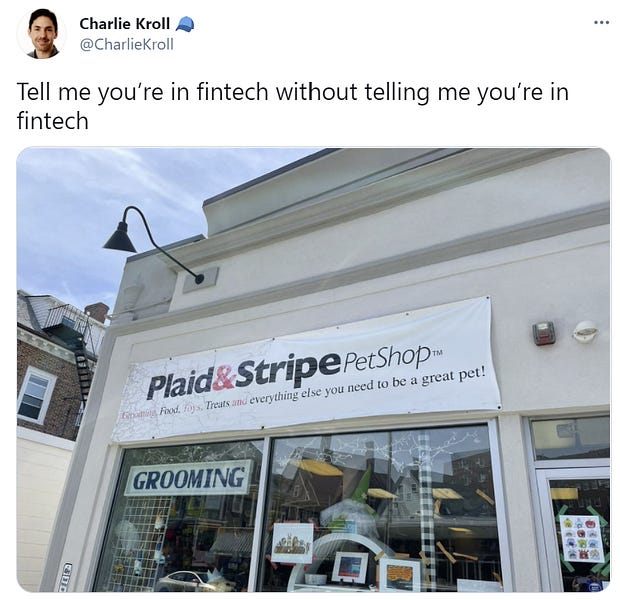 Hello Fintech Friends,
If you missed the last one, come join our NYC happy hour next Thursday. It will be sponsored by Seth Rosenberg of Greylock Partners, Wealthsimple, and Ribbon.
Company will host us again, and proceeds will be donated to Habitat For Humanity New York City.
We are also excited to partner with Peggy Mangot to host future happy hours in SF and Chicago! More on that soon.
Please enjoy another week of fintech and banking news below.
---
💬 Quote of the Week
"I think we are seeing a permanent recalibration of valuations, it speaks to a fundamental shift in the importance of technology in financial services."
Jason Gurandiano, RBC (Source)
---
📖 Read of the Week
I would recommend Tom Noyes' newest blog this week - The Case for CBDC – Market Efficiency. Why have returns been concentrating to fewer platforms in the internet age? In-spite of the democratization of finance in fintech, why are financial services still notably thinner and more expensive in poorer areas? Tom explores this and the applicability of stablecoins to lowering the capital barriers that help drive inequality.
📊 Stat of the Week
Uniswap facilitated more than $1 billion in trading on a majority of the days in May. (Silicon Valley bets on crypto projects to disrupt finance)
---
Sponsored Content
Is it possible to scale quickly while prioritizing the consumer experience? In 2021, this question is top of mind for many lending organizations, who want to grow quickly while remaining consumer-centric. In TrueAccord's on-demand webinar, Ohad Samet, CEO and co-founder of TrueAccord, and Sahil Bakshi from Affirm will share a comprehensive guide to scaling digital collections operations, all while prioritizing consumer preferences and creating best-in-class consumer experiences.
---
💼 Open Role Spotlight
Atomic is building the future of wealth management to give every platform the ability to enrich their users. They're hiring across the board in engineering, customer support, operations, and sales.
---
🏦 Financial Services & Banking
📰 Other News
China is allowing its fixed currency, the yuan, to slide in value.
Banks like Capital One are starting to follow fintechs' lead in enabling early direct deposit.
JP Morgan is bucking the trend by continuing to open more Chase branches, with 200 new ones open and 200 to go. Meanwhile, the bank is looking into programmable money on its Onyx blockchain.
Nasdaq and Victory Park are partnering to enter cryptocurrency trading. Interactive Brokers will enable crypto trading by the end of the summer. State Street opened a crypto unit.
Mastercard launched its Start Path program to fund minority and underrepresented entrepreneurs.
Visa and Goldman Sachs partnered to simplify business-to-business cross-border payments with Visa Direct. Capital One and Plaid made up.
Singapore's UOB Bank piloted the country's digital ID.
Refinitiv's former CEO will lead a task force on Nature-related Financial Disclosures. Defections are mounting at Credit Suisse as key bets (including Archegos) create losses. BBVA will cut 10% of its Spanish staff amid branch closures.
If your central bank isn't working on a CBDC… what are they doing? El Salvador announced that it may accept bitcoin as legal tender. The Bank of Thailand kicked off its digital currency pilot. The Bank of England is in on it, as are France and Switzerland. Mexico followed suit (and Panama may?). Bitcoin's price dropped.
---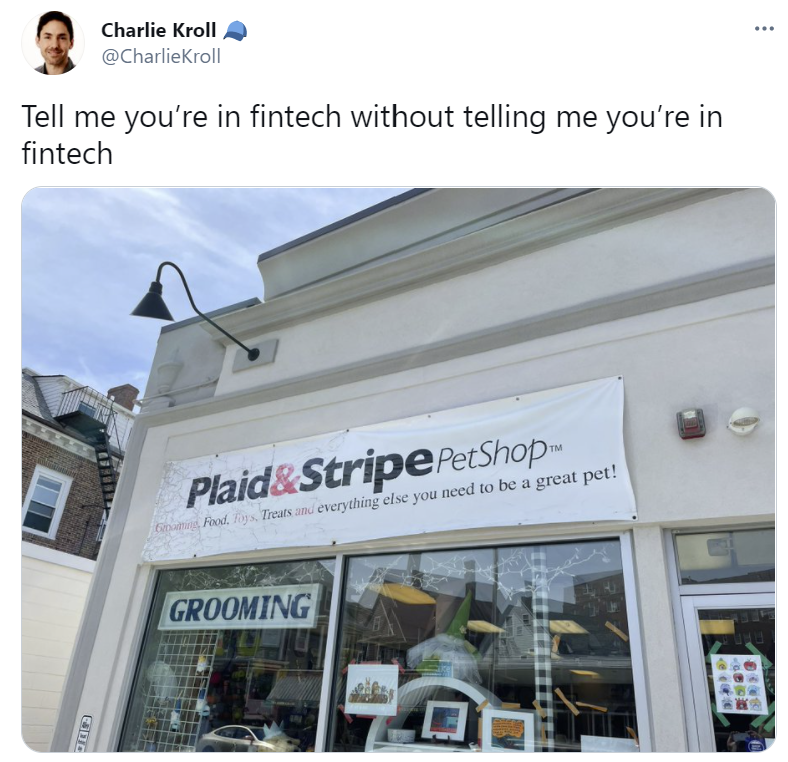 (Source)
💻 Fintech
🚀 Product Launches
Fresh off its acquisition of TaxJar, Stripe launched Stripe Tax to integrate sales tax calculations for 30+ countries into the sales process.
Coinbase teamed up with ForUsAll to launch a cryptocurrency retirement savings and 401(k) product (letting employees invest up to 5% of their 401(k) contributions in crypto).
Personal financial management app Monarch Money debuted on ProductHunt.
Lottery savings startup Yotta launched crypto savings buckets to give users exposure to DeFi. UK fintech Plum launched retirement savings.
Klarna released an app that allows UK users to use their installment loans at any online retailer.
Helpful, a startup focused on sustainable shopping, released a Mastercard debit card. Telkom launched an African Mastercard virtual card for transacting on WhatsApp.
Walletmor, a British-Polish fintech startup, launched an… implantable… payment device that can be inserted under skin.
Nude launched an app to help first-time homebuyers with deposits.
Klasha launched borderless payments in Africa.
📰 Other News
Square is building a hardware wallet for crypto. Coinbase is provisioning its credit card in Google Pay and Apple Pay.
China gave Ant Group the green light to run a (partly state-owned) consumer finance company. Core banking provider Temenos, meanwhile, partnered with Huawei to expand into China.
Cadana is helping Ghanaian workers get paid more frequently. Float is building a Brex for Africa. Bottlepay, which allows cross-border currency payments via Twitter, expanded into Europe.
UNObank received a digital bank license in the Philippines and AideXa received a license in Italy.
Enfuce partnered with Visa to allow European fintechs to launch their own cards in eight weeks. Vestwell and Bambu teamed up on retirement plans. Paysera integrated German neobank N26 into its payment gateway.
Google Cloud's head of financial services made the jump to Galileo. Klarna made the jump to France. BlackArrow traded Australia for Scotland.
LG is shutting down its mobile payments service. Afterpay got hit with a class-action lawsuit. Paytm reported a ₹17 million loss for FY 2021.
Stacey Abrams is a fintech founder. SoFi is on the doge train.
---
📜 Policy
In collaboration with Ben White.
---
Sponsored Content
Join engineers from VISA, Chime, Plaid, Square, Alloy and more for fintech_devcon, the world's largest fintech developer event. Get 20% off with code "TWIF" when you register to experience hands-on workshops to learn techniques for solving fintech's toughest challenges!