This Week in Fintech (4/24)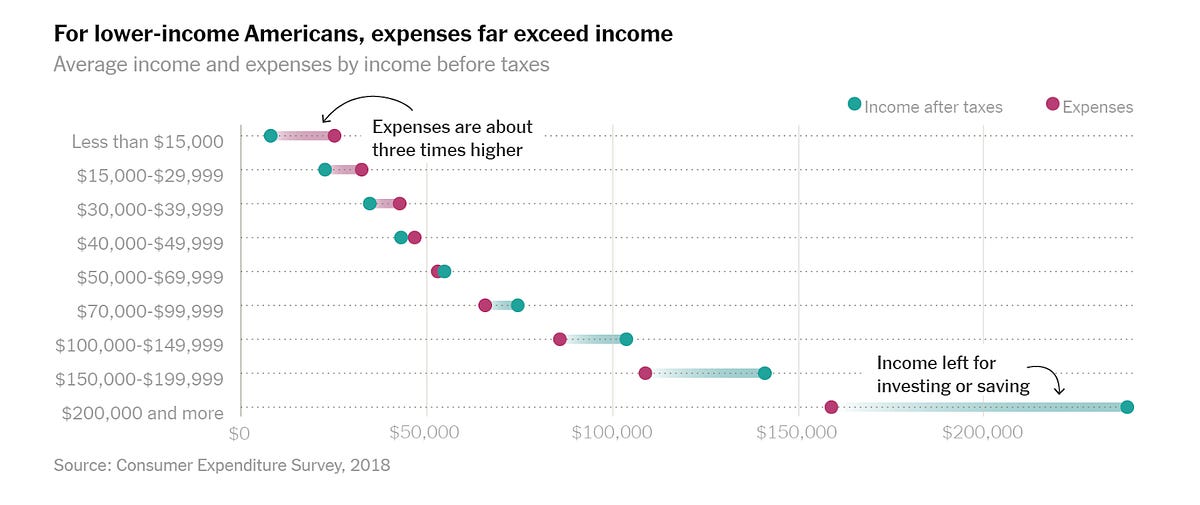 Hello Fintech Friends,
Following last week's survey ("what is your role?"), I dug in a bit to break out readership by email domain.
The most frequent domains were Plaid (41 readers), Onfido (30), Brex (11), Marqeta (8), SVB (7), Stripe (5), and Yodlee (4). Additional kudos to Booth Business School (12), researchers Glenbrook (6) and CB Insights (4), and investors Long Ridge (4) and Luge (4) for being the most well-informed in fintech ;)
Please enjoy another week of banking and fintech news below.
Quote of the week

"What if synthesized, actionable financial insights were available to every business on earth? What if they were always in real-time, and always up-to-date?"
Jeff Seibert & Wayne Chang, Digits (source)

---
Open role spotlight
Lightning Network payments startup Strike is looking for a Head of Business Development.
Read of the week
In Who Has Enough Cash to Get Through the Coronavirus Crisis?, the New York Times paints a stark picture of American household savings and how many months it takes to earn enough to survive temporary unemployment. "40% of Americans don't have $400 saved" is a cliché in fintech by now (and also inaccurate), but this story brings to life what that means: most Americans don't earn an income that they can survive on.
Paired with a rise in price levels for essentials like shelter, medical care, and education that has far outstripped wage growth, the numerator (expenses) for many is now larger than the denominator (earnings). There has never been a clearer call to action to build products that help people achieve financial stability and resiliency. The future of American life depends on it.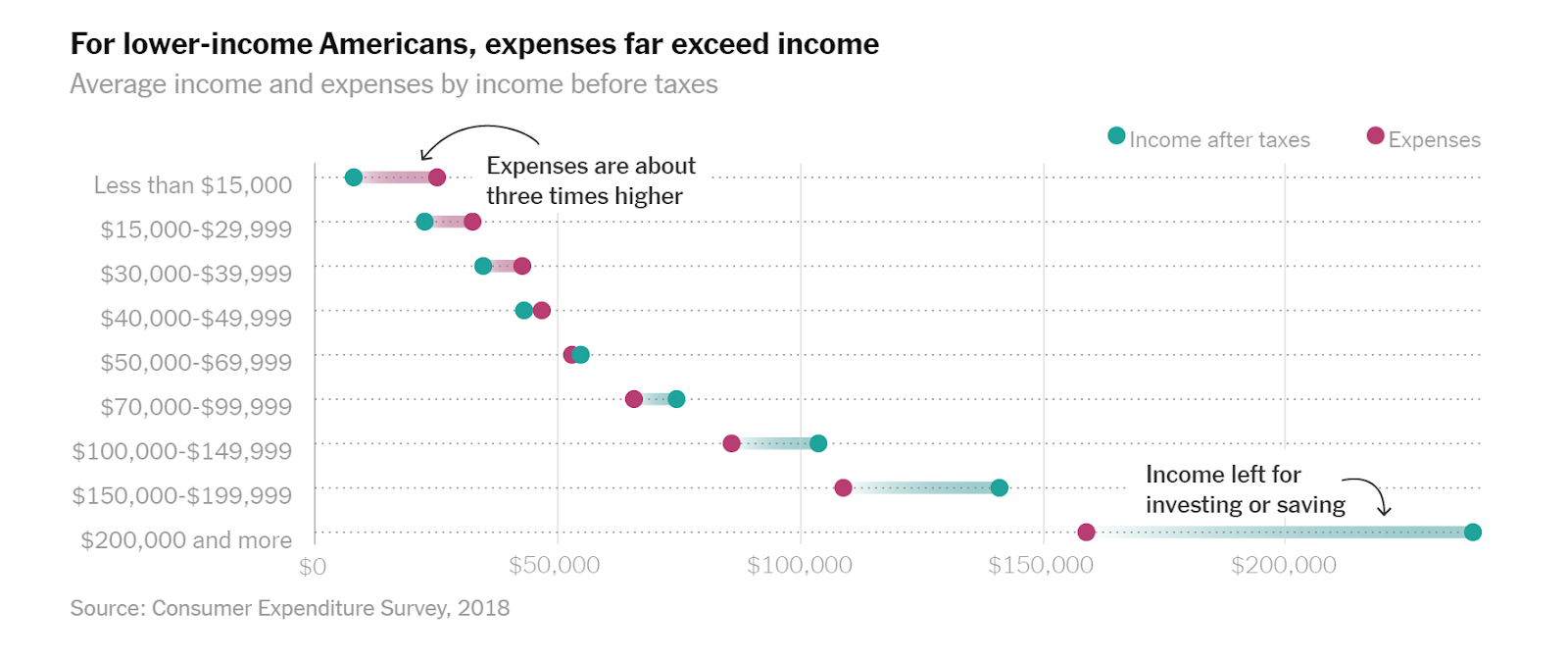 ---
Banking and Credit Cards
In India and Russia, consumers are turning to cash as a store of value during economic uncertainty - hoarding it at record levels. In the US, economic stimulus payments have boosted mobile banking signups by 200% and consumers are flooding banks with deposits.
JP Morgan, the largest home equity bank lender in the country, is temporarily halting home equity loans due to coronavirus, as banks shore up loan loss reserves in anticipation of defaults.
In the UK, a record number of text-based scams have led mobile carriers, banks, and the National Cyber Security Centre to partner to identify and block fraudulent texts. Meanwhile London B2B neobank Equals Group will furlough 20% of staff.
Citizens Bank of Edmond partnered with data aggregator MX to launch an SBA loan platform that reduces application approval time to minutes.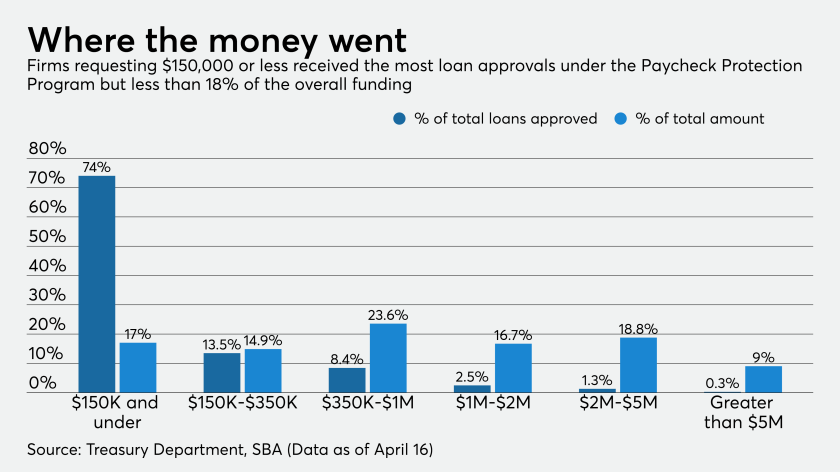 Source: American Banker, Relief efforts favor households, businesses with deep ties to banks
---
Fintech
US fintechs have been shut out of the new round of PPP pandemic financing, with $60 billion for small businesses. This in-spite of product launches this week like Lending Tree's SBA marketplace and Square's protest to 'leave room for the little guys'. In the UK, Funding Circle meanwhile became the first approved government stimulus plan business lender (with more to come) and iZettle partnered with Stuart to help businesses accept remote payments. In Canada, fintechs are asking the government to work with them on a response. Loan marketplace Even Financial is getting into insurance through its acquisition of LeapLife.
Nova Credit authored an open letter requesting immigrant visa deadline extensions signed by many executives in the financial services industry including those from American Express, Plaid/Visa, Remitly, Earnest, Canapi, etc.
Monzo is the first of the foreign neobanks to apply for a banking license in the US.
Robinhood traders are flooding volatile investments like oil ETFs. Meanwhile, investing platform Motif is shutting down and transferring accounts to Folio, which will charge users monthly fees and charge them to move funds off the platform.
Transferwise core metrics on pricing and performance are stabilizing as the platform reaches 7 million users.
Stripe announced new features including card issuing services, more local card networks, and business "revenue optimization". Venmo increased spending limits to $4,999.99 for peer-to-peer payments. Betterment (re?)launched savings and checking and shared its checking product roadmap.
Open banking financial planning app Snoop launched a month early. Early wage access app Branch added Domino's to its employer partner list. Google Pay launched 'nearby spot' to help users find local stores selling essentials and designs leaked for a potential card. LG CNS in South Korea is trialing a pay-by-face technology with digital currency.
Revolut's founders are waiving their pay and offering employees an equity swap option for salary. N26 cut ad spending and expansion plans. Lending Club is laying off 30% of staff.
Paay, a card payments processor, suffered a breach of data from 2.5 million card transactions due to storing data on a password-less server.
Facebook is in talks with Gojek, OVO, and LinkAja in Indonesia to launch a mobile wallet and payments system. The social network also hired 50 stablecoin staff in Dublin and . Meanwhile, Paytm in India announced Mastercard debit cards through its bank subsidiary.
Vietnam has launched 'rice ATMs' to help hungry consumers manage the pandemic. The Brazilian Development Bank is looking at fintechs as a way to disburse funding. The epidemic has been a boon to China's fintech sector.
---
Financings
Exits and M&A
---
Deeper Reads
Bundle, One of Five African Binance Spinoffs, Aims To Be Bitcoin-Powered Venmo Of Africa
Is coronavirus fintech's watershed moment?
8 top fintech VCs discuss COVID-19 trends, signals and opportunities
How IoT changes Banks and Fintech companies
$1 trillion in equity: How Carta is set to unlock the private markets
Central banks urged to create digital alternative to cash
Meet The Man Behind The 'Buy Now, Pay Later' Shopping Revolution
Watch: Axios hosts a live virtual conversation on the future of fintech
A new Nigerian VC is trying to democratize startup funding for everyday investors
Managing the winds of change: policy responses to fintech
UK: Just £1bn of promised government loans reach small businesses
How Algorithms Will Reshape the Entire Banking Landscape
Covid-19 aftermath will bring banks and fintechs together
Monzo: Here are four ways to try and secure your business finances during coronavirus
9 big things: Fintech unicorns find pandemic funding