This Week in Fintech (4/17)
Hello Fintech Friends,
Last week we asked who reads this newsletter -- unsurprisingly, we have a fintech-heavy crowd. With ~1% of readers responding, the breakdown was:
Fintech operator (38%)
Tech (small company) (19%)
Other (14%)
Venture capital (10%)
Tech (big company) (10%)
Bank / financial services (9%)
Next week, we'll break down companies and sectors in a little more detail. In the meantime, please enjoy another week of fintech and banking news below.
Quote of the week

"A key concern that was shared was the potential for the multi-currency Libra Coin to interfere with monetary sovereignty and monetary policy. We are therefore augmenting the Libra network by including single-currency stablecoins in addition to the multi-coin Libra."
Libra Association, April 16th whitepaper (source)

---
Open role spotlight
Clair is looking for a VP of Operations to oversee partnerships with digital banking providers (BPOs, KYC, Bank, Processor) and in-house operations (compliance, customer service). Reach out to Alex for more detail.
Read of the week
India's Unified Payments Interface is the country's equivalent to ACH, but unlike ACH, its payment rails support real-time payment without overnight clearing. Mobile payments startups have flooded the Indian market and signed up hundreds of millions of users in recent years (Indian fintech startups raised $2.74 billion in 2019). But they now find themselves pressed to secure new revenue streams as the race to provide digital payments erodes margins, as Techcrunch profiles in this market expansion story.
---
Banking and Credit Cards
The Federal Reserve spent the early innings of the coronavirus crisis aggressively leveraging its crisis playbook by creating liquidity and making funds available to lend - with the SBA completely through its $350 billion federal stimulus. The issue is that many corporate and consumer recipients have taken the proceeds of those loans and immediately put them back into depository accounts at banks.
This is great for (personal, SMB, and bank) solvency, but not for restimulating an economy in cardiac arrest. As the New York Times profiled, credit and debit card spending has largely fallen as consumers save rainy day funds for unexpected expenses, unemployment, and consumption-smoothing: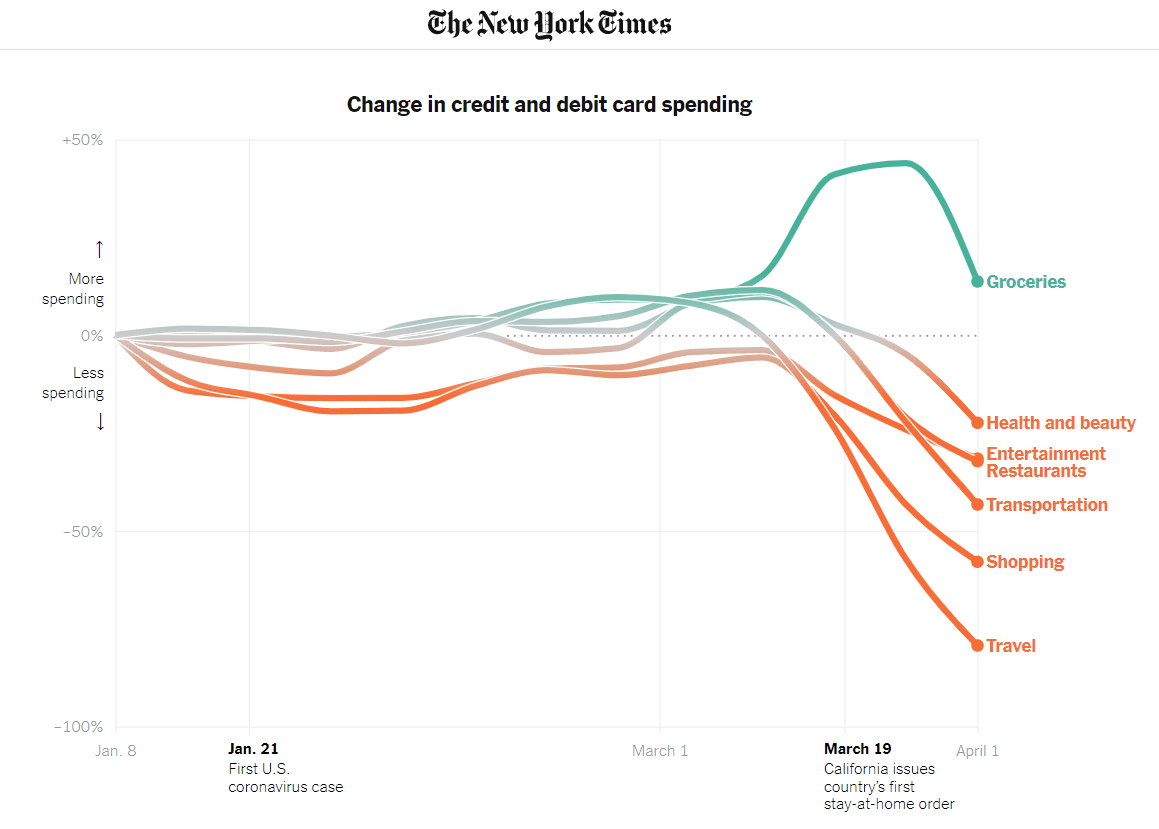 Source: New York Times
Q1 bank earnings are starting to trickle out, with Wells Fargo reporting an 89% drop in overall profits, led by community banking and wholesale banking profits and other large banks including Chase, Citigroup, and Bank of America increasing provisions for loan losses.
20% of the world's 2 billion unbanked consumers live in sub-Saharan Africa. To reach this market Visa has aggressively expanded its network into the continent through fintech partnerships, with companies like Yoco, Flutterwave, Chipper Cash, Palmpay, Paga, Paystack and Interswitch.
Goldman Sachs takes a page out of Affirm's playbook with a purchase financing partnership with JetBlue.
Spanish bank Santander launched its PagoFX service, a cross-border payments Transferwise competitor, in the UK, and Caixa Bank announced a joint initiative with Global Payments to launch a prepaid card venture called MoneyToPay. Japan's Mizuho Bank is testing a digital ID solution that combines device location with facial recognition.
And the World Bank is digging into fintech and distributed ledger technology as a solution to widening financial inclusion.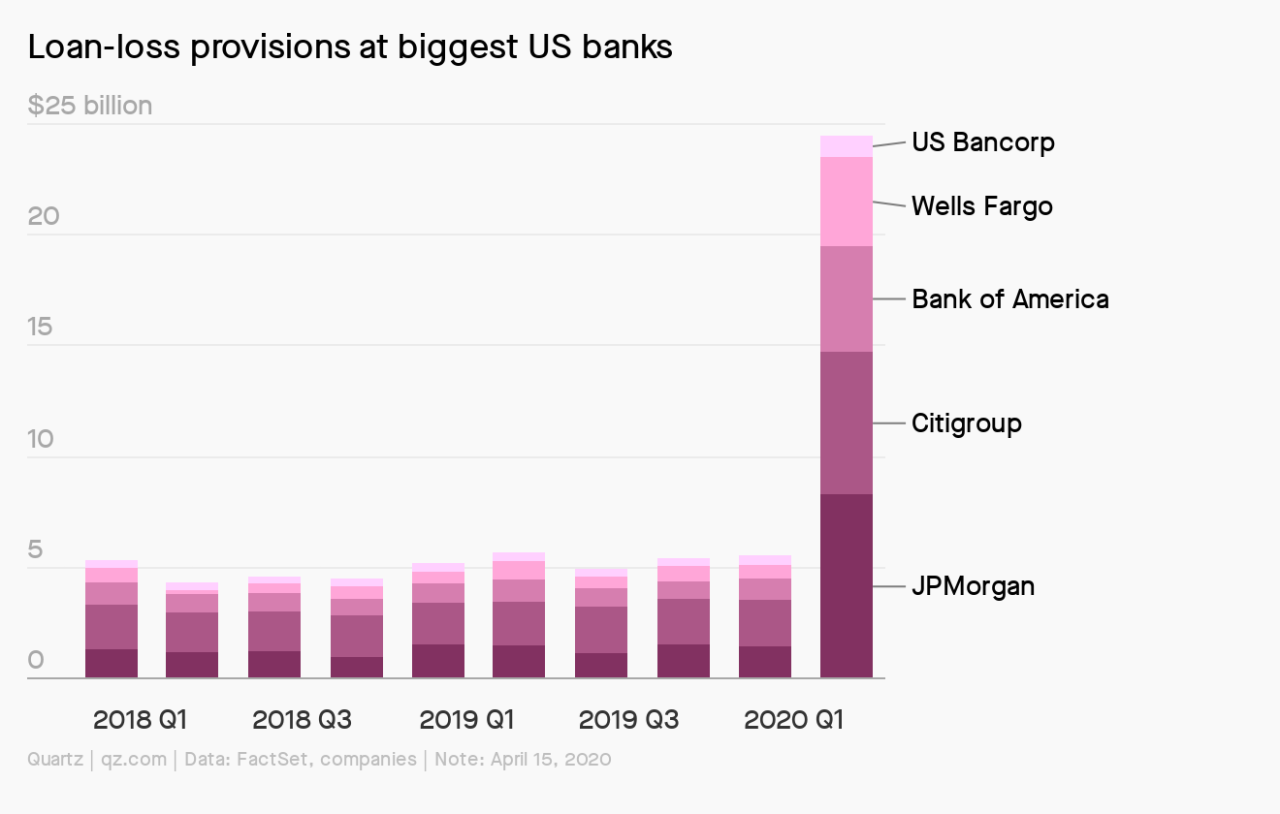 ---
Fintech
The fintech world this week held a remote summit of fintech CEOs, founders, and leaders, called the Quarantine Summit. Viewers can watch recordings of discussions from companies like Plaid, Betterment, Acorns, Starling, Varo, Credit Karma, and Common Cents Lab.
TrueAccord, which helps lenders create a more humane collections process, launched Engage, a direct-to-consumer portal for individuals to negotiate down their debts. Late consumer loan payments, meanwhile, have doubled from March 18th to April 9th. AgentRisk launched a portfolio consultation tool.
Canadian fintech Clearbanc, which uses data like AdWords and e-commerce sales to provide debt financing to startups, launched Clearbanc Runway to fund startups and debit the repayments out of revenue-share. The firm also announced layoffs of 8% of staff.
Carta has laid off 161 of its staff, while seeking new funding at a $3 billion valuation. Founder Henry Ward has been praised for his handling of the layoffs (shared on Medium). "Once the lists were created, they were sent to me for approval. It is important that all of you know I personally reviewed every list and every person. If you are one of those affected it is because I decided it. Your manager did not. For the majority of you it was quite the contrary. Your manager fought to keep you and I overrode them. They are blameless. If today is your last day, there is only one person to blame and it is me."
Paypal, Intuit Quickbooks, and Funding Circle are the latest fintechs approved to distribute emergency loans to small businesses as part of the government's Paycheck Protection Program.
Neobank Moven shut down its consumer unit and transferred clients to Varo. Danish neobank Lunar is launching a simple, no-frills stock trading platform in partnership with Saxo Bank. Cross-border money transfer fintech Transferwise is expanding to the UAE. OCBC Bank in Singapore is the first bank to implement Google's peer-to-peer funds transfer service in the country. MercadoPago in Brazil has been approved for its users to receive COVID-19 and pension distributions directly to its digital wallets. WeBank has entered a smart contract agreement with Digital Asset.
New product of the week: SendCash will let you use Square Cash or Coinbase to instantly send Bitcoin to Nigeria.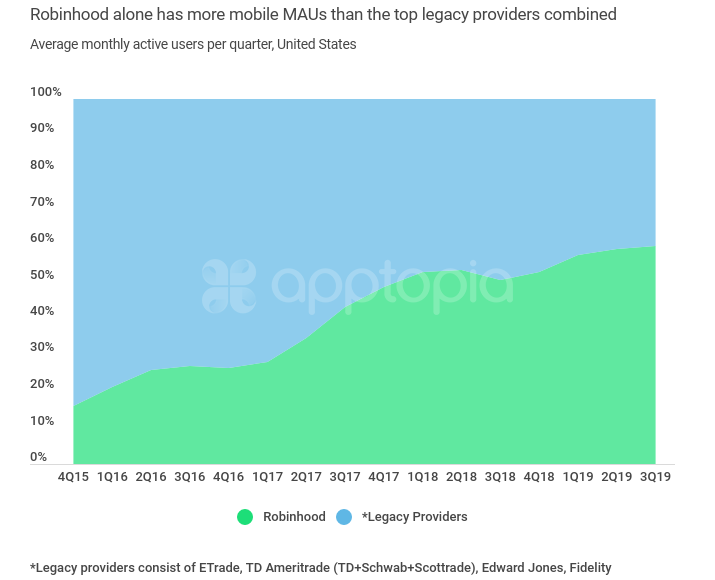 Source: Apptopia
---
Financings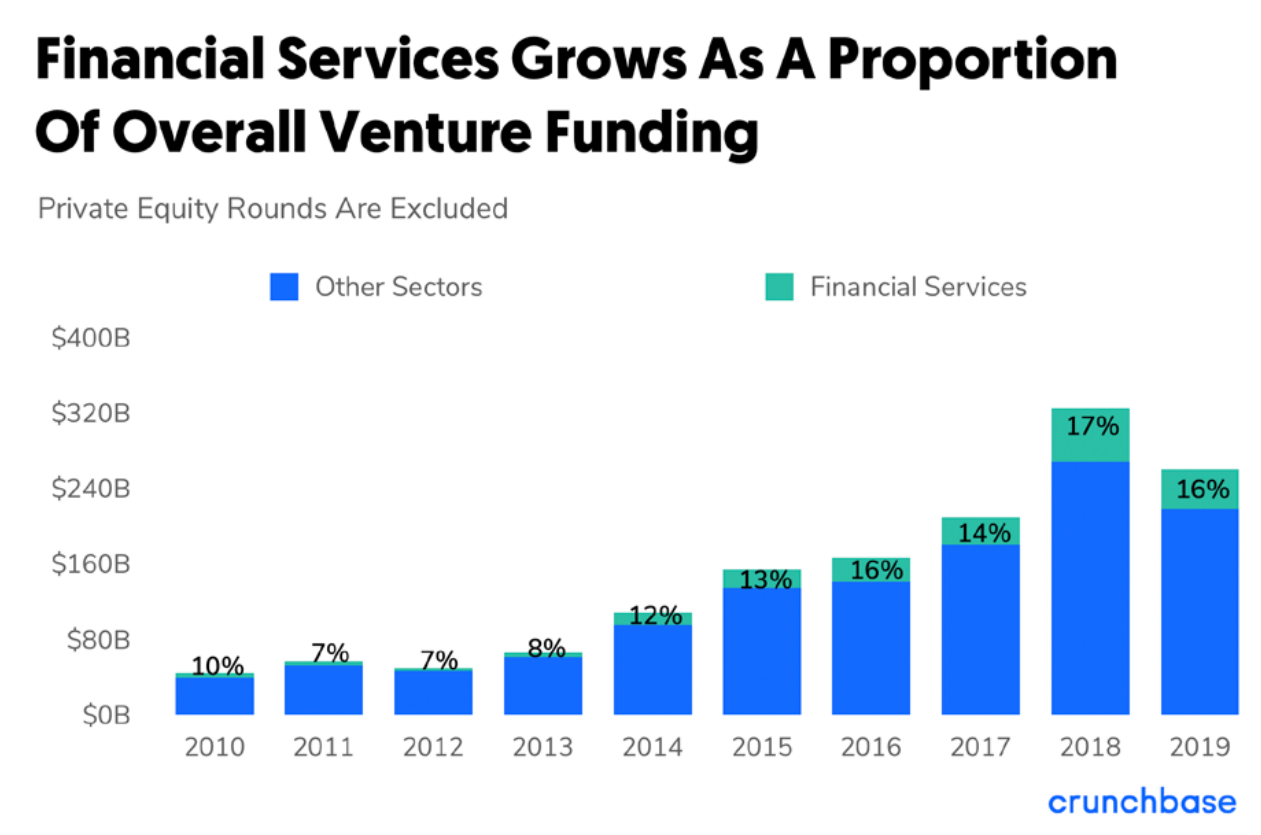 Source: Crunchbase's industry spotlight on fintech
Exits and M&A
---
Deeper Reads
So many fintech eggs in so many baskets
Fintechs Jump Into Small-Business Loan Chaos
Contactless Payments Skyrocket Because No One Wants to Handle Cash
Cash machines are spared their final withdrawal
Move fast, make things — UK fintech's response to the coronavirus crisis continues
Shreyas Doshi, PM Lead at Stripe, on Good vs. Great Product Managers
How to Solve the $16 Trillion Small Business Liquidity Trap
The Covid-19 impact on fintech: now is the time to boost investment