This Week in Fintech (4/10)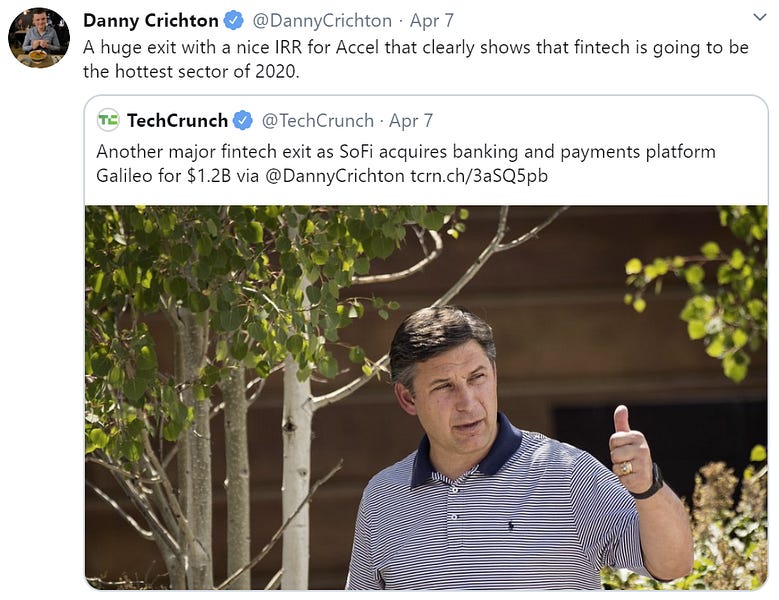 Hello Fintech Friends,
I'd be curious to get a quick poll of who reads this newsletter. What type of company do you work at? I want to continue to make sure the content of This Week in Fintech is tailored to meet the needs of its readers :)
Please enjoy another week of fintech and banking below.
Quote of the week

"These are the most important 34 words about the future of fintech lending you will read all year. Full stop: 'Eligible Borrowers: All depository institutions that originate PPP Loans are eligible to borrow under the facility. The Board is working to expand eligibility to other lenders that originate PPP loans in the near future.'"
John Pitts, Policy Lead at Plaid (source)
---
Read of the week
Pitchbook and Finch Capital report that fintechs are "set to soar" from the current pandemic driving consumers to seek online financial services. However, the rising tide does not raise all ships; as Techcrunch reports, fintech's uneven new reality has helped some startups, harmed others. For every contactless payment provider prospering, there is a consumer lender re-forecasting their defaults.
Banking and Credit Cards
Unlike the financial crisis of 2008, many banks are positioned to weather and even emerge stronger from the current economic downturn.
This is in-part due to the increased capital requirements that the financial crisis cemented into bank regulation. But it is also thanks to the windfall that banks are experiencing from facilitating over $350 billion in SMB loans (while still working out the kinks) and banks' explosion in trading revenues. Rather than villains, retail and commercial bank lenders could emerge as the heroes of this crisis. The Federal Reserve has even lifted the asset cap it notoriously imposed on Wells Fargo following its fake credit card account scandal, so that the bank can originate more credit. (Gusto has published a crowdsourced list of bank participation in PPP distributions.)
Fifth Third bank will buck the trend of banking layoffs, hiring 1,000 new employees to provide essential services. Italian bank Unicredit, meanwhile, has reached an agreement with its unions to lay off 5,200 employees over the next four years. Nationwide will shut down branches and call centers on weekends and has abandoned plans to enter the business banking market.
Hong Kong bank Hang Seng added its digital assistant Haro to WhatsApp, following a similar move by Icici in India. Standard Chartered also released its Mox digital bank in Hong Kong. Sberbank in Russia will partner with Google to offer online business seminars. Invidem, a know-your-customer solution set up by six Nordic banks, struck deals with Encompass and iMeta Technologies to build its tech.
The Monetary Authority of Singapore announced a S$125 million financial assistance initiative to help fintech firms and banks deal with an economic slowdown.
In light of the coronavirus changes to payments, the European Banking Federation, European Association of Co-operative Banks and the European Savings and Retail Banking Group are laying out a vision for the future of payments.
---
Fintech
In the latest edition of a high-profile acquisition year for fintech, SoFi will acquire bank processor and infrastructure provider Galileo for $1.2 billion. The deal will be financed via $875 million in equity, $75 million in cash, and $275 million in debt. FT Partners dissects the deal in more detail, as does FTT+.
This is a fairly inscrutable acquisition. SoFi got its start as a student lender and diversified into home loans, banking, investing, and financial management. Galileo provides the financial infrastructure for the banking products of high-profile fintechs like Robinhood, Chime, and Monzo. As SoFi (now 9 years old) eyes a potential IPO, it may want to present itself as a fintech holding company to sell investors on a higher multiple than it would command as a lender (a category that markets have punished). It may want to use Galileo as a channel to sell its lending or investing products as-a-service. It may want to bring its processing fees down by acquiring the tech rather than building it in-house. It may legitimately want to expand into Galileo's B2B fintech business. Whatever the reason(s), expect an exodus of current Galileo customers to competitors like Q2 or Cambr as neobanks look to protect their data from a competitor (SoFi Money).
As Lend Academy reports, fintechs can finally apply to lend PPP funds from the government's SBA program.
Fitbit has made contactless payments a part of its basic software, with its own proprietary digital wallet built into new models.
European credit card consolidation fintech Curve has rolled out numberless cards, similar to the Apple Card, for higher security. And the team behind bitcoin shopping app Fold just joined Visa's fast-track program to offer a bitcoin rewards card (as Revolut supports crypto as a safe haven).

Neobank Chime is piloting a way to disburse $1,200 PPP stimulus checks directly to its consumers immediately. Starling Bank will issue customers a second debit card for authorized users. French neobank Lydia accelerated a feature to let users donate to 17 hospitals and charities. Monzo is shuttering its Las Vegas customer service office. And Plaid set up a lender and payroll provider product to power access to small business payroll data to facilitate PPP loans to SMBs, and is looking for payroll, lending, and banking partners.
Tribal Credit (disclosure: with whom I have an advisory relationship) announced a new product, RECOV, to help governments disburse startup and SMB loans more effectively during the current economic crisis.
In a big move for mobile payments across the African continent, Vodacom and Safaricom will acquire M-Pesa, the ubiquitous mobile payments service they once spun out, to accelerate continental expansion. Meanwhile, Ethiopia opens up its mobile money market to new players.
cpa.ai is currently offering a beta R&D Tax Credit, where startups (less than $5M revenue with US employees) can get 10% of their engineering and product development costs back (up to $250k) in the form of refunded payroll taxes.
Ant Financial and Vanguard will release a mutual advisory fund in China that looks to scale roboadvisor services (like Wealthfront or Betterment's) to 900 million Chinese users.
Colchis Capital, a big debt investor into the US online lending market, will shut down some of its funds due to projected defaults.
New fintech apps of the week that came across my desk include the LunchMoney PFM, UseFirst PFM (?), and Pulley, a Y-Combinator Carta competitor.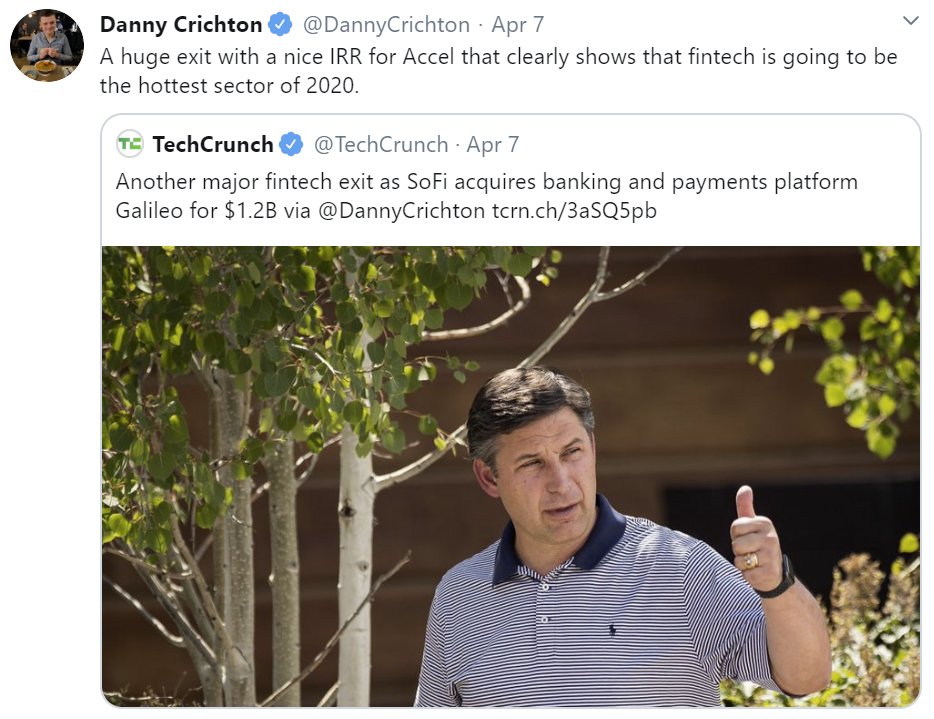 ---
Financings
Exits and M&A
Student lender and digital bank SoFi acquired banking infrastructure and processor Galileo for $1.2 billion.
---
Deeper Reads
The $80 Trillion Fintech Conundrum
Fintech Company Finastra Survived a Ransomware Attack Without Paying Ransom
How Millennials And Fintechs Are Disrupting The Way We Borrow And Invest
One thing consumers aren't stashing during the COVID-19 Crisis? Cash.
Google Pay led fintech app downloads in February 2020
How $5.3bn US fintech Plaid is taking on Europe
It's time for fintech to shine, but will the government let it?
Biometrics are an essential part of the fintech equation
The coronavirus epidemic is changing emoji usage on Venmo