This Week in Fintech (4/10)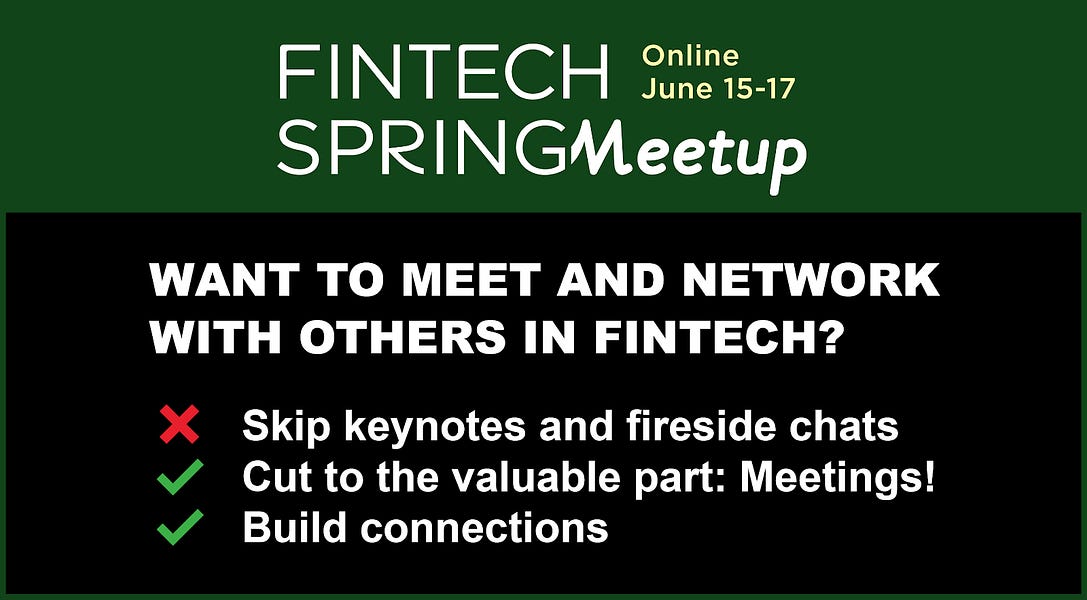 Hello Fintech Friends,
Is fintech overvalued or undervalued?
Please find another week of financings and transactions below.
---
Editor's Note: If you're an early-stage startup founder raising equity or debt, I may be able to help - reach out to nik@thisweekinfintech.com.
---
Sponsored Content
Connect with the people you know and meet the people you don't! Join Fintech Meetup to connect with 1,000+ industry professionals having 10,000+ 15-minute online meetings. Qualifying banks & credit unions can join free. June 15-17. Get your ticket now.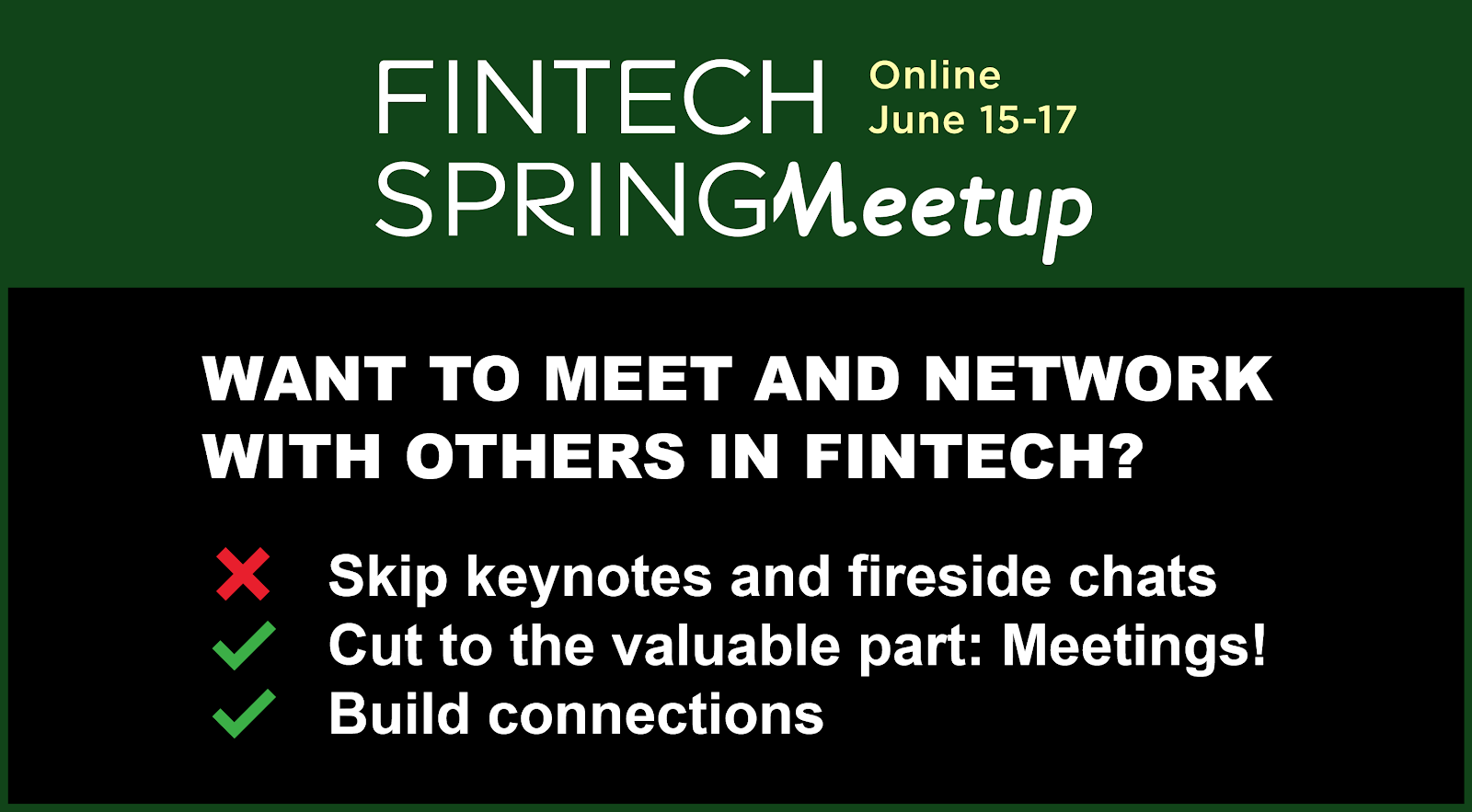 ---
💸 Venture Financing
💵 Debt Financing
German lending platform Auxmoney raised $250 million in debt from lenders including Citigroup.
☯️ Exits and M&A
💻 Fintech
🏦 Bank
French bank Société Générale is in talks to sell most of its asset management arm Lyxor to asset manager Amundi for €825 million.
---
Sponsored Content
Join the fintech community at the first big event of the year, LendIt Fintech USA. Hear the latest insights from the leaders in fintech including the CEOs of Afterpay, Brex, Figure, FT Partners, Varo Bank and more. And meet the people who matter to you through LendIt's state-of-the-art matching software. Join me and other fintech leaders at LendIt Fintech, April 27-29 (and use the code THISWEEK to save 15%).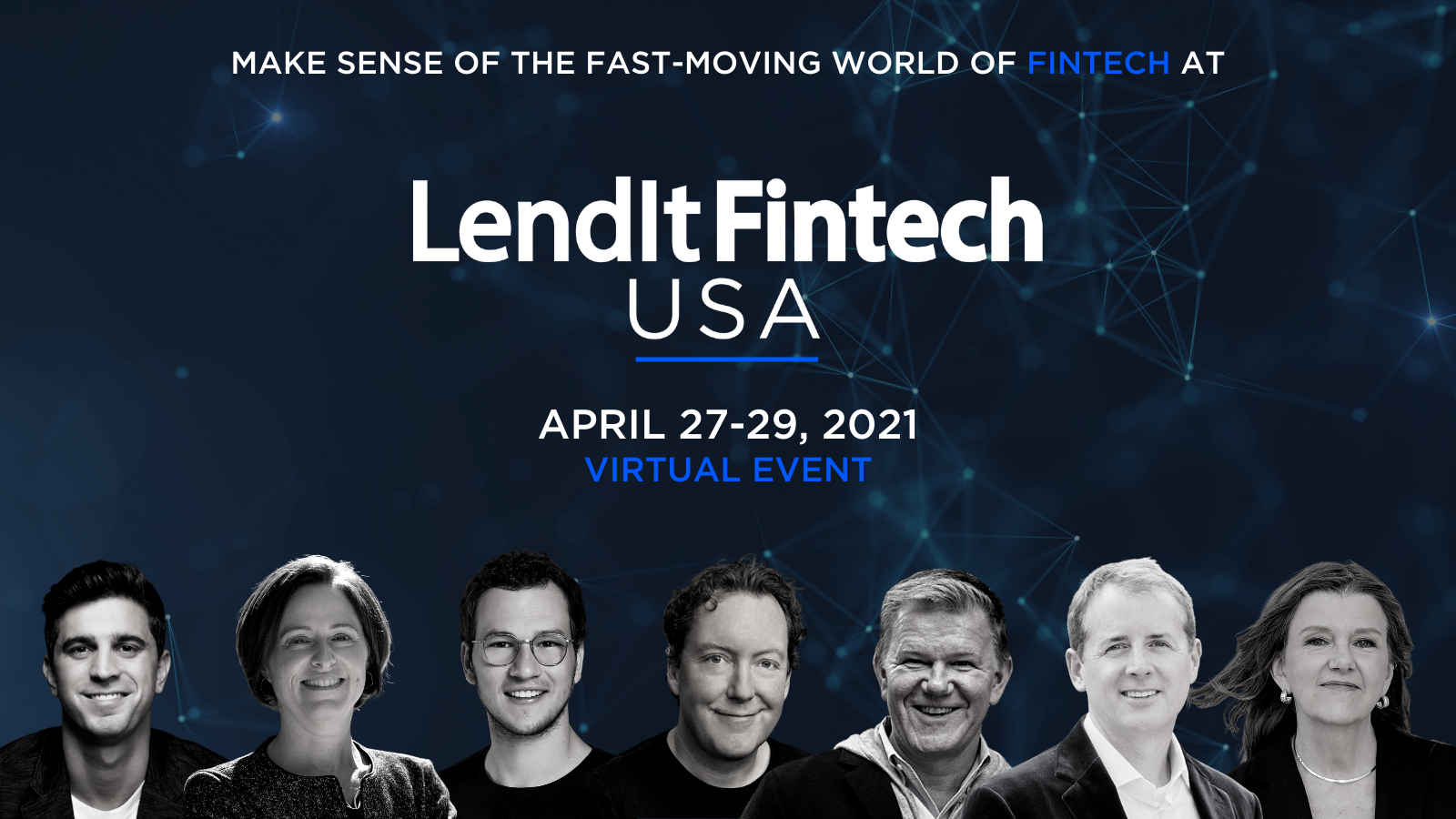 ---
📚 Deeper Reads
Banks are shook and they should be
Fintech's industry categorization and segmentation
YCombinator W21 Batch Fintech Breakdown 💸 (Part 2)
The Promise of Employment Data: The Devil is in The Details
Nubank: The World's Biggest Digital Bank
Peter Thiel Calls Bitcoin 'a Chinese Financial Weapon'
JPMorgan's Dimon Says 'This Boom Could Easily Run Into 2023'
How Goldman Sachs' Marcus is struggling to live up to its lofty consumer-banking ambitions
Why is a web browser investing in fintech?
In 70% underbanked Southeast Asia, startups push for open finance
Why Mastercard just made a $100 million bet on Africa's mobile money market
How online scammers fooled one of Africa's biggest fintech startups
Klarna's path to Europe's most valuable startup began with utter defeat
How David Vélez Built The World's Most Valuable Digital Bank And Became A Billionaire
How Biden wants to make credit scores fairer
Do People Really Know Their Payroll Passwords?
Want a Piece of Stripe? Find an SPV
Chinese zoo embarrassed after attempting to pass off golden retriever as an African lion