This Week in Fintech (3/6)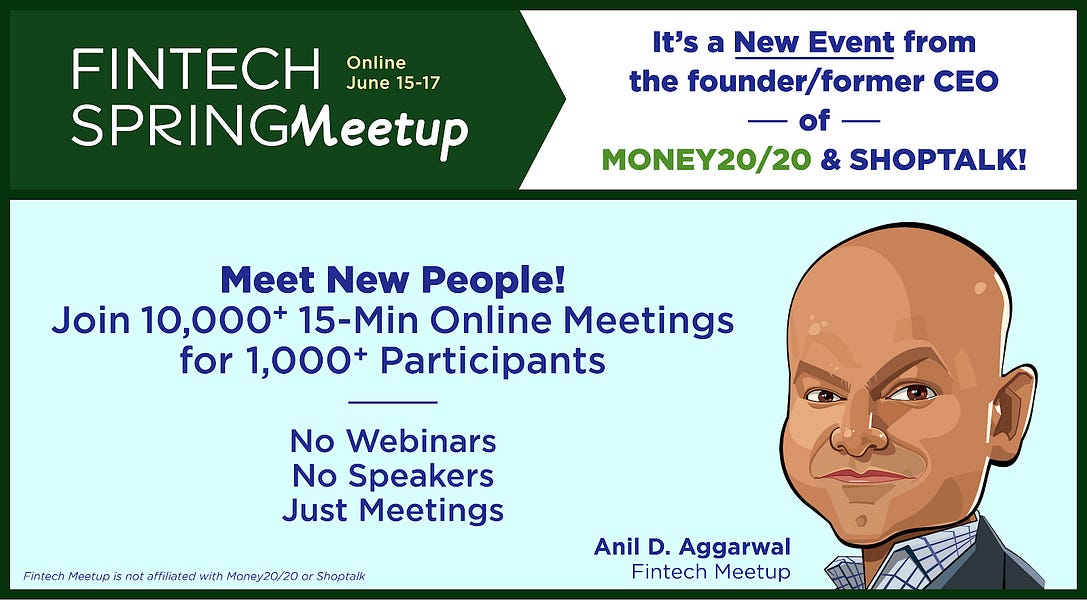 Hello Fintech Friends,
Sharing a reminder that you can sign up for our March 26th Fintech Geo Deep-Dives here.
Please find another week of financings and transactions below (and our Q4 M&A breakdown here).
---
Sponsored Content
Fintech Meetup is a new event from the founder/former CEO of Money20/20 and Shoptalk! We're scheduling 10,000+ 15-minute online meetings so you can meet new people. No webinars. No speakers. Just meetings. Get your ticket now to join 1,000+ others, June 15-17.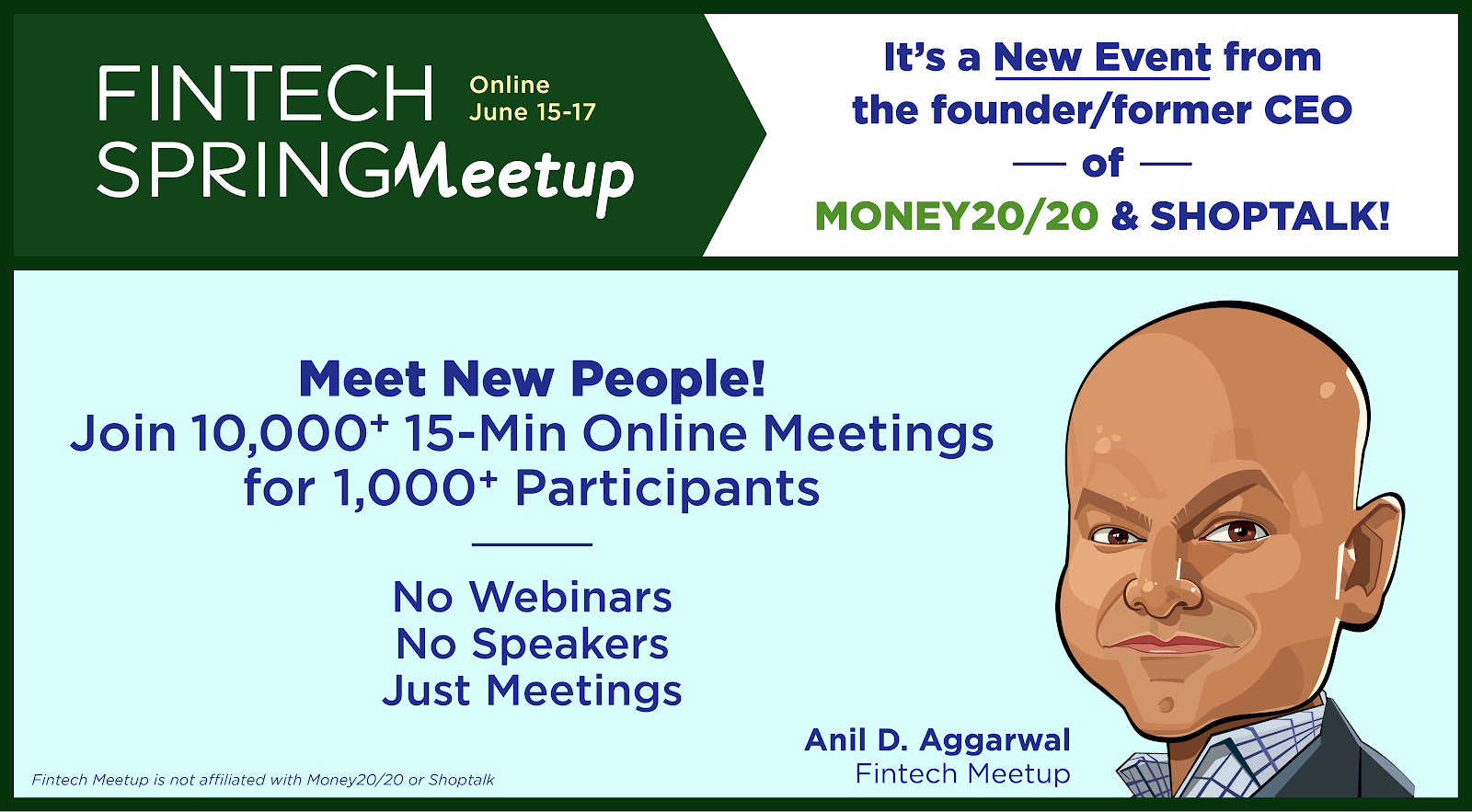 ---
💸 Venture Financing
☯️ Exits and M&A
💻 Fintech
🏦 Bank
Morgan Stanley's acquisition of asset manager Eaton Vance was finally approved.
Allied Irish Banks re-acquired Irish retail brokerage Goodbody Stockbrokers, which it formerly had to divest as part of a government bailout, for €138 million.
Sweden's Nordax Bank made a $2.10 billion (17.8 billion kr) bid to acquire Norwegian Finans Holding, the owner of Bank Norwegian.
💲 Investment Management
Beacon Pointe Advisors acquired Wealth Design, a registered investment advisor with $350 million under management.
Advisory firm Pathstone acquired investment advisor Cornerstone Capital Group.
📈 SPACs
---
🔎 Weekly Deep-Dive
Need a deeper dive?
This week on Fintech Brainfood- How 80s pop sensation Michael Bolton shows the future of trust in fintech.
What is trust?
Why does it matter?
And how has it changed from what used to matter?
Also: 4 Fintech companies you should see, a breakdown of the Coinbase IPO, and the Fedwire issues.
---
📚 Deeper Reads
Design principles for Third-party Initiation in Real-Time Payment Systems
Google's Redesigned Digital Wallet Tries to Make Payments Feel More Personal
So you want to learn "fintech"
Marcus is in the midst of a massive leadership shakeup
What BaaS trends mean for financial services
Building and scaling one of the world's fastest-growing mobile banks
An Intentional Choice: Being API First
Fintech Innovation Done Right: Be A Creator
Here's why Nigeria could be the next fintech frontier
Why Visa and MasterCard will continue to reign supreme
Open Banking in LatAm: The State of Play
Covid-19 Shopping Makes Card Fees a Bigger Burden for Merchants
4 Tech Trends That Will Massively Transform Banking in 2021
Disrupting The $8T Payment Card Business: The Outlook On 'Buy Now, Pay Later'
Why Buy Now, Pay Later Is Taking Off
FT Partners' Monthly Market Update
Innovative 10-year-old creates 'stick library' for local dogs