This Week in Fintech (3/5)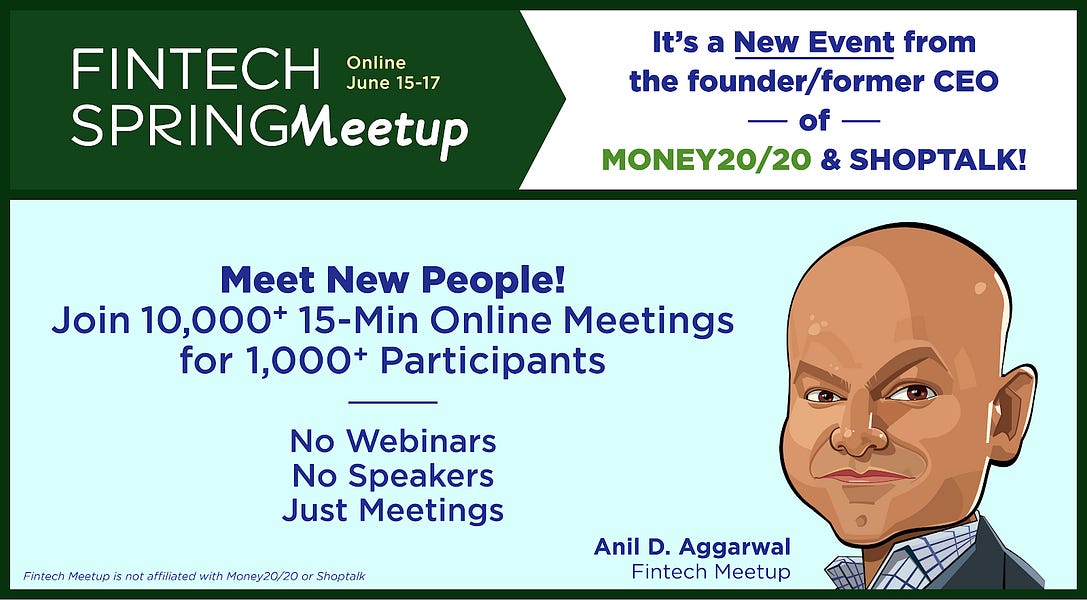 Hello Fintech Friends,
Our newest trends breakdown, Signals 4.2, came out this week. In it, we dissected fintech M&A and exit activity from Q4 2020.
We'll be holding our next round of geo deep-dives on Friday, March 26th. Sign up here to be added to the invites.
Speakers will include,
Please enjoy another week of fintech and banking news below.
---
💬 Quote of the Week
"A new generation of fintech infrastructure companies are building APIs that can facilitate consumer-permissioned access to the data held in payroll systems."
---
📖 Read of the Week
The UK finally published the much-awaited Kalifa Review of UK Fintech. Some interesting statistics from the report: UK fintech generates £11 billion in annual revenue, 71% of UK citizens interact with at least one fintech company, and UK fintech makes up 10% of the global market. The report proposes a five-point plan including easing stock listing and visa requirements so that more fintech companies can be established and raise funds. Elsewhere, UK banking trade body UK Finance laid out a plan for a successor entity to the Open Banking Implementation Entity, which manages the rollout of open, API-based banking in the country.
📊 Stat of the Week
"In 2020, those who have fallen behind at least three months on their mortgage increased 250% to over 2 million households, and is now at a level not seen since the height of the Great Recession in 2010." (Source: CFPB. h/t Ohad Samet)
---
Sponsored Content
Fintech Meetup is a new event from the founder/former CEO of Money20/20 and Shoptalk! We're scheduling 10,000+ 15-minute online meetings so you can meet new people. No webinars. No speakers. Just meetings. Get your ticket now to join 1,000+ others, June 15-17.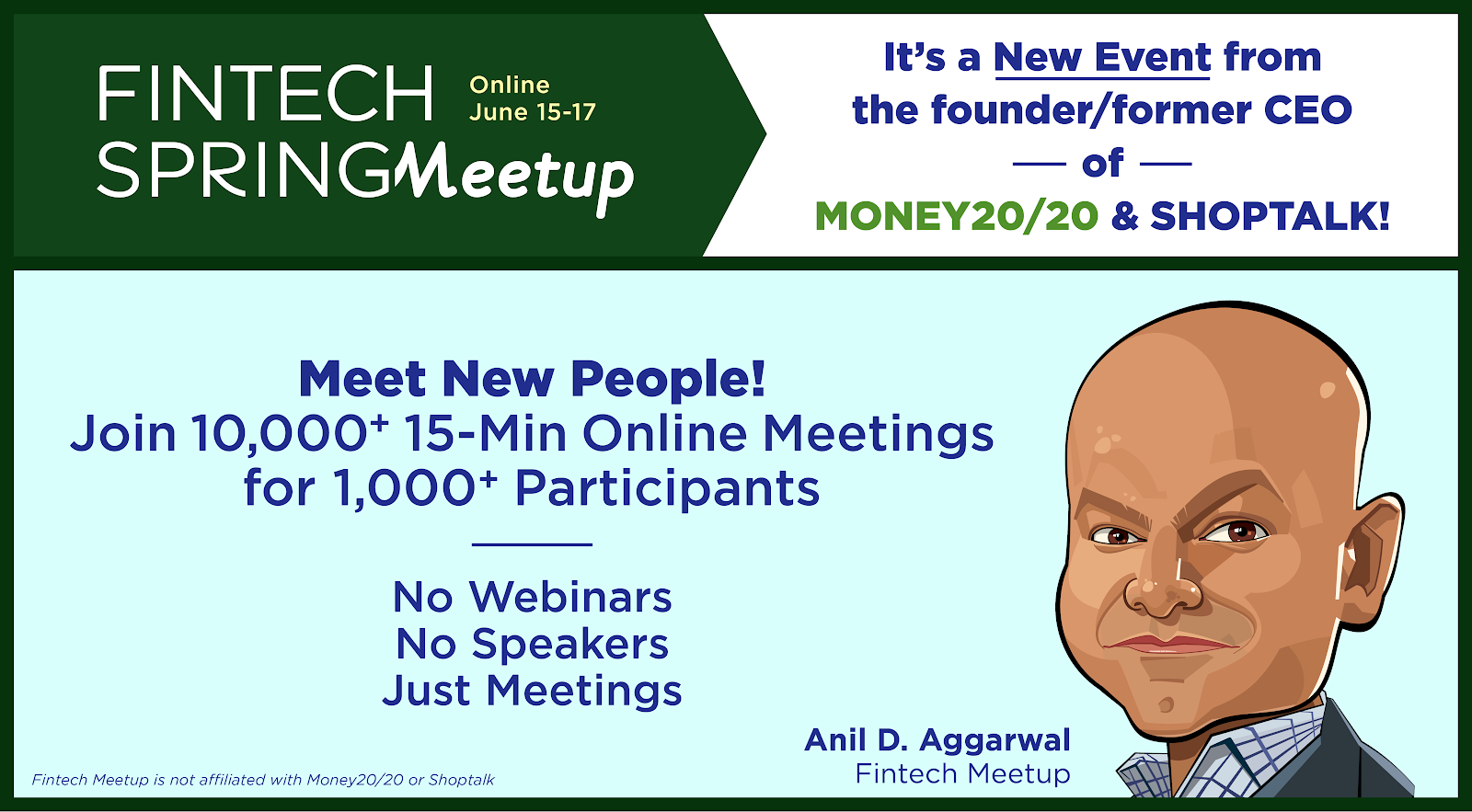 ---
🏦 Financial Services & Banking
🚀 Product Launches
Australia's debit card system provider Eftpos announced that it will roll out a QR code payments network.
Ecobank Nigeria launched money transfers through WhatsApp, SMS, and email.
Citibank launched Citi Plus, its digital bank in Hong Kong.
📰 Other News
US credit unions have started to gain market share in credit cards, personal loans, mortgages, and auto loans for the first time since 2015.
Indian juggernaut Reliance has partnered with Facebook, Google, and fintech Infibeam to set up a national real-time payment network to rival the NPCI system and reduce concentration in payments.
Zelle partnered with The ClearingHouse in the US to facilitate instant P2P payments using the latter's RTP Platform. Payments Canada picked debit network Interac to roll-out its real-time payments network. And Chinese banks MYbank and WeBank, backed by Ant Group and Tencent, are joining the Chinese government's central bank digital currency project.
MTN and Mastercard announced an e-commerce payments joint venture across 16 African markets (as government mobile payment monopolies come under scrutiny).
Walmart hired Omer Ismail away from Goldman's Marcus, bringing it a step closer to its ambitions to build a bank or (more likely) a Cash and WeChat-like super-app. (Goldman, meanwhile, is adding 100 tech hires to its Singapore office.)
Visa and Mastercard both plan to raise swipe fees for some transactions. The SEC raised crowdfunding limits from $1 million to $5 million.
Citi research supports bitcoin, as Goldman Sachs gets back into cryptocurrency trading. The CBOE seeks approval for a bitcoin ETF. And Wall Street wants more ESG in 401ks.
The Bank of Ireland will shut down 88 branches - a third of its network - as it pivots to a digital strategy. Lloyds Bank meanwhile is looking to step up fintech partnerships as it pivots to online services.
---
💻 Fintech
🚀 Product Launches
LendKey launched Aliro, a private network that will enable financial institutions to buy and sell consumer loans, which should hopefully add needed liquidity and secondary trading to the fintech consumer loan market.
Mexican mega-retailer Oxxo is coming out with a digital wallet.
Venmo launched its business profiles for small businesses.
Lithuanian startup kevin. released an interesting product that will let consumers switch from using a credit card to making a direct payment out of their bank account (which is cheaper for merchants) mid-checkout.
Plaid launched its income verification API (similar to Argyle or Pinwheel), Plaid Income.
Latin American consumer finance platform Arcus launched its proprietary payments network, Arcus Pay.
Amazon opened a cashierless 'just walk out' store in London.
Google Finance added crypto prices.
📰 Other News
Banking-as-a-service provider Unit partnered with Plaid to enable customers to more seamlessly build accounts, cards, payments and lending products. Elsewhere, embedded payroll startup Check partnered with Plaid.
SoftBank is working to merge PayPay and LinePay, the two Japanese consumer payment apps with a combined 75 million users. Payments firm PayPal, meanwhile,is in talks to buy Curv, a cryptocurrency custody firm.
Square Financial Services, the fintech giant's banking arm, opened up shop to begin accepting deposits and making loans. Elsewhere, Square bought a majority stake in Jay Z's streaming service Tidal. Revolut is also capitalizing on its banking license, switching customers in 10 European countries to its bank arm.
Zillow will now make cash purchase offers (like Opendoor's) for residential properties.
Opera's African payment venture OPay processed $2 billion in transactions in December. Paytm reached 1.2 billion monthly mobile transactions in India. Teen banking app and card Step reached 1 million users. Personal finance app Dave donated $50,000 to Feeding America to support Texas storm-affected communities.
Revolut, Starling and Wise joined a new UK fintech task force called Tech Zero to tackle climate change. Meniga partnered with Icelandic banks to help consumers track the carbon footprints of their transactions. Fintech incubator F10 will partner with New Energy Nexus to create a global green and climate fintech program. The UN highlighted fintech as playing a valuable role in the climate-focused Paris Agreement. It seems that climate-focused fintech is here and growing quickly.
More and more neobanks are competing to serve underbanked and minority customers.
Mouro Capital, Santander's venture arm, is partnering with portfolio companies Clikalia and Creditas to create an online property sales platform in Mexico.
Payments streamlining platform Spreedly announced a new partnership program built to sync gateways and other payment providers. Alchemy announced its entrance into Mexico via BNPL partnership.
Greensill Capital, a SoftBank-backed receivables financing fintech, is filing for bankruptcy in the US this week after failing an audit from BaFin, Germany's regulator, and as Credit Suisse looks to wind down its $10 billion joint venture with the firm.
Qooore is an investment app "with coolest designs for Millennials and Gen Z." Atom Finance is giving away sneakers with non-GAAP performance insights. Rad.
Shares of mortgage provider Rocket Companies got the Gamestop treatment, jumping 70% due to internet-fueled buying. (And Robinhood is facing 49 separate lawsuits over Gamestop.)
How is Swish, the Zelle of Sweden, doing?
(Source: Credit Cards, Mobile Money and the Trust Gap)
---
💼 Open Role Spotlight
Propel, a mission-driven fintech that aims to make the safety net more user-friendly, is hiring a Strategy & Biz Ops Manager.
---
📜 Policy
In collaboration with Ben White.
---
🌎 International
This week's international fintech update comes courtesy of Medici.